In October of 2017, I highlighted Tantech Holdings (TANH) as an interesting speculative buy due to it having been unfairly beaten down following a small financing while seemingly ignoring a new electric vehicle venture. Indeed, the graph below is the one I led the article off with: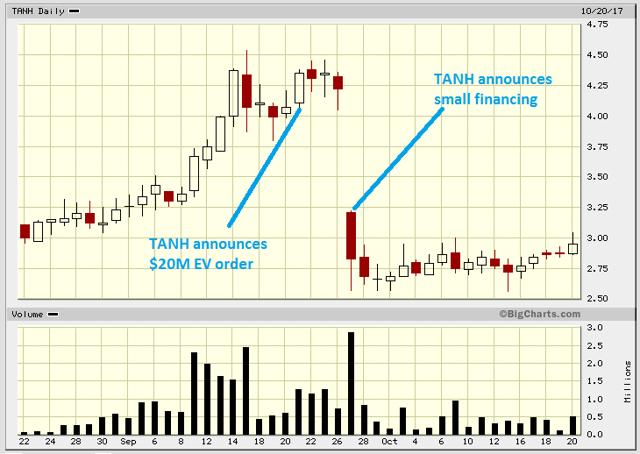 Since the publication of my article, the stock consolidated and has now entered a steady up-phase on decent volume: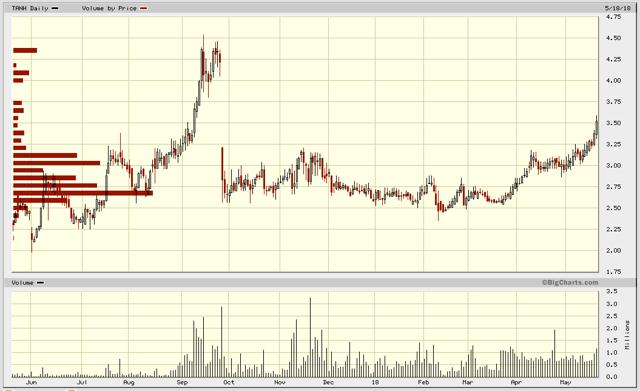 Unfortunately, or fortunately, depending on how you look at it, TANH is not at all a promotional company and hence, news and developments are hard to come by. The company did, however, just issue its annual 20-F and an associated annual earnings press release, so today I'd like to review the content of these documents. I'll proceed in the order that I find most important.
Overall Profitability
Since my last article, the company has made two significant changes; it disposed of the EDLC carbon business and it acquired an 18% ownership in a marble mine. However, neither of these impacts 2017 profitability, instead the company saw reduced gross margins due to competition in its charcoal briquette and "Charcoal Doctor" businesses as well as to the lower gross margins inherent in the EV segment.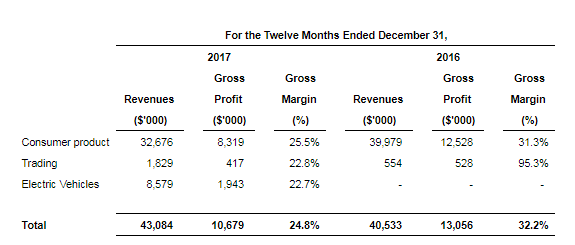 Nonetheless, the company managed to earn $3.7M in income attributable to shareholders or $0.15 a share. Thus, the company still has the base profitability to support its foray into EVs.
Electric Vehicles
As the chart above indicates, the company generated $8.6M in EV revenues in 2017, which is broken down as 196 electric vehicles at an average selling price of $44K (the company's PR says $47K, I'm not sure where the difference comes from).
For those new to TANH, its EVs aren't automobiles, they're specialty vehicles and buses. Here is a brief description of each along with the photographs given in the 20-F:
Urban Sanitary Vehicles. The Urban Sanitary Vehicles work with high efficiencies with low operating expenses. They travel (clean) around 20~30 km/hr with fuel consumption rates approximately 3.33 km/liter. The vehicles are equipped with professional sanitary vehicle chassis, with front axle drives & front axle steering to strengthen their operations' stability and smoothness; the whole vehicle is made of strengthened steel plates and pipes, making it more durable and anti-collusive.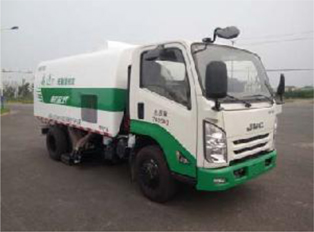 Tourist Buses. The Tourist Buses are 12-meter-long and 7-meter-long lithium-battery-based buses whose interior noise is less than 76 dBs and off vehicle acceleration noise is less than 82 dbs. Their fuel-saving rates are up to 50% and emissions rates are lowered 75%.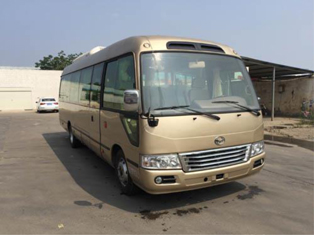 In my mind, these types of vehicles are perfect candidates for EV applications; for example, the low speeds of the Sanitary vehicles mean low battery consumption and hence, recharging can be done after a full shift.
Going forward, the company expects to make development of the EV sector a focus. Here's how they put it in the PR (my emphasis):
The Company expects increased revenue and a concerted increase in development of new electric vehicle models in 2018 and beyond driven by innovation, new business development initiatives and more streamlined operations.
[]
"Looking ahead to fiscal 2018, as China makes adjustments to government policies for alternative energy automobiles, the Company will accelerate the research and development for and launch of new models, expand production capacity and improve product competitiveness to satisfy various demands and will work toward realizing its goal of becoming the leading manufacturer of special purpose electric automobiles in China." Mr. Wang concluded.
Valuation
I continue to believe that this new EV venture is underappreciated by the market and that if TANH is able to continue to execute – and not have to significantly dilute shareholders in the process of ramping up sales – then with only 28.7M shares outstanding and a market cap of $102M, the company still poses a very significant asymmetric reward/risk profile. This point is further strengthened by considering the company's eminently reasonable valuation metrics (from SA):

Risks
The biggest risk I see with the company is that it's a small, somewhat reclusive Chinese firm with not much coverage such that its related party transactions may not be properly vetted for independence or fairness. Here is a brief list of these transactions, which buyers should be aware of:
We have guaranteed the bank loan and renewable bank acceptance notes of a related party; if this related party fails to pay the bank loan or bank acceptance notes, our property may be subject to foreclosure.
In July 2017, we provided a guaranty on a line of credit on behalf of a related party, Forasen Group. Forasen Group's outstanding line of credit of RMB 57.07 million (approximately $8.8 million) will expire on July 23, 2020.
In connection with these guarantees, we pledged our building with carrying value at approximately $6.4 million as collateral for Forasen Group's loans and renewable acceptance notes.
At the time we offered these guarantees, we believed Forasen Group would be able to repay (and would in fact repay) such loans and bank acceptance notes based on the following factors:
1. Forasen Group, like our Company, is controlled by Ms. Yefang Zhang and Mr. Zhengyu Wang. For this reason, we are aware that Forasen Group has historically had a strong credit history with the banks with which it does business.
2. As of December 31, 2017, we understand that Forasen Group had approximately RMB 34.3 million in cash, RMB 465.9 million in current assets and RMB 515.9 million in total assets, compared with approximately RMB 254.7 million in current liabilities, RMB 25 million in loans and RMB 60 million in notes payable, resulting in a current ratio of 1.82 at such date. Moreover, for the year ended December 31, 2017, Forasen Group recorded net income of RMB 11.6 million on revenue of RMB 852.4 million and gross profit of RMB 15.3 million.
And:
Our directors and executive officers have other business interests outside the company that could potentially give rise to conflicts of interest. For example, our Chairman and Chief Executive Officer, Zhengyu Wang, and his wife and our director, Yefang Zhang, collectively own all of Zhejiang Forasen Group Co., Ltd. ("Forasen Group"). The Forasen Group's primary business areas are investment, rubber trading, foodstuff production, and financial management. We also have historically engaged in rubber trading. Although we have significantly reduced our trading in rubber at Tantech to immaterial levels, both businesses were for a time trading similar products. Mr. Wang and Ms. Zhang work with the Forasen Group's rubber trading department and other advisors to locate opportunities that meet the Forasen Group's investment criteria. As Tantech has significantly reduced its rubber trading activities, they anticipate that any rubber trading opportunities would be presented to and considered by the Forasen Group rather than by Tantech.
Yefang Zhang is also the Chairman and Chief Executive Officer of Farmmi, Inc. ("Farmmi"), another Nasdaq listed company, and Zhengyu Wang is a director of Farmmi. Mr. Wang has historically devoted approximately 15% of his time to matters concerning Farmmi, approximately 70% of his time to matters for Tantech, and approximately 15% of his time to matters concerning Forasen Group. As Ms. Zhang and Mr. Wang devote considerable time and efforts to Farmmi and Forasen Group, these sort of business activities could both distract them from focusing on Tantech and pose an issue of time commitment.
Mr. Wang and Ms. Zhang signed a Non-Competition Agreement with our company and Farmmi which provides that Mr. Wang and Ms. Zhang shall not vote in favor or otherwise cause our Company to engage in the business that Farmmi conducts. Although, because of these non-competition agreements, we do not believe that there are business activities of Mr. Wang and Ms. Zhang that will compete directly with our business operations, it is possible that the enforceability of these agreements may be challenged and a conflict of interest may occur.
In addition, Forasen Group currently occupies approximately 500 square meters of our Tianning Street facility. We have not historically charged Forasen Group for renting this office space, but plan to do so in the near future. Although we believe we engage in sound corporate governance practices, there remains the risk that our company may be negatively affected by our directors' or executive officers' conflicts of interest.
Conclusion
While TANH has risks – and thus, is a speculation not a core investment – I believe that the company has made strides in its EV development and is poised to potentially accelerate its growth in the segment; a growth opportunity which the market doesn't seem to be acknowledging whatsoever. As a result, the reward/risk profile continues to be very enticing and I continue to hold a long position in the stock, with the hopes of gradually scaling out as the stock price moves towards $8 or higher.
Disclosure: I am/we are long TANH.
I wrote this article myself, and it expresses my own opinions. I am not receiving compensation for it (other than from Seeking Alpha). I have no business relationship with any company whose stock is mentioned in this article.
Additional disclosure: I actively trade around core positions.