Intel (INTC) stock is performing remarkably well lately, shares of the semiconductor leader have gained over 50% in the past year on the back of better-than-expected financial performance from the company. With the stock trading near historical highs, investors may understandably feel reluctant to initiate a position in Intel at current prices.
However, only because the stock is doing well, that doesn't mean that the best is already in the past for investors in Intel. In fact, valuation is still quite reasonable considering the company's fundamental quality.
Statistical data has proven that quantitative factors such as financial quality, valuation, momentum, and relative strength can be powerful return drivers for stocks over the long term. According to these indicators, Intel stock still offers plenty of upside potential.
Solid Financial Quality
Intel is the world leader in semiconductor products. The company is the top player in microprocessors and other building blocks that play a key role in industries such as computers, smartphones, servers, and other networking and communications products.
In recent years, the company has focused on key growth areas such as data centers, cloud computing, and internet of things. This strategy is paying off in spades, as the company is producing rock-solid financial performance.
The company reported record revenue numbers in the first quarter of 2018, with sales rising by 13% year over year and reaching $16.1 billion. Intel's data-centric businesses – excluding McAfee – produced a 25% increase in revenue, and this segment now accounts for nearly 49% of total revenue.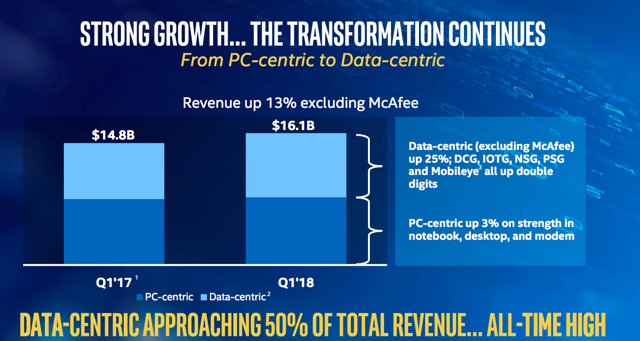 Source: Intel
The data-centric segment also delivered a big boost to profitability, allowing Intel to increase non-GAAP earnings per share by 32% versus the same quarter in the prior year.
In a sign of confidence, management raised guidance for the full year 2018. The company is expecting revenue during the current year to be around $67.5 billion and earnings per share to amount to $3.85 per unit, an increase of 11.3% versus 2017.
CEO Brian Krzanich sounded quite optimistic about the company's future in the most recent earnings conference call:
The strength of Intel's business underscores my confidence in our strategy. What we're seeing is an unrelenting demand for compute performance, driven by the continuing growth of data and the need to process, analyze, store, and share that data. That dynamic benefits our traditional CPU business, and it reinforces the big bets we've made in memory, modems, FPGAs, and autonomous vehicles. We're competing to win in our largest collection of addressable markets ever. And importantly, we're not just competing in these markets. We're leading and shaping them, as our first quarter results demonstrate.
Attractive Valuation
Even the best company can be a disappointing investment when valuation is excessively high, but that's hardly the case when it comes to Intel. The stock is in fact attractively valued, if not downright undervalued.
Wall Street analysts are on average expecting Intel to make $4.03 in earnings per share during 2019. Under this assumption, the stock is trading at an inexpensive forward price to earnings ratio of 13.4. This is a material discount versus a forward price to earnings ratio of 16.5 for companies in the S&P 500 index.
Offering a similar perspective, the table below shows key valuation ratios such as price to earnings, forward price to earnings, price to earnings growth, and price to sales for Intel versus other big industry players like Texas Instruments (TXN), Broadcom (AVGO), and NXPI Semiconductors (NXPI). Intel is the cheapest stock in the group across all of the valuation ratios considered.
| | | | | |
| --- | --- | --- | --- | --- |
| Ticker | P/E | Fwd P/E | PEG | P/S |
| INTC | 15.73 | 13.43 | 1.6 | 4.05 |
| TXN | 27.28 | 18.43 | 2.14 | 7.03 |
| AVGO | 54.42 | 11.84 | 4.07 | 5.29 |
| NXPI | 169.6 | 14.84 | 6.28 | 4.23 |
Vigorous Momentum
Stock prices don't just reflect current fundamentals, but expectations about those fundamentals can be even more important. When a company is delivering better than expected earnings and expectations about future earnings are increasing, this generally means that the stock price is increasing too.
Intel has delivered earnings numbers considerably above expectations in the past four quarters in a row, and analysts are raising their expectations for the company over the middle term.
| | | | | |
| --- | --- | --- | --- | --- |
| Quarter | 6/29/2017 | 9/29/2017 | 12/30/2017 | 3/30/2018 |
| EPS Estimate | 0.68 | 0.8 | 0.87 | 0.72 |
| EPS Actual | 0.72 | 1.01 | 1.08 | 0.87 |
| Difference | 0.04 | 0.21 | 0.21 | 0.15 |
| Surprise % | 5.90% | 26.20% | 24.10% | 20.80% |
The chart below shows the evolution of the stock price in comparison with earnings expectations for the current fiscal year. There is a clear correlation between price and earnings expectations, and they are both moving upwards lately.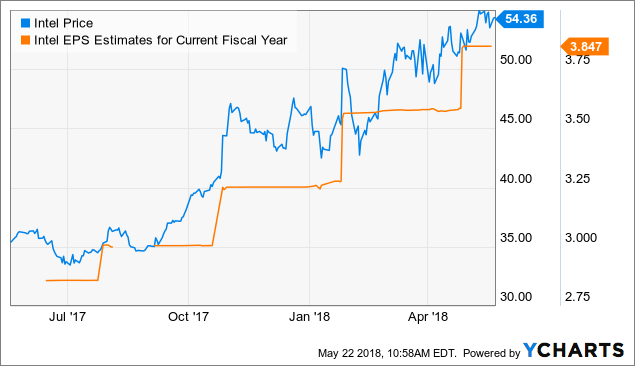 INTC data by YCharts
Winners Keep On Winning
Intel stock is materially outperforming relevant benchmarks such as the SPDR S&P 500 Trust ETF (SPY) and the iShares PHLX SOX Semiconductor Sector Index ETF (SOXX) over the past year, and this is a major positive for investor in Intel stock.
Companies with superior relative strength tend to continue outperforming over the middle term. Besides, money has an opportunity cost. When you buy an investment with subpar returns, that money is not available to be invested in companies with superior performance. For this reason, we don't just want to buy stocks that are doing well, we want to buy the names that are performing materially better than others.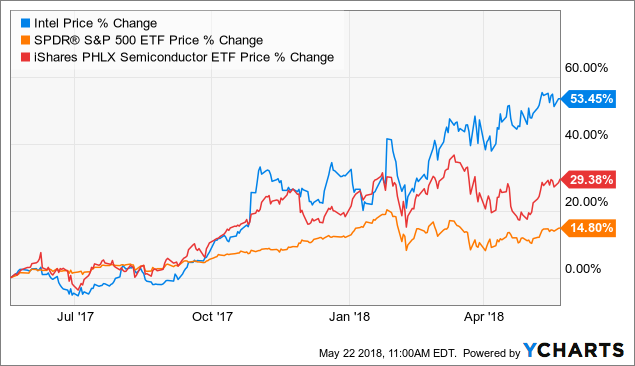 INTC data by YCharts
Intel stock is clearly a winner in terms of relative strength versus both the broad market and the industry in particular, and this bodes well in terms of potential returns going forward.
Putting It All Together
The PowerFactors system is a quantitative investing system available to members in my research service, "The Data Driven Investor." This system basically ranks companies in a particular universe according to the factors analyzed in this article for Intel: quality, valuation, momentum, and relative strength.
The system has produced solid backtested performance over the long term. The chart below shows how the 50 stocks with the highest PowerFactors ranking in the S&P 500 index performed in comparison to the SPDR S&P 500 ETF since 1999. The backtesting assumes an equal-weighted portfolio, monthly rebalanced, and with an annual expense ratio of 1% to account for trading expenses.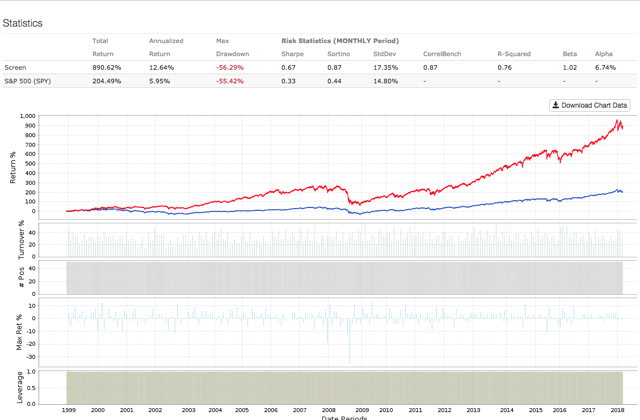 Data from S&P Global via Portfolio123
The system more than doubled the benchmark, with annual returns of 12.64% per year versus an annual return of 5.95% for the market-tracking ETF in the same period. In other words, a $100,000 investment in the SPDR S&P 500 ETF in January of 1999 would currently be worth around $304,500, and the same amount of capital allocated to the PowerFactors system would have a much larger value of $990,600.
Intel is one of the stocks currently recommended by the PowerFactors system, and the company gets high scores across the four factors considered: quality, valuation, momentum, and relative strength. If backtested performance is any valid guide, then Intel is well positioned for attractive returns going forward.
Capitalize on the power of data and technology to take the guesswork out of your investment decisions. Statistical research has proven that stocks and ETFs showing certain quantitative attributes tend to outperform the market over the long term. A subscription to The Data Driven Investor provides you access to profitable screeners and live portfolios based on these effective and time-proven return drivers. Forget about opinions and speculation, investing decisions based on cold hard quantitative data can provide you superior returns with lower risk. Click here to get your free trial now.
Disclosure: I/we have no positions in any stocks mentioned, and no plans to initiate any positions within the next 72 hours.
I wrote this article myself, and it expresses my own opinions. I am not receiving compensation for it (other than from Seeking Alpha). I have no business relationship with any company whose stock is mentioned in this article.