The market has started to wake up to the Famous Daves (DAVE) story, and the shares have performed admirably over the past year. We believe the run off the lows is still in the early innings. We highlight why the shares are worth mid-teens.
We have been diligently following DAVE for multiple years. We have been patiently waiting for positive developments. We are now declaring a key pivot has taken place that will pave the way for a significant increase in value for the business, off what is still a low base.
Activist investors got their way when DAVE appointed the new CEO, Jeff Crivello. Jeff "gets it," with success in restaurant investing from the money management side. As the former right-hand man of Patrick Walsh of PW Partners, Jeff was handpicked to captain the ship at Famous Daves. Patrick Walsh has had tremendous success in creating significant value at restaurant companies.
Jeff is following through on his objective of cutting the previously bloated G&A (overhead) in half, from the previous ~$16 million in G&A to a sub $8 million annual run rate. Jeffs team is laser-focused on the large 135 store franchising business; Jeff is making DAVE a toll road business instead of a restaurant operator. This is the model employed by successful PE shop 3G Capital at Restaurant Brands International, as well as franchise focused peers like Dunkin Brands, McDonalds, and Wendys. As shown below, the franchise focused restaurant names (QSR, DENN, DNKN, WEN, MCD) trade at a mid-teen multiple on an EV/EBITDA basis.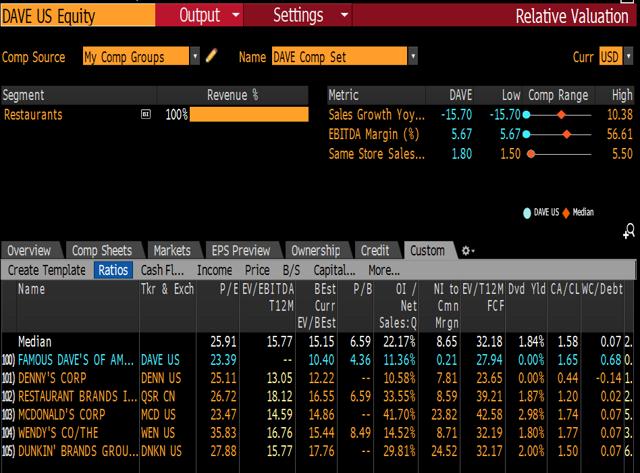 DAVEs previous overhead and expenses incurred from running 50+ owned restaurants are being cut. The volatile earnings profile of the previous 50+ owned locations is being replaced by highly recurring franchise income, which the market has yet to recognize. A tough restaurant environment and high management turnover have caused the stock to falter from its 2015 high of $30. Based on our due diligence, we feel confident about the plan Jeff Crivello has laid out, as well as his incentives to execute.
DAVE will now have 136 franchised locations and a remaining 16 profitable company-owned restaurants in their home market of Minnesota. DAVE will essentially become a royalty stream story. The balance sheet is now squeaky clean, and the company will generate nearly all its EBITDA from recurring sources, these reliable and steady cash flows will command a respectable multiple, allowing for multiple expansion combined with significant earnings power expansion. Our primary research validates our scenario analysis model below. The model shows total royalty revenue (royalties plus licensing) this year will be 95% of TTM royalties, coming in at $14.63M. With $1.9M in cash earned from the remaining 16 owned stores and a G&A target of $7.8M, this gets DAVE to $8.75M in EBITDA. This is better than the $3 million in 2017 EBITDA and will continue to catch the shorts (18% of float) off guard, 80% of shares held by top ten institutional holders. Given the virtually all recurring revenue characteristic of the new DAVE, it should garner a 14x multiple and trade around $14.70/share this year (when adding back year-end net cash of $11M). Our 2019 base case consists of $9.7M in EBITDA at a 14x multiple, or $17.30/share ($20M year-end net cash). In the recently reported Q1 of 2018, DAVE brought G&A down to below $1.9M from $4.5M, earning 1.8M in EBITDA and validating our thesis. DAVE earns over 2/3rds of its money mid-year (Q2-Q3), so we believe results will continue to come in strong and be close to our model. We also believe in Jeffs ability to redeploy free cash flow wisely.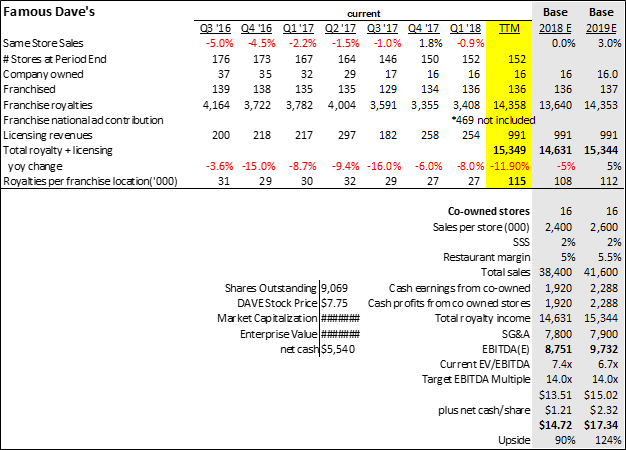 Large DAVE franchisee groups (most are longtime owners) are pleased with their Famous Daves locations which have done well for them for decades. Many are optimistic with, finally, a stable management team in place that has proven to be able to execute. This showed through in the previous two quarters, in which SSS were very healthy. SSS at corporate-owned stores were up 5.2% in Q1 of 2018, while franchised store comparables were down 1.6%. We believe that success sharing of whats driving increased SSS at our 16 corporate-owned stores, will take hold at franchised locations. We anticipate franchisees to increase SSS imminently.
We all know the inherent volatility in many microcap stocks. Here is the 2012-2014 rise in DAVE shares when the business was humming. We think the current transformation is still under the streets radar.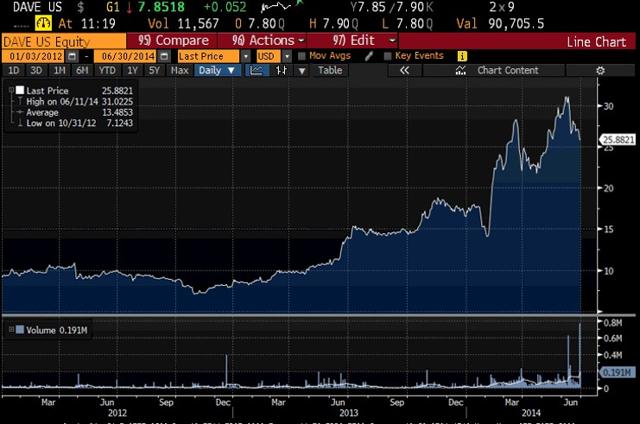 Disclosure: I am/we are long DAVE.
I wrote this article myself, and it expresses my own opinions. I am not receiving compensation for it (other than from Seeking Alpha). I have no business relationship with any company whose stock is mentioned in this article.
Additional disclosure: All research and information have been provided on a best efforts basis, and the author makes no warranties or guarantee as to completeness and accuracy thereof. Investors should rely on their own due diligence for investing decisions. We spend great effort in our due diligence process. We make investments based on our conviction in our due diligence process. You should assume at the time of publication we hold a long position in securities of the company discussed in this report.
Editor's Note: This article covers one or more stocks trading at less than $1 per share and/or with less than a $100 million market cap. Please be aware of the risks associated with these stocks.