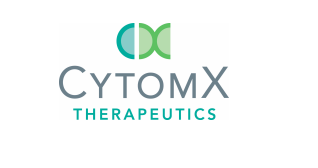 According to their most recent 10-Q filing:
CytomX Therapeutics, Inc. (the Company) is a clinical-stage, oncology-focused biopharmaceutical company with a vision of transforming lives with safer, more effective therapeutics. The Company is pioneering a novel class of investigational antibody therapeutics, based on its Probody therapeutic technology platform, for the treatment of cancer. The Probody therapeutic approach is designed to more specifically target antibody therapeutics to the tumor microenvironment and reduce drug activity in healthy tissue and in circulation. The Company is located in South San Francisco, California and was incorporated in the state of Delaware in September 2010.
CytomX (CTMX) has four products in clinical trials (two partnered):
CX-072 – wholly-owned – in a phase 1/2 trial with data expected mid-2018. CX-2009 – wholly-owned – in a phase 1/2 trial with data expected 2H 2018. CX-2029 – partnered with AbbVie (ABBV) – IND filed in April 2018. CX-188 – partnered with Bristol-Myers (NYSE:BMY) – phase 1/2 trial ongoing.
In general, the therapeutic goals for these drugs is to improve antitumor efficacy (by being more localized towards tumors) and improve safety (by reducing systemic effects of the medicines).
Wholly-Owned Assets
CX-072 Monotherapy
In mid-May, CytomX presented early phase 1/2 monotherapy data for their wholly-owned asset, CX-072. In 17 patients, there were two partial responses (PR) and 11 with stable cancer (SC), adding up for a disease control rate of 76%. Now, the data is too young to make any determinations. Typically, a PR rate of 11.7% isn't a good sign. But we cannot assess that on face value.
7/17 patients did see a decrease in target lesions from baseline (just not enough of a decrease to be considered a partial response). For patients whose dose was escalated to 3mg/kg, 5/8 of them (63%) saw a decrease in target lesions.
The key here is to consider that CX-072 is a PD-L1 probody therapeutic, meaning, PD is its target. The data presented at ASCO (A1: dose escalation) included patients who were PD naive and are, therefore, less likely to respond to CX-072. In mid-2018, CytomX will reveal data from patients who underwent a mandatory biopsy (A2) to confirm PD-L1 positivity. Coincidentally, one of the partial responders, a triple negative breast cancer patient, was actually PD-L1 negative.
Concerning the safety profile, only 12% of patients had Grade 3/4 adverse events.
CX-072 in Combination with Ipilimumab (n=9)
4 were assessed for efficacy:
1 PR (25%)
56% target lesion reduction
9 were assessed for safety:
22% Grade 3 adverse events.
The inclusion for this trial was unselected cancer types.
CX-2009 (targets CD166) Phase 1/2 Trial Design
This particular trial will first assess CX-2009, in escalating doses, in several different cancer types. Then a biopsy will be required and only patients positive for CD166 will continue.
Partnered Assets
CytomX has paired with Bristol-Myers for 12 differing targets (mostly oncology). The partnership has already rewarded CytomX with $287M, with potential of $4.8B in milestones.
CytomX partnered with AbbVie for the development of CX-2029 and has earned $45M to date, with up to $1B in potential milestones. Its phase 1 trial, slated for 3Q 2018, is designed like the others mentioned earlier.
CytomX partnered with Amgen (NASDAQ:AMGN) for EGFR-TCB and has earned $60M to date, with $1.4B on the table pending regulatory and commercial milestones.
Upcoming Catalysts/Milestones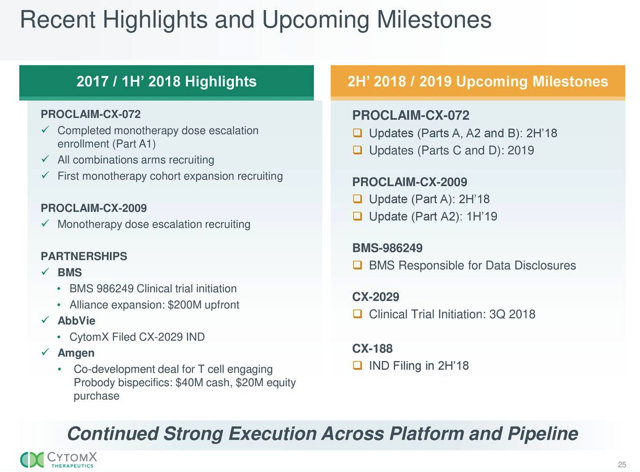 Source: CytomX Bank of America Merrill Lynch 2018 HCC
2018 will be a busy year for CytomX.
Fundamentals
CytomX will likely benefit from a steady revenue of milestone payments for years to come. The company reported $361.5M in cash and investments for the quarter ending March 31. The company has no debt obligations.
For the same quarter, they spent $7.9M on R&D and $1.7M on general expenses.
Technically Speaking
Shares of CytomX saw a nice bump off its 200-day MA, as well as a reversal in its MACD: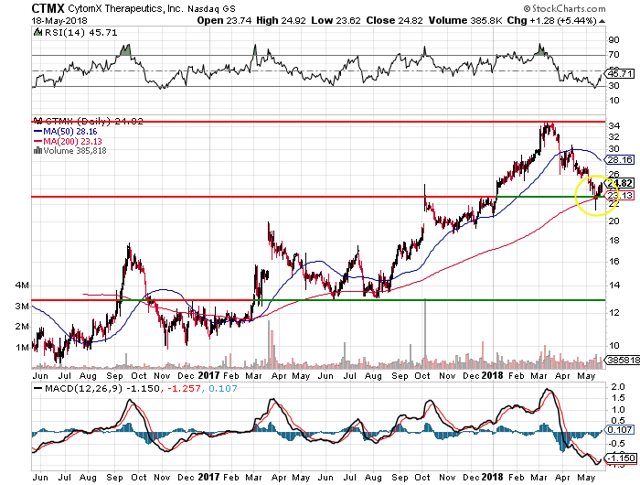 (X marks the spot) Chart courtesy of StockCharts.com
Shares appear primed for a rebound. And with a positive market response from initial data presented at ASCO, I expect a continuation towards $30.
Risks CytomX is currently valued just under $1B (market cap). This is pretty high for a company with no late-stage candidates. Any semi-significant bad news is likely to send share prices tumbling. They do not yet generate any revenue from product sales and may resort to diluting shareholders in order to fund operations. Their products may fail clinically. They may prove to be unsafe or ineffective. Clinical trials may be delayed. They depend on third-party collaborators. They may face competition from present or future entities. All the risks can be read by accessing their most recent 10-Q. Summary
CytomX possesses many of the important attributes biotech investors look for in a company:
It has partnered with big pharma (and they, apparently, have a lot in confidence in the products' prospects if they are willing to dish out so much money). It is likely to have regular cash flow and, therefore, less likely to dilute at regular, recurring intervals. Its pipeline and science are sound (I didn't get much into the science. For a closer look, read a great article penned by Seeking Alpha writer Jerome Verony). Its purpose and resources are focused. Share price momentum.
Author's note: For further insight into biotechnology stocks, please follow Clover Biotech Research.

Disclaimer: The intention of this article is to provide insight, not investment advice. One must consider one's own financial standings, risk tolerance, research, etc. before making a decision to buy shares in a company. Many of my articles detail biotechnology companies with little or no revenue. These stocks are, therefore, speculative and volatile. Even when prospects seem promising, there is no predicting the future. Losses incurred may be significant.
Disclosure: I am/we are long GBT, VKTX, CWBR, IMDZ.
I wrote this article myself, and it expresses my own opinions. I am not receiving compensation for it (other than from Seeking Alpha). I have no business relationship with any company whose stock is mentioned in this article.