I've brought the Gorgon LNG project up often before, which is being spearheaded by Chevron Corporation (NYSE:CVX). As the operator with a 47.3% stake in the massive venture, Gorgon production streams will have a very material impact Chevron, even for a firm of its size. Now that the first phase of the journey is coming to a close I decided to revisit the issue.
Overview
Down in Australia on Barrow Island, three LNG trains were constructed to produce 15.6 million metric tons of LNG per year That production will be exported all over the world, primarily Asia, from the facility. Most of that supply is protected by long term contracts, which will come into force within a couple of years.
Chevron, along with its partners Exxon Mobil Corporation (NYSE:XOM) and Royal Dutch Shell (NYSE:RDS.A) (NYSE:RDS.B) who each own a quarter of the endeavor, sought to commercialize the large gas finds at the Gorgon and Jansz-lo fields through this project.
While a g as plant was built to supply domestic consumers, only by exporting these vast resources could the consortium find enough demand to match supply (something that too many LNG operators came to realize, which flooded the global LNG market).
Those two gas fields are expected to house around 40 trillion cubic feet of natural gas, enough to keep those three trains humming for years to come. Just recently the third train was brought online, and now the focus is on ramping up output. Some condensate is also being produced and sold. Now that all three LNG trains are online the ramp up should continue through 2018.
Investors should note that this is just part of the process, there is also a phase two to consider. At the start of this year the consortium began the FEED (Front End Engineering and Design) process and is moving towards a final investment decision on Gorgon Phase 2.
Gorgon Phase 2 seeks to upgrade the subsea gas gathering network to ensure stable supplies to all three plants and will most likely see additional production wells drilled as well. It isn't clear if this project is to maintain existing operations for the long haul or if the consortium is laying the groundwork for future growth, which would seem necessary at the moment considering the amount of LNG supply being brought online.
Significance for Chevron
Net to Chevron, its Gorgon stake has added 100,000 BOE/d to its production base as of Q1 2017. Almost quadruple its 2016 level, as only part of the development was operational at the time. Going forward, that will rise to over 200,000 BOE/d n et. Compared to a company-wide output of 2,680,000 BOE/d net in Q1 2017, it is clear that the Gorgon ramp up will be one of the biggest growth catalysts for Chevron going forward.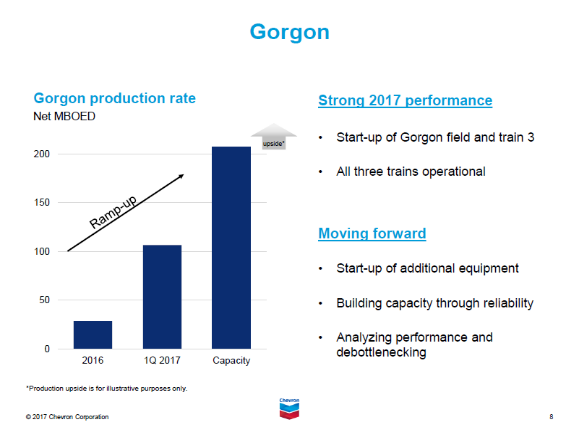 Source: Chevron Corporation
Words of caution
For those that have been following Chevron this won't come as a surprise, but the Gorgon project hit a lot of speed bumps. Largely due to sharply higher than expected labor and material procurement costs, the estimated price tag of the associated upstream, midstream, downstream facilities jumped from $37 billion in 2009 to $54 billion in 2014.
Then there was the series of mechanical issues with the first LNG train Chevron had to sort out, which caused production to repeatedly stall as problems were sorted out (no cheap expense). Ideally Chevron fixed those issues with the other two LNG trains, we'll see. Delays also helped pushed the price tag up, as the timetable for first LNG exports kept getting pushed incrementally farther back.
These higher costs were reflected in Chevron's cash flow statements as cost outlays were elevated, and on its income statement it will show up in the form of higher DD&A expenses. More importantly, these major problems delayed a much needed catalyst for cash flow growth that Chevron needs to help cover its hefty dividend expenses.
Final thoughts
It appears that the first chapter in Chevron Corporation's arduous Gorgon story is coming to a close and it's about time. Effectively implementing that ramp up is one of the few things Chevron Corporation can control in this weak pricing environment.
However, if problems at the first LNG train start migrating to the other trains then investors should be worried. If Chevron Corporation performs better than it has in the past, then this major drain on cash will turn into a cash flow cow. A key development to watch going forward without a doubt.
Disclosure: I/we have no positions in any stocks mentioned, and no plans to initiate any positions within the next 72 hours.
I wrote this article myself, and it expresses my own opinions. I am not receiving compensation for it (other than from Seeking Alpha). I have no business relationship with any company whose stock is mentioned in this article.
About this article:ExpandAuthor payment: $35 + $0.01/page view. Authors of PRO articles receive a minimum guaranteed payment of $150-500. Become a contributor »Tagged: Investing Ideas, Long Ideas, Basic Materials, Major Integrated Oil & GasProblem with this article? Please tell us. Disagree with this article? Submit your own.Follow Callum Turcan and get email alerts