In his seminal paper on portfolio management, Harry Markowitz had identified risk and return as the two most important variables in investment decision making. Any rational investor is supposed to minimize his risks, while maximising his return. However, risk and return go hand in hand. Hence, most of the times, it is extremely difficult to find investments that give superior risk-adjusted returns. This is not to say that there aren't any such investments available. Warren Buffett-led Berkshire Hathaway (NYSE:BRK.B) is one investment which has given superior risk-adjusted returns.
Over the last decade, Berkshire stock has returned around 132%, almost double the 68% return provided by the S&P 500. From 1964 through 2016, Berkshire's compounded annual growth is 20.8%, more than twice the annual gain of the S&P 500 index during the same period. Overall, Berkshire stock has returned a mind-blowing 1,972,595%.
(Source: Amigobulls)
What is more impressive is the fact that the stock carries lower risk compared to the market. Berkshire stock has a regression beta of around 0.87, indicating that an investment in the stock is less risky than investing in the S&P 500 or the Nasdaq Composite.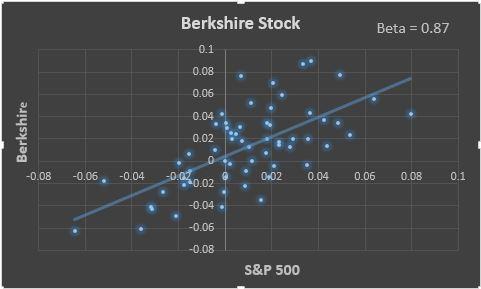 Diversified portfolio reduces risk
In the above-mentioned paper, Harry Markowitz had suggested diversification as the best method of reducing your portfolio risk. Well, Berkshire does just that. The company has investments in over 90 companies, of which more than 40 are listed. Berkshire has interest in industries varying from insurance and banking to transportation, tech, energy, airlines, automakers, retailers, and others.
Berkshire is the largest shareholder in two major banks: Bank of America (NYSE:BAC) and Wells Fargo (NYSE:WFC). It has investments in Coca-Cola (NYSE:KO), Heinz (NASDAQ:KHC), tech giant Apple (NASDAQ:AAPL) and several other companies. This wide diversification gives the company a natural hedge. A downtrend in one sector is made up by the good performance in another. In the recent quarter, for example, loss from insurance underwriting was offset by the improvement in its BNSF railroad business. This huge diversification reduces the unsystematic risk of the stock. This diversification is the main reason why the company has a very low beta of 0.87.
Can the company continue its impressive performance?
While Berkshire has delivered strong results in the past, can the performance continue? Given the strength of its core business and investments portfolio, the answer is most likely yes. The company acts partly like a conglomerate (with several subsidiaries) and partly as an active portfolio management service.
Berkshire's core business has been transforming. Insurance still remains a large chunk of the company's business, though it is no longer the largest segment. The insurance segment's contribution to overall earnings has dropped from 60% in 2009 to less than 25% in the second quarter of 2017. While insurance business disappointed in the second quarter, long-term growth remains strong.
Geico, the No. 2 US auto insurer, continued to write new auto insurance policies aggressively (with policies in f orce up about 300,000) in the second quarter. Premium growth in the period was 16%. This high growth dampened the insurance segment's results because the company incurs one-time expenses for new policies. However, Berkshire expects these policies to contribute to the bottom line over time. The insurance business is also a cash cow for the company, helping it to finance its investments in other businesses.
With the recent acquisition of Precision Castparts in 2016, manufacturing has become the largest segment for the company. In the second quarter, the manufacturing, service, and retailing segment generated $1.7 billion in revenues, up 11% YoY. This segment will continue to benefit from domestic as well as global economic growth. In the month of August, U.S manufacturing grew at the fastest pace since 2011. Global manufacturing growth is also picking up, driven by improving demand and buoyed by stronger economic growth.
The company's railroad, Burlington Northern Santa Fe (BNSF), continues to contribute solid revenue and earnings growth. Its profitability jumped 24% in the second quarter, contributing $958 million to operating earnings this quarter. The US rail freight traffic has continued to show growth in the year-to-day period, which is good for BNSF's growth.
Warren Buffett's Cash Problem
Berkshire has always maintained excess cash on its books. Recently, Warren Buffett said that he won't allow the cash level to fall below $20 billion. This dry powder has allowed Berkshire to snap up investment opportunities as and when they arise. Case in point, its investment in Bank of America. Back in 2011, Berkshire invested $5 billion in Bank of America in exchange for preferred stock and the right to buy 700 million common shares at an exercise price of just $7.14 each. The company exercised this right when the shares were trading above $24, resulting in a gain of about $12 billion on investment of $5 billion in just six years. The $12 billion in gains come on top of more than $1.5 billion in dividends from the preferred stake over the past six years.
However, Berkshire's cash hoard is now increasingly becoming a problem. The company has around $100 billion in cash, 5x its minimum threshold. While the cash hoard reduces risks, it also suppresses return, especially given the current low-yield environment.
(Source: Bloomberg)
The company has been trying to put this money to work by taking the acquisition route. However, it has met with failure so far. In spite of Warren Buffett's legendary deal-making ability, the company has come out empty-handed in its last two acquisition attempts. And given the historically high valuations, finding a right candidate is likely to be tough. A Bloomberg Gadfly analysis in May did find a bunch of companies that could attract the Oracle of Omaha. Given the success of Berkshire's recent acquisitions, such as BNSF railroad and Precision Castparts, an acquisition could provide an immediate boost to the stock price.
All in all, Berkshire stock has a strong potential of returning superior risk-adjusted returns.
Disclosure: I/we have no positions in any stocks mentioned, and no plans to initiate any positions within the next 72 hours.
I wrote this article myself, and it expresses my own opinions. I am not receiving compensation for it (other than from Seeking Alpha). I have no business relationship with any company whose stock is mentioned in this article.
Additional disclosure: This article was written by Kumar Abhishek, an equity analyst at Amigobulls. Neither Amigobulls, nor any members of its staff hold positions in any of the stocks discussed in this post. The author may not be a certified/registered investment advisor, and the opinions expressed should not be treated as investment advice. Buying and selling of securities carries the risk of monetary losses. Readers/Viewers are advised to carry out their own due diligence and consult their investment advisors before making any investment decisions. Neither Amigobulls, nor the author have any business relationship with any of the companies covered in this post.
About this article:ExpandAuthor payment: $35 + $0.01/page view. Authors of PRO articles receive a minimum guaranteed payment of $150-500.Tagged: Investing Ideas, Long Ideas, Financial, Property & Casualty InsuranceWant to share your opinion on this article? Add a comment.Disagree with this article? Submit your own.To report a factual error in this article, click here