A few weeks ago, NIBC Holding (NIBC, Euronext Amsterdam) completed its IPO as Private Equity firm JC Flowers was finally able to place a substantial part of its shares on the equity markets. Unfortunately, NIBCs first trading day was overshadowed by a turmoil on the financial markets as the fears for a worldwide trade war increased.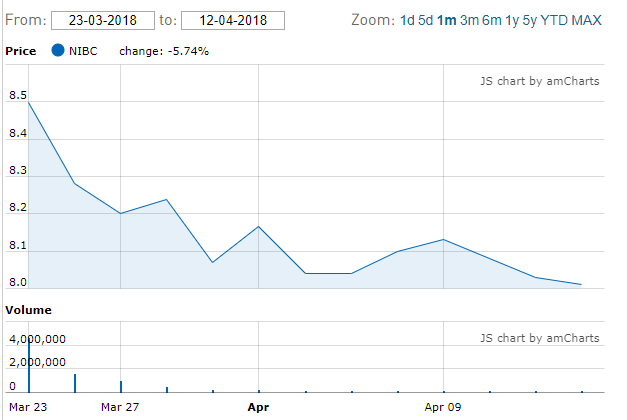 Source: Euronext.com
Not a great day to start trading, and it looks like underwriters werent too keen on providing some basic market-stabilization factors. Perhaps the IPO (raising 320M EUR) wasnt important enough for Citigroup (NYSE:C), Deutsche Bank (NYSE:DB) and Morgan Stanley (NYSE:MS) to really care about this offering. The current share price is 8.07 EUR, down from the 8.75 EUR IPO price. Using the current share count of 147.5M shares, NIBC is valued at 1.2B EUR. JC Flowers remains the dominant shareholder with approximately 75% of the stock.
Most of the information for this article was sourced from the companys prospectus, which you can find here (765 pages).
NIBC appears to be extremely focused on the Netherlands
NIBC is a Dutch bank, offering just a few corporate and retail banking products (it most definitely isnt a one-stop shop for ALL your banking needs as a retail client) with a specific focus on the Netherlands, Germany and Belgium. As NIBC has been gradually reducing its exposure to German mortgages, it looks like the bank is heading in the direction of finding cheap funding in Belgium and Germany (due to the low interest rates on savings accounts) to invest those proceeds in Dutch mortgages and corporate loans.
Its corporate division indeed provides leveraged finance solutions for corporate buyouts, whilst it also provides factoring services and receivables finance. As you can see on the next image, the corporate client exposure versus the retail client exposure is relatively 50/50: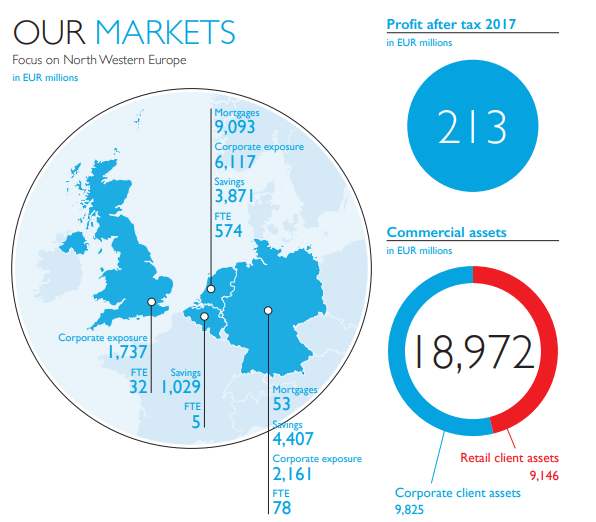 Source: IPO Prospectus
But lets tackle the divisions one by one.
Retail
So, as mentioned before, NIBC raises cash by issuing savings accounts and subsequently uses the cash to generate mortgages. Whats really interesting is the fact 95% (!) of all the mortgages are being issued in the Netherlands, although it raises only 42% of its (retail) funding in that country. I think its fair to say the German and Belgian market are being milked to provide cheap funding. And I think especially Belgium could play an important role.
The Belgians are the best savers in Europe (and perhaps in the world). According to the Belgian National Bank, the total amount of cash on savings accounts has increased to almost 250B EUR. Thats right, thats a potential pool of 250B EUR of cheap money. How cheap? Well, most large banks are offering the legal minimum on the retail savings accounts: 0.11%. This allowed other Dutch Banks (Rabobank, ABN AMRO (OTCPK:ABNRY)) to tap this market as even if it offers a multiple of the large banks interest rates, it would still be much cheaper off than on its Dutch home turf.
Just to give you an idea, I am comparing the Dutch savings account offered by NIBC with the Belgian account:

Note, the interest rates in Germany are similar to the Dutch interest rates. But the difference between the Netherlands and Belgium (with a supply glut of savings) is pretty strong. Just to give you an idea; by raising 1B EUR on the Belgian market on 10-year term deposits, NIBC is ensuring itself of a 6M EUR lower net interest expense for a period of 10 years. And as NIBC currently has a market share of just 0.4%, I think its fair to assume the bank will try to continue to grow its (online) savings bank in Belgium as its by far the cheapest funding solution (on the free market).
As mentioned before, approximately 95% of the mortgages generated by NIBC were generated in the Netherlands, so it will be very important to keep an eye on A) the Dutch economy, B) the Dutch home prices and C) the loan-to-value ratio on those mortgages. Fortunately, NIBC has done a great job in reducing this LTV ratio from 80% in 2015 to 75% in 2017. This means the bank should be able to withstand a 25% haircut on the value of the houses before starting to lose money on those loans.
The LTV ratio on the buy to let assets is 57% (down from 61% in 2015), which appears to be very reasonable. In fact, I wouldnt mind seeing NIBC increasing its buy to let portfolio as it could become the preferred bank for some REITs rather than focusing on the retail buy to let markets:

Source: IPO Prospectus
On the corporate side, the portfolio consists of five pillars (on top of the capital markets and corporate finance divisions):

The risks appear to be spread out evenly amongst several sectors: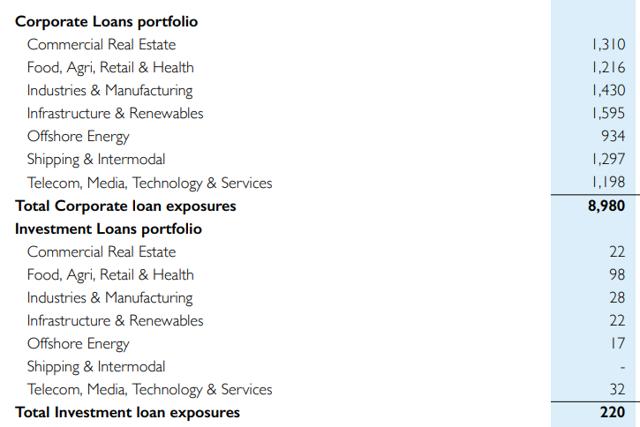 Source: IPO Prospectus
The total Non-Performing Loan exposure is limited to just 2.6%, but this low percentage is predominantly caused by a very low 0.5% NPL ratio in the retail division versus a 4.6% non-performing loan ratio in the corporate division. Perhaps not surprising considering the majority of the NPL percentage is caused by the offshore energy business division, and that hasnt been the best-performing sector lately.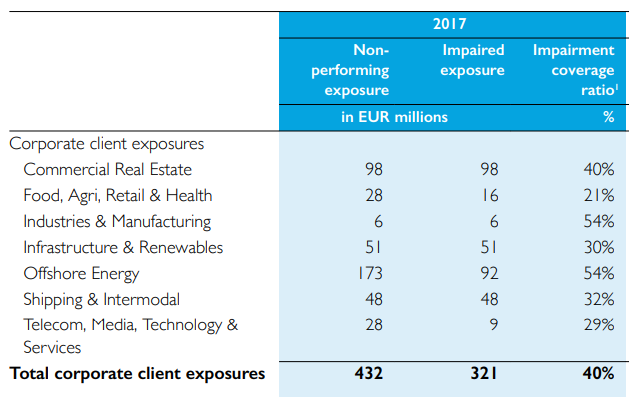 Source: IPO Prospectus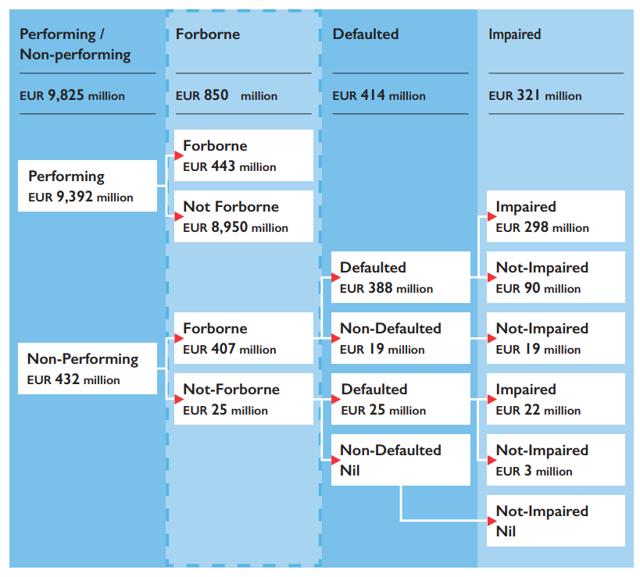 Source: IPO Prospectus
Looking at the 2017 income statement: the investment income is the huge unknown factor
Okay, I guess you now have a pretty good idea of NIBCs business model, lets talk numbers now.
2017 was an excellent year, as the companys net income more than doubled to 216M EUR. However, that includes a non-recurring benefit of selling German assets to the tune of 53M EUR. As I really like to compare apples with apples instead of bananas, I will use the normalized income statement for 2017 which resulted in a net income of 160M EUR, or approximately 1.08 EUR per share.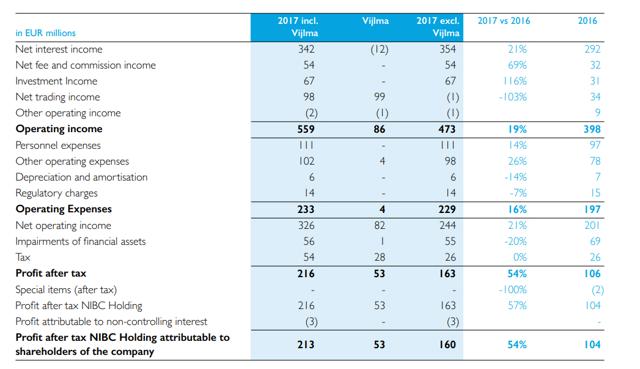 Source: IPO Prospectus
Okay, that obviously is a great result as it indicates NIBC is currently trading at just 7.5 times its net income and thats pretty low, even for a bank.
We also see the operating income (excluding the Vijlma transaction) increased by 19% on the back of a 21% increase of the net interest income compared to 2016. This looks like great news, but there a few things in the more detailed statements Id like to discuss.
Whilst the net interest income increases, this appears to be predominantly caused by lower funding costs rather than a higher gross interest income. This could be interpreted in two different ways. First of all, once the cheap money policy will come to an end, these interest expenses will increase. And this could go pretty fast and put severe pressure on the income statement.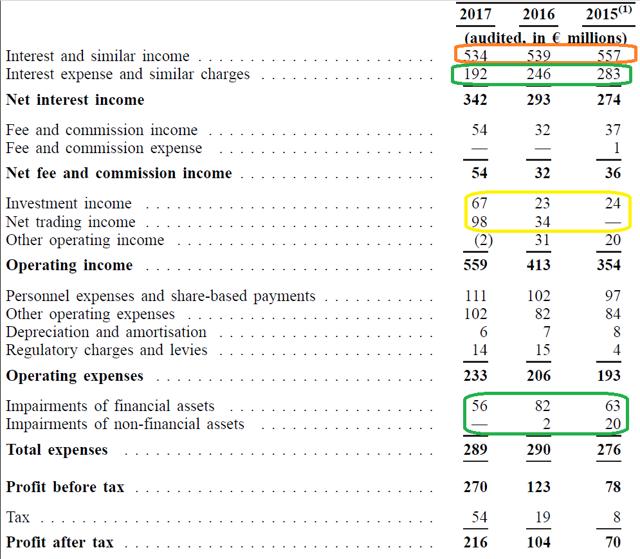 Source: IPO Prospectus
However, higher interest rates will also indicate the newly generated mortgages will have higher interest rates, so it will be important for NIBC to apply a good risk manager to make sure it doesnt suddenly get caught by a surprise interest rate increase. Perhaps it could be a good idea for NIBC to (temporarily) make the ultra long-term deposits more appealing to lock up deposits over 8-10 years.
I have also highlighted some other interesting facts on the income statement. The net trading and investment income increased from 24M EUR in 2015 to a stunning 165M EUR in 2017. Whilst the total impairment level decreased from 83M EUR to 56M EUR over the same period.
I guess the high investment and trading income is bothering me a bit. This part of the income statement will contribute a lot to the bottom line during good years, but could turn into a bottomless pit when the markets go sour.
That being said, according to the accompanying notes in the annual report, it looks like NIBCs own investment portfolio is just 343M EUR, so even a market crash of 50% should be absorbable by the total balance sheet. Im not too worried about the trading income as this is where the Vijlma transaction was booked, which resulted in the adjusted 160M EUR net income if youd exclude this deal from the income statement.
So the main question here is the value of the equity portfolio. Should the annual return fall back to zero, the pre-tax income would fall from 189M EUR to just 122M EUR and a normalized net profit of 100M EUR. That would equate 68 cents per share or a P/E ratio of 12 at the current share price.
The balance sheet
What I do like about NIBC are its exceptionally strong equity and capital ratios. Those percentages are allowing NIBC to lead the pack in the European banking landscape: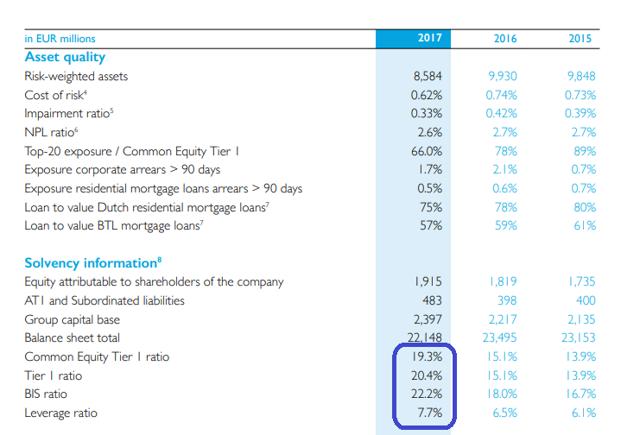 Source: IPO Prospectus
According to the most recent balance sheet, NIBC has a total book value of 1.915B EUR, which, divided over 147.5M shares results in a book value of 12.98 EUR per share. NIBC wins on all these counts from its two Dutch competitors:

The dividend policy
NIBCs dividend policy is pretty straightforward: it aims to spend 50% of its net income on the dividend:

Source: IPO Prospectus
Using the normalized income of 160M EUR in FY 2017, this would result in a dividend payment of 80M EUR, or 54 cents per share (for a yield of 6.7%). Thats very healthy, but it also includes the strong performance of the investment portfolio. If I would adjust the net income result to 100M EUR (which would be the approximate net income excluding any gains from the investment portfolio), the dividend payment would decrease to 50M EUR, or 34 cents per share. And thats less appealing as even the larger and more diversified banks would be paying a higher dividend.
However, thats the worst-case scenario. And assuming NIBC will be able to generate a normal return on its investment portfolio, we might see a dividend higher than 34 cents, but it will be close to impossible to meet the markets expectations of a 50-55 cent dividend.
Conclusion
This is a tough call. I like NIBCs valuation based on its book value and strong capital ratios, but the lack of interest income growth and the overhang of JC Flowers (which will undoubtedly want to sell more stock) is bothering me a little bit.
But due to its small size and limited geographical exposure (Belgium, the Netherlands and Germany), the performance will always be more volatile than its larger counterparts (ABN AMRO, ING Bank (NYSE:ING),) and as the investment portfolio income contributed approximately 1/3 rd to the pre-tax income, bad years on the market will have a very negative impact on the income statement. I like what the bank is doing, but I dont like the dependency on the investment income to boost the EPS.
Bottom line? I might initiate a (very) small long position in my personal portfolio as part of a higher risk diversification. The dividend should be okay (and there seems to be a bottom at around 30-35 cents, which would still represent a 4% dividend yield) whilst I would assume NIBC will be able to close a part of the valuation gap based on its book value and the price/book value ratios of its peers.
Given the weak performance of the stock markets in Q1, I think we might be in for a (negative) surprise when NIBC announces its Q1 results next month. And that could create an opportunity to pick up stock at a lower price than where its trading at today.
Consider joining European Small-Cap Ideas to gain exclusive access to actionable research on appealing Europe-focused investment opportunities, and to the real-time chat function to discuss ideas with similar-minded investors!

Most of the companies discussed there dont have US ticker symbols, so the service will only be useful if your broker grants you access to European markets (Interactive Brokers, Fidelity, or pretty much any Europe-based broker).
Disclosure: I/we have no positions in any stocks mentioned, and no plans to initiate any positions within the next 72 hours.
I wrote this article myself, and it expresses my own opinions. I am not receiving compensation for it (other than from Seeking Alpha). I have no business relationship with any company whose stock is mentioned in this article.