Several days ago Fitbit (FIT) and Dexcom (DXCM) announced they are partnering to develop CGM (continuous glucose monitoring) solutions for people living with diabetes. The first product will incorporate DXCM's CGM data and bridge it with FIT's new Ionic watch. Users of Android and iOS devices would be able to see "activity and glucose levels, right on their wrist."
So what's the big deal?
Th truth is that it isn't such a big deal for DXCM. The company already sells and markets a similar product for both Android and iOS devices.
However, please note that the Ionic will have four days of battery life, which could be considered mission critical in such medical applications. Apple's (AAPL) new iWatch 3 on the other hand clams to have up to 18 hours of battery life.
Also, the Ionic smartwatch has a built-in GPS tracker, an optical heart rate sensor, an accelerometer and a blood oxygen sensor. So perhaps DXCM and FIT might have more plans for medical Apps in the future. The AAPL iWatch does not have all those amenities, and to get the GPS tracker you have to fork out about $30 more.
Like I said in a previous article (please consider: Buy Fitbit: The Dust Has Settled), I do not expect FIT to even come close to sell as many smartwatches as Apple. In fact probably not even as many as Samsung (OTC:SSNLF). But the issue is that it doesn't need to sell that many.
Please remember that FIT is only a $1.5B company. It doesn't have the market cap of AAPL. All FIT has to do is to sell perhaps as much as $300M in watches for the entire year, and its stock will catch fire.
The Ionic is a catalyst within a catalyst
There are other issues besides the Ionic being a catalyst for a much higher FIT stock price. As I said in my previous article, even without the Ionic watch, FIT is on track to grow for three consecutive quarters. That in itself marks an upward growth trend. In other words, even without the Ionic, FIT is gro wing.
The Ionic will be bought by people who take their workouts serious and want to be connected to FIT's fitness ecosystem. By virtue of the fact that FIT is the number one fitness gadget company in the world, the Ionic by itself should sell well.
However, when one looks at the additional possibilities, then the Ionic goes beyond the sports and fitness market. The medical wearables space is perhaps even larger than FIT's fitness space.
The wearable space was initially about tracking activity, counting calories, and sharing activities with friends. This is something FIT has pioneered and does well.
However the next phase will be tracking and monitoring the body and providing feedback. At the current time the technology is not that reliable enough, or integration is only partially at the level needed to make wearables a mass market item.
But given time, the wearables space will be the next big thing, even if we do not realize it now. A host of new censors, interfaces and the networking required to make wearables run together is only starting to come of age.
Everyone has heard of IoT (internet of things). However it's not yet clear what this is, because it is still being defined. Wearables in my mind are a subset of IoT. Small gadgets that will be worn by us 24/7, that will provide us with information not just about our workout, but also about our health and body.
So within the IoT space, health wearables are the next big thing. And that's where the Ionic comes in. The Ionic is a catalyst within a catalyst, because not only will it provide FIT with an additional product that was missing from its product arsenal but it's also a wearable that should sell well, being part of the medical wearables space.
According to ABI Research (link here), the healthcare wearables market alone by 2022 will exceed $10B a year. Market research firm Tractica (same link) predicts that the smart clothing and bo dy sensor market will reach $19B by 2022.
Granted there will be many players. However FIT is right in the middle of this new space, be it medical, health, or fitness wearables.
Why is this a big deal for Fitbit
The big deal from an investment perspective is not the Ionic itself (but it is a catalyst), but the fact that FIT is only a $1.5B market cap company still trading at less that 1X revenue.
Like I said, FIT is on track to grow for three consecutive quarters, and that's even before the Ionic begins selling. If FIT plays its cards right and can continue to execute over the next several quarters, then revenue and EPS might surprise even the most optimistic analysts.
This because the Ionic adds a whole new dimension to FIT's revenue arsenal, that, as demonstrated by the deal with DXCM, is not confined to fitness. Health monitoring and medical applications are coming of age, and companies that make devices like FIT are in the center of it all.
And while the Apple Watch 3 will barely make a dent in AAPL's revenue and EPS, if Ionic's revenue proves to be several hundred million, it will do wonders for FIT's stock.
I have no estimates of what FIT's revenue and EPS might be over the next several quarters. My thinking is that FIT is a small enough market cap company at the moment that if only partially successful can produce above average returns over the next several quarters (if not years).
So given that we are talking about a $1.5B market cap stock, if the Ionic does even slightly well over the next two quarters, I think FIT's stock can double from current levels.
This despite the fact that FIT has fallen to the No. 3 wearables company in the world, from number 1 the same period last year.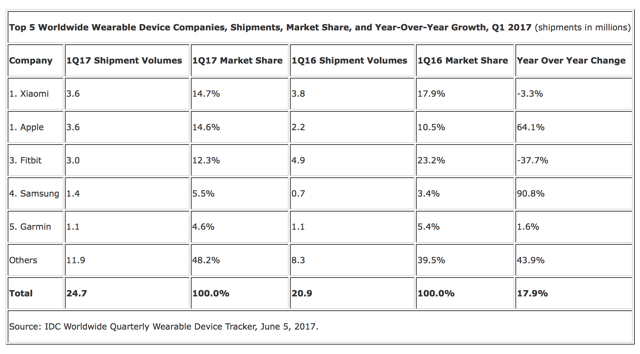 source
Simply put, the wearables space is big and getting bigger, and all FIT has to do is get a small piece.
Disclosure: I am/we are long FIT.
I wrote this article myself, and it expresses my own opinions. I am not receiving compensation for it (other than from Seeking Alpha). I have no business relationship with any company whose stock is mentioned in this article.
Editor's Note: This article discusses one or more securities that do not trade on a major U.S. exchange. Please be aware of the risks associated with these stocks.
About this article:ExpandAuthor payment: $35 + $0.01/page view. Authors of PRO articles receive a minimum guaranteed payment of $150-500.Tagged: Investing Ideas, Long Ideas, Technology, Diversified ElectronicsWant to share your opinion on this article? Add a comment.Disagree with this article? Submit your own.To report a factual error in this article, click here