Investors should applaud Alphabet's (GOOG) (NASDAQ:GOOGL) latest decision to allow developers to block rooted Android devices. One of the provisions found in Google's SafetyNet Exclusion allows developers to block or exclude app support on devices that do not pass basic integrity. This includes rooted phones/tablets and those devices with unlocked bootloader. Netflix (NASDAQ:NFLX) is just one of several firms taking advantage of this new freedom.
Rooted devices give their owners super-admin privileges to modify the Android OS and third-party apps installed. This is pretty dangerous for app developers like Netflix. Super-admin privileges on rooted devices allow people to cheat on games and other apps without making in-app purchases or getting paid subscriptions.
Google also has a vested interest that's being trampled upon by shrewd rooted Android device users. Let us not forget that Google gets a 30% cut on in-app purchases done through its Play Store. Google and developers alike suffer loss of income when, instead of doing an in-app purchase, a rooted phone owner will just use CheatEngine or GameCIH to cheat and get premium in-game currency.
The potential danger to subscription-based developers like Netflix is that rooted device owners could use CheatEngine to reset a one-month subscription into a perpetual loop. Alphabet's new SafetyNet Exclusion is therefore a welcome development. Developers want a proactive platform host that keeps their hard work protected from cheaters.
Google needs a healthy, growing app store business to help it diversify faster from its huge reliance on advertising. To do this, Google needs to keep its partner developers happy and secure.
Restrictive Measures Are Necessary To Protect The App Industry
Protecting the integrity of the Android App marketplace is important. The global mobile app market was estimated to be worth $88 billion last year (inclusive of iOS and Windows mobile apps). Allowing the practice of rooted devices to prosper could eventually endanger the overall growth of the Android apps industry.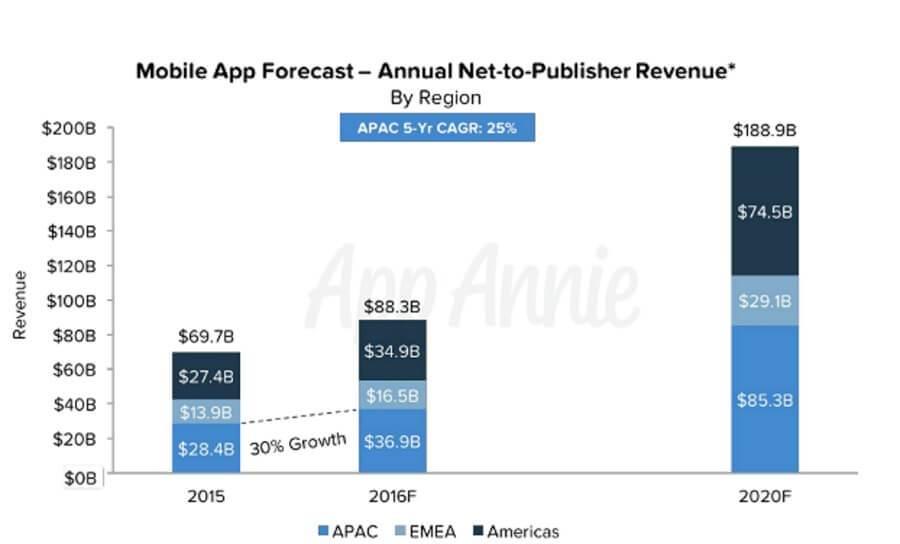 (Source: App Annie)
Android device owners will get discouraged from rooting their devices once they found out that their favorite apps like Netflix do not support rooted devices. The lower number of rooted Android devices there is, the lower negative impact there will be on the future sales of Android apps.
One of the reasons why Clash of Clans has seen a decline in monthly net sales is due to the proliferation of hacked gems. Hack tools could only be used on rooted devices, which allow super-admin privileges for people to get free premium items without spending real money. Clash of Clans used to generate $5 million per day. Unfortunately, the proliferation of rooted devices allowed smart programmers to create hack tools for it.
A check on SensorTower revealed that the Android version of Clash of Clans only had monthly sales of $27 million. My point is that developers needed the right to block rooted device users. Blocking rooted devices can minim ize cheating on Android games and apps.
Small app developers that rely on mobile ads also benefit from the ability to block rooted devices. The problem is that rooted device users could just ignore the rewards/incentivized ads served by Google or Facebook (FB). For example, instead of viewing a 15-second app install ad to get some game currency or energy replenishment, a rooted device owner can instead use CheatEngine and get unlimited in-game currency/energy. CheatEngine also allows players to skip levels or create invulnerable characters for players to quickly finish the entirety of a mobile game.
Advertising dependent mobile games need players to spend a long time playing to maximize their game's lifetime ad income.
Forcing Android Device Manufacturers To Also Get Licensed Google Mobile Services
The new SafetyNet Exclusion also allow developers to block phones and tablets that do not have official/licensed Google Mobile Services installed. Chinese vendors like Xiaomi, Oppo, and Vivo sell their phones and tablets without official Google Play Store and Google Mobile Services. This is understandable since Xiaomi and other Chinese vendors have their own Android app store. They do not want Google to take 30% cut from the in-app purchases of their phone customers.
Alphabet, by encouraging developers to block non-GMS licensed phones, could inspire Xiaomi and other Chinese phone vendors to pre-install licensed GMS and Google Play Store on most of their products. The more Android devices there is, the better it is for the app store and advertising segm ents of Alphabet.
Let not forget that in order for Google to serve personalized ads to Android users, it needs the personal data mining tools found in pre-installed Google Mobile Services.
Conclusion
I rate GOOG as a Buy. We should be happy that Google is working to protect its developer partners from the dangers of rooted devices. Minimizing the number of rooted Android gadgets is necessary to protect the lifetime monetization potential of Android apps and games.
More developers will probably shift toward making apps and games for the Android platform now that it offers the option to block or exclude rooted phones/tablets.
Further, I hope that Google will also try to do something about the practice of side-loading modified/hacked Android APK files. Developers of premium apps like (Minecraft: Pocket Edition) that rely on outright purchase are easily victimized by hackers who release cracked versions.
Google still needs to implement a n automatic system-wide detection tool that can disable installations made from modified APK files. Another option is for Google to help developers create a free, universal encryption tool to prevent tampering of legitimate APK files.
Disclosure: I am/we are long GOOG, FB.
I wrote this article myself, and it expresses my own opinions. I am not receiving compensation for it (other than from Seeking Alpha). I have no business relationship with any company whose stock is mentioned in this article.
About this article:ExpandAuthor payment: $35 + $0.01/page view. Authors of PRO articles receive a minimum guaranteed payment of $150-500. Become a contributor »Tagged: Investing Ideas, Long Ideas, Technology, Internet Information ProvidersProblem with this article? Please tell us. Disagree with this article? Submit your own.Follow Motek Moyen and get email alerts