Whole Foods Market (NASDAQ:WFM) has had a bad time on the market over the past couple of months, losing over 16% of its value on the back of a weak financial performance in its last reported quarter. But, in my opinion, the recent drop in Whole Foods' shares is an opportunity to buy more of the stock since there are tangible improvements being witnessed across Whole Foods' operations as discussed in this article. Let's take a look.
Sales building initiatives are delivering results
Whole Foods Market's focus on improving its sales is delivering results, slowly but steadily. For instance, its comparable store sales dropped 2.6% last quarter as compared to a decline of 3% in the preceding quarter. More importantly, Whole Foods is witnessing an improvement in its comparable store sales this quarter as well, as the rate of decline of its comp sales has gone down to 2.4% in the first three weeks of the 12-week fourth quarter.
In addition, the company expects square footage growth of 7% in 2016 and approximately 6% in 2017, driven by the addition of new stores to its portfolio that continue to witness positive comp sales growth. For instance, last quarter, Whole Foods opened 12 new stores that include its first 365 Store. The company has opened one 365 and two Whole Foods Market stores in the ongoing quarter, and it plans to open two additional stores, including one 365 and two Whole Foods Market stores.
These new stores should boost its sales going forward as they are witnessing positive comps growth. I'm saying this because Whole Foods' comparable store sales that are newer than five years had a growth rate of 1.5% as compared to its older stores that had negative comps sales growth ranging from 2.7% to 2.9%. Thus, with the addition of new stores, it is evident that Whole Foods' overall comparable store sales will improve given the recent trends. This can be gauged from the table below:


Click to enlarge
Source: Whole Foods
The most important thing is that the company sees the potential of opening close to 1,200 Whole Foods Market stores in the United States. In fact, it expects its new 365 format stores to take its overall store count to more than 1,200 stores in the United States. The table below illustrates additional information about its new store openings and leases in development for Whole Foods Market stores and 365 stores that are scheduled to be opened through 2021.


Click to enlarge
Source: Whole Foods
As shown in the table above, these new 365 format stores will improve its financial performance significantly in the future for a couple of reasons. First, these new 365 format stores have robust economies because they reduce Whole Foods' capital costs by more than 50% as compared to the regular Whole Foods Market stores, and second, it is gaining more traction despite being a smaller store due to the company's efforts of offering a curated mix of products that will be expanded in the future.
A closer look at some more initiatives
For quite some time now, Whole Foods has been aggressively working on its cost structure by enhancing technology deployment, labor restructuring, and changes in the work procedure. As part of this strategy, the company has lowered its workforce by a significant number since the announcement of this strategy in November last year. Also, the company is reducing its share-based compensation, which came in at $39 million last quarter, representing a drop of 24% from the third quarter of last year.
In addition, Whole Foods is also investing in technology as it recently integrated Instacart into its app. This investment should allow customers to order food and other products directly from the Whole Foods website and have them delivered to their doorstep. The company has expanded this initiative to more than 25 markets across the United States, which could further increase its sales.
Apart from this, Whole Foods plans to launch a national sales flyer and an improved point of sale system across its stores by the end of fiscal year 2016. This should enhance labor productivity significantly and offer a faster checkout time to customers.
The most important thing to notice here is that with this reduction in the cost structure, Whole Foods is expected to produce cost savings of nearly $300 million on an annual basis by the end of fiscal year 2017.
End-market growth provides growth opportunity
Whole Foods Market should benefit from the growing end-market opportunity in the organic food segment that is growing rapidly. According to the Organic Trade Association, organic food sales across the United States grew by over $4.2 billion, which is the largest annual dollar gain, up from the $3.9 billion gain in sales in 2014.
Apart from the growth in organic food sales, consistent growth in the organic non-food sales also provides an opportunity to remain invested in Whole Foods Market in the long run. The organic non-food sales came in at $3.6 billion in 2015, representing an increase of 13% from 2014 levels. This is shown in the graph below.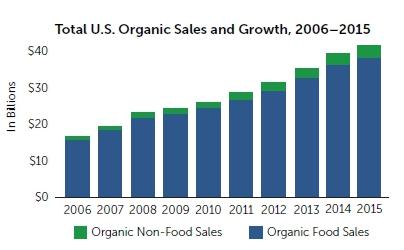 Source: Organic Trade Association
Conclusion
Thus, in my opinion, investors should not be put off by just one poor financial performance by Whole Foods. Rather, they should focus on the long-term growth opportunity and the improvements in the company's operations. The company is gradually improving its comparable store sales, and at the same time, it is lowering its cost structure. These steps should enable Whole Foods to get better in the long run and make a comeback, which is why investors can consider buying shares on the drop.