Comparison of Wells Fargo's stock performance
Wells Fargo & Co. (NYSE:WFC) is currently the second-largest US bank based on its market capitalization. The bank was largely hit by the financial credit crisis back in 2008-2009, but managed to survive and the stock price performed nicely ever since it reached its lowest low of $8 in March 2009.
The stock price performance of WFC from 2009 until the beginning of 2016 was somewhat comparable with the stock performance of JPMorgan Chase (NYSE:JPM) as we can see from the chart below. Both these stocks outperformed their peers Bank of America (NYSE:BAC) and Citigroup (NYSE:C).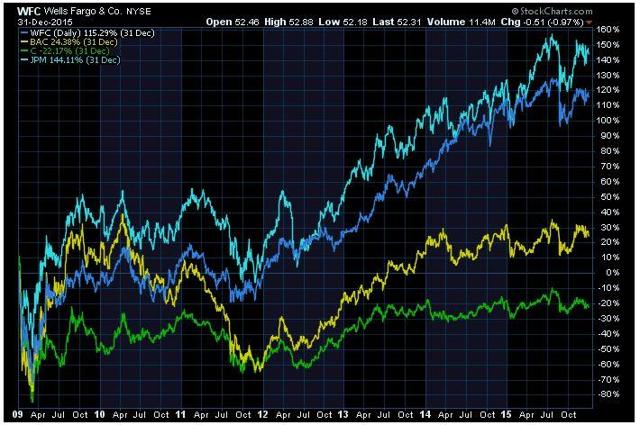 Source: stockcharts.com
When we look at the chart from 01/01/2016 to today (23/02/2017), we get the following performance: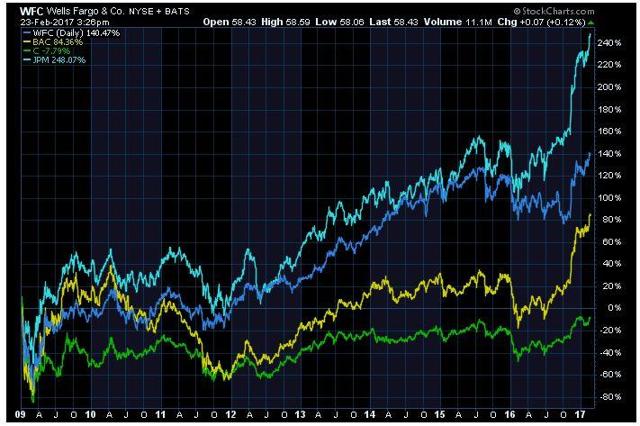 Source: stockcharts.com
From this chart, we can see the order of winners has not changed. JPM stays the strongest performer followed by WFC. BAC has realized a strong run-up in stock performance, the stock increased the strongest since Donald Trump was elected and the banking stocks started their strong uptrend. The main reason why BAC has been strongest performer can be explained by its interest rate sensitivity. An increase in interest rates will bring the greatest benefit to BAC compared with its peers. In 2016, the Federal Reserve increased interest rates and further rate hikes are expected in 2017.
For Wells Fargo, 2016 was not the best year in its history. On 8 September 2016, the account scandal came to light and caused stockholders to sell their positions in Wells Fargo. The stock price declined to 2.5-year lows as a consequence of this news during September and even resulted in CEO John Stumpf's resignation. As I wrote in my previous article on WFC, this scandal has surely had its impact on the reputation of Wells. While the reputation of Wells Fargo has taken a hit, we don't think this effect will be material enough to be a threat to its long-term profitability. In the paragraph below, we will take a closer look into the long-term fundamentals of WFC.
Long-term fundamentals of Wells Fargo
The fundamentals of Wells Fargo have been steadily increasing in the past years. Total revenue, operating income, EPS and dividends have all been increasing steadily. This stock has seen a solid performance in its fundamental values and we believe this will conti nue into the future. The interest rates are currently increasing in the U.S. and this will further strengthen the profitability of Wells Fargo.

Source: YCharts.com
When we compare the operating margin and the return on equity of Wells Fargo with its peers, we can see WFC has been the strongest performer for both measures.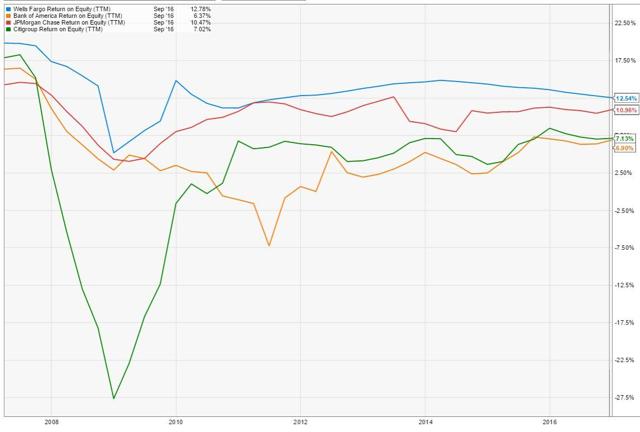 Source: YCharts.com
When we look at the most recent quarter of WFC, we can see the following:
The net interest income increased in line with the prior quarters. This is the result of an increase in its loans and securities and higher interest income. The non-interest income took a hit in Q4 due to adverse movements on its interest rate hedges. This does not indicate a weakening of its income profile, just a one-off hit pulling down the EPS for this quarter. A growth in both loans and deposits. This is important and the growth WFC can realize here in the coming months will play a key role in determining whether the scandal of 2016 was a significant hit to it or not. For the moment, we don't see these numbers declining.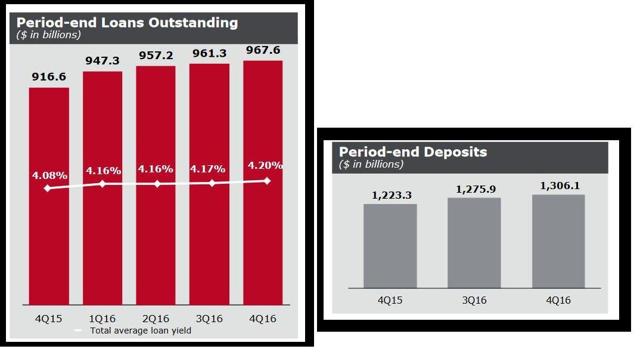 Source: Wells Fargo corporate website
Trade opportunity
Considering these points, we still see room for further stock price appreciation in WFC. In my previous article on WFC, I compared the profit profile of an investment in WFC common stock with an investment in call options on WFC.
For the second alternative, I advised purchasing $55 call options on Wells Fargo with an expiration date in January 2018. This call option contract gives the holder the right to purchase 100 shares of WFC at $55 on any time before 19 January 2018. At the time of writing that article, the premium of one call option contract was $540.
The table below demonstrates the price appreciation for each investment alternative, assuming the positions were initiated the moment I wrote the previous article:

As you can see, the call options have appreciated with 20% in value, while the common stock only appreciated 4.3%.
In the coming months, we expect Wells Fargo to continue its uptrending stock performance. Purchasing call options today is still a superior alternative to purchasing the common stock because of the following reasons:
The risk of this option investment is limited to the debit amount paid for the call option contract. This is much lower than a purchase of 100 Wells Fargo shares would cost currently. The implied volatility of WFC is currently below its actual volatility, which means the options are underpriced based on their volatility. The expiration date of these options is far dated, which gives the options plenty of time to appreciate in value. The return on investment in the WFC call options is leveraged compared to an investment in WFC common stock.
Summary
In conclusion, Wells Fargo has been a strong performer in the past decade. The stock price outperformed its peers but has decelerated in 2016 when the account scandal came to light. We don't believe this scandal will be a significant threat to the long-term performance of Wells Fargo. While it reputation took a hit, it seems like the market overreacted to this event.
At the current price level, we would prefer a long position in Wells Fargo call options for the reasons mentioned above.
Disclosure: I am/we are long WFC CALLS.
I wrote this article myself, and it expresses my own opinions. I am not receiving compensation for it (other than from Seeking Alpha). I have no business relationship with any company whose stock is mentioned in this article.
About this article:ExpandAuthor payment: $35 + $0.01/page view. Authors of PRO articles receive a minimum guaranteed payment of $150-500. Become a contributor »Tagged: Investing Ideas, Long Ideas, Financial, Money Center BanksProblem with this article? Please tell us. Disagree with this article? Submit your own.