My investment thesis in Verizon Communications (VZ) started questioning the safety trade in the wireless giant. The 5% dividend attracts investors to the stock though competition is only gaining momentum questioning if the dividend is really that safe.
Pricing Pressures
The news of last week was that T-Mobile (TMUS) is offering Netflix (NFLX) service for free to unlimited data plan customers. Per the CEO, T-Mobile is paying Netflix for the $10/month service with a slight bulk discount.
The deal means that wireless customers can move to T-Mobile and save on a $120 annual cost. As well, the move off sets the attempts by Verizon and AT&T (T) to own content with an attempt to tie customers into each individual wireless network. For its part, AT&T has moved to offer HBO to some wireless subscribers.
The problem for Verizon is that consumers aren't flocking to their secondary content. What consumers really want is a best of breed suite that mirror s a wireless network with the premium content service of Netflix and possibly HBO.
Back in February, Verizon was forced into the unlimited data wars to stem the user loses. The predictable outcome was that T-Mobile despite already having lower pricing plans would come out with another gimmick to steal the thunder from Verizon.
Now AT&T is turning aggressive with the new iPhones. The wireless giant is offering a free iPhone 8 or 8+ with the purchase of another one. Due to price increases from past models, these phones start at $699 and $799, respectively. Due to low storage levels in these entry phone prices, the average phone price could be around $800 in this deal.
Pricing wars never end well and Verizon will be forced to reluctantly offer these deals or lose more customers. Wireless revenue is already falling faster than the industry.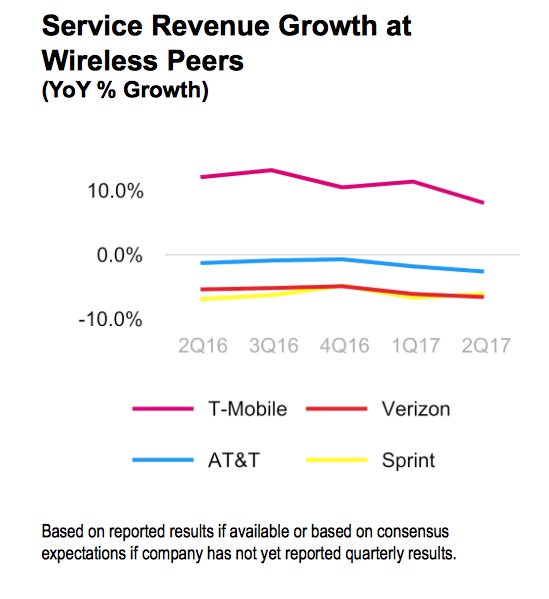 Source: T-Mobile Q2'17 presentation
EPS Cuts
EPS estimates for next year had recently bounced off a short-term bottom providing investors with hope of a rally. After expecting the EPS to bounce far above $4 per share in 2018, analysts now expect only $3.82 per share.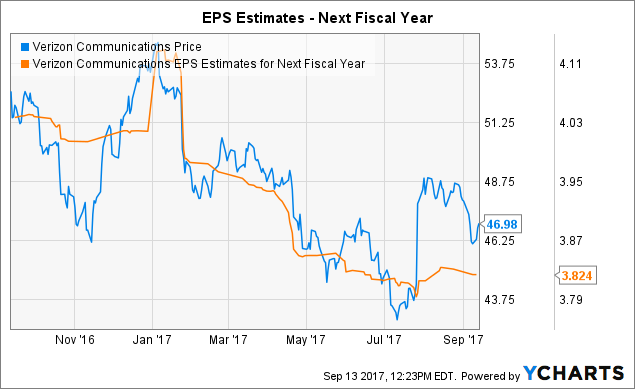 VZ data by YCharts
The amount is likely to continue falling as T-Mobile is relentlessly pressuring the fat profits at the wireless giant. As shown above, the stock has generally followed the declining EPS estimates down. The previous $3.42 estimate by BTIG still appears aggressive, but the aggressive pricing in the sector isn't letting up. BTIG could end up close to the final numbers by the time 2018 ends.
Takeaway
The key investor takeaway is that Verizon remains under immense pressure to cut prices or lose customers. The 5% dividend just isn't attractive as the competition is relentless and the bottom in the EPS trend is unknown.
Disclosure: I/we have no positions in any stocks mentioned, and no plans to initiate any positions within the next 72 hours.
I wrote this article myself, and it expresses my own opinions. I am not receiving compensation for it (other than from Seeking Alpha). I have no business relationship with any company whose stock is mentioned in this article.
Additional disclosure: The information contained herein is for informational purposes only. Nothing in this article should be taken as a solicitation to purchase or sell securities. Before buying or selling any stock you should do your own research and reach your own conclusion or consult a financial advisor. Investing includes risks, including loss of principal.
About this article:ExpandAuthor payment: $35 + $0.01/page view. Authors of PRO articles receive a minimum guaranteed payment of $150-500.Tagged: Investing Ideas, Long Ideas, Technology, Telecom Services – DomesticWant to share your opinion on this article? Add a comment.Disagree with this article? Submit your own.To report a factual error in this article, click here