Venezuela is experiencing hard times; who would doubt that? There are an infinite number of articles about how bad it is in Venezuela, starving people, no basic medical essentials, people coming to Colombia to buy food, etc. I don't see a need to repeat it all here. What stands out in this flow of news is a situation around oil: Venezuela can hardly maintain its oil production at current level. Among others, the reasons are falling capex and a need to twist debt from 2017 to 2020.
Let us have a look at what oil exports for September look like. The month started well with two major tankers leaving for South Africa and Japan, carrying 4,250kbbl together. Then it appeared that it was going to be quiet, but in the middle of second week 2 supertankers left for China and for UAE with 6,500kbbl. Then, in the third week it was even better, as 2 supertankers left for India, 1 for China and 1 for Singapore (final destination remains to be seen) with 8,700 thousand barrels. I mentioned only supertankers with 2 million barrels threshold, and they comprise nearly half of Venezuela's September oil output.
Venezuela's Export in September by Destination Country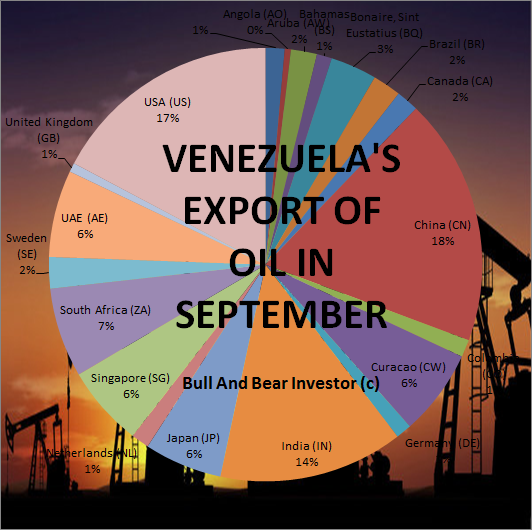 (Source: Author's Calculations)
Despite all problems, there is one obvious advantage in this oil situation: buyers of Venezuelan oil are broadly diversified. Of course, this should not normally matter for a commodity, i.e. the market where one buyer can be easily replaced with the other. But it is not that simple with current oversupply and the fact that Venezuela's oil is heavy. So, buyer's diversification would help. The New York Times recently issued an article, in which it states that Venezuela's economy is so bad that it must purchase oil from USA, the enemy. Even though I agree with its estimation of situation in this Latin American country, I cannot see why purchasing 50,000 bbl/day of oil from the US is important. This amount is still nearly 2-3% of its export. And if Venezuela wasn't able to buy light oil from America, it would be very easy to get it from somewhere else. As for destination of exports, USA, China and India are three major buyers, but an opportunity to lose one of them (notably, USA) is not a potential source of turmoil. What should be noticed is Venezuela's ability to produce, not sources of export.
What is more, the most of the tankers (not necessarily by number of vessels, but by total tonnage) that are leaving Venezuela are full or almost full. That is, if situation was that desperate, it would likely send tankers somewhat 2/3 full to meet contract or to retain a client. So, if it could choose between sending fewer tankers or sending them half full, it would choose the latter. And as it doesn't, it is not that bad.
Overall, the problems with debt and with capex of oil industry will likely be seen soon in production shortages, but we are not at that point yet. Venezuela's oil production has fallen by 12% from 2,361 tbl/day in 2014 to 2,095tbl/d in July 2016. Currently, Venezuela is likely to end September without significant drop from July. It remains to be seen if Venezuela can maintain its current production level and if yes, for how long. I will keep my readers informed on this topic.
If you want to receive updates for my further writings, please click the "Follow" text at the top of this page next to my profile.