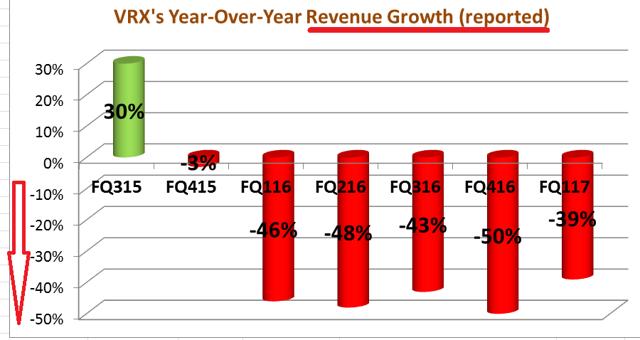 Source: Created by Author
Investment Thesis
As we can see from the above chart, since the fourth quarter of 2015, Valeant's (NYSE: VRX) revenue declines are accelerating. From 2017 to 2021, many patents of the company's key products will expire. Valeant admits that it faces intense competition from manufacturers of generic products. I expect VRX stock price is likely to continue decreasing.
Negative Revenue Growth
Today, the company announced that Valeant Pharmaceuticals and Actavis Laboratories have agreed to stay any outstanding litigation and extend the 30-month stay regarding Actavis' Abbreviated New Drug application for a generic version of Xifaxan (rifaximin) 550 mg tablets. Based on this, I would not say Valeant's Xifaxan patent protection is safe. The drug Xifaxan generated $1 billion in revenue in the past.
Apart from the planned asset sales, loss of exclusivity due to patent expiration and intense generic competition there are other reasons why Valeant's revenue growth will continue to decline. From 2017 to 2021, there are many key products' patents that will expire; these products will eventually face generic competition. The products' patents that will expire in 2017 represent 7% of the U.S. and Puerto Rico revenues for 2016. The generic versions are generally priced significantly lower than branded versions, as per the company.
Following a loss of exclusivity of generic competition for a product, we anticipate that product sales this type of product would decrease significantly following a loss of exclusivity or the entry of a generic competitor.
According to the report, Teva Pharmaceuticals (NYSE: TEVA) announced the launch of a generic version of Valeant's diabetes drug, Glumetza. In the U.S., the drug will be available in 500 mg and 1000 mg tablets. Valeant's Glugmetza generated 3% of total revenue for Q1 2017. The company will face intense competition on this product.
As per IMS data, Glumetza recorded sales of $1.03 billion in one year ending in Mar 2017. However, Lupin Pharmaceuticals Inc., and the U.S. subsidiary of Indian pharma major, Lupin Limited (OTC:LUPNY), has been marketing a generic version of Glumetza since Feb 2016.
Conclusion
Lack of revenue growth is a concern. With a loss of revenue from assets sales, intense generic completion and loss of revenue from branded products due to patent expiration, Valeant is still not a safe long bet. The stock will be under a constant downward trend until the company reduces its debt to a manageable level. The CEO, Joe Papa, earlier stated t hat the company's plan to reduce the debt to $20-25 billion would likely take several years.
Author's note: Get my articles as soon as they are published by clicking the big orange "Follow" button at the top of this page.
Disclosure: I/we have no positions in any stocks mentioned, and no plans to initiate any positions within the next 72 hours.
I wrote this article myself, and it expresses my own opinions. I am not receiving compensation for it (other than from Seeking Alpha). I have no business relationship with any company whose stock is mentioned in this article.
About this article:ExpandAuthor payment: $35 + $0.01/page view. Authors of PRO articles receive a minimum guaranteed payment of $150-500. Become a contributor »Tagged: Investing Ideas, Quick Picks & Lists, Healthcare, Drug Delivery & Accessories, CanadaProblem with this article? Please tell us. Disagree with this article? Submit your own.Follow Research & Investment and get email alerts