Google parent Alphabet Inc. (NASDAQ: GOOGL) (NASDAQ: GOOG) reports first-quarter earnings after the closing bell on Monday, Apr. 23.
Monday's release will look a little different than previous ones as a result of GOOGL's recently announced changes to how it'll report. Those changes include moving Nest, its division that produces smart home appliances, from the "Other Bets" segment into the "Google Other" segment; showing unrealized gains or losses from investments on its income statement as a result of new accounting standards; and transitioning Google Network revenue metrics to percentage change in impressions and cost-per-impression, instead of percentage change in paid clicks and cost-per-click.
For Q1, GOOGL is expected to report adjusted EPS of $9.21, up from $7.73 in the prior-year quarter, on revenue of $24.29 billion, according to third-party consensus estimates (revenue estimates are on a net basis excluding traffic acquisition costs). Revenue is projected to grow 20.7 percent year over year, while coming in shy of Q4 2017's $25.9 billion, which is typically the company's busiest quarter.
Google's Ad Business
Even though Google's advertising business is now bundled within Alphabet's subsidiaries, as its largest source of revenue it's still the primary focus among analysts and investors.
In Q4 2017, GOOGL's advertising revenues totaled $27.23 billion. Traffic acquisition costs (TAC), payments paid to affiliates for directing traffic to its properties, came in at $6.45 billion, or 24 percent of total advertising revenues. TAC in Q4 2017 grew 33 percent year over year, which CFO Ruth Porat attributed to the fact that the company's higher growth areas, mobile search and programmatic, have higher TAC.
Google Other Segments
GOOGL's second largest segment by revenue is the "Google Other" segment, which includes the Android app store, Google Cloud and its hardware division. In Q4 2017, revenue in this segment grew 38 percent year over year to $4.69 billion. Growth in that division has decelerated in recent quarters.
GOOGL has increasingly pushed into cloud-based products with the Google Cloud Platform and G Suite. When the company last reported, Google CEO Sundar Pichai shared that its cloud division had grown to a $1 billion per quarter business.
Other Bets
"Other Bets" is GOOGL's smallest segment by revenue and includes Nest, Fiber, Verily, Waymo and other divisions that it considers longer-term investments and focuses. The division generated $1.2 billion in revenue for all of 2017, a 49 percent year-over-year increase, and its operating loss was $3.4 billion. Capital expenditures in the division declined from $1.4 billion in 2016 to $507 million, which GOOGL attributed to reduced investment in Google Fiber, its high speed Internet and TV service.
Regulatory Concerns for Tech Giants?
There has been more discussion among regulators and other global figures about the growing size of the tech giants and how that potentially stifles competition.
During a press briefing at the Spring meeting of the IMF and the World Bank, Christine Lagarde, the head of the IMF, said "Too much market concentration in the hands of too few is not helpful in the medium or long term," when asked about breaking up larger tech companies. She also said that she didn't think breaking up any of the companies seems like the right answer.
Lagarde doesn't have the power and authority to regulate these companies, however, as the managing director of the International Monetary Fund, she does wield influence.
Congress has also increasingly called on GOOGL, Facebook, Inc. (NASDAQ: FB) and Twitter Inc. (NYSE: TWTR) to testify regarding their use of data and privacy practices. There haven't been any antitrust actions taken in the U.S., although the EU fined GOOGL $2.7 billion in 2017 due to antitrust violations related to how it was directing traffic on its shopping platform. GOOGL has appealed that fine.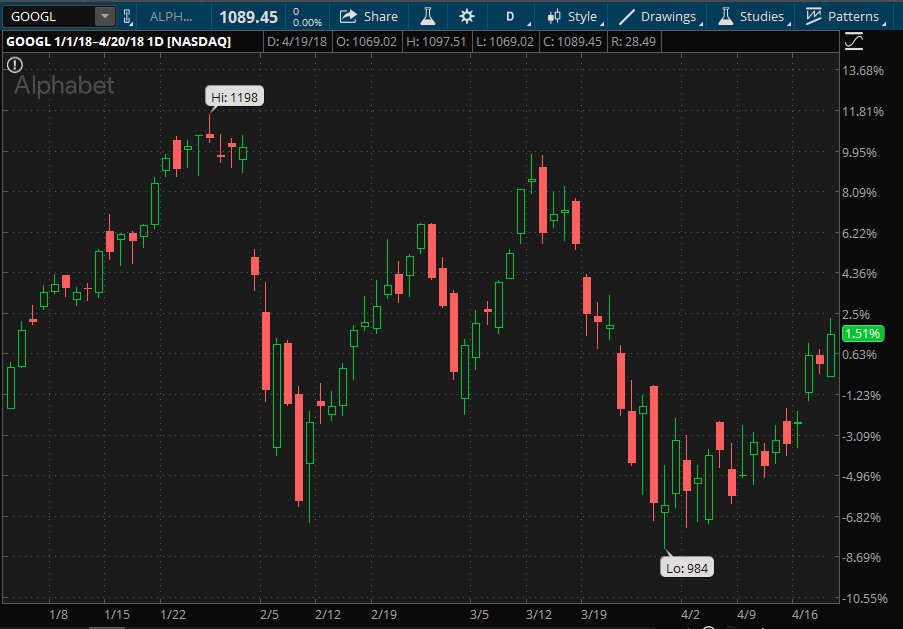 GOOGL SINCE START OF 2018. After a lot of up and down, GOOGL is up slightly on the year (year-to-date return as a percentage shown on the right hand of the chart.) Ahead of earnings, the stock is pretty much trading between its all-time high of $1198 it hit on Jan. 29 and its recent low of $984 it hit on Mar. 28. Chart source: thinkorswim® by TD Ameritrade. Not a recommendation. For illustrative purposes only. Past performance does not guarantee future results.
GOOGL Options Activity
Around the upcoming earnings release, options traders have priced in a 3.7 percent stock move in either direction in GOOGL, according to data from the thinkorswim® platform. The options trading activity below is all for GOOGL, its Class A stock, which is more heavily traded in the options market.
In short-term trading at the Apr. 27 weekly expiration, the 1080-strike calls and the 1100-strike calls have been more active, with volume of 430 contracts and 459 contracts, respectively, during yesterday's session. Trading has been lighter on the put side and mostly concentrated at the 1050 strike.
Looking further out at the May 20 monthly expiration, trading has been heavier at the 1100 strike for both calls and puts. There has also been some higher volume at the 1150-strike call.
Volume has been quite a bit higher on the call side leading up to the report. Overall during yesterday's session, 34,422 calls traded hands compared to 12,106 puts.
Note: Call options represent the right, but not the obligation, to buy the underlying security at a predetermined price over a set period of time. Put options represent the right, but not the obligation to sell the underlying security at a predetermined price over a set period of time.
What's Coming Up
Earnings season is kicking into full gear and GOOGL's report is the start of a few weeks filled with major tech reports. These are just some of the other reports on the horizon:
Twitter (TWTR) reports before market open Wednesday, Apr. 25 and Facebook (FB) reports after the close the same day
Microsoft Corporation (NASDAQ: MSFT), Intel Corporation (NASDAQ: INTC) and Amazon.com, Inc. (NASDAQ: AMZN) report after the close Thursday, Apr. 26
Apple reports after market close on Tuesday, May 1
Alibaba Group Holding Ltd. (NYSE: BABA) reports before market open on Friday, May 4
Information from TDA is not intended to be investment advice or construed as a recommendation or endorsement of any particular investment or investment strategy, and is for illustrative purposes only. Be sure to understand all risks involved with each strategy, including commission costs, before attempting to place any trade.