(Note: Subscribers to Main Street Value Investor Marketplace received the first look at this research.)
Toyota Motor Corporation (TM) is the worlds eighth-largest company by sales based on 2016 consolidated revenues per the Fortune Global 500. Interestingly, Toyota is tailgating seventh-ranked and fellow automaker, Volkswagen (OTCPK:VLKAY) by a slim $8 million of revenue.
Although TMs valuation appears discounted to the market on the whole, the stocks multiples are a bit loftier than its automaker peers. In our view, Toyota is the best-in-class automaker, and thus justifies the premium.
Naturally, deep value investors would say that the time to catch the falling knife was earlier in the decade when the stock was trading at about a 40% discount to todays prices. The stock's plunge into the valley was triggered by a much-publicized break from its legendary reputation for manufacturing quality vehicles.
We say that was Toyota then, and this is Toyota now: the best automaker from among the cheaply priced stocks of industry competitors not named for the inventor of alternating current electricity.
High Earnings Yield and a Growing Dividend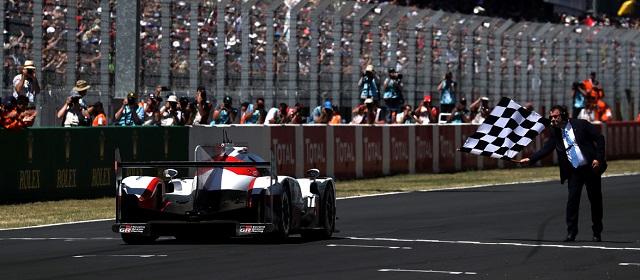 24 Hours of Le Mans, June 2017 (Courtesy of Toyota Motor Corp.)
TM is a large-cap stock in the automobile manufacturers industry within the global consumer discretionary sector. As of this writing, its market capitalization was an approximate $161 billion. TMs price-to-earnings ratio (P/E), or current stock price relative to earnings per share for the trailing 12 months, is approximately 10 times versus ~6x for the automobile manufacturers industry as a whole. In comparison, the S&P Global Consumer Discretionary sector is trading at ~20x P/E against ~18x for the S&P Japan Broad Market Index (NYSE:BMI).
Our perpetual skepticism in forecasting – and the reader frustration it sometimes creates – aside, the forward price-to-earnings ratio for TM is flat at approximately 11 times compared to ~18x for the global consumer discretionary sector and ~16x for the S&P Japan BMI. The trailing and forward P/E ratios for TM appear slightly elevated relative to the automobile manufacturers industry but discounted to the global consumer discretionary sector and the Japanese stock market as a whole.
As of its fiscal year ending March 31, 2017, Toyota's earnings per share (NYSEARCA:EPS) were $10.58 annualized, netting a 9.85% earnings yield, i.e. EPS divided by the most recent stock closing price. We view earnings yield as the equivalent of a stock's equity bond rate or how a company's earnings compare to the 10-year Treasury rate. As of the market close on June 30, 2017, the 10-year Treasury was yielding 2.31% or 754 basis points below TMs earnings yield.
Currently, Toyota is paying 34.46% of its adjusted EPS to shareholders in an annual dividend of $3.74 per share, paid semi-annually, resulting in a 3.44% dividend yield. Toyotas most recent five-year compounded annual dividend growth rate was a shareholder friendly 33.20%.
Following its much-publicized quality control issues that first surfaced in late 2009, Toyota has increased its annual dividend from a low of $1.02 in 2010 to a high of $3.79 in 2016, a nearly four-fold increase.
Ultimately, dividends keep us compensated in the short term as we wait patiently for capital appreciation of the company's stock over the long term.
Quality and Continuous Improvement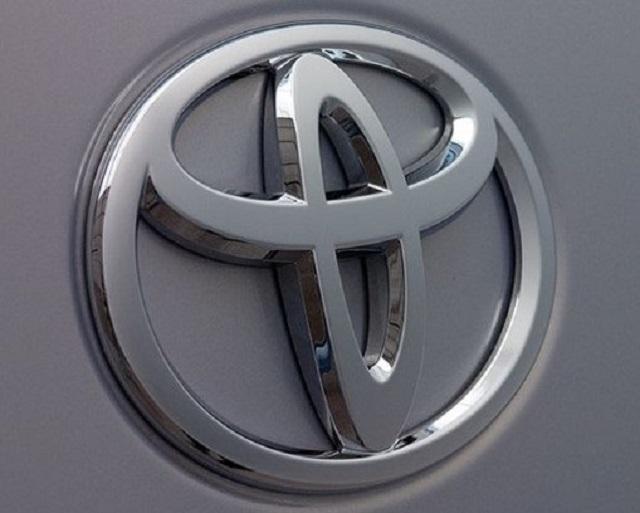 Toyota Emblem (Courtesy of Toyota Motor Corp.)
Understanding a company's goods or services and competitive advantages are essential to the main street value investor. To own a business, we must first familiarize ourselves with the enterprise that generates the numbers that comprise the stock's analysis.
Based in Toyota City, Aichi Prefecture, Japan, Toyota Motor Corporation operates predominantly in motor vehicle production and sales. Under the Toyota (includes Lexus division), Daihatsu, and Hino nameplates, Toyota Motor produces hybrid, conventional engine, and fuel cell vehicles. Toyotas product lineup includes subcompact and compact cars, mini-vehicles, mid-size, luxury, sports and specialty cars, recreational and sport-utility vehicles, pickup trucks, minivans, trucks, and buses.
Toyotas primary markets are Japan, North America, Europe and Asia. The following table sets forth Toyotas consolidated vehicle unit sales by geographic market for the periods shown; and reflects global vehicle sales by region (Toyota, Daihatsu, and Hino combined):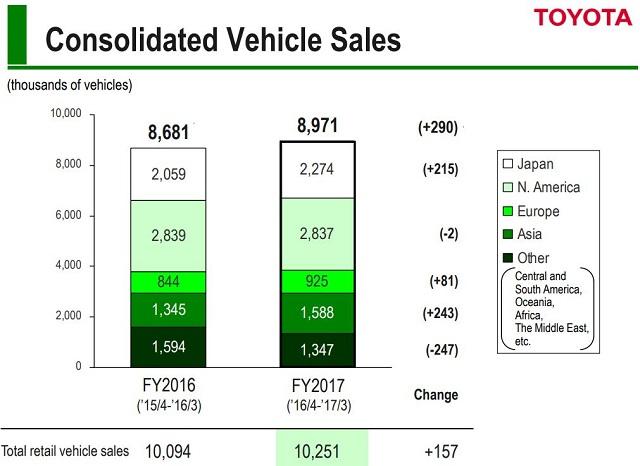 Source: Toyota Fiscal Year 2017 Financial Results Presentation
Economic Moat: Does Quality Count for Anything?
Within investing parlance, an economic moat is the subjective measure of the competitive advantages of a company's goods or services in the marketplace. A wider moat creates a barrier to entry for potential competitors.
As might be expected, only Ferrari (OTC:RACE) the iconic Italian sports car company receives a wide moat rating among automakers from Morningstar, the authority on economic moats. As are all publicly-traded companies in the highly fragmented and competitive automobile manufacturing industry, Toyota is assigned a moat rating of none. According to Morningstar analyst, David Whiston:
We have long said that Toyota's economic moat was in jeopardy, especially after the recall crisis, and in early 2013 we downgraded Toyota's narrow moat to none.
Vehicle manufacturing is a very capital-intensive business, but barriers to entry are not as high as in the past. The industry is already full of strong competition, so it is nearly impossible for one firm to gain a sustainable advantage. Foreign automakers from China and India may soon enter developed markets such as the U.S., and South Korea's Hyundai and Kia have become formidable competitors.
Wall Street is quick to dismiss formerly embraced high flyers and Toyotas missteps a few years back was an open invitation to relegate its stock to deep value status.
In our view, the quality lapse was the result of too much emphasis on growth. Not ironically, the episode was symptomatic of the quarterly pressure from Wall Street and Marunouchi, Tokyos financial district. Toyotas management was certainly responsible for not maintaining a balance of quality and quantity, but the market and its obsession with quarterly results was a co-dependent.
That written, Toyota has again prevailed as the quality operator. Even if reputation is merely the benefit of perception, Toyota will likely remain the recognized quality leader in auto manufacturing for years to come. For this reason, we think Toyota deserves a narrow moat rating.
The Race for Innovation, Fuel Efficiency, and Quality
When considering the worthiness of a company's inclusion in the Main Street Value Investor Model Portfolio (MSVI), the emphasis is placed on actual growth metrics as opposed to speculative forecasts of what may or may not occur with future revenues, earnings per share, free cash flow, or dividend growth. We look for positive, trailing five-year increases in revenue, earnings, cash flow and dividends. As defensive investors, we prefer companies that are already growing, not just promising to grow.
In the most recent five-year period, Toyotas compounded annual revenue and earnings per share growth rates were 8.23% and 46.04%, respectively. We prefer double-digit five-year growth in the top and bottom lines, and Toyota is flirting with double-digits on the revenue line as it overachieves on the earnings line. Granted, we are cautious of the effect of Toyota's share buybacks on the remarkable EPS growth.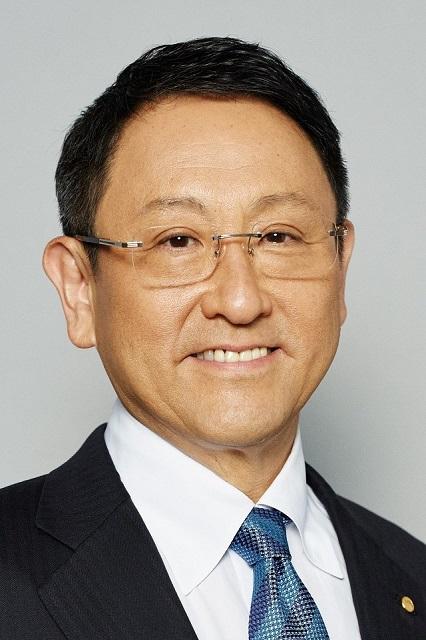 Toyota President Akio Toyoda (Courtesy of Toyota Motor Corp.)
We want to own companies with efficient and transparent management that leverage returns for customers and investors. Akio Toyoda has been Toyota Motor Corporations president since 2009. He is a descendant of the Toyoda family that founded Toyota Industries Co. Ltd. (OTCPK:TYIDF) then the parent of Toyota Motor, and now a major shareholder.
Toyoda joined Toyota Motor in 1984 after earning his MBA from Babson College in Massachusetts, USA.
(Readers that may be curious to why the family and company names are different by one letter, read this under the caption History, the 1930s.)
Toyoda, his leadership team, and the 350,000+ employees of Toyota Motor are delivering a trailing 12-month operating margin (EBIT, or earnings before interest and taxes) of 7.23% of revenue, yielding a net profit margin of 5.67%, i.e. trailing 12 months of income after taxes divided by sales. We prefer double-digit margins, but Toyotas net profit margin is somewhat higher than the 4.29% of the auto manufacturers industry where TM competes.
Credit for the Car Buyer; Cash for the Shareholder
As reflected on Toyotas cash flow statement for the fiscal year ending March 31, 2017, we note the decline in five-year average growth in free cash flow from operations: $5.12 billion in fiscal 2013 to -$1.14 billion in fiscal 2017. Free cash flow is net income and other cash from operating activities minus payments for capitalized expenditures, e.g., property and equipment, during the same period.
Toyota Motor Corporation Cash Flow Statement (Summary View in $Billions)
| | | | | | |
| --- | --- | --- | --- | --- | --- |
| TM Fiscal Year | F2017 | F2016 | F2015 | F2014 | F2013 |
| Cash from Operations | 30,660 | 39,612 | 30,665 | 35,330 | 26,303 |
| Capital Expenditures | (31,802) | (36,046) | (27,935) | (25,957) | (21,183) |
| Free Cash Flow | (1,142) | 3,566 | 2,730 | 9,373 | 5,120 |
This annualized horizontal trend in generating free cash is amplified by the company's recent 12.47% vertical cash flow margin, above our minimum threshold of 10%. Cash flow margin is operating cash flow divided by sales, each measured over the trailing 12 months. It is important to recognize the capital intensive nature of the auto manufacturing space. Significant capital expenditures are necessary for developing new models and automating the factories that build them. Thus, we are inclined to keep a closer eye on cash flow margin to measure managements ability to convert net income into operating cash flow.
At MSVI, we prefer highly profitable, cash-generating companies that provide margins of safety in a literal sense. Despite the moderate revenue growth and net margins that are gobbled up by capital needs, Toyota is nonetheless converting large volumes of cash flow into reinvestment toward the development of quality vehicles for customers; and generous dividend payouts and stock buybacks for shareholders.
Returns on Management
As does Warren Buffett, we place a premium on the return on invested capital (NASDAQ:ROIC) or how well a company is allocating its financial resources to generate returns for the business. We target companies producing 12% or higher in ROIC. Toyotas ROIC at the time of this writing was an automaker competitive 7.31%.
Principal competitors, Ford (F), General Motors (GM), Nissan (OTCPK:NSANY), Honda (HMC), and Volkswagen all have ROICs below 8.12% as of this writing.
To be sure, the return on invested capital is only as good as the company's weighted average cost of capital (OTC:WACC). When a business's cost of capital increases, it typically translates to an inverse decrease in valuation and an increase in risk. At 3.68% WACC, as of this writing, and although generating low returns on invested capital typical to the auto industry Toyota is at least exceeding the company's average cost of that capital.
Any stock buyback manipulation notwithstanding, the return on equity (ROE) or how well the company generates net income as a percentage of total equity in the stock provides another excellent measure of management effectiveness. Since we seek a minimum of 15%, we note Toyotas most recent ROE of 10.63%.
With an enormous manufacturing footprint such as Toyotas, we also want to take a peek at return on assets (ROA), i.e., management's ability to efficiently deploy its assets. As of this writing, the company was leveraging assets at just 5.61%. However, Toyotas ROA is superior to its competitors that are all below 5.00%.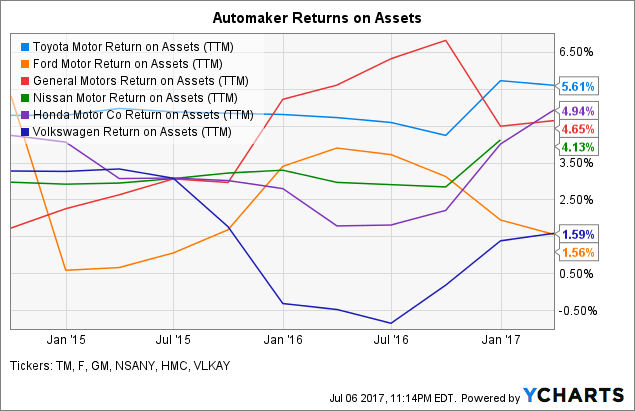 Fundamentally, Toyota is compounding revenue and earnings and generating operating and net margins that are competitive within the automobile manufacturing industry. Although Toyota's horizontal operating cash flow erosion from capital expenditures is typical of an automaker, the companys vertical cash flow margin surpasses our minimum threshold.
The companys management team, with an assist from Mr. Market, is delivering an exceptional earnings yield that far exceeds our minimum EY threshold as well as the 10-year Treasury bond rate. Toyota's dividend growth and payouts are competitive, but TMs 3.44% dividend yield, although attractive on its merits, underperforms the current automobile manufacturers collective yield of 4.50%.
Despite the roller coaster-like fundamentals curve, Toyota appears competitive to its peers and may once again be leading the all-important races for innovation, fuel efficiency, and quality.
Lets take a test drive of TMs current valuation multiples to see if the stock price is below Mr. Markets dealer invoice.
TM Appears the Most Expensive of the Cheap Auto Stocks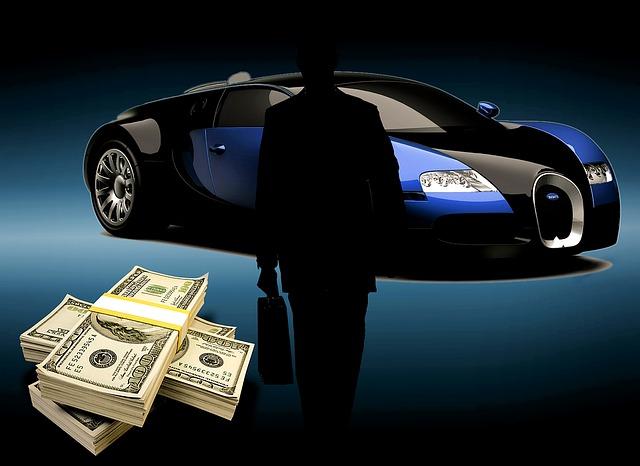 (Bykst/Pixabay)
Determining the attractiveness of a stock's price based on valuation multiples relative to a company's fundamentals is one of the primary tenets of the Main Street Value Investor's search for stock investing nirvana or alpha.
As of this writing, TM appears as an attractively-priced stock of a fundamentally sound company in a highly competitive industry. Current valuation indicators are arguably in the bullish range depending on an investor's multiples of choice.
TM was recently trading at 8.61 times enterprise value to operating margin (EV/EBIT). In general, less than 12 times reflects a reasonable stock price. EV/EBIT is a useful indicator of whether the stock is overbought, or oversold by the market as appears the current case for TM.
As of this research, the price to sales ratio (P/S) for TM was 0.72 times. We interpret <2.00x as an attractive multiple when measuring a stock price relative to its revenue stream. TMs peers in the automobile manufacturing industry were trading at a lower 0.32 P/S ratio. The global consumer discretionary sector's P/S ratio of 1.11x versus 0.89x for the S&P 500 Japan BMI is further evidence of TMs discounted valuation to the market in the context of its sales.
TM also appears value priced when considering its price-to-book or P/B ratio. As of this writing, the stock is trading at 1.02 times its net asset value. We focus on fundamentally sound companies selling at a P/B r atio of less than 2.00, although lower trading multiples are hard to find in this secular bull market. Nonetheless, automakers appear to be an exception to the current rule as Toyota, and its publicly-traded direct competitors are all trading below 2.00x book.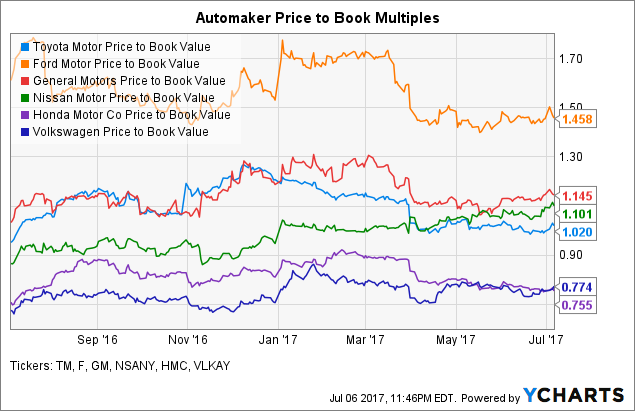 Growth vs. Value
The price-to-earnings growth ratio (NYSE:PEG) is a favorite among Wall Street's growth and momentum crowds. As value investors, we are more cautious based on the projection nature of PEG as opposed to actual trailing results. Nonetheless, PEG can provide a substantive peek into a stock's price worthiness.
We prefer a PEG ratio below 2.00, and TM was recently trading at 1.43 times based on a five-year growth projection. Notably, automobile manufacturers were trading at a lower PEG ratio of 0.67x as of this writing.
We also measure cash flow multiples as a reliable predictor of the intrinsic value of a stock price. At MSVI, we look for stocks trading at a single-digit price-to-cash flow ratio (P/CF) and TM was recently trading at a tempting 6.24 times. Again, Toyota is trading higher than it peers, as each is measuring below 5.00 P/CF.
To be sure, TM, along with its direct competitors, is trading at attractive valuation multiples when measured against enterprise value, sales, book value, projected earnings, and cash flow. Overall, the stock's current price appears reflective of the markets wary eye on the automaker space during the current down cycle in China and other emerging markets.
When business cycles in those consumer markets return with an upswing, as they inevitably will, we would rather own TM at current valuation levels than wait foolishly for the crowd to drive up the stock prices on the automakers individually or by proxy via the First Trust NASDAQ Globa l Auto Index Fund (CARZ) ETF.
Nevertheless, we do not know what Toyota's or any automaker's stock price will be one, three, or five years from now, never mind next week.
High Margin of Safety in a Low Capital Return Industry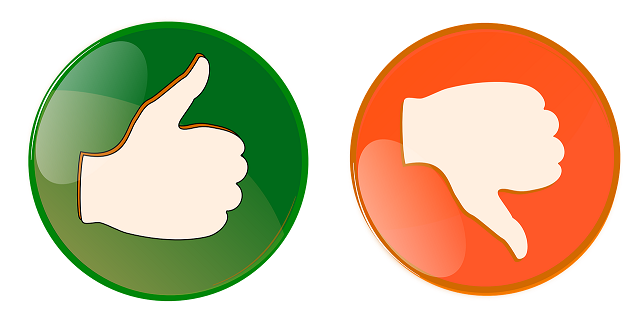 (Artsy Bee/Pixabay)
A company's balance sheet liquidity, e.g., current assets divided by long-term debt (CA/LTD), was a favorite of the father of value investing, Benjamin Graham. Higher than 1.50 is ideal, as we want to own businesses that theoretically can pay down debt at least one and a half times using liquid assets.
Our most recent measure of Toyotas CA/LTD was a solid 1.80 times. In simple terms, the company could pay off its long-term debt obligations nearly two times using liquid assets such as cash and equivalents, short-term investments, trade accounts receivables, and inventories.
Current ratio (NYSE:CR) is another simple but telling measure of a company's financial stability. CR is current assets divided by current liabilities, thus the higher above 1.00, the better. Toyotas most recent quarterly balance sheet had a CR of 1.03, demonstrating that liquid assets are just adequate in fully funding near-term liabilities, such as accounts payables, accrued expenses, debt service, and income taxes. No surprise that Toyotas largest current liability relates to its debt to capital ratio. Automobiles are expensive to own because they are costly to build.
Nonetheless, the Main Street 20 Watchlist (exclusive to members of Main Street Value Investor Marketplace) ranks Toyota's overall market risk profile as low. We like profitable, dividend-paying, narrow to wide-moat companies with low volatility TMs 0.61 five-year beta is significantly below the S&P 500's base 1.00 plus the cash flow and liquidity to pay its bills, both short and long term. Although the current liquidity is notably marginal for Toyota, we like the strength of the company's longer-term debt coverage.
Margin of Safety
A stock's margin of safety is an estimate of the difference between the intrinsic value of the stock and its current market price. Some professional value investors prefer to calculate the margin of safety with discounted future free cash flow projections. For example, Morningstar recently published its view of TMs "fair value," at $113.00 per share, about a 4% premium to the stock price as of this writing.
These types of overly sophisticated margin of safety or intrinsic value measurements are what allegedly justify the high fee structure of Wall Street. However, we are suspect of the projection nature of these formulas. If we have to start predicting future cash flows, interest rates, and capital expenditures, haven't we become more a speculator and less an investor?
We take a modest and frankly realistic approach to estimating margins of safety. Thus, we prefer to measure intrinsic values in a broader sense as opposed to Magic 8 Ball specificity.
Wall Street, in general, continues to regurgitate complex, assumptive financial models of predominantly pie in the sky price targets. If those models consistently worked, wouldn't we all be overnight stock market millionaires?
To the contrary, the MSVI Margin of Safety calculation ((MoS)) looks for reasonably-priced stocks with favorable earnings yields (EY), returns on invested capital (ROIC), and cash flow margins (CFM). We simply add the sum of EY, ROIC, CFM, and the reciprocal EBIT/EV, and weigh against balance sheet liquidity (CA/LTD) to determine the overall equity bond rate, management effectiveness, earnings quality, market valuation, and financial stability of the company.
We believe our calculation of margin of safety is a useful measure of a company's intrinsic worth based on current and trailing indices as opposed to assumptive future cash flows and other crystal ball projections. Thus, we measure MoS for longer-term value investing as opposed to shorter-term value trading.
As of this writing, the Main Street Value Investor margin of safety rating for TM reiterates a bullish view based on our proprietary formula.
| | | |
| --- | --- | --- |
| TM Margin of Safety Indicators (7/6/17) | Actual | Target |
| Equity Bond Rate (EY) | 9.85% | >5.00% |
| Management Effectiveness (ROIC) | 7.31% | >12.00% |
| Earnings Quality (CFM) | 12.47% | >10.00% |
| Market Valuation (EBIT/EV) | 8.24% | >6.00% |
| Financial Stability (CA/LTD) | 1.80x | >1.50x |
(Source: Main Street Value Investor)
Toyota comfortably exceeds our margins of safety for earnings yield, cash flow margin, operating earnings to enterprise value, and current assets to long-term debt. The company comes up short in return on invested capital as would be expected in the highly capitalized automobile manufacturing space.
It is important to stress that our measure of margin of safety is a screenshot of our research and not a buy, hold, or sell signal.
We own common shares for the long-term benefit of partnering with a company that supports its customers with in-demand, useful products or services, rewards its employees with sustainable career opportunities, and compensates its shareholders with positive returns protected by world-class internal financial controls.
However, attempting to predict explicit future prices or percentage gains and declines is a Wall Street game that we respectfully choose to avoid on Main Street.
Continuous Improvement and Respect for People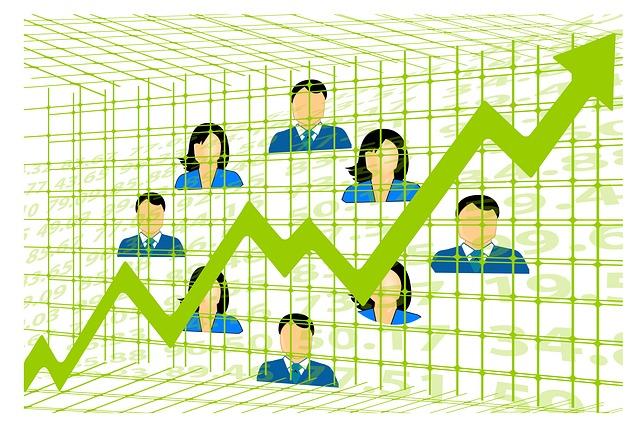 (Geralt/Pixabay)
As value investors on Main Street, we do not interpret the Wall Street consensus as a definitive buy or sell signal, but a suggestion to perhaps run the other way. However, evaluating the consensus on a stock is an entertaining if not serious dive into a contrarian's treasure trove.
According to the Wall Street Journal, 23 analysts currently covering TM are collectively neutral with an average price target of $116.34, a 7% premium to the closing price as of this writing. So much for neutrality. The price targets range from a low of $95.41 to a high of $137.18. Despite the plethora of Ivy-League MBAs, company visits, investor conferences, earnings calls, algorithms, and financial modeling that goes into these ratings, only time in the context of hindsight will determine which target is the correct one, if any.
Data miner Tip Ranks says the financial blogger consensus, including contributors from Seeking Alpha, is bullish. At MSVI, we place increased weight on the blogger consensus as it tends to be more of a Main Street view, although we are mindful that many bloggers focus on fundamentals, technicals, growth, and dividends, not necessarily value.
As of this writing, short interest on TM, or the percentage of shares that are traded based on a bet the stock price is poised to drop, was bullish at just 0.1% of shares outstanding. We think of short interest as the hedge fund consensus since the Wall Street money manager elite executes a significant shorting of stocks. Per TipRanks, hedge fund holdings of TM had increased in the most recent quarter, suggesting an overall bullish view.
They Admire Their President
A unique contribution of the Main Street Value Investor series is the measurement of employee satisfaction, including the rank and file's evaluation of the CEO. Although gathered from non-scientific data of the all-too-biased Internet, we believe a snapshot look at employee morale is worth the peek to quantify a company's cultural dynamic.
According to Glassdoor, approximately 1,300 alleged present and former employees of Toyotas North American subsidiary that submitted online reviews have collectively rated the company 4.0 out of 5 stars, a relatively high score on Glassdoor.
The most-cited positive comments from Toyota employees were "the healthy work/life balance is fantastic" and standard pay and benefits for a Fortune 500 company." The most mentioned drawbacks are "work-life balance can be difficult at times and slow decision making.
Based on about 200 reviews, Toyota employees give President Akio Toyoda a 96% approval rating, a very high score on Glassdoor. Any time a company CEO is respected – or disrespected – by those that work within the same culture as him or her, we take notice.
The survey results are reflective of Toyotas long-standing principles of continuous improvement in its manufacturing processes and respect for its people.
Satisfied employees that are delivering quality products and excellent service translate to loyal customers and sustainable profitability.
Buy the Best Company in the Space
Intelligent investors own risk-averse slices of wonderful companies, thereby leaving the trading of stocks to risk-defying speculators. Self-directed investment research is best carried out within a model that drives to a quantitative outcome of a bullish, neutral, or bearish call on the targeted company and the stock that represents its ownership.
Based on this approach, we find Toyota to be a fundamentally strong company who se stock trades at a favorable margin of safety and carries a low-risk profile.
Collectively, the automakers are currently trading at attractive valuations in an overpriced broader market. Toyota appears marginally more expensive than its peers, but cheaper than the market on the whole.
As legendary mutual fund value investor Ron Muhlenkamp (MUHLX) once said,
Dont buy the sector; buy the best stock in the sector.
We can argue all day long on why we prefer Toyota, Nissan, Honda, Ford, GM, VW, or that overpriced auto company named after the inventor of alternating current electricity. If I were in the market for a new car right now, it would be a choice of not which automaker, but which Toyota model.
In that spirit, we will forego trading automakers in a speculative multi-stock basket or industry ETF such as CARZ, and focus on investing in the company we think makes the best cars in its class.
Thank You for Reading the Main Street Value Investor Series Exclusively on Seeking Alpha
I invite readers to follow the article series or become a member of Main Street Value Investor Marketplace. Then join me – one primary ticker at a time – in learning, practicing, and sharing the art and science of intelligent investing with l imited capital, lower costs, and less risk.
Comments are strongly encouraged and always welcomed. Please read the important accompanying disclosures.
Main Street Value Investor is a trademark, and Main Street Value Investor Model Portfolio (MSVI) and Main Street 20 Watchlist are servicemarks of David J. Waldron, LLC.
Toyota logo, brands, and proprietary content are trademarks or copyrighted material of Toyota Motor Corporation.
TM trades in the U.S. as an ADR (American Depository Receipt), a receipt for shares of foreign-based companies that entitles the receipt holder to all dividends and capital gains. ADRs allow Americans to buy shares of foreign-based corporations' securities on American exchanges instead of having to go to overseas exchanges. TM ADR represents a 1:2 ratio or the equivalent of two shares of the Tokyo-listed stock.
Magic 8 Ball fortune-telling toy brand is a trademark of Mattel, Inc. (MAT)
Data Sources: Seeking Al pha, YCharts, Toyota Motor Corp., Charles Schwab & Co. (Morningstar, Thomson Reuters, and S&P Capital IQ).
Disclaimer: Data is for illustrative purposes only. The accuracy of the data cannot be guaranteed. Narrative and analytics are impersonal, i.e., not tailored to individual needs or intended for portfolio construction beyond the contributors model portfolio which is presented solely for educational purposes. David J. Waldron is an individual investor and author, not an investment adviser. Readers should always engage in further research and consider (as appropriate) consulting a fee-only certified financial planner, licensed discount broker/dealer, flat fee registered investment adviser, certified public accountant, or qualified attorney before making any investment, income tax, or estate planning decisions.
Disclosure: I/we have no positions in any stocks mentioned, but may initiate a long position in TM over the next 72 hours.
I wrote this article myself, and it expresses my own opinions. I am not receiving compensation for it (other than from Seeking Alpha). I have no business relationship with any company whose stock is mentioned in this article.
About this article:ExpandAuthor payment: $35 + $0.01/page view. Authors of PRO articles receive a minimum guaranteed payment of $150-500.Tagged: Investing Ideas, Long Ideas, Consumer Goods, Auto Manufacturers – Major, Editors' Picks, JapanWant to share your opinion on this article? Add a comment.Disagree with this article? Submit your own.To report a factual error in this article, click hereFollow David J. Waldron and get email alerts