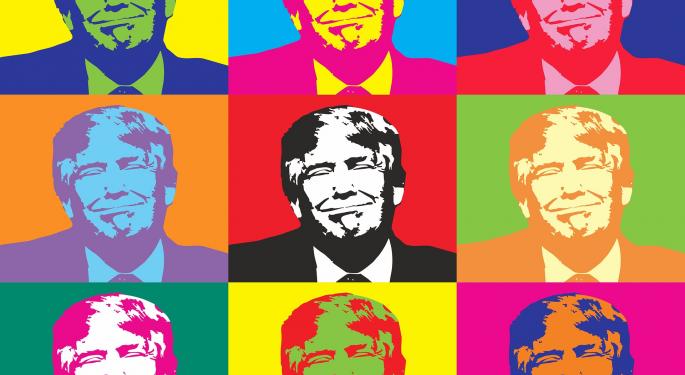 Related SPY The SEC's New 2-Day Trade Settlement Rules Go Into Effect Sept. 5: What That Means For You Pro: Here's How To Protect Your Investments If The Market Pulls Back 5% Dow Chemical Co Buys SPDR S&P 5, Sells SPDR Select Sector Fund – Technology, SPDR … (GuruFocus)
As the vacation season ends with rumbles of war, hints of impeachment, the afterglow of a solar eclipse and the ongoing nightmare of a natural disaster, it's time to step back and look at the surreal summer of 2017.
To paraphrase Stephen Stills: Stop, hey, what's that sound? Everybody look what's going down:
June 21: Ford Motor Company (NYSE: F), urged by President Donald Trump not to move a plant to Mexico, pulls the rug out and decides to build it in China. June 27: Ransomware hooligans hold computers hostage in 150 countries. Meanwhile, the GOP's healthcare reform attempt goes down in flames again. June 28: New York Knicks GM Phil Jackson finally gets fired for something. June 29: The U.S. Supreme Court allows Trump to ban people from mostly Muslim nations from entering the United States. June 30: Uber drivers decide they don't care about boardroom shenanigans; they worry more about passengers barfing in the back seat. Bayer funds a study of its pesticides, which blows up in its face when it concludes Bayer is killing vitally important honeybees. July 1: Feds seek $125 million in fines from telemarketer from hell. July 10: Snorting powdered chocolate laced with caffeine becomes the thing to do when lawmakers try to ban it. July 14: "Wonder Woman" breaks $750 million globally, salvaging the career of its female director and becoming the feel-good story of one of the worst summer box offices in history. July 17: George Romero, pop culture trailblazer and director of "Night of the Living Dead," dies. July 20: O.J. Simpson gets paroled. July 23: A poll shows most Americans don't like Trump because he's ill-tempered, arrogant and obnoxious. July 24: Pew Research shows how Trump has alienated the world. July 25: Tesla (NASDAQ: TSLA) Elon Musk says Facebook (NASDAQ: FB) CEO Mark Zuckerberg's knowledge of artificial intelligence is "limited." July 27: Trump's ban on transgender troops falls on or near two momentous points in the history of civil rights. July 28: The FDA tells Big Tobacco to cut nicotine to non-addictive levels. July 31: Anthony Scaramucci burns out after serving 10 mercurial days as White House communications director. August 4: Harvard admits its first non-white majority undergrad class in its 380-year history. August 6: Kathryn Bigelow's grim movie "Detroit," about the city's 1967 riots, proves to be too punishing for moviegoers. August 7: The probe into Trump's connections to Kremlin agents goes deeper when the special investigator convenes a grand jury. A Google engineer's rant against diversity goes viral. August 9: Disney (NYSE: DIS) decides to gather up all its toys and go into the streaming business by itself. North Korea wants to bomb Guam. August 10: The United States, Russia and China race to weaponize artificial intelligence. August 12: A march by white supremacists turns into a violent clash with counter-demonstrators, one of whom, a 32-year-old woman, is killed when a purported neo-Nazi runs his car into an anti-hate protest crowd. August 14: Expert says North Korea's potent new missile engines were black-market Soviet surplus. August 16: Forty years after his death, Elvis sightings begin to tail off. Uber Technologies Inc. settles its second consumer-deception case this year. August 18: Chief Strategist Steve Bannon is removed from the twitching Trump White House. August 21: Trump, after advocating a pullout of U.S. troops in Afghanistan, does a 180 and orders a sharp increase in the war-torn country. "Girls Trip" passes the $100 million mark. August 22: People are still stuck in traffic after driving to the 70-mile swath of the total solar eclipse, a glorious sight but, nevertheless, a trucking nightmare. August 23: Trump threatens to shut down the government unless they build his wall along the Mexico border. August 25: Ex-CIA agent Valerie Plame explains her clever ploy to buy Twitter Inc (NYSE: TWTR August 26: Trump pardons an infamously cruel sheriff. August 28: Hurricane Harvey wreaks havoc. Houston's KHOU 11 reporter Brandi Smith and cameraman Mario Sandoval, their station flooded and evacuated, save the life of a truck driver whose cab is filling up with water. August 31: A century-old company beats Tesla in unveiling an electric semi. Serial hackers WikiLeak ironically gets hacked. September 1: A historically bad summer at the box office concludes with the worst Labor Day weekend in 25 years.
So what if summer actually ends on September 22? Measured in school days, it's already over.
Related link:
This Epic Day In History