The Bitcoin Misery Index, a buy-sell indicator created by Fundstrat Global Advisors co-founder Tom Lee, has been flashing a "buy" signal for weeks.
The index debuted in early March, when Lee went on CNBC's "Fast Money" program to discuss it.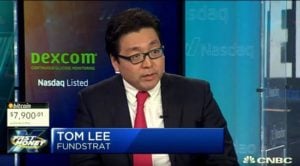 The Bitcoin Misery Index hasn't changed much since, with the price of Bitcoin actually lower now than it was then.
On March 9, the Bitcoin price was trading at about $9,200; in the weeks since, it has plunged as low as $6,443 before bouncing back over $8,000. Today, the BTC price is just above $8,200, still 58% below its all-time high of $19,783 reached in mid-December.
Stunning: New Innovation Will Be Like "Adding Twin Turbos to the Bitcoin Engine" – and Could Send Its Price to $100,000.
So the buy signal continues to flash.
"It's overdue. Bitcoin was incredibly oversold," Lee said. "When you look at metrics like price-to-book, which is 'money cost,' or our Bitcoin Misery Index, it's pretty much what you saw at the end of the 2014 bear market, not the start."
Here's how the BMI works…
Breaking Down the Bitcoin Misery Index
Lee's index is a formula based on the z-score (a measure of how many standard deviations from a mean a data point is) of the ratio winning trades and the z-score of upside/downside volatility.
In terms of more familiar equity indexes, the BMI combines elements of the RSI (Relative Strength Index) and the VIX volatility index.
In practice, the Bitcoin Misery Index functions similarly to the RSI, in that its goal is to identify overbought or oversold conditions.
And it has been mostly accurate. Here's a look at the BMI with some key dates included.