Oil prices are coming back to life. Global demand is soaring on the back of booming global GDP growth and oil inventories are plummeting even during winter which is a historically slow period for demand. As oil prices and the cash flow of oil companies rise, oil producers will inevitably return to offshore with its long life assets. In this environment, offshore drillers are set to outperform. Even well off of their lows, many of their share prices could double and still be cheap. The industry will likely never embark on another newbuild cycle ever again, which means the future will be entirely about free cash flow. It's not too late to get in and buy shares of Transocean (NYSE:RIG) Diamond Offshore (NYSE:DO) or Noble Corp. (NYSE:NE).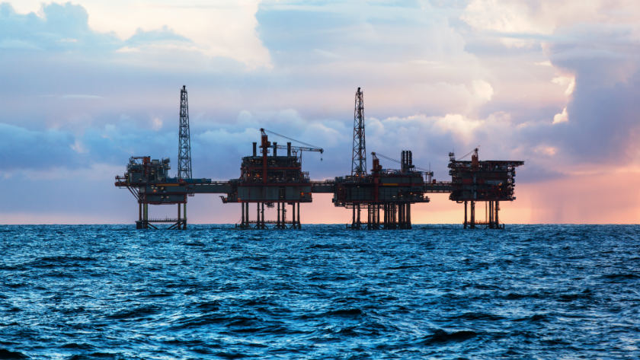 Source: iStock
While oil prices were low, most of the major oil companies chose to preserve cash and focus on short cycle shale oil fields as opposed to spending on exploration and development of offshore oil fields. This short sighted focus on restricting investment from any projects that do not quickly produce cash has indeed helped these companies maintain their dividends, but it doesn't solve the long term problem that comes from not spending on projects in places like offshore, where depletion rates are much lower than shale and where wells can produce for many years.
Four years have passed since offshore saw an uptick in spending. That is a statistic with no precedent. Those who understand commodity cycles know that it is exactly this type of situation which opens up the door for offshore drilling to bounce back. There is now a real possibility of serious oil deficits going forward unless oil producers increase spending and shift back to offshore. The reasons for this are simple. Offshore oil production dwarfs shale oil production. In fact, it is the source of nearly one-third of all oil produced on earth. Also, because of depletion, the world needs to replace about eight million barrels per day of production every year just to maintain steady production levels. Replacing eight million barrels per day of production is not so easy when over a trillion dollars of spending on exploration and CapEx is being cut as a result of the decline in oil prices.
Today, with weekly oil reports coming in like clockwork showing huge declines in inventories, oil prices are soaring. Since April, domestic inventories have declined by over 100 million barrels and since June, Brent oil prices have risen by over 50% in almost a straight line. OPEC, who incidentally was mostly responsible for the oil price crash, has more recently been determined to drain global oil inventories in an effort to drive the price of oil higher. They had to. Their government and society doesn't function without high oil prices.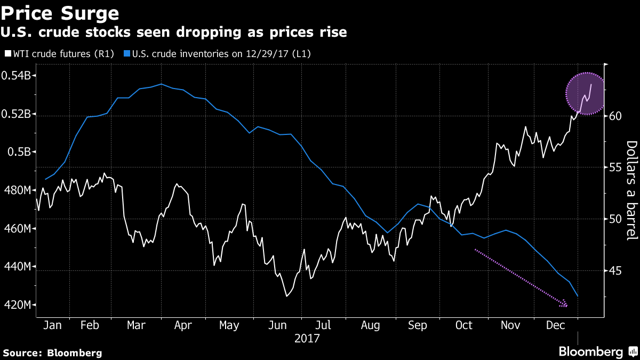 Source: Bloomberg
As oil prices power higher, the operating cash flows of oil companies are following along. Exxon Mobil (NYSE:XOM) for example, saw production growth of only 2% in the third quarter, yet Exxon's upstream profits more than doubled.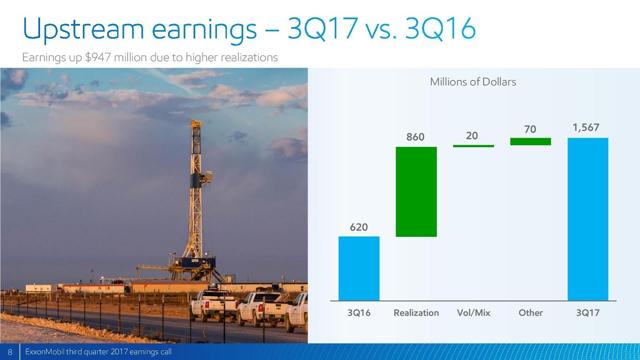 Source: Exxon Mobil
This type of rapid change in the profitability of exploration and production companies allows them to start spending again on new oil production, something which is badly needed after new oil discoveries reached record lows in recent years. According to the International Energy Agency (IEA), global discoveries of oil in 2016 were just 2.4 billion barrels vs. 9 billion barrels on average for the 15 years prior. Sanctioning, which is when a project gets the green light to begin production, fell to just 4.7 billion barrels in 2016, down from over 20 billion barrels in 2014.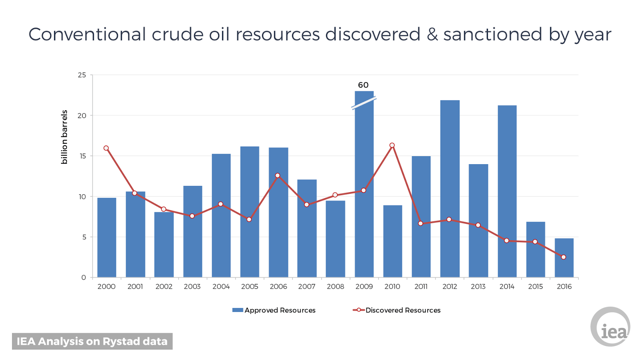 Source: IEA
Obviously, this level of spending is not sustainable in a world that is seeing annual oil demand growth of 1.2 to 1.6 million barrels per day. After all, if you were to factor in five years of 9% annual depletion and combine that with new demand growth of just 1.2 million barrels per day for five years, the world would end up needing to find and produce about 40 million barrels per day just to keep production matched with demand. By the way 40 million barrels per day is more than 40% of global production. It is this situation of constantly increasing demand and constantly decreasing supply, meeting the world's growing need for oil is like running on an incline treadmill that is continuously steepening, you have to run harder each year just to stay in place. That reality has always guaranteed the ultimate return of higher oil prices, and as a result, the inevitable rebound in offshore drilling.
Getting down to specifics with these companies, Transocean is the largest by far. They have the most rigs and the highest backlog. Noble Corp. and Diamond Offshore are smaller companies, but both are high quality companies that are free cash flow positive even at the depths of this down cycle.
At this point, I would recommend investors take a broad approach and simply buy all of these companies rather than to try and select the one which will outperform. All of these companies will survive, and they will all rebound. In fact, their stock prices could all double and they'd still be cheap. To put into perspective just how far these companies have fallen, we just need to look at a price chart. These companies fell over 90% from their highs, but that alone doesn't mean they will rebound to their old highs. Ultimately what drives them higher is rigs getting back to work, cash flow increasing, and the eventual resumption of shareholder distributions.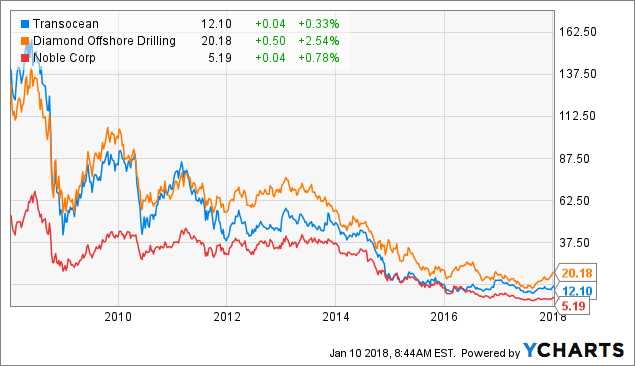 RIG data by YCharts
Because the industry is such a mess, I prefer to look at these companies ability to distribute cash once the cycle turns. Why am I so confident these companies will resume distributing cash in the future? Truthfully, because I don't believe the industry will ever embark on another newbuild construction cycle ever again. Since the entire industry has been brought to its knees by overbuilding, I believe the primary use of cash going forward will be to reduce debt, maintain rigs, and pay dividends. Gone are the days where companies will order multiple rigs that cost upwards of $500 million each. Instead, they will simply upgrade the rigs they have as needed, and focus on cash generation.
Diamond Offshore, with only 137 million shares outstanding, would have the easiest time resuming its prior dividend of $3.50 per share. Even today, at the bottom of the worst cycle the industry has ever seen, Diamond Offshore has produced $1.94 per share of free cash flow in just the first nine months of 2017. This will easily top $2.00 per share for the year once the Q4 numbers are released. Diamond has no debt due in 2018, so all free cash flow will likely sit on the balance sheet until May of 2019 when they have a $500 million maturity coming due.
Noble Corp. has produced 88 cents per share of free cash flow in the first nine months of 2017. Amazingly, this amounts to 27% of the market value of the shares at its 52 week low, and the full year hasn't been reported yet. I expect the full year number to exceed $1.00 per share of free cash flow. Noble had over $600 million of cash on its balance sheet at the end of the third quarter, and is adding slightly to their cash position each quarter. They have a $250 million debt maturity in March of this year which will likely be repaid with cash on hand.
While Noble does have a significant debt pile, they also should remain cash flow positive in 2018 and even after paying the 2018 maturity, Noble will have enough cash on hand to repay the 2019 maturity when it comes due. Coupling this with their newly extended and undrawn revolver, Noble has plenty of liquidity to make it through should this upcycle stall out. Noble also has many of their rigs warm stacked and ready to work. Oil companies will most certainly show a preference for warm stacked rigs when the time comes to sign a contract, and I believe Noble will win a good amount of contracts in 2018 now that oil prices are coming back and the industry appears to be turning higher.
Transocean has produced $1.28 per share of free cash flow in the first nine months of 2017 and has been winning plenty of new contracts at cash positive dayrates. In addition, Transocean is acquiring Songa offshore, which increases its backlog and allows for $40 million of annual expense reductions going forward. Transocean is the industry leader in high specification, harsh environment rigs, which have the best pricing power today. Many of their rigs are under contract for extended periods at nice dayrates, and Transocean has greater than $1 billion of contractual backlog each year all the way out to 2023. In addition to this cash positive backlog, Transocean sits on $2.7 billion of cash. Being in such a strong position, Transocean has been very aggressive in buying its debt through open market purchases as well as tender offers, and they have had minimal difficulty refinancing debt as it comes due.
While none of these companies are currently distributing their free cash flow, there will come a day when they will. Right now, no one believes this, but that's exactly why you get to buy these companies at 90% off of their previous highs even as the cycle is turning up. As Warren Buffett said, "If you wait for the robins, spring will be over."
Please do not take this as my suggesting that these companies will resume paying dividends any time soon. They won't. For the foreseeable future, all three of these companies are focused on debt reduction and new contract wins. Outside of using cash to reactivate idled rigs, expect every penny of free cash flow to either sit on the balance sheet or be used towards debt reduction. The most important thing for investors here is that they buy today with intentions of holding for many years. The eventual payout of cash dividends will begin being priced into these stocks years before they actually begin paying dividends again, so if you wait to buy thinking you'll just buy them when they resume paying, you'll miss the opportunity.
Long-term focused investors who like to buy significantly out of favor stocks should be all over these companies and the entire sector. It seems like a distant memory, but it's worth noting that during the years leading up to this downcycle, these companies paid very nice dividends. Diamond Offshore paid $25.125 per share of dividends in the four years between 2007-2010 and they paid over $40 per share of cash dividends between 2007 and 2015. Noble Corp. paid $2.92 per share of dividends from January 2014 to January 2016.
Will these companies ever pay out these types of dividends again? Most will disagree with me, but I honestly believe they could. It all comes back to the belief that the assets these companies own today will remain in use for decades, and that these companies will never again respond to a better supply/demand situation by ordering new rigs. If this is indeed the new reality, then cash generation will be priority No. 1 for the decades, and perhaps forever. If the day comes when I see offshore drillers ordering new rigs across the board in response to high rig utilization, I will begin planning my exit.
To summarize, rapidly declining oil inventories and the subsequent rebound in oil prices this year has reopened the door for oil companies to go back into offshore oil drilling. While the offshore oil industry has been fighting for its life, a few companies in the industry continue to generate free cash flow. Transocean, Diamond Offshore, and Noble Corp. will come out of this cycle intact, and will generate good returns going forward. I believe the offshore drilling industry has learned its lesson and will never again go through another large scale newbuild cycle.
If this is the new reality, the future focus of these companies will be exclusively on contract wins, maintaining rigs, and cash generation. In this scenario, these companies will be able to resume paying generous dividends to shareholders. By buying in today, years ahead of the eventual payouts, shareholders have a chance to acquire shares just barely off of the bottom of what are likely once in a generation lows for the sector.
Disclosure: I am/we are long RIG, DO, NE.
I wrote this article myself, and it expresses my own opinions. I am not receiving compensation for it (other than from Seeking Alpha). I have no business relationship with any company whose stock is mentioned in this article.
Additional disclosure: I am long Noble Corp. and Transocean bonds.
About this article:ExpandAuthor payment: Seeking Alpha pays for exclusive articles. Payment calculations are based on a combination of coverage area, popularity and quality.Tagged: Investing Ideas, Long Ideas, Basic Materials, Oil & Gas Drilling & ExplorationWant to share your opinion on this article? Add a comment.Disagree with this article? Submit your own.To report a factual error in this article, click here