Self-Storage Investment Characteristics
I like self-storage real estate. Not only do these properties achieve strong returns on capital, but they also tend to perform fairly well during market downturns. After all, people need and want to store stuff regardless of the economic conditions. In fact, during a recession, it may be even cheaper to downsize the current large residence for a household or the office space for a business to instead rent some storage space for the extra stuff. The demand is hence relatively inflexible, giving storage owners superior pricing power. This has resulted in truly exceptional performance: US self-storage REITs have generated an annual 18% return from 1994 until 2016 while the broad REIT index returned materially less particularly on a risk-adjusted basis. As shown below, US self-storage REITs generated 51% higher ROI with 42% lower volatility than the average across all property sectors.
The high demand for storage space combined with limited supply as well as the reduced cyclicality has resulted in superior business economics, especially for the early self-storage investors of the past decades. Today, however, the US market has gotten much more competitive than it has previously been. Everybody has witnessed the superior returns, and not surprisingly new competition for properties has emerged. Properties have been built all around the country, and investors have pushed cap rates substantially lower. This does not mean that the self-storage prospects of the US markets are unattractive; opposite of that I am bullish on it, but I certainly do not expect the same returns as the ones achieved in the past. The market dynamics have changed, and the growth outlook for new property developments and NOI growth have significantly declined.
Self-Storage Opportunity in Europe
This is why I believe that looking for self-storage opportunities in other markets may be a rewarding idea. Having lived in the US as well as in different European countries (including the UK), I can attest that the self-storage market over here is still at its early stage compared to the US. While in American cities, you can find a self-storage facility in almost every corner; the supply is way more limited over here, providing superior future growth potential
The Big Yellow Group (OTC:BYLOF) recognized this opportunity back in 1998 when it was founded and has ever since been working towards bringing new supply of self-storage properties to the UK market. The strategy resulted in the following performance: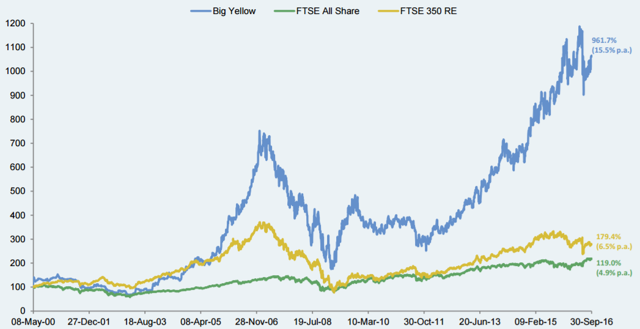 The market imbalance for self-storage space in the UK has been such that it has allowed Big Yellow to generate a 15.5% return per year since 2000, representing an over 1,000 basis point overperformance over the FTSE All Share.
This sort of performance of course gets the attention of investors who then bid up the price of the shares to reflect the superior investment characteristics. Therefore, Big Yellow has rightfully traded at a sizable premium to other indexes in the past, but recently the shares came back down to very reasonable levels following the Brexit sell-off.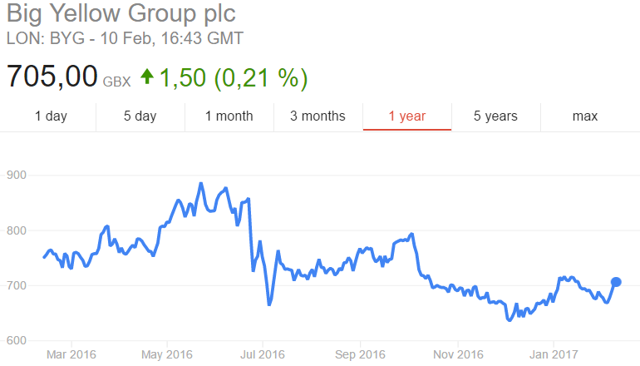 On a British pound basis, the shares are now back close to 52-week lows, and when assessed on a dollar-adjusted basis, the shares appear even much cheaper due to the large loss in the pound value.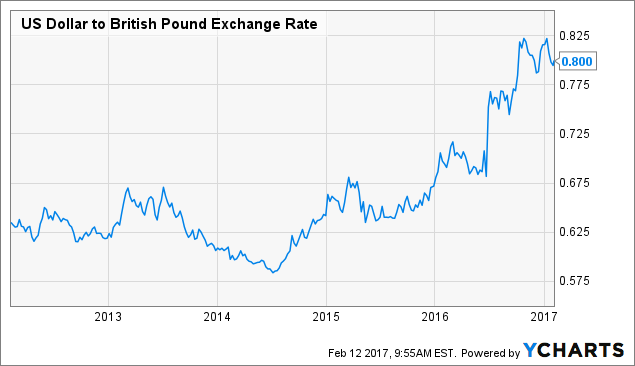 US Dollar to British Pound Exchange Rate data by YCharts
I consider this recent sell-off to be an opportunity to take a position in a strong outperformer within an attractive sector. If you look at the long-term chart of the company, you will quickly notice that every time the stock traded at 52-week lows, it sharply recovered thereafter to reach new highs. I do not expect this time to be an exception. Opposite of that, I believe that Brexit fears to be overblown, and have written several articles on the subject.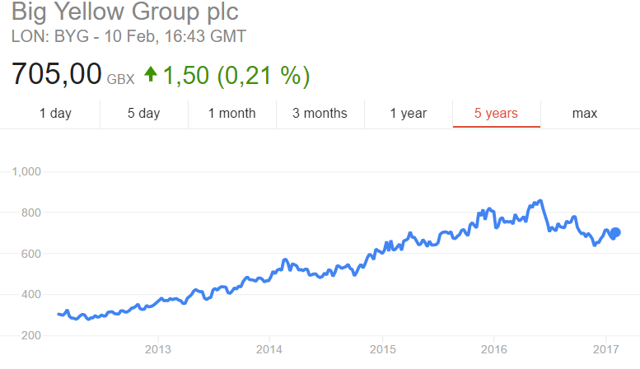 Big Yellow: A Strong Growth Model with Attractive Prospects
Since 2004/2005, Big Yellow has grown its cash flow by an average of 17% per year. Despite this impressive growth, the firm notes that the UK self-storage penetration in key urban conurbations remains low and that there is still ample room for supply expansion to meet the demand for space. To put this into perspective, today there is 9.2 sqft of storage space per person in the US compared to only a small 0.6 sqft per person in the UK.
Big Yellow is very well positioned to keep on benefiting from this trend going forward as the number one brand in the UK with the largest footprint. It has done a great job at creating a very recognizable brand with unique looking properties as seen below: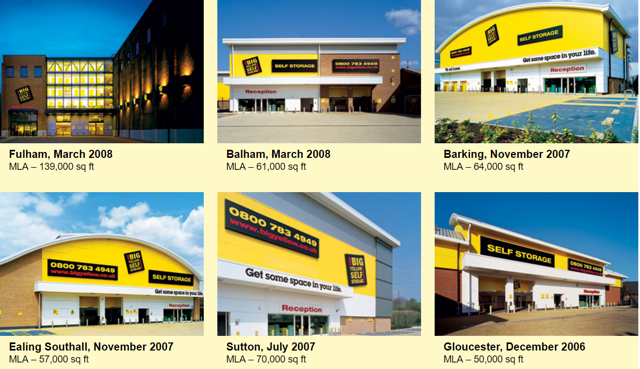 According to recent independent studies, Big Yellow facilities are clear market leaders when it comes to market awareness. When a random sample of people were asked which brand they knew, Big Yellow came on top with over five times stronger brand awareness compared to the next competing firm. I believe this to be a strong competitive advantage of the firm, and it will come very valuable to achieve future growth.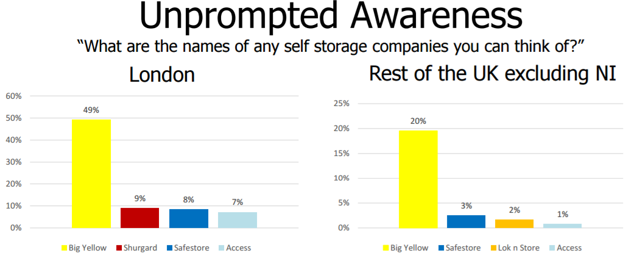 The interesting thing is that only 11% of the surveyed people had ever used self-storage to date. The use of storage space is still very low in the UK compared to the US, but this is quickly changing as 75% of Big Yellow's new customers are first time users of storage space. The awareness of self-storage is expected to keep on growing with smart advertisement, referrals and first time users.
The future cash flow growth is expected to be driven by the following main elements:
Internal growth through occupancy and rental rate increases. Currently, the portfolio occupancy stands at 79%, and the REIT is targeting a long-term average around 85%. As occupancy rises, the firm will also be able to drive growth with more aggressive yield management. External growth through new developments, acquisitions and its joint venture platform. Big Yellow has a strong balance sheet with only 30% in debt and a low cost of capital to finance future projects. Factors that will c ause demand for storage space to keep on rising in the UK include the densification of living, the growing awareness for storage solutions, and the scarcity of flexible business space, especially in big cities.
A Reasonable Valuation After Recent Sell-Off
Not a long time ago, Big Yellow was still trading at about 28 times its cash flow. Today, the multiple is down to approximately 20 combined with a much cheaper British pound. Today's multiple is pretty much in line with most of the US REITs such as Extra Space Storage (NYSE:EXR) and Public Storage (NYSE:PSA); however, the growth potential of Big Yellow is stronger. Big Yellow is the clear market leader, which has much more growth prospects going forward from a simple supply and demand equation perspective.
At the current price, Big Yellow is yielding close to 4% in dividends with a 12% increase last year. The current yield is attractive, but the expected dividend growth is really what makes this opportunity so appealing.
I would also note that Cohen & Steers, the leading REIT institutional investor, is the largest shareholder of Big Yellow. Furthermore, insiders seem to have their interest well aligned with shareholders as the co-founder remains the second largest shareholder owning over 9 million shares.

Risk Factors
The main risk that I see with Big Yellow from a US-based investor standpoint is the possibility of a continued weakness of the British pound. I however believe that at a multi-year low, a lot of the risk is already priced in, and think that we are more likely to see the pound recover than continue to fall going forward.
Increased competition for properties and development projects would also negatively affect Big Yellow. Nonetheless, I expect the many competitive advantages of the firm, including its brand and existing locations, to keep on delivering strong growth.
A recession could hurt any business. That said, self-storage facilities are famous for being quite resilient through any market cycle as explained in the introduction.
Final Thoughts
In today's highly uncertain environment, Big Yellow stands out as a highly attractive opportunity due to its tremendous track record, prospects for growth and the currently disco unted price of the shares. American self-storage REITs are very similar, but operate in a much more saturated and competitive marketplace. On the other hand, self-storage seems to still be at its early stage in Europe, providing Big Yellow a great chance to keep on growing at a fast rate for many more years to come.
If you enjoyed this article, scroll up and click on the "Follow" button next to my name to not miss my future articles on other attractive REIT opportunities.
This article is part of Seeking Alpha PRO. PRO members receive exclusive access to Seeking Alpha's best ideas and professional tools to fully leverage the platform.
Disclosure: This article is for informational purposes only. It is not a recommendation to buy or sell any security and is strictly the opinion of the writer. Readers are expected to conduct their own due diligence or seek advice from a qualified professional.
Sources: Big Yellow IR; Big Yellow Presentation
Disclosure: I am/we are long BYG:LN.
I wrote this article myself, and it expresses my own opinions. I am not receiving compensation for it (other than from Seeking Alpha). I have no business relationship with any company whose stock is mentioned in this article.
About this article:ExpandAuthor payment: $35 + $0.01/page view. Authors of PRO articles receive a minimum guaranteed payment of $150-500. Become a contributor »Tagged: Investing Ideas, Long Ideas, Editors' Picks, PROProblem with this article? Please tell us. Disagree with this article? Submit your own.