Introduction
I have previously written some articles where I have tracked Tesla's (NASDAQ:TSLA) construction and purchases of property, plant, and equipment (P,P & E), as well as Tesla's payments for them. The reason Tesla does not have to pay for all its equipment up front was explained in the year end 2016 earnings letter. It stated, "… we continue to negotiate more favorable payment terms with our capital equipment suppliers, pushing some payments closer to the start of Model 3 production and some payments beyond the start of production." It was further discussed in the associated conference call. I examined this issue in more detail in an article I wrote in June titled "A Capital Raise Could Be Around the Corner."
I had estimated that Tesla owed about $1.2 bn. at December 31, 2016, for P,P, & E technically owned by them but not yet paid for, a balance which had increased to almost $2.2 bn. by June 30. I had calculated the $2.2 bn. figure by starting with my year end estimate of $1.2 bn. and adding to it to a figure provided at the bottom of the cash flow statement under Supplemental Non Cash Investing and Financing Activities: "Acquisition of property and equipment included in liabilities," which was $1.02 bn. at June 30. Although Tesla makes substantial payments each quarter for P,P, & E, the company has been acquiring more than it has been paying for in most recent periods, so the unpaid balance has generally been trending up.
Third Quarter Update
In the most recent quarter, the unpaid balance actually decreased by about $40 million, to $964 million, so a bit of good news. I then looked at how much Tesla had actually paid in cash in the most recent quarter as reported in the cash flow statement in the earnings press release. The amount was over $1.12 billion. If they paid $1.12 billion, and the balance only decreased by $40 million, that means they had purchased (but had not yet paid for ) an additional $1.08 billion.
Can this possibly be right? Well, yes it can. I have reprinted "Note 8-Property, Plant and Equipment" from both the June 30 and September 30 10-Qs. The tables show that the gross increase since December 31 has been $3.95 – billion $10.93 bn.- $6.98 bn.), while the gross increase in the most recent quarter was $1.193 billion ($10.93 bn. -$9.74 bn.) Included in these numbers are "build to suit lease assets," which totaled $1.59 billion at September 30 per the comment below the table, an increase of $110 million over the June 30 figure. Since these assets are not being purchased, but instead lease payments are made over the term of the lease, they do not impact the cash imminently owed and the $110 million increase should be backed out, resulting in an increase of $1.08 bn. for the amount owed this year, consistent with my calculation in the prior paragraph.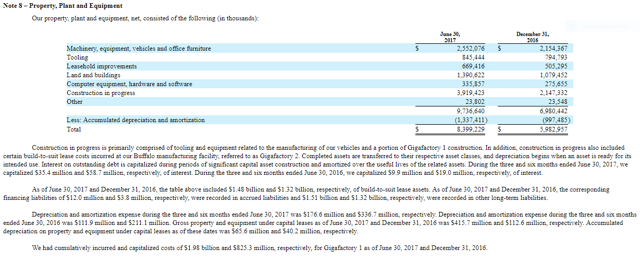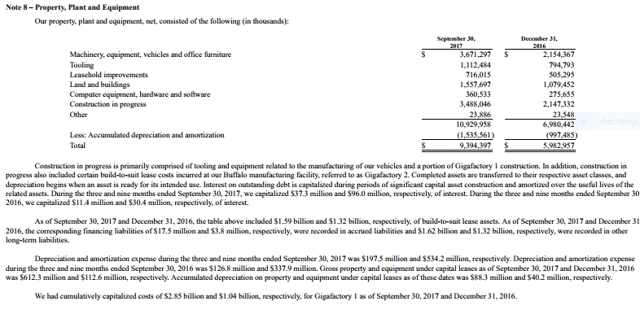 What Were the Gigafactory Capitalized Costs at December 31?
Were they $825 million, as reported in the June 30 Note- 8 or were they $1.04 billion as reported in the September 30 Note-8? The $825 million figure also was the one reported in the audited 2016 year end statement. Why is this number being restated? What do the auditors have to say about it? There does not appear to be any explanation.
Some Observations The $1.1 billion in payments that Tesla made in the most recent quarter were entirely expected and within the company's guidance of $2 billion for the second half of the year, as provided in the second quarter earnings letter on August 2. The real surprise for me was the amount of additional purchases of P,P & E Tesla made during the third quarter. The pace continues at more than $1 bn. per quarter. I would have expected the number to slow down considerably since the company began production of the Model 3 early in the quarter. This rate of purchases supports some of the reports of the Model 3 line not being up and running as well as automated equipment not being in place in the Gigafactory. It's a bit difficult to run an assembly line if some of the equipment has not been purchased for it yet. Tesla still owes about $2.2 billion on its "purchased" equipment. Most of these payments will most likely need to be paid over the next number of months. The company has guided for $1 billion in payments in the fourth quarter. I would expect this to be a bit higher, in the range of $1.3 billion, or a nice round $100 million per week. I would expect this rate of payments to continue into early 2018. I am shocked at the amount Tesla has spent so far on the Gigafactory. Capitalized costs are now $2.83 billion, an increase from only $1 bn. at the beginning of the year (or possibly $825 million, depending upon which figure you want to believe). Originally Tesla had estimated its total cost for the Gigafactory would be about $2.5 billion with its "partners" investing another $2.5 billion. Electrek reported in a July 6 article that the Gigafactory was only about 30% complete then. Tesla had already invested $2 billion as of June 30. This suggests an eventual total cost to Tesla of $6 billion or more. A Final Comment
I look forward to constructive comments regarding the analysis I have presented here. I'm currently updating my cash flow estimates through the first quarter of 2018, which I had originally presented in an article here on August 21. ("Yet Another Capital Raise on the Horizon for Tesla"). Any feedback I receive regarding my capital expenditure estimates with respect to Tesla's cash flow will be considered in my upcoming article.
Disclosure: I am/we are short TSLA.
I wrote this article myself, and it expresses my own opinions. I am not receiving compensation for it (other than from Seeking Alpha). I have no business relationship with any company whose stock is mentioned in this article.
Additional disclosure: I have a modest net short position mainly through OTM calls.
About this article:ExpandAuthor payment: $35 + $0.01/page view. Authors of PRO articles receive a minimum guaranteed payment of $150-500.Tagged: Investing Ideas, Short Ideas, Consumer Goods, Auto Manufacturers – MajorWant to share your opinion on this article? Add a comment.Disagree with this article? Submit your own.To report a factual error in this article, click here