Sometimes the market gets fairly excited about a perceived significant event causing a lot of would-be investors to jump into an investment without properly weighing all the potential risks and outcomes. Cobas Asset Management invested in Teekay Corporation (TK) to the tune of about 4 million shares. This is probably a very welcome development. It tends to confirm the bull long-term goal of multibagger appreciation. But before anyone joins the party, investors need to make sure that all that may happen between now and the perceived payoff can be tolerated.
Some blasts from the past come to mind. John Templeton went on television and gave several interviews explaining that his funds invested in Exxon (back in the 1980's) when the yield hovered over 10%. The market of course was overjoyed. But the yield headed past 13% before the price turnaround began. That meant that the stock declined about one-third. This scared more than a few investors.
Ford (F) was an ev en more dramatic example. At one point, several interviewers asked Templeton if he was going to sell Ford because the stock had dropped so dramatically.
But John Templeton indicated the funds would be holding Ford until the top of the next industry cycle. That was probably the key. Templeton bought at what he thought was a good price and was willing to risk poor results if unfavorable (and unforeseen) things happened that he had sell at a very bad price. Barring anything unusual, he was holding Ford until he thought he was getting a good price at a cyclical top to sell. Many investors do not set parameters. Instead they follow the latest guru into a stock and then wonder when to take either profits or losses (could the guru be wrong this time?) all along the way.
I had a lot of friends that bailed out of either Ford or Exxon because they had lost too much money or because they had a significant gain and wanted their profits. Some sold out to breakeven. Very few held on until the Templeton funds sold for some fantastic gains. The losses and the price fluctuations came first.
Without a clear plan, an investor can be talked out of some giant profits. But that clear plan involves an understanding of the industry, the risks, and the signs that things are going right or wrong. Cobas Asset Management has a decent long-term record. The question is, can investors tolerate the time horizon of a lot these asset managers and are they willing to endure the fluctuations of the stock price along the way?
Teekay Corporation is working with Teekay Offshore Partners (TOO) to fix some funding gaps. Shipping stocks are usually volatile to start with. Add in some financial challenges and that volatility could increase considerably. Teeka y has considerable exposure to Teekay Offshore Partners. Both stocks tend to trade with the price of oil. Right now that price is dropping. But that could also change quickly.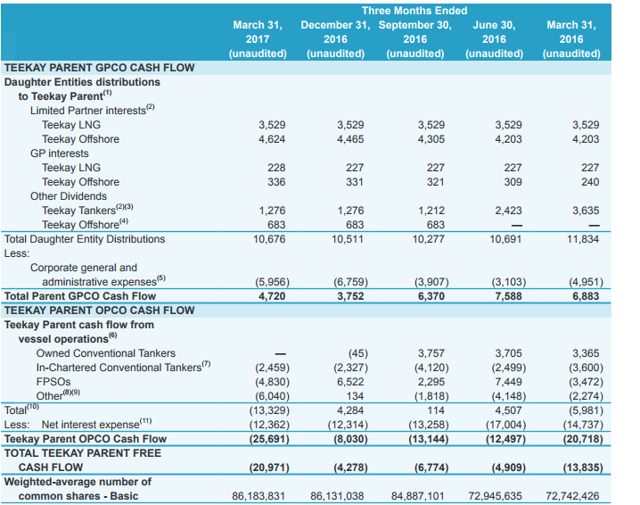 Source: Teekay Corporation First Quarter 2017 Earnings Results
As shown above, Teekay currently receives a fair amount of cash from Teekay Offshore Partners. Should Teekay Offshore Partners have enough challenges to cease all distributions to Teekay, that cessation could cause at least some short-term cash flow challenges. Clearly, the losses at Teekay have been getting worse instead of better, so less cash would not be a welcome development.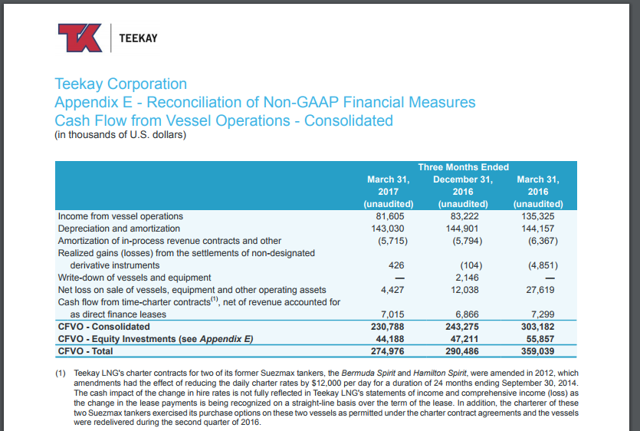 Source: Teekay Corporation First Quarter 2017 Earnings Results
To be fair, cash flow from vessel operations provides a fair amount of cash well before the bottom line. Whether or not expenses can be squeezed to get more cash to the bottom line is another matter.
However, a loss of any kind of distribution implies at least some sort of cutback and cost structure rationalization. The amounts shown above have the largest source of funds before costs to the parent company. So it is a logical place to begin to try to save money. Plus, as shown above, the CFVO is not heading in the right direction. It is decreasing. So anymore decreases are likely to be unwelcome in at least the short term. There may be a bright future, but the top line is currently decreasing. So there could be some challenges getting to that bright future.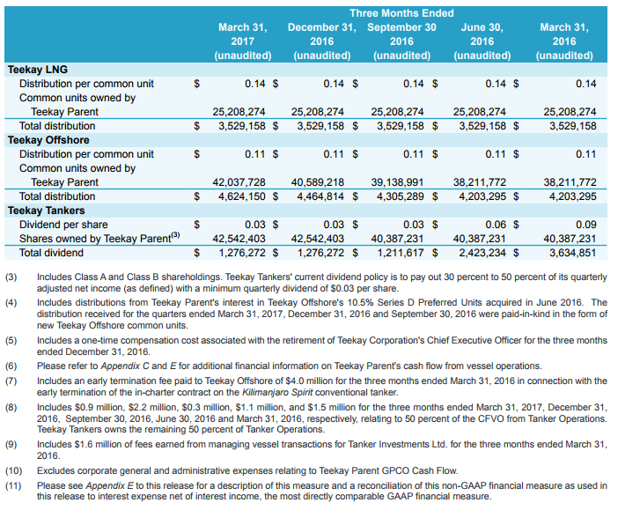 Source: Teekay Corporation First Quarter 2017 Earnings Results
Teekay has some equity exposure as shown above. The exposure to Teekay Offshore Partners is about 42 million units. Even at the latest depressed unit pricing, that is still a fair chunk of change. Any potential dilution will affect Teekay, even if it is offset by better results elsewhere.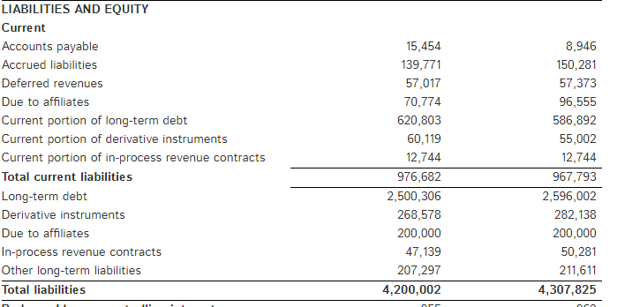 Source: Teekay Offshore Partners First Quarter 2017 Earnings Reports
The liabilities show both a long-term amount of $200 million due to affiliates and then another current amount of $70.774 million due to affiliates in the latest first quarter reporting period. The second column shows the figures for the December 31, 2016, fiscal quarter reporting period. Plus previous articles have documented some guarantees of Teekay Offshore Partners' debt.
So the organization exposure to a Teekay Offshore Partners financial challenge and potential default is considerable. It is definitely significant, though it may not be permanently crippling. An individual investor needs to weigh his temperament for some very likely upcoming press releases and rumors.
The potentially bad Teekay Offshore Partners news will come first before any potentially good news from the other subsidiaries. It always seems to happen that way. Plus industry recoveries can be further delayed and the extent of that recovery is always far from guaranteed. This uncertainty can affect the negotiating stance of the lenders in all the subsidiary loan negotiations (not just Teekay Offshore Partners).
It is very telling that neither Teekay Offshore Partners nor Teekay has so far announced any cash raising joint ventures. Both stocks have just rallied significantly, so if equity is needed, it would behoove both managements to raise equity now.
< p>Teekay Offshore Partners has a six-month waiting period in response to the cancellation of the Arendal Spirit contract. After that six-month period, the loan can be called with the potential to trigger other loan calls or default covenants. That six-month period began in late April, so we are now approaching the halfway point. Both managements should have a plan to fix this situation before the imagination of the market runs wild.
But if no plan is announced, then the relevant stocks are in for a lot of volatility that potential investors should be prepared to stomach. Cobas may have a good record, but they cannot promise that the stock will go straight up. Nobody can. So a potentially better plan would be to buy a put along with the purchase of the stock (and maybe trade the put in for higher puts as the stock rises). Or just purchase a put and a call to take advantage of the stock volatility until a definite finance plan is disseminated.
Many articles have been written about the ship values and the value of the contracts. It is almost like the lender cannot turn down such a situation. But lenders make industry allocation decisions all the time. A lender may no longer want this type of business. Therefore, as the loans come due, they do not roll over and the company must find a new willing lender. Something like that could be happening as we speak.
The first article talked about improving cash flow for Teekay Corporation in 2017. The latest articles are forecasting the cash flow improvement in 2018. Delays in industry recoveries and cash flow improvements are nothing new. But that is also just the kind of fodder to cause lender nervousness. Bank debt is usually the worst kind of debt to have when a company is stressed. Teekay Corporation and the affiliated companies had more than enough reason to issue bonds. They would rather expand than pay down debt. So there is every indication that a certain portion of the debt would not be repaid any time soon (if ever). Bonds are much more appropriate when a company gets financially stressed.
Compare this situation to Denbury Resources (DNR), another distressed company. There, the bankers can still cause some challenges, but far less of the loans are exposed to banker whims. The company therefore has a theoretically longer time to work out its problems. Teekay has a mu ch faster deadline approaching.
Chesapeake Energy (CHK) is another company that touts a ton of liquidity. But it notably does not use that liquidity often. When it does property sales then it promptly pays the debt back down. There is good reason for that too. That liquidity can disappear when it is most needed and management is well aware of that. The bonds outstanding are a much more fixed situation. Wesley Kress did an outstanding PRO article on the various debt forms.
The weakness in many debt arguments is that they do not take into account the lenders' stance. Some or all may want out for a number of legitimate reasons. The silence so far from management is telling and clues shareholders in for a rough ride but hope for a lot better. Ben Franklin, for one, figured it was better to be a pessimist so he could be pleasantly surprised. That is excellent investing advice that is very healthy for the wallet.
Either Teekay Tankers (NYSE:TNK) or Teekay LNG Partners (TGP) or both will do better in the future. But emerging from a downturn or even just financial distress could cause the lenders to be conservative longer than expected. That may affect distributable cash flow. Lenders often have conservative negotiating stances after a period of weak financial reporting.
Plus the market perception of the recovery could be delayed which would cause an undervaluation. Cobas Asset Management is in a position to wait for some of these temporary challenges to fade away. Individual investors could be long gone. John Templeton often patiently waited an extra year or two and you can bet Cobas Asset Management is prepared to do the same thing.
The long-term outlook for the stock may be good. But that does not mean there will not be a lot of bumps and bruises to get there I have every intention of waiting until the final financial arrangements are known before I commit to anything. Teekay could in effect be told to sell shares or some of its other subsidiaries to raise the cash needed to bail out Teekay Offshore Partners. That possibility could change a lot of future calculations.
I have never invested when there was a deadline such as this or worse, an accounting warning in the financial statements. For me, the risk has never been w orth it. But I may well change my mind once I see the final debt and equity structure. To me, October 2017 at the latest (baring an extension) provides plenty of time to get on board. In the meantime, I will watch the action from the sidelines because I believe there is going to be a lot of action.
Disclaimer: I am not a registered investment advisor and this article is not advice to buy or sell stock in any company. The investor needs to do his own independent investigation that includes reading the company governmental filings and press releases, as well as anything else relevant to determining if this company fits the investor's risk profile.
Disclosure: I/we have no positions in any stocks mentioned, and no plans to initiate any positions within the next 72 hours.
I wrote this article myself, and it expresses my own opinions. I am not receiving compensation for it (other than from Seeking Alpha). I have no business relationship with any company whose stock is mentioned in this article.
About this article:ExpandAuthor payment: $35 + $0.01/page view. Authors of PRO articles receive a minimum guaranteed payment of $150-500.Tagged: Investing Ideas, Long Ideas, Services, Shipping, CanadaWant to share your opinion on this article? Add a comment.Disagree with this article? Submit your own.To report a factual error in this article, click hereFollow Long Player and get email alerts