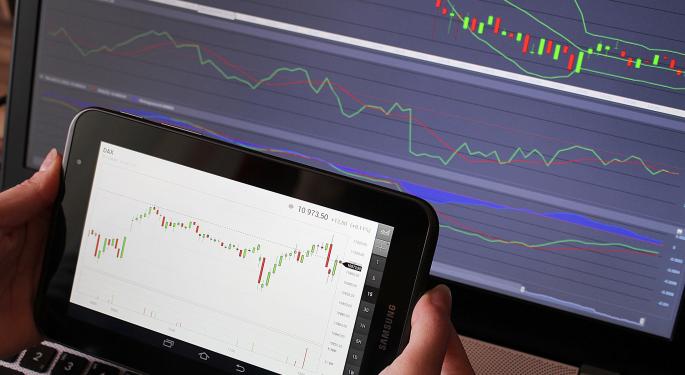 After a slight pullback in April following a series of all-time highs, TD Ameritrade Holding Corp. (NASDAQ: AMTD)'s monthly summary of its Investor Movement Index showed its customers regained much of their former bullishness in May.
This despite the first single-day decline of more than 1 percent since October, which occurred in mid-May.
Tech Tops The Ranks
Overall, TD Ameritrade's clients were net buyers for the month and as a result, the May IMX showed a 1.16 percent increase over April, peaking at 6.13. The massive force driving this buying trend was a slew of positive earnings reports from some of the most high-visibility stocks, particularly in the technology sector.
It may not come as a surprise to know that Amazon.com, Inc. (NASDAQ: AMZN) was among the most bought stocks by TD Ameritrade investors after having hit the $1,000 per-share valuation late in the month. The online retailer posted encouraging first-quarter earnings at the tail end of April, with sales over $35.7 billion. It has since handily broken past the $1,010 benchmark in the first few days of June.
Other popular stocks for TD Ameritrade investors according to the May IMX were powerhouse tech companies that had solid quarterly earnings:
Facebook Inc (NASDAQ: FB), which beat on both EPS and revenue estimates and also grew its monthly active users by 18 percent year-over-year to nearly 2 billion; Apple Inc. (NASDAQ: AAPL), which had a decent report but also reached a quarter of a trillion dollars in cash reserves.
One outlier among the high value tech stocks that investors flocked to during the last month was Advanced Micro Dynamics, Inc. (NASDAQ: AMD), which posted average EPS and revenue compared to estimates and similar semiconductor companies. However, TD Ameritrade investors were still mostly bullish on the company, which received some attention on ultimately unfounded rumors of a partnership with Intel Corporation (NASDAQ: INTC).
Profit Taking And Familiar Bears
Stocks that were less popular among TD Ameritrade investors, on the other hand, ran the gamut of sectors and industries, although profit-taking was a somewhat common thread.
Despite reaching a high of $62, a level it hasn't reached since the 2008 financial crisis, Citigroup Inc (NYSE: C) was a net sell during May. Consumer goods company Newell Brands Inc (NYSE: NWL) was also net sold despite nearing a 52-week high during the month after spiking on a solid earnings report, a level it has maintained into June.
Finally, returning solds Whole Foods Market, Inc. (NASDAQ: WFM) and Arconic Inc (NYSE: ARNC), return again as stocks investors unloaded over the course of May, Arconic for the fourth month in a row. This in light of increased speculation circulating about the future of the former and the latter's persistent conflicts with controlling-stake investors.