Stitch Fix (SFIX), the clothing e-commerce company that doubles as a digital personal stylist and went public last November at $15 per share, is a perfect example of how going against the grain and betting long on unconventional plays is a great way to beat the market. After Stitch Fix's lockup restrictions expired on May 18, shares saw immense pressure and tumbled below $20, as investors expected the flood of insiders who are now able to sell their shares for the first time to cause a massive share dump. Just recently, however, Stitch Fix managed to resuscitate itself and climb more than 25% after posting robust Q3 results: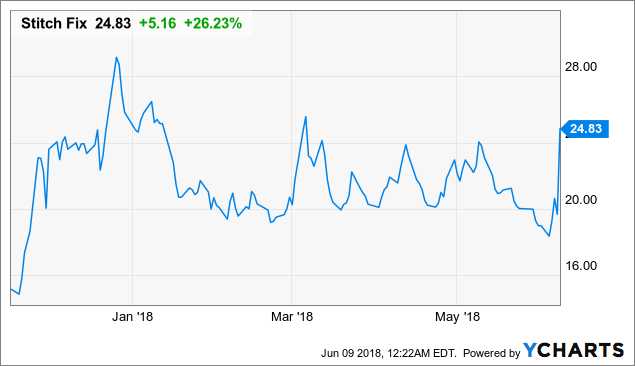 SFIX data by YCharts
Stitch Fix has not typically been an earnings winner. Over the past two quarters, despite beating top-line expectations, Stitch Fix has crashed after earnings due to one salient topic: gross margins. Of course, gross margins are an extremely important metric, especially for a retail company for which gross margins are the primary lever toward expanding profits. Yet, in the past two quarters, investors focused too much on the headline metric and failed to read between the lines. Over the past months, Stitch Fix has been experimenting with two new, lower-margin categories – Plus and Mens, leading to short-term margin deterioration. Investing into these categories may have proven to be near-tern headwinds to gross margins, but it was the right move for the business – catering to new client groups is one of the primary reasons Stitch Fix has managed to hold its active client growth rate in the ~30% range for the past several quarters.
This quarter, Stitch Fix has managed to fix this problem, showing positive y/y gross margin comps. On top of that, the company materially raised its FY18 guidance range to $1.22-$1.23 billion, $15 million ahead of Wall Street's expectations and $20 million higher at the midpoint relative to its previous guided range. Stitch Fix has effectively messaged to investors that it is still very much operating a growth business that is determined to disrupt retail just as much as its much larger rival Amazon (AMZN). Stitch Fix might not ever achieve the same kind of multi-category dominance that Amazon has, but it certainly can excel in its niche. Enterprise subscription (i.e., SaaS) companies have been all the rage this year, but consumer subscription companies like Blue Apron (APRN) have all been market laggards this year. With Stitch Fix's raised outlook, as well as its planned expansion into a Kids line which will further accentuate its growth trajectory, it will be able to further distance itself from the unfortunate band of flagging consumer internet names like Blue Apron.
With the lockup expiration now in the rearview mirror and terrific Q3 results in its belt, Stitch Fix looks ready to resume its rally and chase new all-time highs. Though it's somewhat of a contrarian play, it's in these names that generous gains can be made.
Q3 download: growth beats balanced by margin improvements
Here's a look at Stitch Fix's Q3 results:
Figure 1. Stitch Fix Q3 earnings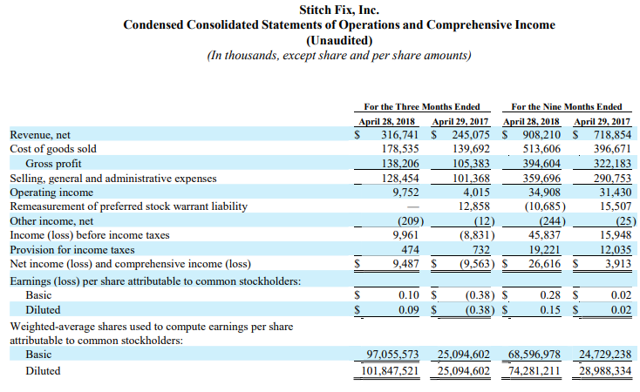 Source: Stitch Fix investor relations
Stitch Fix grew revenues by 29% y/y to $316.7 million, greatly beating analyst expectations of $306.3 million (+25% y/y). Note also that Stitch Fix achieved accelerating revenue growth relative to the 24% growth it posted last quarter, a major achievement for a company that's at a >$1 billion revenue run rate.
Driving this robust revenue growth was a 30% y/y increase in active clients, which Stitch Fix defines as a customer who has made a purchase within the trailing twelve months. This kept in pace with the 31% growth Stitch Fix saw last quarter, defying the expectation that its client acquisition rate would start tapering off. New categories like Plus, Mens, and eventually Kids are a large part of the formula for continued customer growth. Though Stitch Fix originally began and is likely to remain predominantly a traditional Womens outfitter, reaching into other pockets of growth is one of the tremendous achievements Stitch Fix was able to pull off after its IPO.
And despite the new category investments, Stitch Fix was able to reverse its recent trend of declining gross margins and show a 60 bps y/y improvement in gross margin to 43.6% in Q3, up from 43.0% in 3Q17. This is also a 60 bps sequential improvement from Q2, where gross margins fell from 44.9% in 2Q17 to 43.0% in 2Q18. This was probably the result that investors were most pleased to see, as gross margin deficits have been the primary culprit behind the company's earnings selloffs in the past two quarters.
Mike Smith, Stitch Fix's COO, attributed a portion of the margin improvements to operational efficiencies in Stitch Fix's warehouses on the earnings call:
I'd also like to spend a minute to share a recent operational improvement that highlights the opportunities we have to drive cost efficiencies by applying our technology capabilities. Last November we piloted a program in one of our warehouses to further integrate our technology and proprietary algorithms to view our fix picking process. By April 2018, we'd expanded this initiative to all five of our distribution centers and across both, men's and women's apparel. Shortly after this expansion, we drove the most efficient operational week in Stitch Fix's history. Overall, this initiative has driven a 15% improvement in our house efficiency resulting in significant cost savings. We believe that many opportunities remain to leverage our engineering and data science capabilities, to drive efficiencies and plan to update you on these in the quarters ahead."
After all, much like other consumer internet names like Wayfair (W), Stitch Fix is as much a logistics company as it is an e-tailer. Continued operational efficiencies, along with top-line growth, are key to producing profit and cash flow expansion.
Speaking of which, contrary to the popular perception that Silicon Valley's recent IPOs are all a bunch of ego-driven, money-losing companies, Stitch Fix actually posted positive GAAP net income in the quarter of $9.5 million, up from a loss of approximately the same magnitude in the year-ago quarter. Improved efficiencies on the sales and marketing side, complementing the cost reductions on the gross margin front, helped to drive the strong net margin expansion. The company's EPS in the quarter of $0.09 represented a massive beat to analyst consensus of $0.03.
On a free cash flow basis, Stitch Fix is also looking extremely healthy. Far from being a money-losing cash burn engine, Stitch Fix has generated nearly $50 million of free cash flow in the fiscal year to date, up more than 2x from the prior year and representing a respectable 5% FCF margin:
Figure 2. Stitch Fix FCF

Source: Stitch Fix investor relations
How should investors react?
Stitch Fix's stock was not an immediate winner after its IPO. However, it's looking now like the stock will be a late bloomer like Yext (YEXT), another 2017 IPO that until recently has never seen a robust rally in its shares.
In my view, Stitch Fix is a rare blend of technology, retail brand, and data-driven logistical champion that is on the path to disrupting the multi-hundred-billion retail market. I'm not asserting that Stitch Fix will ever become a dominant retail giant like Amazon, but through consistent 25-30% revenue and client growth on top of quarterly margin improvements, Stitch Fix is on the path to becoming a premium, high-margin consumer subscription business that is actually generating positive free cash flow. Stay long on this name.
Disclosure: I am/we are long SFIX.
I wrote this article myself, and it expresses my own opinions. I am not receiving compensation for it (other than from Seeking Alpha). I have no business relationship with any company whose stock is mentioned in this article.