In the early 1970s the "Nifty 50" were all the rage – growth stocks like International Business Machines (NYSE:IBM), Xerox (NYSE:XRX) General Electric (NYSE:GE), Coca-Cola (NYSE:KO), Procter & Gamble (NYSE:PG), Sears Roebuck (NASDAQ:SHLD), Johnson & Johnson (NYSE:JNJ), McDonald's (NYSE:MCD), Polaroid and Eastman Kodak (NYSE:KODK), to name a few. In 1973-1974 these high flying growth stocks got hammered back down to reality, and investors vowed to never again pay 30 times earnings for a stock.
In Jeremy Siegel's "Stocks for the Long-Run" he points out that the Nifty 50 were overvalued in 1972 right before the drop, but only by a small margin. From the December '72 peak to June 1997, an investor who rebalanced would have seen 12.7% annualized return vs 12.9% return of the market (or 12.4% if never rebalanced). So even if you bought the bunch at the worst possible time, you still got market returns.
Keep in mind, that includes the good with the bad. If y ou had invested in Phillip Morris (NYSE:PM) you would have killed it. Reverse engineering it, and looking at earnings and dividends, investors should have bid up Phillip Morris to 78.2 times earnings in 1972 according to Siegel's math in the book! Xerox was bid up to a 45.8 PE but should have only traded 18.3 times earnings, the market rate at the time. Coca-Cola had a 46.4 PE in 1972, but the math says it should have traded at over 90X earnings! Imagine that, the stock with the 46 PE was trading at half its value!
During the '73-'74 bear market, investors were cursing their '72 buys, and pundits claimed they were overvalued mistakes. Siegel's research says otherwise. Even at the peak investors were rational in bidding up the Nifty 50 to a collective 41.9 PE vs. the market's 18.9 PE. The reason: growth.
Which leads me to Starbucks (NASDAQ:SBUX). This company is about as guaranteed growth as you can get. Globalization is Americanization, and Starbucks is taking over the world.
In the mid-'90s I saw something on TV where there was a Starbucks barista and he said he was making more money from owning the stock than from sweeping the floors and serving coffees.
But but but who would pay $2- $4 for a cup of coffee?
If you've read a Starbucks Seeking Alpha article you always see Bob from Nebraska. You know Bob. He wonders why Somebody would pay $2 for a cup of coffee when he can make it at home for 20 cents! Let's say you live in a city and want to get out of your apartment to your 3rd space. You go alone, or you meet up with friends. You meet at Starbucks, sit in comfortable chairs and ambiance and chat for an hour or two. Cost $5. That's a bargain.
"The Reserve Roastery & Tasting room is overpriced. Who would pay $10 for a cup of coffee?"
< p>How do bars stay in business? I mean why go pay $4-$9 per beer when you can have one at home for less than a buck? What about movie theaters? Why go spend $10-$15 on a movie when you can wait 6 months and watch it for $1 or maybe free? Why spend $30 on baseball game tickets when you can watch it on TV for free? The difference is experience.
The Starbucks Experience is built upon superior customer service, as well as clean and well-maintained stores that reflect the personalities of the communities in which they operate, thereby building a high degree of customer loyalty. This is different than McDonald's, Duncan Donuts (NASDAQ:DNKN), Costa Coffee (OTCPK:WTBCY). If you want to drink a $1 coffee and smell burning pink slime, fine – there are literally millions of people that will pay the extra buck or two to sit in a more comfortable chair and NOT smell that.
Starbucks is about as guaranteed growth as you can get. It's like investing in McDonald's or Coca-Cola 50 years ago.
I used to think there was no more room in America, but every time a new subdivision is created they put in a Starbucks at the strip mall next to it. They are opening a store in China every 15 hours, a growth rate they project for decades, and one day China will be a bigger for Starbucks than America. There is so much room to grow in Asia, but Europe will also grow. When I see Starbucks in Europe, they are always packed. Is Starbucks better than an Italian coffee shop? No, but Italy has tons of tourists and Italians like America.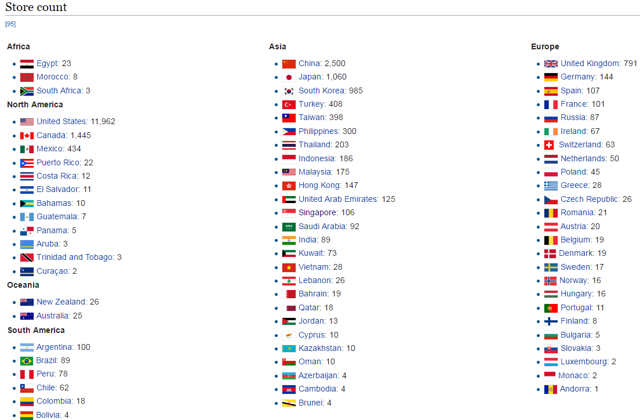 The easiest way to add to growth is adding stores. They are cash machines. Each store can also increase profitability. They make roughly 75% from beverages, 20% food and 5% "other". Per unit economics will increase from the loyalty cards, the app to speed up the lines and there is real opportunity for food. Do you want a coffee or a coffee and pastry? Fruit? The breakfast quiche is amazing.
Also, don't forget the roasteries in Seattle, Shanghai, New York, Milan, Tokyo and Chicago. These will continue to strengthen the brand and are additional opportunities for growth.
Here's a litmus test. If Starbucks were my #1 position (it is not) I would sleep well at night.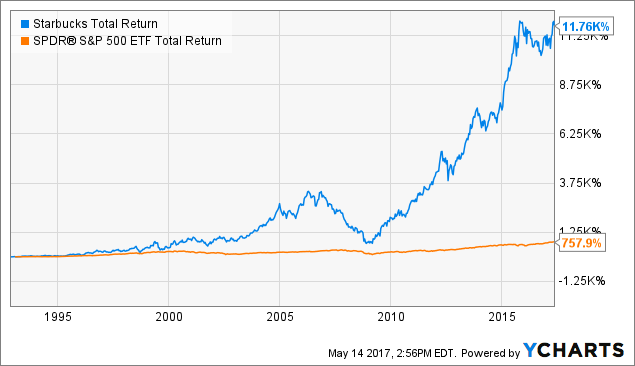 If you had invested in Starbucks in the 1990s, you are very happy as you destroyed the market.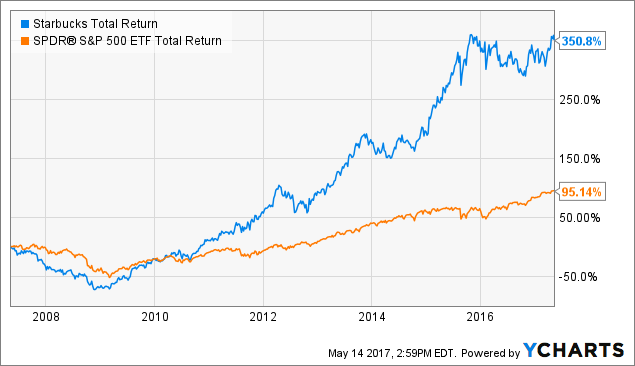 But just because you didn't invest in the 1990's doesn't mean you can't beat the market with Starbucks. We also saw Starbucks beat the market handily over the last 10 years.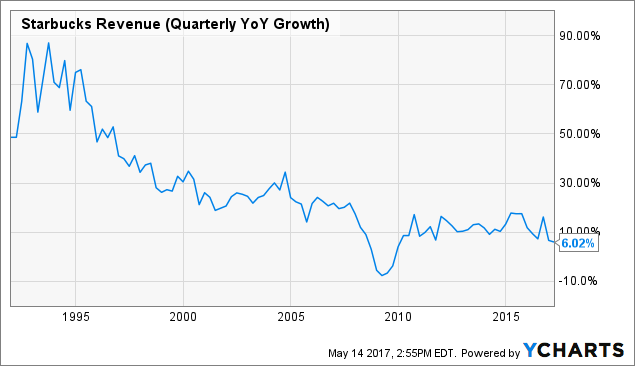 Revenue growth has been trending down. At just under $60 per share with a 30 PE, Starbucks is trading for around the same price it was in July 2015. Revenues, earnings and dividends have increased since then.
Bears want to nitpick about store traffic/comps, and many are calling for Starbucks demise. Howard Shultz addressed that head on – you can practically hear him pound the table in the latest earnings report:
Starbucks Coffee Company is built to last. Starbucks Coffee Company is built to build a great and enduring company. And there's no question in our mind as we sit as a management team and as we address you today on the heels of a tough first half that our best days are in front of us. And for those of you who have covered the company for many, many years, who know me personally, I would not be here banging on the table and telling you how strongly I feel about the growth, development, and what we have in store in terms of the innovation of the company , both inside the four walls of our store, the building of the Reserve brand, the unbelievable experience, the roasteries, what's going to happen in all these cities
Management reiterates long-term guidance of 10% on the top line and 15% to 20% on the bottom line.
Don't forget, folks, this company is still in growth mode. They are funding a new store in China every 15 hours. This stock is a prime candidate to be a future dividend growth investment as well. Once Starbucks conquers the world then they can increase their payout ratio and give their FCF to their investors.
So let's say Starbucks grows earnings @ 20%. We are on course for $2.10 this year. In 10 years we could see $13 in earnings. Let's say the PE cools down to 20 in 2027 and we are looking at $260 per share. If Starbucks were able to grow EPS 20% for 20 years, earnings would be 80 and a 20 PE would give us $1,600 per share in 2037.
If earnings grow @ 15% in 10 years we are at $8.5 in e arnings and with a 20 multiple we get a $170 share price. If it grows 15% for 2 decades we get to $34 earnings and a $680 value with a 20 multiple.
If earnings ONLY grow @ 10% in 10 years we are at $5.44 EPS and with a 20 multiple we are at $109. If we grow earnings for two decades at 10% we get to $14 EPS and with a 20 multiple a $280 share price.
Imagine decades in the future when they "max out" on new stores and the company can distribute 75% or more of earnings to shareholders in the form of dividends and buybacks. THAT is enough to get young Starbucks shareholders very excited about the future.
Now, I've been here almost 40 years. I've seen many cyclical changes in our core business. And I can tell you sitting here today, I have never been more confident that the comp growth that we have seen in the first half of the year, over time, beginning in the second half of the year and beyond, will be a distant memory. The pipeline for innovation, both in terms of product development, digital development, mobile development, and if you just look at what happened in the last two weeks, was something that wa s really probably the most stunning example of our understanding of digital and social media and Instagram, what happened with Unicorn, drove significant traffic, incrementally, awareness, brand affinity. And just stay tuned, because we have a lot more coming. – Howard Shultz
The future is very bright. New coffees, tea, promotions, integrating technology. What about adding ice cream? We can't predict what management will do in 5-20 years but we are in good hands.
This is one of those stocks Professor Siegel talks about. A true growth stock can be worth a lot more than people "think" it is, even if our next correction is just over the horizon.
Long Starbucks for decades to come.
Disclosure: I am/we are long SBUX, IBM, KO, MCD, JNJ.
I wrote this article myself, and it expresses my own opinions. I am not receiving compensation for it (other than from Seeking Alpha). I have no business relationship with any company whose stock is mentioned in this article.
About this article:ExpandAuthor payment: $35 + $0.01/page view. Authors of PRO articles receive a minimum guaranteed payment of $150-500. Become a contributor »Tagged: Investing Ideas, Long Ideas, Services, Specialty EateriesProblem with this article? Please tell us. Disagree with this article? Submit your own.Follow No Guilt and get email alerts