Direct Listing
Spotify's (SPOT) direct listing IPO is scheduled to begin trading Tuesday, April 3, 2018, according to its most recent F-1/A registration statement.
SPOT provides listeners with streaming music and podcast entertainment via its popular global platform.
The firm's business model is a combination of both advertising-supported streaming and premium subscription revenue-based access.
Management is pursuing a direct listing through the NYSE, bypassing traditional IPO processes that are mediated by underwriters and bookrunners.
This will allow the firm to sell (transfer) ordinary shares from existing shareholders directly to the public using the NYSE as an ostensible market maker.
The firm will receive no proceeds from the sale of shares, and the total number of shares to be sold is not a set figure.
The advantages of this type of issuance are that the firm can avoid lengthy roadshows and underwriter expenses while presumably making its shares available to a wider swath of investors. Management believes this is a fairer approach as well as dovetailing conveniently with its desire to reach as many users in the lucrative U.S. market.
The disadvantages of this approach are that although the NYSE will act as the transfer agent for the shares, there will be no market stabilization capabilities which are typically undertaken by traditional IPO bookrunners and underwriters. Additionally, initial price discovery will be more uncertain, since bookrunners typically provide management with investor feedback on pricing during the typical pre-IPO roadshow.
Company Guidance
Spotify's management has more recently published its financial outlook for Q1 and full year 2018.
Notably, the firm forecasts full-year 2018 total revenue growth of between 20% and 30%. If SPOT achieves this growth rate, it will represent a further slowing of top-line revenue growth rates from previous years, as the recap below indicates:
2017: $4.99 billion, 38.6% increase vs. prior 2016: $3.6 billion, 52% increase vs. prior 2015: $2.37 billion, 78% increase vs. prior 2014: $1.33 billion, 46% increase vs. prior 2013: $911 million
(Source: F-1 and IPO Edge)
Additionally, management expects the euro to fall against the dollar during 2018, as evidenced by its statement, 'We anticipate changes in foreign exchange rates will have a negative impact of approximately EUR260-300 million for the full year.'
That is a fairly significant impact, approximately 5.8% reduction in top-line revenue since its full-year guidance midpoint is EUR5.2 billion.
On a positive note, Gross Margin is expected to be in the range of 23-25%, which would represent a continued improvement compared to previous years shown below:
2017: 20.7% 2016: 13.6% 2015: 11.6% 2014: 16% 2013: 17% Market Volatility
In addition to the uncertainty caused by a lack of proposed pricing range with Spotify's direct listing approach, the risk to SPOT investors is overall market volatility as shown in the VIX chart below: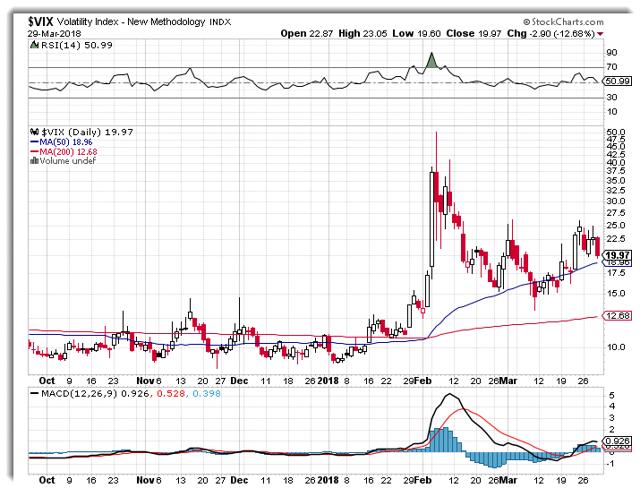 (Source: StockCharts)
After a quiet 2017, overall market volatility has risen markedly since the end of January, owing to a number of macroeconomic and geopolitical uncertainties.
Volatility is the enemy of a smoothly functioning IPO market as it makes valuing new issues, which tend to be riskier, more difficult.
Additionally, SPOT's direct listing on Monday, April 3, will come immediately after a long Easter weekend with no trading in most U.S. markets on the previous Friday due to holiday observance. This dynamic may cause greater volatility in SPOT share prices during early trading.
Using a wider lens, management has admitted that it expects initial trading to have the potential to be more volatile:
… the listing of our ordinary shares on the NYSE without underwriters is a novel method for commencing public trading in our ordinary shares, and consequently, the trading volume and price of our ordinary shares may be more volatile than if our ordinary shares were initially listed in connection with an underwritten initial public offering.
(Source: SPOT F-1/A)
Valuation
Since management hasn't provided a proposed price range for the direct listing and due to the uncertainty of the direct listing process itself, coming to a firm opinion on valuation can be tricky.
The firm has provided a recent history of its share price activity in private, secondary markets in 2017, as the table below shows:


(Source: Spotify F-1/A)
Notably, the December 2017 price indicated more than double the price in February 2017. I find this change difficult to fathom on a fundamentals basis, as it is unlikely that the value of the firm's underlying business more than doubled in value in only ten months.
I wonder if the price run-up was more a function of expectations of an IPO in the near future driving demand for short-term 'flip' opportunities by late-stage institutional investors.
If so, that potential short-term speculation aspect, combined with the fact that there are no lockups requiring existing shareholders to avoid selling into the direct listing (not including TME and Tencent shareholders), could result in significant downward pricing pressure in the hours or days immediately following the IPO.
In fact, management has outlined this very scenario in its filing:
None of our Registered Shareholders or other existing shareholders have entered into contractual lock-up agreements or other contractual restrictions on transfer, except for TME and Tencent. In an underwritten initial public offering, it is customary for an issuer's officers, directors, and most of its other shareholders to enter into a 180 day contractual lock-up arrangement with the underwriters to help promote orderly trading immediately after listing. Consequently, any of our shareholders, including our directors and officers who own our ordinary shares and other significant shareholders, may sell any or all of their ordinary shares at any time (subject to any restrictions under applicable law), including immediately upon listing. If such sales were to occur in a significant quantum, it may result in an oversupply of our ordinary shares in the market, which could adversely impact the public price of our ordinary shares.
As to valuation, I will take this opportunity to defer to a valuation expert, NYU Stern professor Aswath Damodaran. His detailed analysis puts the full value per share at $115.31.
Damodaran highlights the main points of SPOT's financial metrics, namely slowing revenue growth, decreased content costs but increased other costs such as R&D, Selling & Marketing and G&A.
Below is his valuation worksheet where he comes to a value of EUR93.40 ($115.31) per share: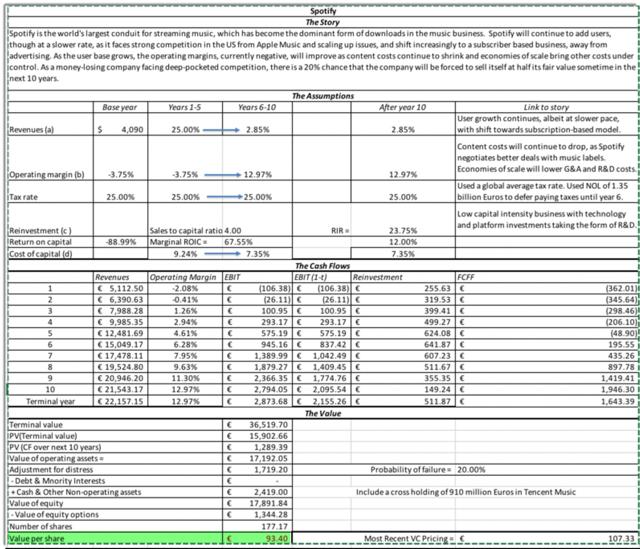 (Source: Aswath Damodaran)
On one aspect, I disagree with his assumption about SPOT's future revenue mix shifting to a more subscription-based model.
I believe that it will shift to a more advertising-based model since its largest penetration to-date has been in the developed, wealthy nations who can afford subscriptions. Future market expansion will include less-developed regions which are more price-sensitive and, in my view, will stay with the free, ad-supported version rather than pay for avoiding commercials.
Expected trade date: Tuesday, April 3, 2018.
An enhanced version of this article including my commentary and opinion on the IPO is available on my Seeking Alpha Marketplace research service, IPO Edge. I write in-depth research about U.S. IPOs and members learn the latest IPO research, news, market trends and industry analysis. Start with a Free Trial.
Disclosure: I/we have no positions in any stocks mentioned, and no plans to initiate any positions within the next 72 hours.
I wrote this article myself, and it expresses my own opinions. I am not receiving compensation for it (other than from Seeking Alpha). I have no business relationship with any company whose stock is mentioned in this article.