SolarEdge (NASDAQ:SEDG) is a Photovoltaic Solar Systems and Equipment company based in Israel. They offer a wide range of products and solutions including the SolarEdge Power Optimizer, SolarEdge Inverter, SolarEdge Solutions and SolarEdge Monitoring Software. Their products fall under four categories: inverters, power optimizers, storage solutions, and a cloud-based monitoring platform. SolarEdge also invented an intelligent inverter solution that revolutionized the way power is harvested and managed in a solar photovoltaic (PV) system. Their system allows for maximum power generation at lower cost. The products are primarily sold directly to large solar installers, contractors/construction firms, and indirectly to thousands of smaller local solar installers. SolarEdge is in the commercial solar market, utility-scale solar market and residential solar market.
This stock has several good things going for it, the main feature being its unique and innovative product l ine up in a rapidly growing industry. SolarEdge is rapidly growing as a company, expanding into new geographical markets, rapidly applying for new patents and has greatly grown in revenue for the past five years. They also has no debt, has beat consensus EPS seven out of eight quarters and is highly regarded by analysts. Investors interested in entering the quickly growing solar market should take note of this stock.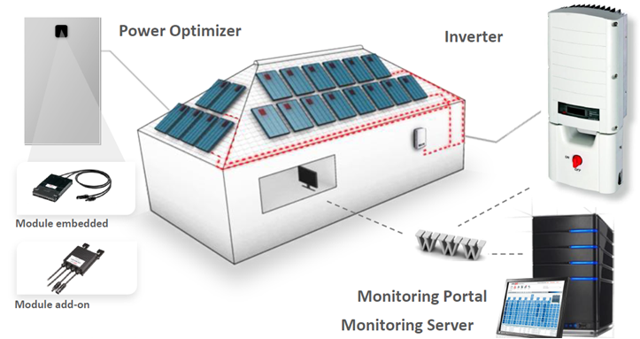 SolarEdge product lineup (Source)
"SolarEdge's mission is to become the leading provider of inverter solutions across all solar PV market segments and broaden the availability of clean, renewable solar energy," states their official website, SolarEdge.com.
Since beginning solar shipments in 2010, SolarEdge has shipped approximately 4.2 Gigawatt (GW) of its DC optimized inverter systems and products have been installed in solar PV systems in 102 countries. They account for approximately 8% of the global market share in solar energy and photovoltaic systems. SolarEdge has strong sales in Japan, Europe and the United States, while key target markets for growth are Germany, Australia, the United States, and South Africa. In addition to a strong physical product line up, SolarEdge has a healthy patent portfolio with 70 patents on various products and over 100 patents pending. Products have received numerous awards. The HD-Wave Inverter was the winner of the 2 016 Intersolar Award, as well as setting a new record for the California Energy Commission (CEC) by reaching 99% weighted efficiency.
SolarEdge's projected growth is good as earnings are expected to grow at an average annual rate of 16.6%. EPS greatly outperformed estimates for seven quarters in a row, only missing the latest estimate by $0.01. The average EPS beat rate is 8.3%.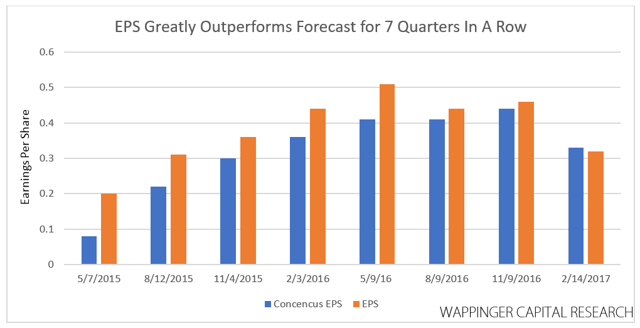 The company announced on March 1, 2017, that they had begun rolling out their new complete residential solution throughout Europe. This combined their most popular products, including the PV inverter, storage and home automation aspects making solar more accessible to residential customers. SolarEdge also announced on April 9, 2017, that they are "expanding business in the Indian PV market with a new country manager, office, and recruitment of a local team. As a leading global PV inverter company, SolarEdge is already active in the Indian PV market and is now looking to expand its footprint in the region." SolarEdge is rapidly entering new geographical markets which will contribute to their growth in earnings and revenue.
The largest revenue segments for SolarEdge are the United States, which accounted for 68.2% of total net sales, followed by Germany, which accounted for 18.2% in fiscal year 2016. Between fiscal year end 2013 and 2016, each of SolarEdge's geog raphic revenue segments saw triple-digit compound annualized growth. In addition to this growth, SolarEdge has a positive net cash balance of $180.04M, equivalent to 27% of the market value. They grew their revenue by 15.6% and $165.9M in gross profit. SolarEdge has no debt whatsoever, allowing their return on assets to be a high 16.38% and return on equity a high 25.39%.
Analysts from Barclays Capital, FBR Capital Markets, JPMorgan Securities and Oppenheimer Holdings are pleased with SolarEdge and see value in the company with six out of 11 analysts stating Strong Buy, one out of eleven stating Buy and four out eleven stating Hold, making the general consensus Strong Buy.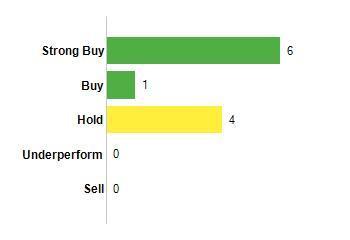 Analyst ratings of SEDG.
The future for the whole solar market looks bright with many countries having tax incentives and mandatory renewable energy targets. This list includes Australia, with a mandatory target of 20% renewable energy by 2020, and the EU with a target of 40% renewable energy by 2030. The cost of PV system manufacturing has "dropped by more than 60% over the last 10 years, leading the industry to expand into new markets and deploy thousands of systems nationwide," according to a study by SEIA. "The utility-scale segment continues to be the backbone of the U.S. solar industry, representing 72% of installed solar capacity in 2016," stated the study, while "residential solar has been the fastest growing segment in recent years."
Solar PV prices compared to Solar PV installations. (Source)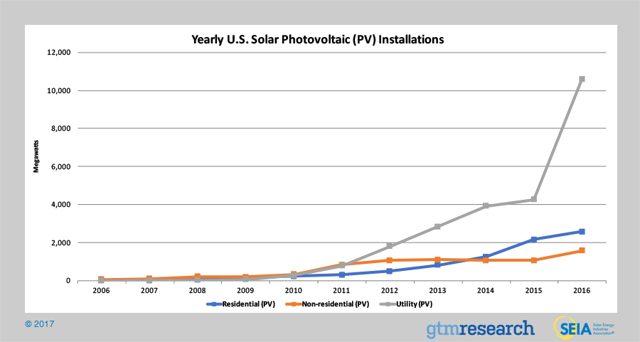 Solar Industry Growth In All Markets. (Source)
However, the solar industry also is a very competitive one. While SolarEdge is the only company that has such a diverse and well functioning product ecosystem. Other companies such as SunPower (NASDAQ:SPWR) and Trina Solar (NYSE:TSL) also have begun making innovative systems that may attempt to take away SolarEdge's market share. But SolarEdge has a diverse portfolio of patents and innovation in the market, in addition to being the only company to offer a well functioning hardware-software package.
SolarEdge is a good stock for the bullish investor because they are experiencing sound growth and have a great product lineup. With no debt, and over $140 million in cash on its balance sheet, SolarEdge is a possible merger and/or acquisition target from a larger tech company looking to get into the solar market. SolarEdge is an undervalued stock and will continue to rise with the growing solar market, making now a perfect time to invest in this solar stock that is sure to soar.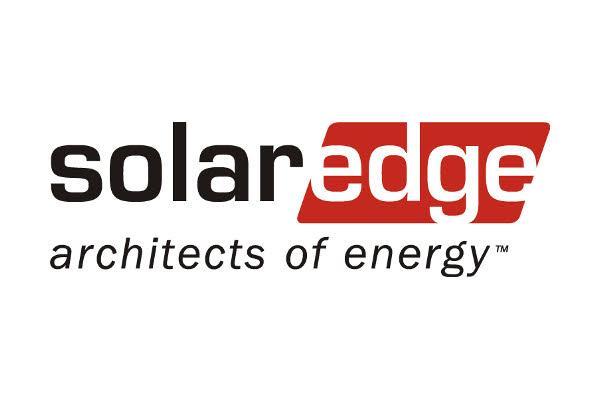 SolarEdge logo. (Source)
Do you agree or disagree with this article? Be sure to present your case. We'll be in the comments section to answer any questions you may have or elaborate further on any points mentioned in this article – WCR.
Disclosure: I am/we are long SEDG.
I wrote this article myself, and it expresses my own opinions. I am not receiving compensation for it (other than from Seeking Alpha). I have no business relationship with any company whose stock is mentioned in this article.
About this article:ExpandAuthor payment: $35 + $0.01/page view. Authors of PRO articles receive a minimum guaranteed payment of $150-500. Become a contributor »Tagged: Investing Ideas, Long Ideas, Technology, Changing Market, Deep value, Hidden Asset, Industry Disruption, IsraelProblem with this article? Please tell us. Disagree with this article? Submit your own.Follow Wappinger Capital Research and get email alerts