Shares of struggling biotech EyeGate Pharmaceuticals (EYEG) have fallen by nearly 70% over the past year. However, the stock has risen 17% year to date as the current move appears to have legs.
The stock popped back onto my radar in late April when one member in Live Chat pointed out significant insider buying had taken place.
Chart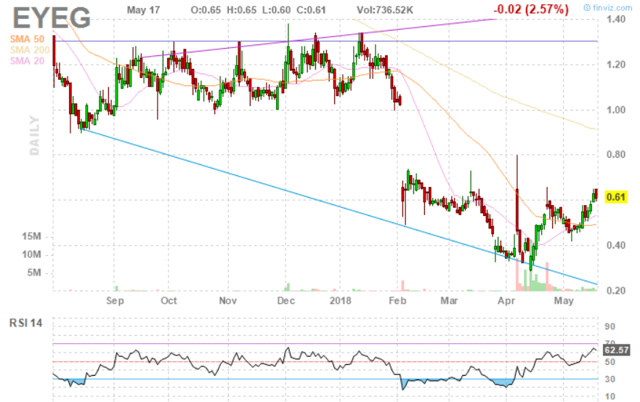 Figure 1: EYEG daily advanced chart (source: Finviz)



Figure 2: EYEG 15-minute chart (source: Finviz)
When looking at charts, clarity often comes from taking a look at distinct time frames in order to determine important technical levels and get a feel for what is going on. In the first chart (daily advanced), we can see the long downtrend has been broken with the stock now back above the .60 level. From there, it appears that the next step would be to fill the gap to back above the very psychologically important $1 marker. In the 15 minute chart we can see continued accumulation.
Reader Inquiry
In the marketplace service ROTY (Runners of the Year), we search for stocks that are attractive across multiple time frames with potential for high % upside within the near to medium term. Catalyst ideas typically have upcoming material events (where we feel we have an edge with the outcome) while companies categorized as revaluation plays possess underappreciated assets which should increasingly come into focus.
Recently in ROTY we麓ve being adding to a key position which is participating in the lucrative targeted oncology theme (and added a similar Contender)- both have important data readouts coming later this year.


Figure 3: Pipeline and upcoming milestones (source: corporate presentation)
While shares of EyeGate Pharmaceuticals have fallen significantly, as stated before I believe they麓re poised to fill the gap back to the $1 level. Their highly dilutive (yet necessary) secondary offering along with recent events make me want to dig further to find out what we can expect going forward.
Recent Developments
Quite a lot has happened since the beginning of the year (and before), including the company taking steps to strengthen its Board of Directors and executive line up (one of the so-called 篓green flags篓 we look for in ROTY). In early 2017 two leading ophthalmology experts, Daniel S. Durrie, M.D. and Randall J. Olson, M.D., were added to the firm麓s Scientific Advisory Board. Later in the year two more leaders in the ophthalmic space, Vance Thompson, MD and Paul Karpecki, OD, FAAO, were also added (quite significant for a company of this size).
The appointment of Mike Garanzini as Chief Commercial Officer last November was a pivotal moment, as the company showed it was serious about readying its commercial strategy. Garanzini prior served as Global Marketing Therapy Leader for the Glaucoma Portfolio at Santen and also as Senior Director of Global Marketing, Ophthalmology at Merck (MRK).
Lastly, just recently the company appointed Steven Boyd to the Board, Chief Investment Officer of Armistice Capital (more to come later on their involvement).
Unwelcome news came in February when the company announced top-line data from the phase 2b study evaluating drug candidate EGP-437 for pain and inflammation in patients having undergone cataract surgery. While EGP-437 did demonstrate a higher rate of success (compared to vehicle) at all time points, co-primary endpoints failed to show statistical significance due to placebo performing better than expected. Keep in mind that in spite of the situation the drug candidate did measure up favorably compared to historical data from competitor products.
Personally, I found management麓s response quite admirable. President and CEO Stephen From accepted that the main problem was a large amount of patients at 24 hours postsurgery having mild to no inflammation (48% to 50%) as they failed to exclude these patients as should have been done. His specific remarks included the following:
I would rather spend a small amount of money right now, making sure our hypothesis is correct, than sitting down with the FDA to move forward into a pivotal based on an educated guess. The company expects to conduct another phase II study, with patients randomized into the treatment or placebo arms the day following cataract surgery, when the severity of inflammation can be more accurately assessed. The additional trial isnt expected to increase the cost of development materially since the original phase IIb enrolled quickly and sites and other protocols are already in place.
In March the company submitted an amended Investigational Device Exemption application to evaluate their Ocular Bandage Gel (cross-linked thiolated carboxymethyl hyaluronic acid platform) Eye Drop for the acceleration of re-epithelialization of large corneal epithelial defects in patients having undergone photorefractive keratectomy. Keep in mind that this asset is somewhat derisked, as low concentrations of hyaluronic acid drops are already the standard of care in Europe and Asia for ocular wound healing, dry eye and ocular surface damage and are commercially available as a veterinary device, having been used for several years in animals.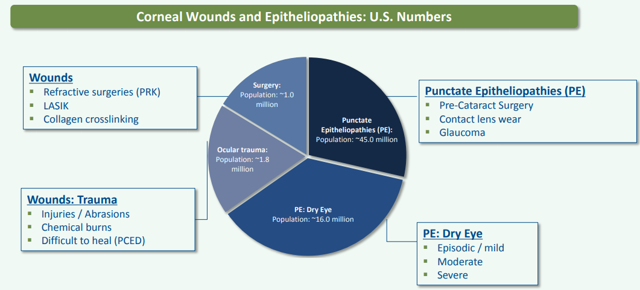 Figure 4: Addressable markets consisting of millions of patients in multiple indications (source: corporate presentation)
In terms of competition for EyeGate Ocular Bandage Gel, management believes there is significant opportunity to address even with the coming of generic Restasis (especially patients not adequately managed on artificial tears). Another point is that while the product wouldn麓t be covered under Medicare Part D, it's possible that discount programs for eligible patients could bring the out of pocket cost down to a more reasonable number.
Up to 45 patients who are undergoing a bilateral PRK procedure will be enrolled in the reading center maksed trial, comparing the experimental treatment to standard of care (bandage contact lens plus artificial tears). The primary endpoint is the percent of patients achieving complete wound healing on day 3. Patients would be enrolled to one of three arms (EyeGate OBG 4x daily for 14 days, 8x daily for 3 days followed by QID administration for 11 days as compared to the third arm of bandage contact lens with QID administration of artificial tears for 14 days.
Later in April the company announced a setback, that the FDA identified 4 deficiencies in their submission and requested manufacturing information along with clarification of submitted data. Despite setbacks, keep in mind that the 505(b)(2) regulatory pathway would be utilized to speed up development and shorten timelines. Management has stated most of the issues brought up by the FDA have been addressed with resubmission expected in July.
Also in April, the company announced patient enrollment for their pivotal phase 3 study (n=250) evaluating EGP-437 for the treatment of non-infectious anterior uveitis had finished up. The condition involves inflammation of the anterior chamber of the eye with symptoms including soreness and inflamamtion which left untreated can lead to vision loss and permanent damage. With a double-blinded, randomized, positive-controlled design the study should provide definitive results one way or the other. Keep in mind that a few years prior the company entered into a global licensing agreement with a subsidiary of Valeant Pharmaceuticals (VRX) granting them commercial and manufacturing rights. They stand to receive up to $135 million in milestone payments along with high single digit royalties on net sales.


Figure 5: Prior data indicative of future success (source: corporate presentation)
IP protection is always important and biotech, and so the issuance by the US PTO of a patent covering the utility of their iontophoretic contact lens (first one) was a positive sign.
Lastly, heavy dilution in April marked a bottom for the stock, with 35,156,250 shares of common stock sold along with warrants to purchase 35,156,250 more shares resulting in gross proceeds of $11.25 million (price point of $0.32 for both stock and the five-year warrant). Keep in mind that around 350,000 shares of the offering were purchased by insiders as well. While the dilution is quite toxic, we've capitalized in ROTY prior on such situations including ArQule (ARQL) when it was pretty unloved following successive dilutions.
Other Information
For the first quarter of 2018 the company reported cash and equivalents of $3.65 million (doesn麓t include proceeds from recent financing). Net loss came in a bit lower at $2.38 million, while revenue increased to $1.096 million as a result of milestone payments from Valeant. Research and development expenses rose significantly to $2.521 million.
Recent filings for Armistice Capital reveal they own over 16 million shares or just over 40% of the company. They are a long/short global hedge fund known for looking for opportunities that are both undervalued and have catalysts on the way. They won the 2017 US Hedge Fund Performance Awards by HFM for long/short equity, long-term performance (5 years) under $1 billion, and single manager long-term performance under $1 billion (so basically it means EyeGate Pharmaceuticals has some very smart people in its corner).
For current ROTY members and those who join in the future, I麓d like to remind you to take advantage of the Search Function in Live Chat to read prior commentary including from key members with a wealth of experience in this area.
Catalysts to look forward to include top-line phase 3 data for EGP-437 in the third quarter and data for OBG eye drop in the pilot trial (large corneal wounds-photorefractory keratectomy) in the fourth quarter. In the fourth quarter data will also be released from the pilot trial in moderate dry eye (punctate epitheliopathies).
Final Thoughts
This one appears attractive as a rebound trade, buying dips in the near term to watch the stock fill the gap on the run up into data (taking partial profits prior to results in order to manage risk appropriately).
Dilution from warrants is not desireable and could dampen the upside move- disappointing pivotal data as well as underwhelming results from pilot studies would also weigh heavily on the stock. Setbacks with getting trials underway and addressing issues raised by the FDA (particularly manufacturing and data-related) would also keep this one grounded.
While I won't be adding this one to the ROTY Contenders List (we already have an ROTY holding in the ophthalmology space doing well), it does have considerable upside by playing the rebound and potential follow through on positive data. I expect continued discussion in Live Chat as the thesis progresses.
Keep in mind that when a stock is selected for ROTY, the corresponding article appears only to current subscribers, and for the purposes of due diligence, subscribers are able to access all of my archived work (getting around the 10-day paywall).
Disclaimer: Commentary presented is NOT individualized investment advice. Opinions offered here are NOT personalized recommendations. Readers are expected to do their own due diligence or consult an investment professional if needed prior to making trades. Strategies discussed should not be mistaken for recommendations, and past performance may not be indicative of future results. Although I do my best to present factual research, I do not in any way guarantee the accuracy of the information I post. I reserve the right to make investment decisions on behalf of myself and affiliates regarding any security without notification except where it is required by law. Keep in mind that any opinion or position disclosed on this platform is subject to change at any moment as the thesis evolves. Investing in common stock can result in partial or total loss of capital. In other words, readers are expected to form their own trading plan, do their own research and take responsibility for their own actions. If they are not able or willing to do so, better to buy index funds or find a thoroughly vetted fee-only financial advisor to handle your account. I am in a collaborative relationship with The Biotech Forum/Bret Jensen.
Disclosure: I/we have no positions in any stocks mentioned, and no plans to initiate any positions within the next 72 hours.
I wrote this article myself, and it expresses my own opinions. I am not receiving compensation for it (other than from Seeking Alpha). I have no business relationship with any company whose stock is mentioned in this article.
Editor's Note: This article covers one or more stocks trading at less than $1 per share and/or with less than a $100 million market cap. Please be aware of the risks associated with these stocks.