Less than 2 weeks ago, I wrote a Reader Inquiry piece titled "At 52-Week Lows Is BioDelivery Sciences A Viable Turnaround Play?". The story was quite interesting, a case where the company possessed an asset with real value and yet leadership managed to lose 3/4 of the company麓s value in 3 years.
In fact, what brought the company back to my attention was a change at the helm. In the last article I touched on a number of green flags, including clearing of a litigation overhang (settlement with Teva), hiring of experienced CEO Herm Cukier (served as Senior Vice President at Allergan), strong trends in revenue growth for BELBUCA and the presence of an activist investor (Broadfin Capital with a 7.3% stake nominating new directors to the Board).
The company麓s main problems included a coming cash crunch, lack of diversification in their asset base, and shareholders麓 crisis of confidence in management. Concerning these I offered the following remarks:
This situation reminds me quite a bit of Synergy Pharmaceuticals (SGYP), as both are companies with a great product but have been materially mismanaged by those holding the reins. It麓s vital for them going forward to restore trust and I hope that new CEO Herm Cukier is up to the task.
With the support of Broadfin perhaps they can get rid of the funding overhang without diluting shareholders too badly, but that remains to be seen. Likewise, the company has a limited commercial portfolio and to drive growth in the coming years they will likely need to inlicense new commercial ready products or clinical-stage drug candidates. I hope they avoid overpaying to get their hands on such assets.
The stock has risen by over 30% since then.
Chart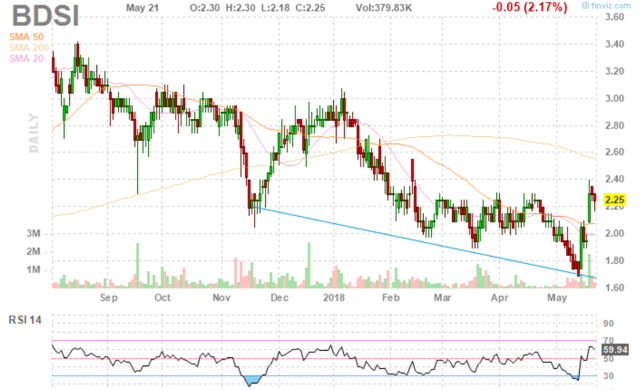 Figure 1: BDSI daily advanced chart (source: Finviz)



Figure 2: BDSI 15-minute chart (source: Finviz)
When looking at charts, clarity often comes from taking a look at distinct time frames in order to determine important technical levels and get a feel for what is going on. In the first chart (daily advanced), we can see the steady downtrend followed by May麓s breakout on high volume with the stock hopefully looking to continue moving higher in the near term. So far, it麓s a positive sign that the stock isn麓t giving back recent gains.
Reader Inquiry
In the marketplace service ROTY (Runners of the Year), we search for stocks that are attractive across multiple time frames with potential for high % upside within the near to medium term. Catalyst ideas typically have upcoming material events (where we feel we have an edge with the outcome) while companies categorized as revaluation plays possess underappreciated assets, which should increasingly come into focus.
Recently, in ROTY I published an update piece on an under the radar potential ASCO winner. Yesterday, in the model account we added to two key positions with catalysts coming up in the second half of the year.


Figure 3: Pipeline (source: corporate presentation)
In the case of BioDelivery Sciences, I wanted to write a follow up piece so soon after the first due to recent developments that have likely changed the thesis. It will be interesting to look at the story in a different light with a focus on what麓s coming next.
Recent Developments
Since my last piece from just two weeks ago, the big news was that the financing overhang has been removed and other key changes have taken place. The company entered into an agreement with an affiliate of Broadfin Capital to change up the board of directors and strengthen their financial position.
This appears to be a situation where the entity with the purse strings stipulated the conditions on which the firm would receive the money it needed. Broadfin麓s managing partner Kevin Kotler is joining the board of directors along with two other pharma veterans, Todd Davis and Peter Greenleaf (also chosen by Broadfin). Four members of the board, Thomas D'Alonzo, Barry Feinberg, Samuel Sears and Timothy Tyson, are voluntarily retiring (a nice way of putting it).
Kotler麓s words merit being highlighted (my emphasis in bold):
As a large BDSI stockholder, Broadfin is pleased to reach this agreement with BDSI that strengthens the company's balance sheet and reconstitutes the board through the addition of three highly-qualified independent directors, each of whom will support BDSI's positive commercial and strategic growth. Once appointed to the board, I look forward to working with newly appointed CEO Herm Cukier, my fellow directors and management to help build on the early commercial success of BELBUCA and enhance value for all stockholders.
As part of the above agreement the company announced pricing of $50 million worth of Series B Non-Voting Convertible Preferred Stock being sold at $10,000 per share (each share convertible into a number of shares of BDSI common stock determined by dividing $10,000 by $1.80). The placement agent for this transaction was William Blair. Keep in mind that both new and existing shareholders participated, including Stonepine Capital LP, Armistice Capital and CRG Capital.
This wasn麓t the only improvement in the balance sheet, as the company also entered into an amendment of its senior credit facility that extended the company麓s ability to defer a portion of the interest under the loan to maturity by one year. The loan agreement also allows for deferring payment of the entire loan principle if the company maintains a predetermined market capitalization (in other words if things go well and the share price goes up). Lastly, changes in the company麓s favor were made to minimum revenue covenants (previously drew $60 million of the $75 million available).
Other Information
As mentioned in the first article, the company reported first quarter 2018 results with total net revenue of $11.3 million representing a 19% increase over the same quarter last year. BELBUCA net revenue came in at $8 million versus $9.4 million, while BUNAVAIL net revenue came in at $1.8 million (relatively even). Total prescription sales appeared better for BELBUCA, rising 9% over the past quarter and reaching their highest point so far with prescriptions exceeding 10,000 in March.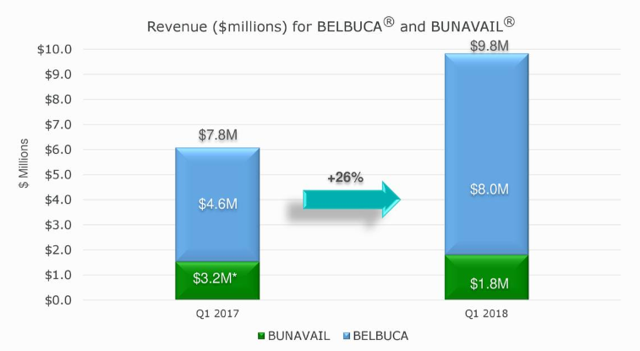 Figure 4: Product revenue growth (source: Q1 slides)
Net loss came in at $10.6 million, so with the new cash infusion the company has significantly extended their operational runway. Now that the financing overhang is out of the way, the focus should shift on the growth runway ahead for BELBUCA as it increasingly trends in a positive direction.
As stated before, the firm has finished scaling up their salesforce (now able to cover 3,500 more healthcare providers) and we should increasingly see fruits of this action in the coming quarters. Also, keep in mind that recent managed care contracts (CVS/Caremark, Human, etc) are starting to have an effect and there麓s always the chance that they receive a boost from legislation which discourages treatment options with higher potential for abuse.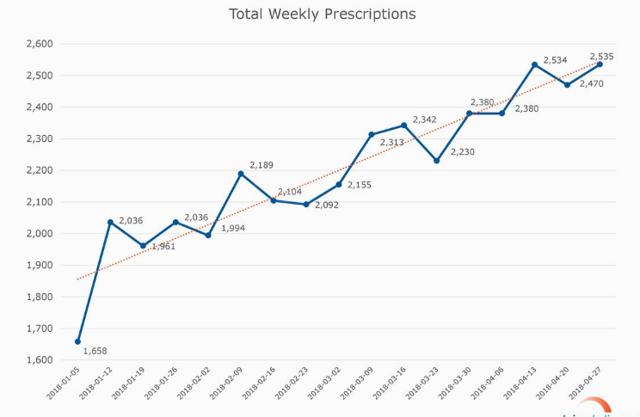 Figure 5: Encouraging prescription growth in the first quarter for BELBUCA (source: Q1 slides)
I remind readers that at one point a few years back BELBUCA peak sales were thought to be able to exceed $400 million. As a Schedule III opioid BELBUCA has lower abuse and addiction potential as compared to Schedule II opioids. This differentiation is likely aiding the growth we麓re seeing. $150 million to $200 million is likely a more realistic target at this point (on the conservative end as always).
On a different note, as both new directors Todd Davis and Peter Greenleaf have extensive experience with mergers and acquisitions, this experience should come in handy with inlicensing assets or acquiring firms in the pain space. I stated before in my first piece and continue to believe that management intends to find a new asset to inlicense or firm to scoop up- let麓s just hope that they don麓t end up overpaying.
Final Thoughts
With the cash crunch a thing of the past for now and strengthening of leadership plus the board, it麓s evident that Broadfin and current management are taking the initial steps to guide the company toward a brighter future.
Going forward the focus will likely shift to BELBUCA麓s growth and related trends- again, while the drug was originally pegged to be able to do $400 million or more in peak sales, I麓d say $150 million to $200 million is a more realistic target at this point.
With several valuation measures at relative lows, the stock makes sense as a value play and I wouldn麓t be surprised if shareholders are rewarded with a double within a year.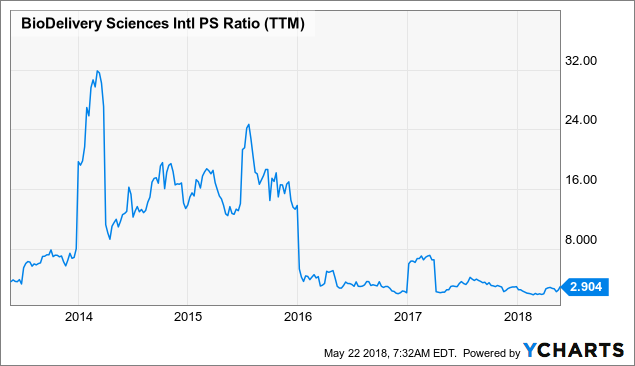 BDSI PS Ratio (NYSE:TTM) data by YCharts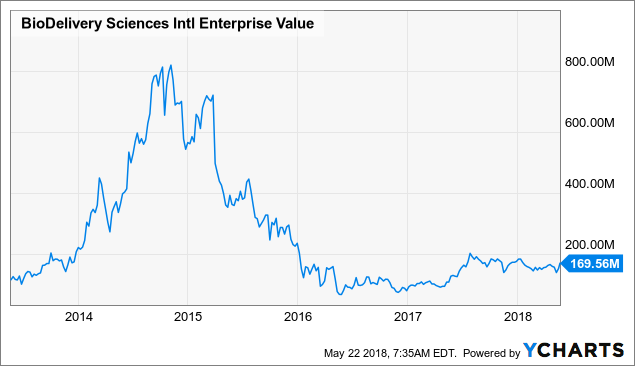 BDSI Enterprise Value data by YCharts
The possibility of M&A is always possible as well, but recent efforts on the part of Broadfin Capital (and others participating in the recent financing) have me believe they are playing the long game with this one.
Further dilution at some point down the line is always possible but not expected in the near term. If the company decides to inlicense a new asset or acquire another firm, the potential to overpay is also a significant risk. Concentration mainly on a single asset is also a concern.
While I won't be adding this one to the ROTY Contenders List currently (but always possible at some point), the probability of upside in the near to medium term has increased substantially. I will continue to follow and potentially update as merited since this story interests me due to being another case study of shareholder activism and the amount of change going on. For readers who aren麓t as much a fan of binary catalysts, this one might be worth looking into as well due to it being more of a growth story for their main asset BELBUCA.
Keep in mind that when a stock is selected for ROTY, the corresponding article appears only to current subscribers, and for the purposes of due diligence, subscribers are able to access all of my archived work (getting around the 10-day paywall).
Disclaimer: Commentary presented is NOT individualized investment advice. Opinions offered here are NOT personalized recommendations. Readers are expected to do their own due diligence or consult an investment professional if needed prior to making trades. Strategies discussed should not be mistaken for recommendations, and past performance may not be indicative of future results. Although I do my best to present factual research, I do not in any way guarantee the accuracy of the information I post. I reserve the right to make investment decisions on behalf of myself and affiliates regarding any security without notification except where it is required by law. Keep in mind that any opinion or position disclosed on this platform is subject to change at any moment as the thesis evolves. Investing in common stock can result in partial or total loss of capital. In other words, readers are expected to form their own trading plan, do their own research and take responsibility for their own actions. If they are not able or willing to do so, better to buy index funds or find a thoroughly vetted fee-only financial advisor to handle your account. I am in a collaborative relationship with The Biotech Forum/Bret Jensen.
Disclosure: I/we have no positions in any stocks mentioned, and no plans to initiate any positions within the next 72 hours.
I wrote this article myself, and it expresses my own opinions. I am not receiving compensation for it (other than from Seeking Alpha). I have no business relationship with any company whose stock is mentioned in this article.