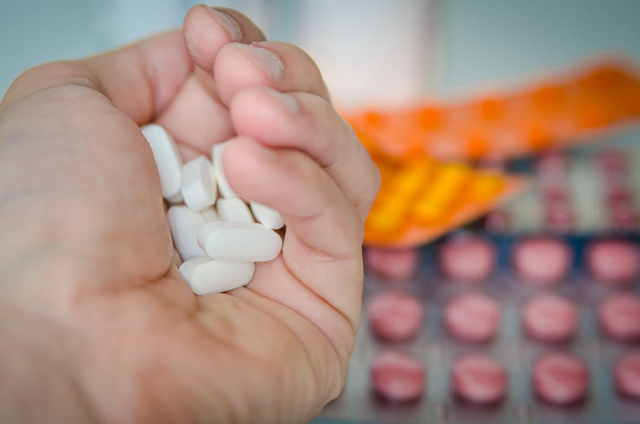 The Acquirers Multiple is a cool screening tool based on the book Deep Value by Tobias Carlisle. I run the screen infrequently and have used it as a starting point for research quite a few times in the past. One idea I picked up this way has been HP (NYSE:HPQ) which was added to The Black Swan Portfolio back in May 2016. It worked out well and we exited early 2017 (another one of my ill timed exits).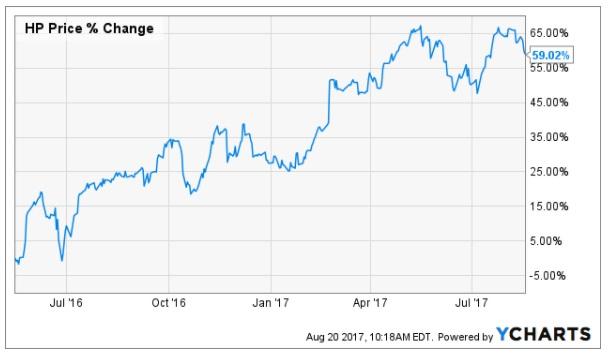 Its main feature is its ability to screen stocks in the U.S and Canada on Enterprise Value / Operating Earnings. However, unlike most screeners the data comes from Compustat and has been very carefully selected as explained more thoroughly in the book.
If you screen on just one multiple I think this one is a very strong contender.
It is highly unusual to find big biotech stocks at the top of value screens. I was pleasantly surprised to find Gilead (GILD) there, which is the big gorilla in HIV treatment. Gilead dominates market share in the U.S.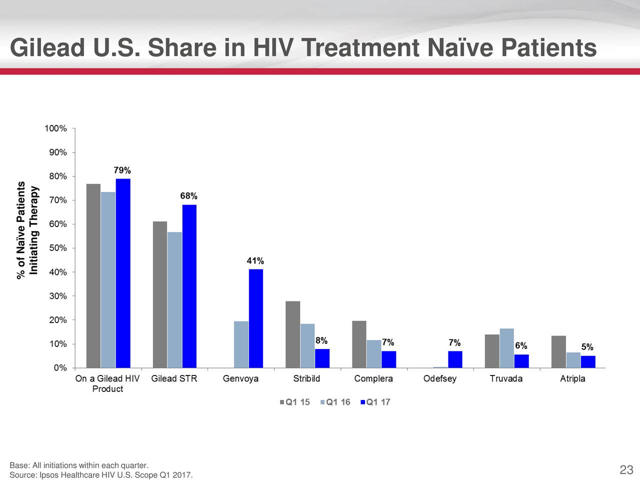 Unfortunately for shareholders its key moneymakers are going off-patent in the next few years. Thats why this biotech monster which has enjoyed great success for many years – see chart below – is now trading at just 5.93x EV / operating earnings. It is the 4th cheapest stock among the 1000 largest U.S. companies when screening on this metric. It trades at a similarly low EV / EBITDA multiple and at just 6.5x free cash flow.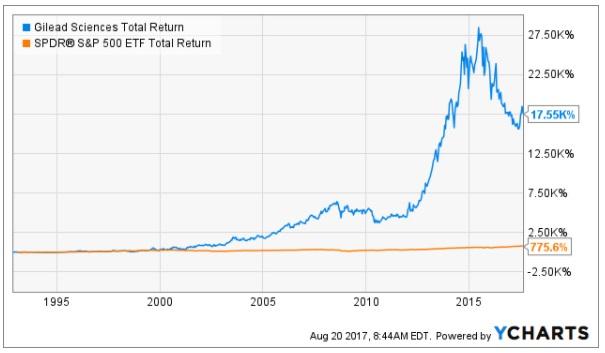 Meanwhile Gilead has very little debt and could return capital to shareholders aggressively if it starts utilizing its buyback authorization. I prefer this route, coupled with in-house R&D and small acquisitions that can help extend existing franchises. Instead of the often proposed route of Gilead going on an a buying spree or buying a making a major acquisition.
Its certainly not impossible interesting things will come out of Gileads R&D division either. After all the firm is spending more than ever while R&D is also on a high level of percentage of sales. Firms with a track record of high returns on R&D tend to show higher future returns on R&D investments as well.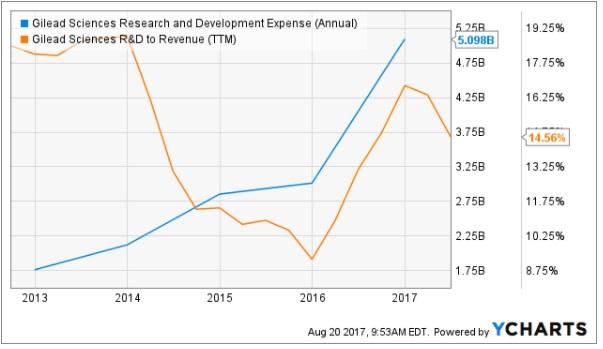 Another way to think about this level of R&D is to imagine Gilead Sciences would cease all R&D today. Its operating income would increase and it would trade around 4.5x EV / operating income. Just a few years of that kind of income and shareholders would have all their money returned to them and whatever was left over after that point would be pure profit.
Of course Gilead isnt going to cut its R&D as its management believes there are solid returns to be made on these investments. Its hard for me to imagine Gilead turning out like a terrible investment at these multiples. Make no mistake: its facing significant challenges but it also still has a little bit of time to manage patent losses and expand its pipeline. It is simply to cheap here which makes it a worthwhile buy even into declining sales.
Disclosure: I/we have no positions in any stocks mentioned, and no plans to initiate any positions within the next 72 hours.
I wrote this article myself, and it expresses my own opinions. I am not receiving compensation for it (other than from Seeking Alpha). I have no business relationship with any company whose stock is mentioned in this article.
About this article:ExpandAuthor payment: $35 + $0.01/page view. Authors of PRO articles receive a minimum guaranteed payment of $150-500.Tagged: Investing Ideas, Long Ideas, Healthcare, BiotechnologyWant to share your opinion on this article? Add a comment.Disagree with this article? Submit your own.To report a factual error in this article, click here