In the podcast below (~12 mins), the Valuentum analyst team digs into recent developments in the oil and gas space and highlights one of the most leveraged ways to play rising crude oil prices.
If you cannot view the podcast above, please view the transcript that follows.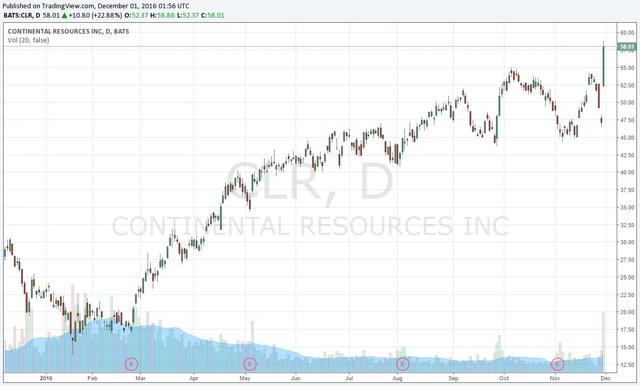 Click to enlarge
Chris Araos:
Hello, this is Christopher Araos at Valuentum Securities, and today with us is Brian Nelson and Kris Rosemann. Today, we are going to talk about the outlook on oil and gas.
Brian Nelson, CFA:
Thanks, Mr. Araos.
I think to kind of set the stage for this conversation, we probably need to bridge the gap between what was truly the depths of the energy resource pricing cycle in January/February 2016, where crude oil prices per barrel fell under $30 and natural gas prices also faced significant pressure. We've now come a long way from that particular part of the energy resource cycle, the doldrums I think, where we saw a lot of companies on the brink fail, default rates surge, but the recent rise in energy resource pricing has improved capital-market access for a lot of these debt-strapped companies, and a lot of them that were on the brink overlooking the abyss have kind of taken a step or two back.
The world oil supply and demand equation continues to move more in balance, and I think over the past several months we've seen US supply of inventories improve and even OPEC come to the negotiating table. That said, the supply dynamics of this market can never truly be constrained because this is a pure competitive market from a global standpoint even though there is one large cartel in OPEC. There is no global cartel, and because of that dynamic, anytime that…we see an uptick in the price of crude oil, we believe that new entrants or existing participants are going to capitalizeby producing and creating additional supply, so there's this inherent shadow inventory pressure on the crude oil market environment.
Just to give you an idea of where we are today in terms of US commercial crude oil inventories. At November 25th, 2016, US crude oil inventories came in at 488.1 million barrels. This is near the upper limit of the average range for this time of year, and this is only a few million barrels shy of where we were at in January of 2016, where commercial crude oil inventories were at about 494 million barrels, and that mark was the highest for that time of year in over 80 years, so we're not too far away from where we were from an inventory standpoint just a few months ago that drove crude oil prices lower.
But the market environment from a credit standpoint, from an energy resource pricing standpoint has improved significantly since the doldrums in January and February of 2016.
Kris Rosemann:
Yeah, many oil majors are seeing the benefit of that, and one of the ideas that we point to as maybe the most resilient throughout the course of the most recent downturn in the energy resource pricing cycle was Exxon Mobil (NYSE:XOM) compared to his peers like Chevron (NYSE:CVX) and ConocoPhillips (NYSE:COP). Exxon Mobil was better able to navigate the cycle, and it was able to remain free cash flow positive through the vast majority of that downturn, whereas Chevron and ConocoPhillips are still not generating positive free cash flow at this point in time.
One of the reasons for that is Exxon Mobil's integrated business model, which means they have upstream operations, they also have downstream operations — they are a refinery as well — so they benefit from the lower energy resource pricing dynamic with their business. They also have much lower leverage than the other two competitors I previously mentioned, and all this kind of boils down to the fact that their production cost per average barrel of oil equivalent is lower than both that of Chevron and ConocoPhillips.
So that really is the key driver there — just to give you an idea of the sensitivity of ConocoPhillips' business model, a one dollar change in the per-barrel price of Brent crude equates to about $100 million impact on their net income, so that just gives you a bit of perspective of how sensitive these big oil majors really are to the price of crude oil.
Brian:
I think that's a really good point that you make about Exxon Mobil's integrated business, and I think that's where ConocoPhillips really went wrong when it spun off its refining subsidiary, Phillips 66 (NYSE:PSX) into a separately-traded independent company, and therefore the remaining ConocoPhillips ended up being heavily exposed to the upstream part of this energy segment, and really that's the reason why it was unable to retain its dividend payment at previous levels because it didn't have that inherent hedge on the refining and downstream side like Exxon and Chevron have.
The challenge though with Chevron is looking just a few years ago the company had a significant net cash position. Over the past several years — but not unlike its large rivals as well as some of the smaller independent players — it has had to take out a significant amount of leverage, and Chevron now has a net debt position, which at one point in the past, even just a few years ago, it had prided itself on a net cash position, so you have Chevron experiencing deteriorating credit fundamentals in this market environment and ConocoPhillips which no longer retains its inherent hedge through Phillips 66.
So within the Big 3, Exxon Mobil continues to be one of the better ideas, and we just love to see companies generate positive free cash flow — that being cash flow from operations less capital expenditures.
Kris:
Just to jump in to provide a little color Brian. Chevron's net debt position is now approaching $38 billion, so as you mentioned its net cash just a few years ago, and now it's already ballooned to just a substantial amount of net debt
Brian:
It's really incredible how these oil and gas companies rely so much on the debt and credit markets to sustain their operations, and when we think about the upstream business model and the cash flow tendencies of these companies, it's really incredible when one grasps the idea that their fate is driven by a change in a commodity price that has volatility of significant proportions.
Going back prior to the financial crisis, crude oil was at $150 per barrel, and now we are happy for many of the operators at $50 per barrel because it's bounced from $25 or so per barrel just a few months ago. To have a product that you sell experience such profound pricing volatility really speaks the hazards of a commodity-producing business like oil and gas exploration.
So this business is not only very capital-intensive in terms of how much these companies have to spend to explore and extract energy resources from the ground but the pricing dynamic is also one that plays into the risk factors of holding these entities.
Kris:
Yeah, you mentioned the capital-intense nature and the high debt loads that are kind of inherent to some of these business models, and a lot of the smaller players in the industry were not as fortunate to make it through the most recent downturn in the commodity resource pricing cycle. However, Fitch Rating believes that the bulk of the most severely distressed energy companies have already defaulted in the recent downturn in the cycle.
Brian:
That's a great point, Mr. Rosemann.
The recent rise in energy resource prices has kind of taken a lot of the pressure off of the marginal operators, but we have to think about long-term crude oil prices as well. We don't have to go too far back in time to see per-barrel crude oil prices at $12 toward the latter part of the 20th century, 1998 I believe, crude oil prices per barrel averaged about $12. Now if that were to occur today, we would see a significant amount of trouble not only with respect to the upstream players but also with respect to the energy services sector, which has seen bookings and orders plummet as a result of just pain within their customer base.
Now that being said, if energy resource pricing does find a way to sustain itself in the $50 per barrel and higher arena, there are some players that are looking pretty attractive, especially in the case where crude oil prices continue to advance. One of those is Continental Resources (NYSE:CLR). This entity is the largest leasehold holder in the Bakken and has inventory to increase production by double digits for many, many years. What is very interesting is that their growth strategy — while they won't overlook production and exploration opportunities — is to balance their capex with cash flows as it pursues its growth strategy, while it seeks to reduce its debt load.
Longer term, Continental is targeting a long-term debt load of about $6 billion. Now this is still a very highly-leveraged entity but we're highlighting Continental because it is probably most heavily-leveraged to an increase in crude oil prices as it does have very heavily oil-weighted assets, so not only is the company financially-leveraged from a debt standpoint, but it also very leveraged to the crude oil pricing market.
So Continental Resources is an example that falls on the other end of the spectrum where this company is going to have a very volatile, highly volatile, equity price because of its leverage dynamics, even more so, significantly more so than what could be considered the oil majors — that being Exxon Mobil, Chevron, ConocoPhillips.
Disclaimer: This article or report and any links within are for information purposes only and should not be considered a solicitation to buy or sell any security. Valuentum is not responsible for any errors or omissions or for results obtained from the use of this article and accepts no liability for how readers may choose to utilize the content. Assumptions, opinions, and estimates are based on our judgment as of the date of the article and are subject to change without notice.
Disclosure: I/we have no positions in any stocks mentioned, and no plans to initiate any positions within the next 72 hours.
I wrote this article myself, and it expresses my own opinions. I am not receiving compensation for it. I have no business relationship with any company whose stock is mentioned in this article.