Pegasystems (NASDAQ:PEGA) is an online CRM (customer relationship manager) that must be doing something right because is up against a much bigger and formidable competitor like Salesforce (NYSE:CRM), as well as other much bigger companies like SAP AG (NYSE:SAP) and Oracle (NYSE:ORCL).
It can be instructive to look at the relative performance. First, the stock price development over the last five years suggests Pegasystems is outperforming Salesforce, although all of this happened just in the last twelve months.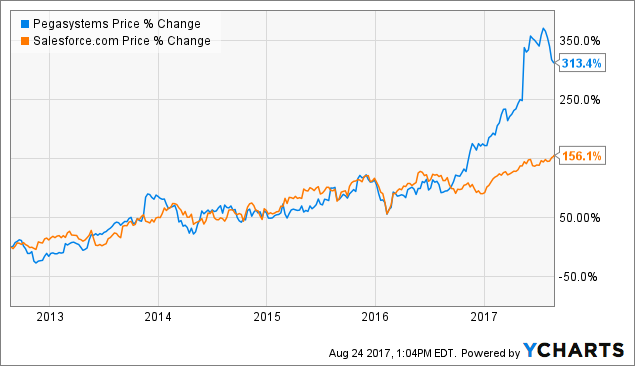 This is somewhat surprising in the light of the fact that Salesforce has been growing revenues at a substantially higher pace, at least over the past five years: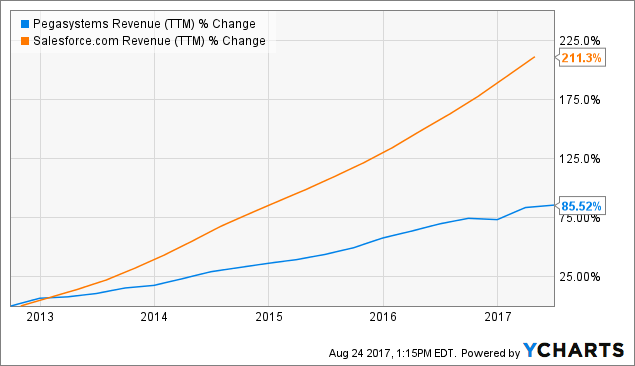 And the following is also surprising (these are GAAP figures):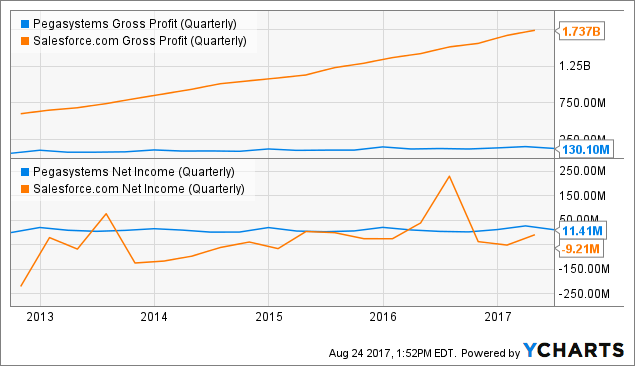 You might not notice in the graph, but gross profit did roughly double at Pegasystems in those five years. (GAAP) margins give a mixed picture, though: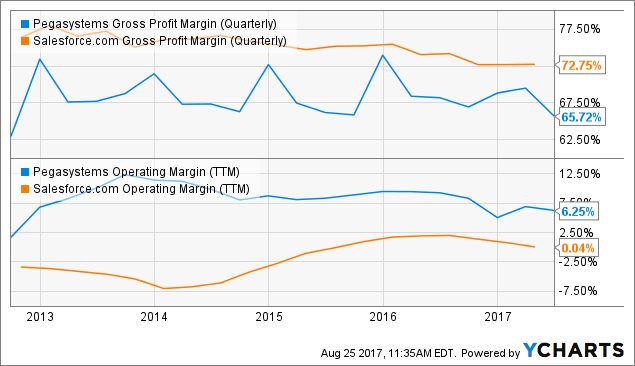 So basically, shares of Pegasystems have outperformed those of Salesforce in the last year despite the business not clearly outperforming that of Salesforce, which is itself regarded as a market leader.
Competitive advantage
If Pegasystems has a competitive advantage – and investors seem to think it does, considering its superior stock performance versus that of Salesforce – it's a little odd that revenues at the latter are growing considerably faster.
Revenues are actually a fairly complex issue at Pegasystems. Not only are quarterly revenues lumpy due to the occasional big order, there is also a shift from perennial licenses to a SaaS model which, while good long term, cost the company $12 million in the short term ($3 million for every percentage point shift).
Which is why investors look at stuff like bookings, backlog and AVS (annual contract value), but even then the picture that emerges is one of solid (15-20%) but not spectacular growth.
The ever-thoughtful SA contributor Bert Hochfeld seems to blame this on a lack of marketing effort, despite the company spending 38% of revenues on sales and marketing. But Pegasystems gets totally outspent by Salesforce, which is much bigger and spends even more of its revenue on sales and marketing.
Hochfeld expects a pick-up in revenue growth (apart from the distorting effect of a shift to ratables), and he could well have a point, as management argued during the Q2CC that it has gone "whale hunting" with several big customers (in excess of $10 million) in the process of signing up.
We're not entirely convinced by the argument that the company is still relatively unknown, hence the slower growth compared to Salesforce. Pegasystems is hardly an unknown quantity, and it's been around for decades. It might not be known to the larger public, but industry insiders should be well aware of it.
In fact, the company itself touts how well it is recognized. PegaWorld had 4,000 attendees from 49 countries and more than 560 companies, for starters:
And it brought together prospects and clients and partners and media and analysts and lots of influences. We had over a 100 customer presentations that were in-depth and many of which are recorded and available on the site in video, and our technical boot camps were sold out, an indication in how interested people are in Pega training and certification.
(Source: Q2CC)
The company's platform is gathering raving customer reviews and recognition from industry analysts like Forrester, which designated Pegasystems as:
the top ranked offering sales force automation, among 10 vendors evaluated against 35 criteria. We received very high marks from customers that they interviewed "the platforms ability to adapt to the most complex business needs"
(Source: Q2CC)
Founder and CEO Alan Trefl er noted on the call that the company was named:
a leader in real-time interaction management by Forrester. They evaluated 12 vendors and scored 32 separate criteria and we received the highest scores possible in vision, supporting services, solution packaging and delivery, and we are among the highest in the integration criteria element, which is also we think very important. Forrester noted "Pegas value lies in consistent decision-making across business roles, and we spoke with customer references who are using it to fuel cross-functional real-time interaction management within marketing, sales and services for tens to hundreds of millions of customer records.
Forrester also gave the company top ranking for DPA (digital process automation) against 12 competitors, and gave its solutions the highest possible scores in 20 out of 30 criteria.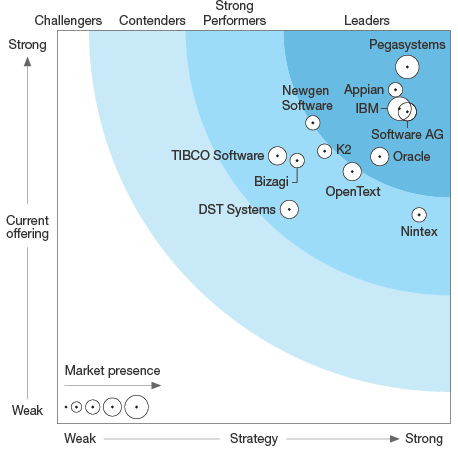 Gartner also rated its mobile solutions very highly, and Chartis named Pegasystems':
Know Your Customer and Customer Lifecycle Management as category leaders in their RiskTech Quadrant, leaving out nearly 20 other players in the market.
Then, there's further industry accolades from Chartis:
Chartis ranked Pega庐 KYC and Pega庐 CLM the highest out of 18 competing vendor solutions based on completeness of offering and market potential across 14 criteria. Chartis describes category leaders as combining deep domain knowledge in various risk topics with deep technology assets and capabilities that address the needs both large and small clients. In particular, Chartis noted Pega ranked highly in KYC risk scores, its capabilities for enriching customers profiles, its support for additional due diligence, and its Customer Lifecycle Management (CLM) capabilities.
(Source: Yahoo Finance)
All these accolades from industry analysts, a nd the company is still relatively unknown? We're not entirely convinced by that argument. In fact, management itself seems to be quite happy with the demand for Pegasystems' solutions:
So, the last topic Im going to touch on is the ecosystem because there is a huge demand for Pega in the market and we need to make sure that our partners and our customers all have the staff they needed to continue to be successful. Last quarter, I mentioned the launch of the Pega Services Ventures to invest in the next generation of digital transformation firms. We had more than 50 companies apply and have chosen to fund six firms that have a proven ability to execute leadership and digital transformation and various industry focuses.
The platform
CRM involves automating and "informating" (making as much relevant info available in real time) sales, service and marketing processes. But today's platforms go further, using machine learning approaches to improve processes, for i nstance. Here is Pegasystems management describing "workforce intelligence," which:
brings information about what theyre actually doing in real life up to the cloud, does machine learning and applies intelligence to it to make active recommendation about how to be more effective and to let managers know whats really, really going live or whats going on in their operation.
(Source: Q2CC)
If Pegasystems does have a competitive advantage, here are some of the elements.
First to note, it's a platform, now in its seventh iteration (Pega 7), on which apps run but clients also develop their own applications. In an introduction video, Pegasystems claims its integrated platform where all the apps can communicate with one another and share data compares favorably with other solutions, which suffer from fragmentation and inflexibility, and as a result, these are more difficult to expand with new capabilities and apps. Business role engine captures industry know-how into an internally consistent system. From what we gather, this is the core of its competitive advantage. Forrester noted, "Pegas value lies in consistent decision-making across business roles." Robotics, the ability to automate business processes. According to management "we offer the only software platform that automates work across all customer channels through all corners of enterprises op erations, including customer engagement, acquisition, sales, on-boarding, servicing and fulfillment." (from the Q2CC) AI, teasing knowledge and insights from all customer interactions through the Pega Customer Decision Hub which can be made transparent (avoiding rules whose logic cannot be made intelligent). "The idea that software that writes software is powerful, and not just because its more effective and reliable, but because it allows us to support whole new technology stacks by simply enhancing what we generate." (from the Q2CC) Cloud choice. The company leaves it to the customer which public cloud they use, or whether they want a hybrid (public/private) solution. Challenger method – helping customers to learn.
Needless to say, this is just for illustrative purposes. We don't remotely pretend that we are able to evaluate Pegasystems' solutions with respect to those of the competition.
Finances and valuation The company's year-to-date revenue grew 15% in acc ordance with full-year guidance, given the 4% point shift towards recurring revenues that's actually considerably better than guidance. Indeed, ACV grew by 26% year over year, which is perhaps a better indication of the company's true growth. Backlog (contracted sales that are not yet billed) grew by $5 million in the quarter, despite the whale deal moving to Q1 – also encouraging. Pegasystems has $518 million in backlog, $100 million more than at the end of Q2 2016. Bookings growth in the first half of 2017 also exceeds 20%. First-half service revenue grew by 24% y/y, way exceeding long-term targets of 10-15%. The company anticipates a margin improvement of 150-175 basis points during the year. Operating cash flow increased substantially, from $12 million in the first half of 2016 to $86 million in the past two quarters. Pegasystems has total cash and marketable securities of over $180 million, an increase of over $46 million from the end of 2016.
We agree with Hochfeld that the sell-off after the Q2 results presents a bit of an opportunity, as the decline in revenue growth was mostly optical.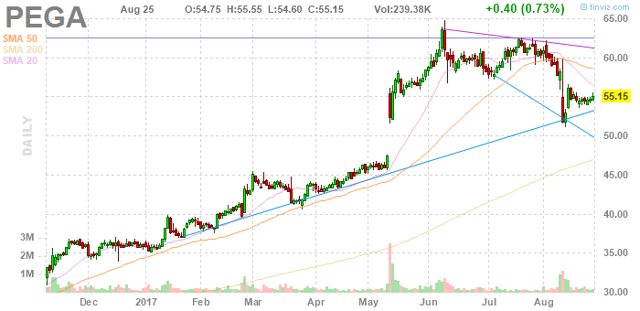 If the company catches any of these whales it is chasing, things could look quite different in the second half. Still, the shares are not all that cheap, but then again, few are in this market – and certainly few SaaS companies.
EPS is expected to rise from $0.97 in 2017 to $1.18 in 2018, a steep multiple over 50 but not unusual for a company like this.
The company's increasing cash flow generation has earned it a higher multiple, especially against sales, but that measure has been rising quite a bit.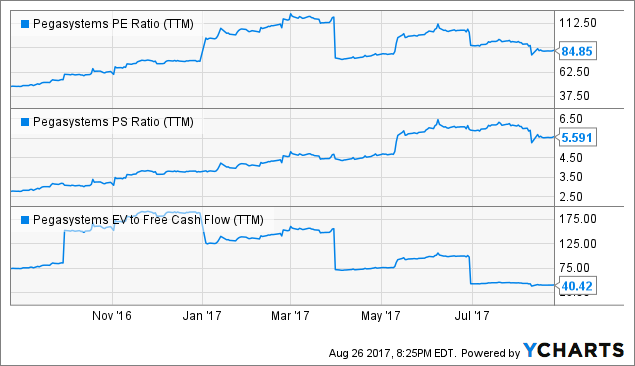 Conclusion
Insofar as the shares in Pegasystems have fallen back on something which can be described as an optical illusion (growth hasn't really slowed down), this offers an opportunity.
However, shares are still anything but cheap, and over the last year, the shares have outperformed those of its main competitor by a wide margin, so we wouldn't expect any big immediate payoff.
On the other hand, a substantial rise is still in the cards if Pegasystems does manage to land those whales it has been chasing.
Disclosure: I/we have no positions in any stocks mentioned, and no plans to initiate any positions within the next 72 hours.
I wrote this article myself, and it expresses my own opinions. I am not receiving compensation for it (other than from Seeking Alpha). I have no business relationship with any company whose stock is mentioned in this article.
About this article:ExpandAuthor payment: $35 + $0.01/page view. Authors of PRO articles receive a minimum guaranteed payment of $150-500.Tagged: Investing Ideas, Long Ideas, Technology, Business Software & ServicesWant to share your opinion on this article? Add a comment.Disagree with this article? Submit your own.To report a factual error in this article, click here