It's been a bad month for Pegasystems (NASDAQ: PEGA), with investors running for the exits after a huge top-line miss in Q3. For an enterprise software company, there's probably nothing worse. Pegasystems sold off from all-time highs near $65 and now trades nearly 20% lower, in the low $50s.
Still, though, shares are up a good amount this year (see the YTD chart below), reflecting investors' confidence in Pegasystems' fundamental profile. Trading at just 4.5x EV/FY17 revenues, however, Pegasystem appears undervalued – especially as it's one of the few enterprise software companies to post GAAP net earnings (GAAP earnings have doubled year to date), and as its operating cash flows have quadrupled.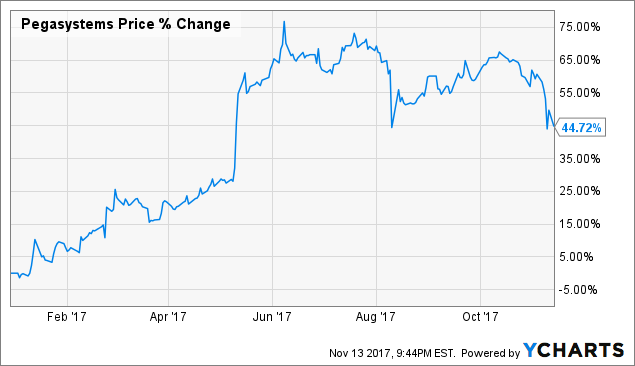 PEGA data by YCharts
Bears might argue that the low revenue multiple is deserved – after all, Pegasystems has only grown its revenues in the low single digits year to date, and revenue growth actually turned negative in Q3. A cursory look at the company might yield the conclusion that Pegasystems is a tech company in decline; when in reality, it's just undergoing its transition toward subscription-based revenues.
Pegasystems is an old software company, founded in the 1980s. It's still weaning itself off the "old way" of doing things: charging large upfront perpetual license fees and making annual revenues from maintenance contracts and software upgrades. The company, in fact, calls large license deals in excess of $10 million "whales" – and Q3's optical y/y decline was largely due to the fact that 3Q16 had a "whale" while 3Q17 did not.
As the company moves more toward subscription revenues (which Wall Street values much more than one-time license deals, due to their recurring nature) which give the company a longer and more profitable growth trajectory, "whales" will become less common. Right now the company is up against difficult y/y comps because license deals are still impacting the prior year's numbers, but going forward, the tough comps will fade.
Pegasystems isn't the only company undergoing the cloud transition. Autodesk (NASDAQ: ADSK), another decades-old software company in the computer-aided design space, is also working through its own transition to the subscription model, and like Pegasystems its y/y revenue comps are showing optical declines. Companies that have been able to pull this off – like Adobe (NYSE: ADBE), whose revenue is now nearly 100% subscriptions – are richly rewarded by investors.
Yes, Q3 could have been better. But there are plenty of reasons to justify that, given the faster-than-expected shift toward subscription revenues and away from one-time "whales," the quarter wasn't as bad as it seemed. And though Pegasystems has come under a lot of flack for its lower momentum versus CRM leader Salesforce.com (NYSE: CRM), Pegasystems is an undisputed leader in its other major product line, business process management (BPM) software. Given these fundamental drivers, the post-Q3 selloff appears overdone and should be seen as a buying opportunity.
Q3 scorecard: despite revenue miss, earnings YTD are still growing 2x
In Q3, Pegasystems posted revenue of $179.8 million (-2% y/y) versus 3Q16 revenue of $182.8 million, deeply below analyst consensus of $200.1 million (+6% y/y).
Figure 1. Pegasystems Q3 results
Source: Pegasystems earnings press release
On the earnings call, CEO Alan Trefler noted that the underperformance in revenues was due to a lack of execution "in closing some key Q3 deals." This statement is open to interpretation – the deals could very well have been pushed to Q4, in which case the underperformance in Q3 was partially driven by deal timing, which doesn't have any long-run impacts. The major reason for revenue underperformance and the y/y decline, however, was driven by the company's accelerated transition to the subscription model – more on that in the next section.
The top-line news also masks the favorable earnings trends that Pegasystems has seen year to date. Though Q3 swung to a small loss GAAP loss (and pro forma EPS of $0.05 was under consensus of $0.17), year-to-date, Pegasystems' GAAP net income has increased 101% – nearly double.
Though Pegasystems trades at a ~66x P/E multiple on consensus FY18 P/E of $0.79 (according to Yahoo Finance), its 101% growth rate suggests that the PEG ratio is below 1 (0.65x), implying that Pegasystems is undervalued relative to its earnings growth.
Pegasystems has also achieved fantastic cash flow results year to date. In the nine months through September 2017, it's generated $113.9 million in operating cash flow – up nearly 6x from the prior year-to-date period's OCF of just $20.6 million.
The key sound bites from this earnings quarter: while investors might have preferred to see a couple more deals stuffed into Q3 revenues, a combination of deal cycle elongation (possibly) and subscription transitioning (definitely) are what caused the miss in revenues, and neither of these are indicative of longer-term deterioration in performance. The company will, more than likely, return to high single-digit or low double-digit revenue growth in Q4. Indeed, Pegasystems' latest guidance calls for $860 million in FY17 total revenues, still up 15% y/y (see chart below) and implying acceleration in Q4. In addition, the news of the one-off revenue miss has masked the fact that year-to-date, Pegasystems has managed to achieve a doubling of its GAAP net income and a much larger improvement in its cash flow results.
Figure 2. Pegasystems guidance update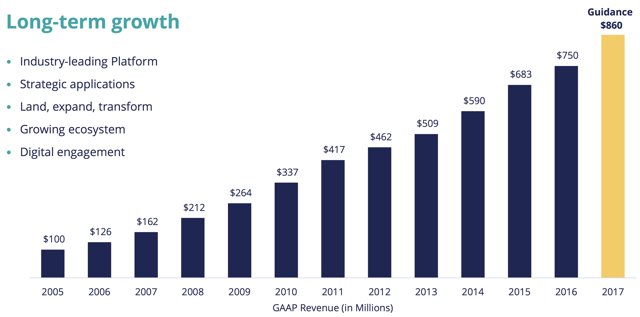 Source: Q3 investor deck
Subscription transition making progress ahead of plan
Let's now dive further into the subscription transition and how that's impacted the company's Q3 results.
To understand what the company is counting as recurring revenue versus one-time revenues, we have to distinguish between subscriptions, term licenses, and perpetual licenses.
Subscriptions are classic SaaS contracts – generally priced per user, and paid on a monthly or annual basis. Term licenses are similar to subscriptions, but they cover a certain number of years that customers commit to upfront, and term license revenues are recognized ratably over the time period. Both of these revenue streams count as "recurring revenue." On the other side of the equation, we have perpetual licenses – the "whales" over $10 million as well as other smaller deals that give customers the right to use Pegasystems' software in perpetuity and are paid upfront.
Going into 2017, Pegasystems had forecasted a ratio of recurring revenue to perpetual licenses of 50/50. In actuality, year to date through Q3, Pegasystem's ratio was 62/38, meaning that Pegasystems has shifted its revenue base into recurring streams at a faster pace than it originally anticipated.
On the earnings call, the company's CFO added an additional kicker: every 1% mix shift away from the original 50/50 plan toward subscriptions reduces FY17 revenue by approximately $3 million. The movement toward a recurring subscription base is what Wall Street wants to see – subscriptions bring in more revenue over the long-term and are more profitable on a per-customer basis – but it comes with some short-term pain. Year to date, had the company stuck to its 50-50 mix, revenues would have been $36 million higher ($637 million in YTD revenue, implying +16% y/y growth rather than +9% y/y growth). But overall, the accelerated movement toward subscriptions is a positive long-term development.
The fact that 3Q16 contained a "whale" in excess of $10 million, and that 3Q17 contained no "whales" and fewer upfront deals in general, contributed heavily to 3Q17's optical y/y decline and the revenue miss. Q3, in fact, had the largest departure from the 50/50 ideal mix of recurring revenue: Q3's ratio of recurring revenue to perpetual licenses was 79/21, which management described on the earnings call as "amazing."
Yes, the business missed in the short term, but long-term the growth picture is still very much intact. In his prepared remarks, Pegasystems' CFO stated the following:
The value of a business at Pega's size with an increasing amount of recurring and predictable cash flows is well worth the short-term pain of the transition."
He also notes that cloud and term deals bear higher costs than perpetual licenses deals despite bringing in less in single-quarter revenue, hurting the results in the short term but actually setting the company up nicely for the long term.
Overall, Pegasystems has amassed an ACV (annual contract value) of $449 million, up 17% y/y. This is revenue that Pegasystems already has locked in at the beginning of the fiscal year and doesn't have to chase. Companies that don't have any recurring revenue start every year from scratch; for Pegasystems, it begins the year with nearly half a billion in revenues and the rest of the new business it brings in is purely incremental.
Figure 3. Pegasystems ACV growth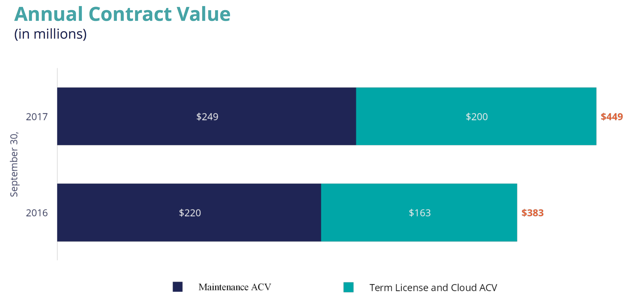 Source: Q3 investor deck
Strength in BPM outweighs fierce competition in CRM
Aside from the Q3 revenue decline (which, as we've discussed, is mostly optics), the other bearish factor weighing on Pegasystems shares is the question over how defensible its positioning is within the CRM space.
Yes, Salesforce.com is all the rage in CRM. No company can compete with its years-long reign in the space. Forbes estimates Salesforce's market share at 22%, with Oracle (NASDAQ: ORCL) and SAP (NYSE: SAP) as the runners-up, and Pegasystems is a distant laggard. The CRM space is also littered with competition from startups and private companies – SageCRM, Zoho, Agile CRM, you name it. There are dozens of competitors in the space.
Yet investors who are quick to blame Pegasystems' lack of a grip on the CRM market as the driver behind its earnings miss forget that Pegasystems is the undisputed leader in the business process management (BPM) space, which is the more greenfield opportunity.
Almost every serious company now uses a CRM system to increase efficiency in its sales force. The CRM game is now about stealing market share and convincing clients to switch to your platform; it's no longer about signing up customers for the first time. BPM, on the other hand, is a largely untapped arena, as it encompasses a wide variety of activities that automate and drive efficiencies within everyday business processes.
Customers can use the Pega Platform – Pegasystems' PaaS offering that underpins its BPM capabilities – to design a check-the-box workflow that improves routine business processes and routes tasks to individuals in a chain. While CRM is a large part of Pegasystems' current business, it's only one of the vast capabilities of the Pega Platform (shown below, taken from the company's 10-K). The Pega Platform enhances Pegasystems' addressable market much beyond the crowded CRM space.
Figure 4. Pega Platform capabilities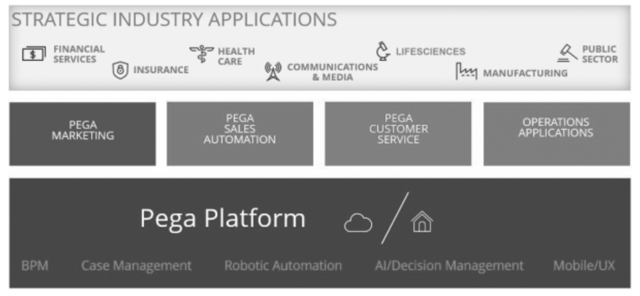 Source: Pegasystems 10-K
Pega's market positioning in BPM, "work management," and "digital automation" functions – all of which generally revolve around the idea that businesses can speed up everyday tasks and save on costs by using software to drive more of its internal processes – is clearly recognized by the market.
As shown in the slide below, taken from the company's Q3 investor deck, Pegasystems is indeed considered behind Salesforce in CRM. It is, however, the highest rated platform in a variety of BPM-related categories, as judged by leading industry analysts Gartner and Forrester Research:
Figure 5. Pegasystems competitive positioning

The orange dot represents Pegasystems, and in the 2017 Gartner Magic Quadrant for Intelligent Business Process Management Suites (first chart from left), it's the highest-rated vendor, with only recent IPO Appian (NASDAQ: APPN) as its closest comp.
As an aside: Appian grew revenues at 45% y/y in its most recent earnings quarter and is one of the best-performing IPOs of 2017, with shares up 55% since going public. With the BPM space still vague and not yet littered with incumbents, there's plenty of business for both of the leaders in the space.
Going forward, it's likely BPM that will anchor Pegasystems' growth more than its CRM offerings, and in this space, it's a recognized leader with a solid grip on the market.
Valuation
After the stock's recent decline, Pegasystem trades at only a 4.5x EV/FY17 revenue multiple, based on its guidance for $860 million in FY17 revenues.
While it's true that Pegasystems' growth rate pales in comparison to other cloud peers like Salesforce (growing at 26% y/y as of its most recent quarter), it makes up for it by posting positive GAAP earnings and having much higher profit margins. Versus a basket of software peers that are within its approximate revenue range, Pegasystems trades at a much lower revenue multiple: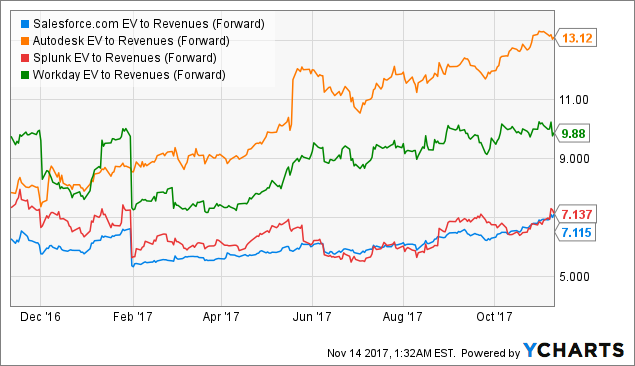 CRM EV to Revenues (Forward) data by YCharts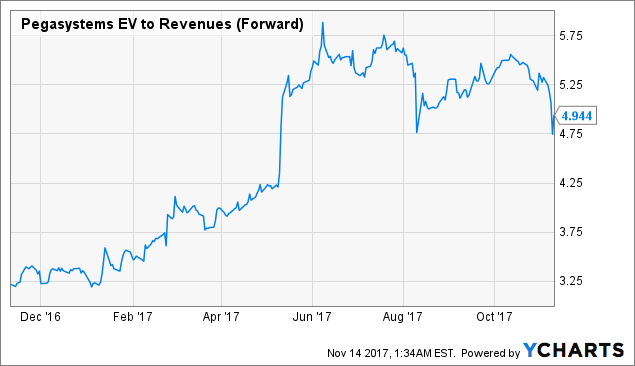 PEGA EV to Revenues (Forward) data by YCharts
Pegasystems' slower growth does merit a valuation discount, but it shouldn't be as drastic as to peg the company at 4.5x revenues. A more reasonable multiple would be 5.75x (where the company traded recently this summer, as seen in the chart above), implying a price target of $66 and 27% upside from current levels.
Final thoughts
Technology investors dole out vengeful punishment for missed revenue growth expectations, which is the one sacred goal that must be achieved at all costs. Often, investors will sell on the news without taking a close look into why revenue fell short of expectations.
In Pegasystems' case, the company's transition to the subscription-based sales model (which Wall Street has encouraged) has driven its revenue miss. The company's ratio of recurring revenue to perpetual license clocked in at 79/21 for Q3 and stands at 62/38 year to date, well ahead of Pegasystems' original plan of 50/50. This is a positive long-term development, though as noted in the earnings call, each point off from the 50/50 mix costs Pegasystems $3 millions in current year revenues.
With the subscription transition well underway, and a firm footing in an expansionary BPM market, however, Pegasystems is well poised to succeed in the future. As the company heads into fiscal 2018, the "whales" will disappear from Pegasystems' y/y comps, setting up the company for growth. The one-time revenue decline seen in Q3 was largely due to optics, and will most likely never happen again.
Stay long on Pegasystems. It's still growing its top line while expanding its margins and growing GAAP profits at 2x year over year – this is a company that has a long rally ahead of it.
Disclosure: I/we have no positions in any stocks mentioned, but may initiate a long position in PEGA over the next 72 hours.
I wrote this article myself, and it expresses my own opinions. I am not receiving compensation for it (other than from Seeking Alpha). I have no business relationship with any company whose stock is mentioned in this article.
About this article:ExpandAuthor payment: $35 + $0.01/page view. Authors of PRO articles receive a minimum guaranteed payment of $150-500.Tagged: Investing Ideas, Long Ideas, Technology, Business Software & ServicesWant to share your opinion on this article? Add a comment.Disagree with this article? Submit your own.To report a factual error in this article, click here