Oracle (NYSE:ORCL) has forced its way to revenue growth with its newfound momentum in the Software as a Service (NASDAQ:SAAS) and Infrastructure as a Service (IaaS) segments of cloud computing. The growth in cloud has been able to offset revenue declines in other parts of Oracles business. But with the leaders of the as-a-Service game – Amazon (NASDAQ:AMZN), Salesforce.com (NYSE:CRM) and Microsoft (NASDAQ:MSFT) – continuing to grow their own cloud revenues in a strong way, where does that leave Oracle? Will the database king be able to carve out a strong position in the cloud market, or is the company's growth in cloud cannibalizing its own client base?
In this article, well be looking at the upside of Oracles cloud business to see which component is the most critical for long-term stability. With legacy revenues on the decline, this is probably one of the more important elements of owning ORCL.
First, let's start with the distance Oracle has covered in cloud this year. Oracles SaaS revenues reached $3.2 billion for fiscal 2017, representing growth of 61% compared to last year, while IaaS/PaaS revenues reached $1.4 billion, a growth of 60%. Total cloud revenues, which increased by $1.72 billion in FY 2017, and software licenses and product support revenues, which increased by $368 million, was more than enough to offset the $858 million decline in new software licenses revenue, a $516 million decline in hardware revenue and $31 million in services revenue.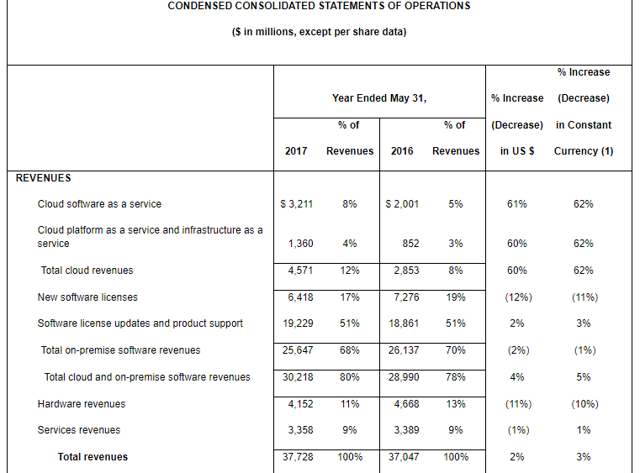 (Source: Oracle Q4-2017 Press Release)
In short, cloud revenue growth was strong enough to cover the declining parts of its business and push Oracle into growth. The most notable declines were in new software licenses and hardware revenues, which declined by 5% and 11% in fiscal 2017, respectively. These two segments have been edging lower and lower in the last four years, and if the trend continues due to the growth of the cloud industry, Oracles overall revenues will remain under pressure, not to mention being entirely dependent on how fast its cloud segments are able to keep expanding.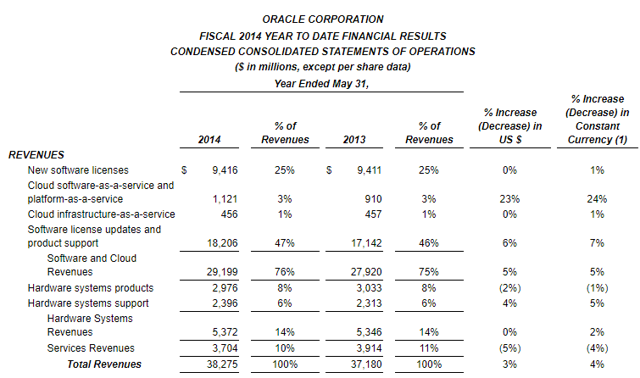 (Source: Oracle Q4-14 Press Release)
In fiscal 2014, new software licenses revenue was $9.42 billion, accounting for 22% of the companys total revenues during the year. By 2017, that revenue was down to $6.42 billion, accounting for 17% of their overall revenues.
In fiscal 2014, hardware revenue was $5.37 billion, accounting for 14% of overall revenues. By 2017, that declined to $4.15 billion, accounting for 11% of overall revenues.
There are two ways in which this could have happened: either Oracle is cannibalising its own clientele from its on-premise products, or it is losing on-premise hardware and software clients to other companies.
But, interestingly, software license updates and product support revenues, which is where the company makes most of its money from, actually grew from $18.21 billion in 2014 to $19.23 billion by 2017, which is 5.6% growth in three years.
How is that possible? If new license an d hardware revenues are on the decline, shouldnt license updates and product support revenue follow suit? Not really. Lets break things down a bit to understand why that need not be the case.
We will continue to place significant strategic emphasis on growing our SaaS, PaaS and IaaS offerings, which has affected the growth of our new software license revenues and to a lesser extent, has also affected the growth of our software license updates and product support revenues.
– Oracle Annual Report 2017
When customers buy new software, they more often than not buy product support as well, and also pay for future upgrades to the product. In Oracles own words, Software license updates provide on-premise new software license customers with rights to unspecified product upgrades and maintenance releases. And product support is nothing more than the company providing technical support to its customers for a fee. These two products only come into the picture after the client comes on board by buying Oracle software.
That can only mean one thing: Oracles new software license and hardware revenues are declining, which means it is struggling to find new customers at the pace it used to. However, updates and support revenues are not declining, because the company is able to hold on to its existing customers.
Oracle CEO Safra Catz spoke about this during the fourth-quarter earnings call, saying:
Software updates and product support re venues were $4.9 billion, up 3% reflecting the continued high attach and renewal rates that showed the stability of our installed base of on-premise customers.
Investment Case
Though the growth of cloud has killed the future growth for Oracles on-premise products, it is yet to take a toll on the companys existing client base. This allows Oracle plenty of time to get its own cloud offerings in shape and convert existing on-premise customers into cloud customers. If cannibalisation of on-premise product revenues happens due to the growth in cloud segments, its actually a good thing for the companys long-term future.
To further clarify the situation, as long as IaaS revenue keeps increasing, Oracle will be securing its future, because thats the product its on-premise customers will need the most as they transition from on-premise IT infrastructure to a cloud-based one. The medium-term outlook looks like a period of slow and steady growth for Oracle, but the faster it keeps its IaaS/PaaS segment moving, the better the long-term outlook.
In summary, Oracle is not growing its cloud business at the cost of its existing clients, but the more of them it is able to convert to cloud (in addition to new business), the better its future prospects, because the company is clearly struggling to bring in new clients for its on-premise products.
Disclosure: I/we have no positions in any stocks mentioned, and no plans to initiate any positions within the next 72 hours.
I wrote this article myself, and it expresses my own opinions. I am not receiving compensation for it (other than from Seeking Alpha). I have no business relationship with any company whose stock is mentioned in this article.
About this article:ExpandAuthor payment: $35 + $0.01/page view. Authors of PRO articles receive a minimum guaranteed payment of $150-500.Tagged: Investing Ideas, Long Ideas, Technology, Application SoftwareWant to share your opinion on this article? Add a comment.Disagree with this article? Submit your own.To report a factual error in this article, click here