Nike's (NKE) revenue slowdown over the last few quarters has been so remarkable that it has led to some serious soul-searching within the company. So much so, in fact, that the world's largest sporting apparel and footwear company has been forced to reassess its initial plan to hit $50 billion in sales by 2020. Will Nike be able to get back to its near or above double-digit growth over the next few quarters? And is the company worth investing in at the current price point?
Nearly two years ago, Nike announced that the company was targeting annual revenues of $50 billion by the end of fiscal 2020. Nike was built for growth, said CEO Mark Parker, as he targeted high single-digit growth during the 2016-20 period. The linchpin of the plan was, of course, their lead geography — North America — where Nike expected $20 billion in annual sales by 2020, or 40% of their overall revenues.
In 2015, nobody would have doubted the company's assessment of its future growth potential. Nike's revenues had climbed from $20.117 billion in 2011 to $30.601 billion in 2015, expanding by high single digits throughout the period. So, what went so wrong for Nike that it forced revenue growth to dramatically slow down over the last nine quarters?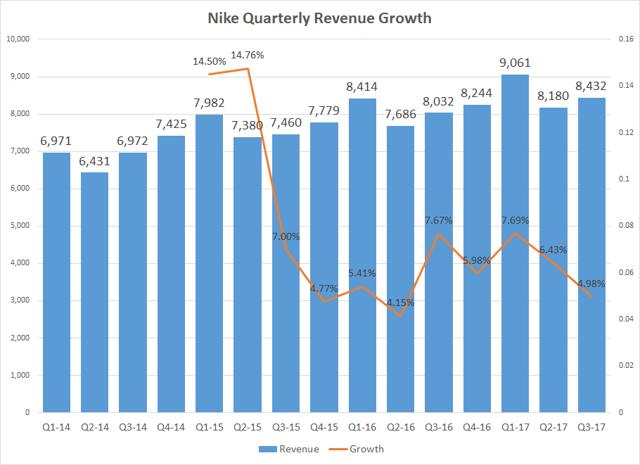 Source: Nike Annual Reports 2016, 2015
In fiscal 2015, Nike's annual revenues grew 10%, from $27.799 billion the previous year to $30.601 billion. In dollar terms, revenues grew by $2.802 billion, of which North America and Western Europe accounted for the bulk of the increase, or $2.171 billion. North American revenues grew 11.72%, while Western Europe grew 14.66% during that year.
These two markets still remain key for Nike's overall growth rate, though there is plenty of momentum behind Nike's Chinese market. During the first three quarters of 2017, North America's revenues grew by 3.94%, while Western Europe's grew by 6.05%, or less than half the growth rate Nike was able to achieve just two years ago. Nike was hit hard due to a stronger dollar, as sales in Western Europe grew in the 10% to 12% range during the first three quarters in constant currency.
Nike's total revenues during the first three quarters totaled $25.673 billion, with North America accounting for nearly 45%, followed by Western Europe at 18%. Put together, these two developed markets accounted for nearly six out of every 10 dollars Nike made.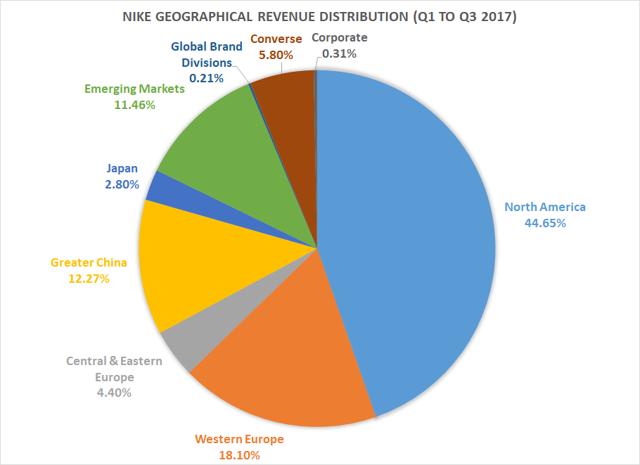 Source: Nike Q3 Earnings Release
It is the slowdown in these two geographies that has brought Nike's revenue growth rate to mid-single-digit levels in the last nine quarters. When 62% of your revenues are growing in the sub-5% range, you need the other 38% to grow by at least 20% to get your growth rate above 10%. That's not an easy task, considering the fragmented and competitive nature of the footwear and apparel market around the world.
So what exactly is going on in the United States market that is affecting Nike? The U.S. GDP isn't roaring, but it hasn't fallen off a cliff either. The market is expected to pick up some speed during the rest of the year, with forecasts for 2017 estimated to be in the 2% to 3% range.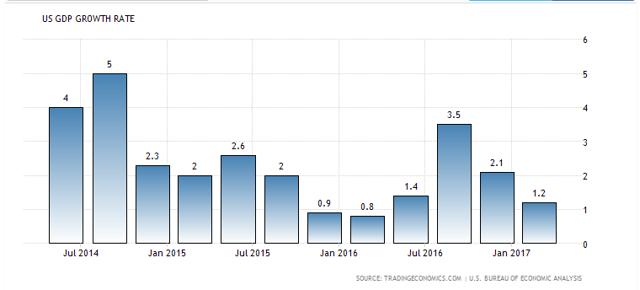 Source: TradingEconomics
During the recent third-quarter earnings call with investors, Nike CEO Mark Parker spoke about the shifting consumer patterns and how digital sales are affecting traditional sales models. He said:
The consumer has decided digital isn't a just part of the shopping experience. Digital is the foundation of it. This and other factors have shifted consumer patterns, especially in North America, impacting traffic, the economics of brick-and-mortar retail and is driving a more promotional environment in the near term.
Though Nike's management kept talking about digital disruption and other dynamics as being the reasons for the slowdown in the U.S. market, it must also be noted that increasing competition played a major role in Nike's woes. The tripartite competition in the U.S. market is certainly not helping, with Nike, Under Armour (NYSE:UAA) and Adidas (OTCQX:ADDYY) constantly pushing each other in this vital market.
Source: Adidas 2016 Annual Report
In 2016, Adidas' overall sales roared in North America, increasing from 2.75 billion euros in 2015 to 3.412 billion euros in 2016. The spectacular growth rate continued well into the first quarter of the current fiscal ended March 31, 2017, when Adidas reported 988 million euros in sales, compared to 728 million euros during the prior period, a growth of 35.8%.
Adidas is expecting its double-digit growth run in the North American market to continue, which is assuredly going to pile on some more painful quarters for Nike and Under Armour. At the very least, it is going to make things difficult for both these companies to get their sales numbers back on track.
Clearly, digital disruption and other dynamics have certainly helped Adidas grow at much faster rates than Nike and Under Armour during the last five quarters in the key North American market. As reported by the LA Times:
More people are choosing fashion over function, with sales of classic sneakers industry-wide climbing 26% last year, according to research from the NPD Group. Meanwhile, sales of running performance sneakers were flat, and sales of basketball performance sneakers dropped, according to the same report.
'Nike missed the fashion shift away from performance basketball to retro,' said Matt Powell, the sports industry analyst at NPD. 'They still have not caught up.'
In effect, Nike has lost ground to a resurgent Adidas in the United States. Things are still growing for Nike, but far slower than the high single-digit target the company had set for the next four years.
Let there be no doubt that Adidas beat Nike at its own game. They might even remain an impediment to Nike's growth for a long time to come. Nevertheless, Nike is a well-established brand all over the world, and is still growing at a decent pace when you consider the macroeconomics of the sit uation. Its global runway is quite huge, and the company is still growing at a fair clip in Western Europe and China.
The stock might keep moving sideways until revenue growth gets back to near high single-digits, but the opportunity to buy will vanish at that point.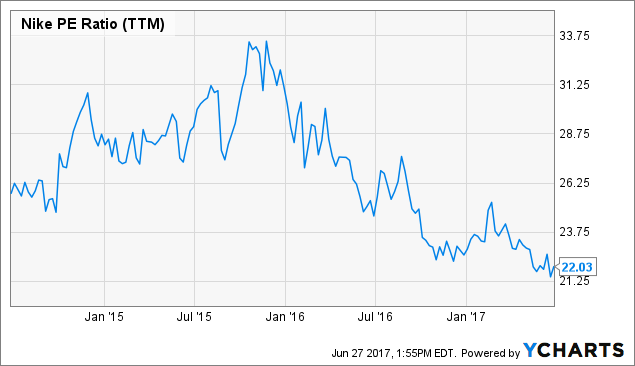 NKE PE Ratio (ttm) data by YCharts
The stock is trading at a little over 20 times earnings, making Nike an attractive bet for the long term.
Disclosure: I/we have no positions in any stocks mentioned, and no plans to initiate any positions within the next 72 hours.
I wrote this article myself, and it expresses my own opinions. I am not receiving compensation for it (other than from Seeking Alpha). I have no business relationship with any company whose stock is mentioned in this article.
About this article:ExpandAuthor payment: $35 + $0.01/page view. Authors of PRO articles receive a minimum guaranteed payment of $150-500.Tagged: Investing Ideas, Long Ideas, Consumer Goods, Textile – Apparel Footwear & AccessoriesWant to share your opinion on this article? Add a comment.Disagree with this article? Submit your own.To report a factual error in this article, click hereFollow Beulah Meriam K and get email alerts