Nevsun Resources (NSU) is a mining company centered around two assets, the Bisha Mine in Eritrea, Africa and the Timok Project in Serbia. The company recently received a $1.2 billion takeover offer from Lundin Mining and Eurosun Mining. This caused a massive runup in the companys stock price, but, the companys stock price is still noticeably below its highs of the past few years. However, as we will see through this article, the companys impressive assets and takeover potential by several companies make it a strong mining play.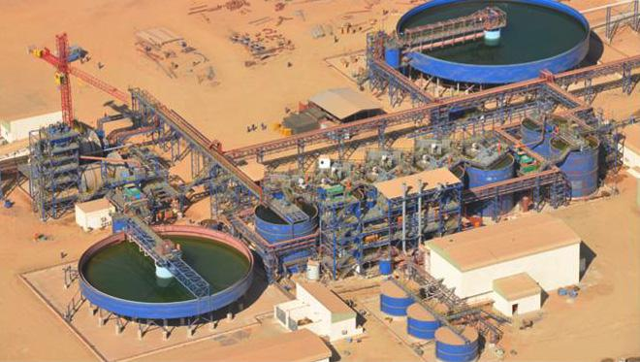 Nevsun Resources Bisha Mine – Nevsun Resources
Nevsun Resources Timok Upper Zone Project
The Timok Project is a valuable asset that makes up the core of Nevsun Resources value.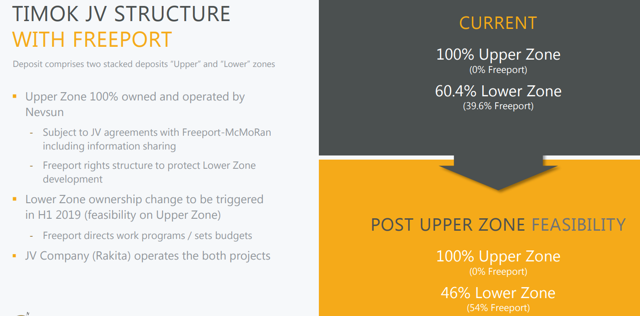 Nevsun Resources Timok Overview – Nevsun Resources Investor Presentation
Nevsun Resources plans to operate the Timok Project as a joint venture with one of the largest mining companies in the world, Freeport-McMoRan (NYSE: FCX). The Upper Zone, where the initial production will begin, will be 100% owned by Nevsun Resources. However, initially 39.6% of the Lower Zone will be owned by Freeport-McMoRan which will increase to 54% after the feasibility study. That setup allows Freeport-McMoRan to take advantage of the enormous potential assets in the region.
Another important aspect of this is that unlike the Bisha Mine, which is located in Eritrea, a country with a questionable human right record, the Timok Project is located in Serbia. Serbia is a much more stable country hoping to make money off of its mining assets. The world-class Timok Project could be a great way to do that. As a result, that means strong federal support for what will be a multi-billion dollar mine.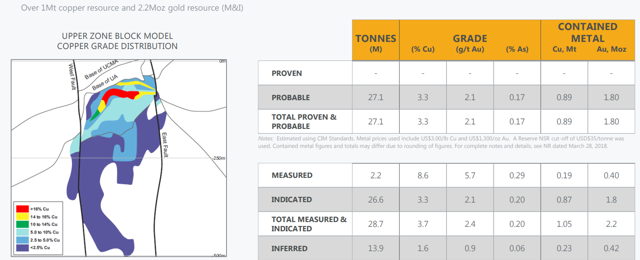 Nevsun Resources Upper Zone Block Model – Nevsun Resources Investor Presentation
The Timok Project pre-feasibility study has shown some incredible results. The project has an 8% NPV of $1.8 billion and a 80% IRR. Given the companys current market cap of less than $1 billion, the net present value of the cash that itll generate is twice its current market cap. Should copper prices rise, as some are expecting, that will be extremely rewarding for Nevsun Resources.
Digging into the numbers, the largest copper mines in the world have copper grades anywhere from 0.4 to 1.5%. The Timok Project Upper Zone has an astounding 27.1 million tonnes of probable reserves with copper grades of roughly 3.3%. On top of that the reserves have a gold grade of roughly 2.1 grams / tonne which will help to significantly lower the cash cost of mining.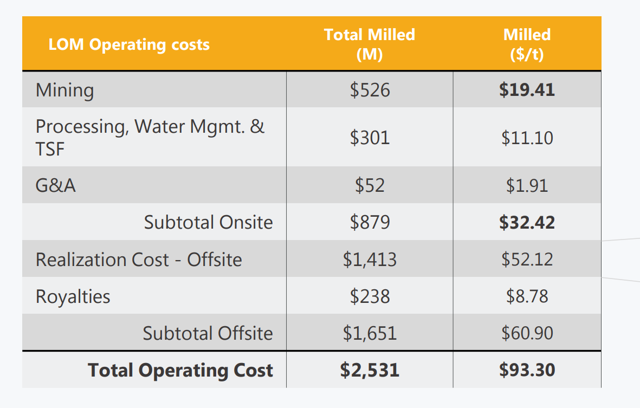 Nevsun Resources Total Operating Costs – Nevsun Resources Investor Presentation
While these estimates are preliminary, Nevsun Resources plans to mine the Timok Upper Zone using a sub-level caving mining method. The mining method which is highly applicable to the Timok Upper Zone's structure should result in costs of <$100/ton mined. While these numbers are obviously preliminary, Freeport-McMoRan, which will be helping with the Lower Zone has a copper recovery rate in the high 80s percent. That experience could help drive costs down and profits up.
Lets assume a worse case with a gold and copper recovery rate of 75% in the Timok Upper Zone. Each tonne from the mine will contain 73 pounds of copper and 2.1 grams of gold. That means roughly $360 per pound with costs of $93.3/ton mined. While these numbers do not include everything, hopefully they can help paint a picture of the enormous potential returns, and why Nevsun Resources anticipates an 80% IRR.
As a result of these costs, Nevsun Resources anticipates an average Upper Zone cash cost of roughly $0.75/pound in the mid-2020s.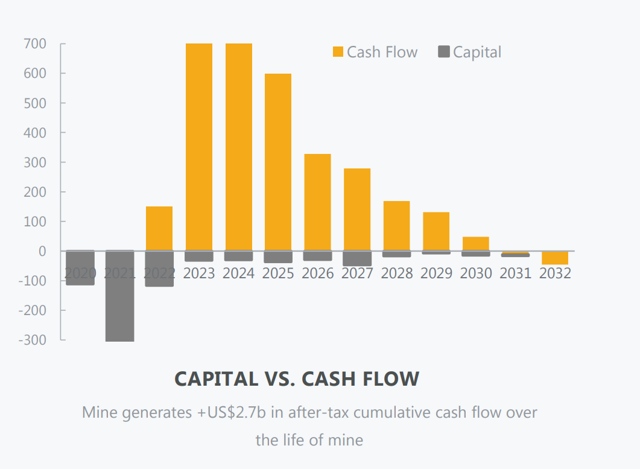 Nevsun Resources Capital v. Cash Flow – Nevsun Resources Investor Presentation
Translating all these raw numbers into something meaningful, Nevsun Resources, will earn roughly $0.7 billion in 2023 and 2024. We will subtract out the capital costs from the more than $50 million in annual profits the Bisha Mine will be earning until then. And our net result is every dollar you invest today wont pay you anything until 2023. Thats a full five years from now.
That means every single dollar you invest today will pay you $0.7 in 2023, another $0.7 in 2024, another $0.6 in 2025, another $0.3 in 2026 and so on. Those are some incredible returns before we even look at the Timok Lower Zone or the potential for new discoveries at the Bisha Mine.
Nevsun Resources Other Assets
Weve already discussed Nevsun Resource's Timok Upper Zone which is what is by far its nicest asset. However, lets take a minute to look at the companys Bisha Mine and the Timok Lower Zone.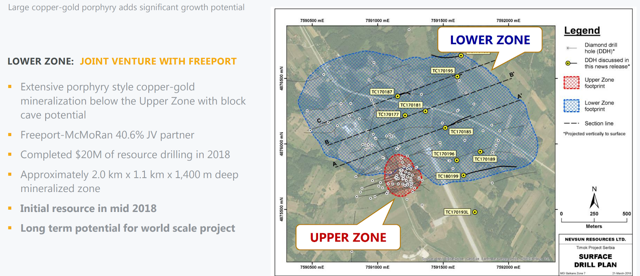 Nevsun Resources Upper and Lower Zone – Nevsun Resources Investor Presentation
As we can see here, the Lower Zone, a joint venture with Freeport-McMoRan, is much larger than the Upper Zone. The company finds it so valuable that its undergoing $20 million in resource drilling that should be completed in 2018. Its hard to put a value here, as the initial resources havent been estimated yet, but I recommend keeping a close eye on it for when it's released.
If the Lower Zone is anything like the Upper Zone, even if its only mildly profitable, given how much ore it could contain, it could be a multi-billion dollar windfall for Nevsun Resources. Currently Nevsun Resources is anticipating a potential for 4 more 2+ billion tonne copper type deposits, each with multiple associated Upper Zone type deposits. If thats true, that could mean profits of more than $10 billion.

Nevsun Resources Bisha Mine Distribution – Nevsun Resources Investor Presentation
Looking towards the Bisha Mine, as presently setup, it has primary mill throughput of 2.4 million tonnes per annum with a reserve ratio of 8.5 million tonnes. That means it's current reserves will last roughly 3.5 years at the current mining rates. However, theres also roughly 35.8 million tonnes of measured and inferred resources. Further exploration could extend the Bisha Mine's life to more than a decade.
Given that he Bisha Mine has a history of converting these into reserves, this asset could provide steady profits for many years to come. The company also has several targets here and will be releasing exploration data over the next year. I'll be paying close attention to see how it goes.
Takeover Potential
As weve discussed, the Timok Project Upper Zone will start to generate massive profits in a few years. On top of that the Timok Lower Zone and the Bisha Mine have massive potential. Other companies realize this too. Lundin Mining made an almost USD $1.2 billion offer for Nevsun Resources, one that they rejected, despite several attempts by Lundin Mining.
Personally, I commend this rejection. Lundin Mining has a history of successful acquisitions that have paid off well, and the company realizes the asset is undervalued. Nevsun Resources stock price hasnt done much of anything for a few years now, and its time for shareholders to be rewarded for their wait as the Timok Project comes online. As a result, I recommend investing in Nevsun Resources, which at this time, I believe is a great mining play.
Why Now?
So why invest in Nevsun Resources now?
You saw me say above that the company has a few years to get going, the preliminary results have been up for some time now, and the company's stock price just spiked up as a result of the Lundin Mining deal.
There are several material things that make Nevsun Resources a good investment now.
First, is the takeover potential. While Lundin Mining was rejected, they could decide that Nevsun Resources is really worth that much and come back with a much better offer. Or they could agree to cover a significant portion of the Timok Upper Zone capital expenditures in exchange for a portion of the profits. They could do any of a number of things, and as the repeated attempts have shown they're interested. Pretty much any action would be beneficial to those who invest now.
Second, in the near term, Nevsun Resources has a number of data points coming out. The most important of these, the results of Lower Zone drilling to potentially reveal billions if not tens of billions in minerals, something that I believe is fairly likely given the strength of the Upper Zone. As other Seeking Alpha contributors have speculated, Nevsun Resources could be looking at the Lower Zone as a replacement for its trouble plagued Grasberg Mine. Should it reach those expectations that means billions for Nevsun Resources shareholders.
Lastly, Nevsun Resources has had the Timok Upper Zone for two years now and been showing it can undertake a capitally intensive project and maintain strong financials. As the company's most recent financial report shows, it has current liabilities of $66 million, a modest decrease of $3 million, from a year ago. However, balancing this out, the company has $254 million in assets, down from $260 million a year ago. Overall, the company has managed to undergo a year of exploration work for a net cost of just $3 million.
One small thing to note here though is that the composition of the company's assets have changed over the past year. The company's cash has decreased, while the company's inventories have increased. While I doubt this will have a measurable impact to the company, it does mean that the company is slightly more susceptible to prices and that if for whatever reason (I can't think of any) it needs all of cash quickly, it could be slightly harder.
The last thing to pay attention to is the company's increase in exploration expenses. A year ago it didn't have any exploration expenses and now they're coming out to ~$10 million / quarter. While the company is covering this with its cash flow from the Bisha Mine, it does mean that the company will likely go from being a cash cow a few years ago to being unprofitable until it gets the Timok Project going. That makes it unlikely for shareholders to see any dividends or any other rewards until the 2020s.
The Timok Upper Zone will cost roughly $570 million in total capex beforehand, however, as we saw above the company anticipates $700 million in cash flow the first year, and for the few years beforehand, the Bisha Mine should continue to bring in $30 million or so in profits annually beforehand. That means that Nevsun Resources net debt position in 2022 will be $200 million.
While not ideal, that debt can be paid off with 2022 cash flow alone, and the project will be highly profitable starting in 2023.
There are some potential risk factors for Nevsun Resources. The assets have been proven and the company has the finances. Worst comes to worse, I expect Freeport-McMoRan will step in. The biggest risk here are delays with the project. The current timeline is 5 years, and with the Bisha Mine, Nevsun Resources showed it could complete projects early. However, any delays, could cause significant issues.
It's hard to predict if this'll happen, but it's something to keep an eye on.
Conclusion
Nevsun Resources has had a difficult time since the start of the oil crash. While the company doesnt operate in oil, its stock price took a hit as other commodity prices dropped. Since then, thanks to the offer, the companys stock price has recovered. However, the companys stock price is still noticeably below its 2015 highs.
Personally I believe that shareholders still have significant room for reward, especially as a result of the Timok Upper Zone. The Timok Lower Zone and the Bisha Mine also have significant potential on top of this. The combination of this means that Nevsun Resources is an incredibly strong investment at this time and I highly recommend investing in it.
Disclosure: I am/we are long NSU.
I wrote this article myself, and it expresses my own opinions. I am not receiving compensation for it (other than from Seeking Alpha). I have no business relationship with any company whose stock is mentioned in this article.