According to its website:
CohBar, Inc. is a leader in the research and development of mitochondria based therapeutics (MBTs), an emerging class of drugs with the potential to treat a wide range of diseases associated with aging and metabolic dysfunction including non-alcoholic steatohepatitis (NASH), obesity, Type 2 diabetes (T2D), cancer, cardiovascular disease and CNS disorders.
CohBar (OTCQX:CWBR) began trading on Nasdaq market just over a month ago. For general insight into the company, its science, and pipeline, I encourage you to read a great article recently penned by White Collar Menagerie.
For purposes below, we fill focus on their prospects solely for NASH.
Non-alcoholic steatohepatitis & mitochondria
The Basics
It's estimated that 30% of the U.S. population has nonalcoholic fatty liver disease (NAFLD). Left untreated, NAFLD could lead to non-alcoholic steatohepatitis (NASH), cirrhosis, hepatocellular carcinoma (HCC), then death. Risks for developing NAFLD include older age, physical inactivity, obesity, insulin resistance (diabetes), hypertension, and hyperlipidemia (high cholesterol, triglycerides). It's estimated that 2-3% of people with NAFLD will develop NASH and ~5% of patients with NASH will develop HCC within 5 years. The large spectrum of consequences spring from a series of small actions.
The human body is made up of trillions of tiny parts called cells. Cells are also made of tiny parts. Mitochondria are the part of a cell that provides energy for the cell to run. Hepatocytes (liver cells) house abundant mitochondria to support liver function. The damage of hepatocellular mitochondria proceeds liver damage.
Toxic Oxidation
Reactive oxygen species (ROS) are byproducts of mitochondrial function. A healthy mitochondrium produces normal amounts of ROS. However, when mitochondria dysfunction, the oxidative stress exceeds what a cell can handle, resulting in damage and apoptosis (programmed cellular death). New research (within the past couple of decades) is revealing a connection between mitochondrial dysfunction and diseases associated with aging (NASH, obesity, diabetes, cancer, Alzheimer's). For our purposes, mitochondrial dysfunction is known to exacerbate liver inflammation, fat, and scarring.
There are also external factors that exacerbate liver disease.
Lipolysis
Glucose (sugar) is our body's preferred form of energy. But when glucose is lacking (e.g. if one is in between meals or exercising), our body seeks alternative sources. Excess fat is stored in white adipose tissue as an energy backup. Lipolysis involves the process of releasing the energy, stored as fat, in the form of free fatty acids (FFAs). Its production is primarily regulated by insulin. However, excess caloric intake can lead to insulin resistance (type 2 diabetes). This alters the regulation of lipolysis, leading to increased and uncontrolled release of FFAs into the body's circulation. The excessive presence of FFAs can overwhelm the body. Consequently, some FFAs make their way to the liver causing hepatic steatosis (liver fat) and damage. Liver fat predisposes the liver to additional injuries, including mitochondrial dysfunction.
Keys
Changhan Lee and Pinchas Cohen (founder and director of CohBar) uncovered a mitochondrially encoded peptide, "MOTS-c" that mimics the cellular benefits of exercise and improves metabolism.
CB4209 and CB4211 are novel, peptide analogs of MOTS-c, that are being clinically developed by CohBar for the treatment of obesity and NASH.
In vitro
Human and mouse adipocytes (fat cells) were incubated with the drugs, stimulated with ISO or FSK (which promote lipolysis), and analyzed after 24 hours: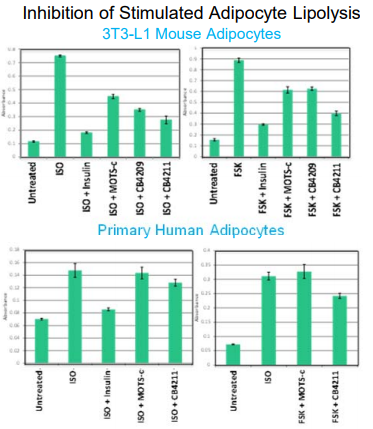 Source: CohBar, AASLD Liver Meeting, 2017
Both analogs reduced free fatty acid (FFA) levels. Notice how effective insulin is in the inhibition of FFA release. Recall that when people develop insulin resistance (type 2 diabetes), FFAs are mostly unregulated and free to roam, wrecking havoc.
In vivo
Using the STAM NASH Model (widely used for preclinical assessment of NASH drugs), researchers exposed mice to a high fat diet. "All animals develop symptoms of NASH by 6 weeks of age, chronic fibrosis by about 12 weeks of age, and hepatocellular carcinoma by 16 weeks of age." At 6 weeks old, researchers administered CB4209 or CB4211 either alone or with liraglutide (approved medication for diabetes in patients who do not respond to Metformin and obesity that is now being studied for NASH) for duration of 21 days.
Results revealed both CB4209 and CB4211 reduced NAFLD activity scores; improved serum triglycerides and plasma ALT; decreased liver fat; and reduced weight in obese mice: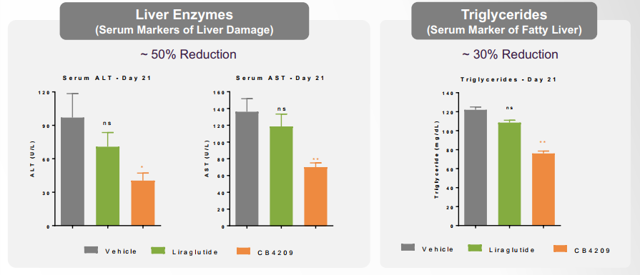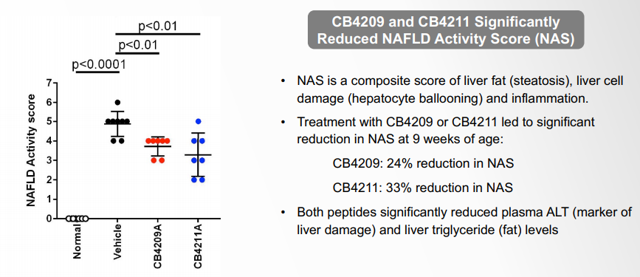 Source: CohBar Q3 Investor Presentation, 11/13/2017
The 33% reduction in NAS score for their stronger peptide, CB4211, is favorable to other late stage compounds that utilized the STAM Model in their preclinical studies:

Source: Gemphire Therapeutics (GEMP), February 1, 2018
CohBar discusses CB4211's potential value and how it differentiates from previous preclinical compounds:

Source: CohBar Q3 Investor Presentation, 11/13/2017
Partnerships
CohBar is actively exploring opportunities to partner CB4211. They retained Torreya Partners (a strategic partnering advisor) to help close a deal. Torreya has been involved in three recent NASH marriages, including Conatus (CNAT) with Novartis (NVS); Dicerna (DRNA) with Boehringer Ingelheim; and Phenex with Gilead (GILD).
Recent NASH partnerships have reaped lucrative transactions: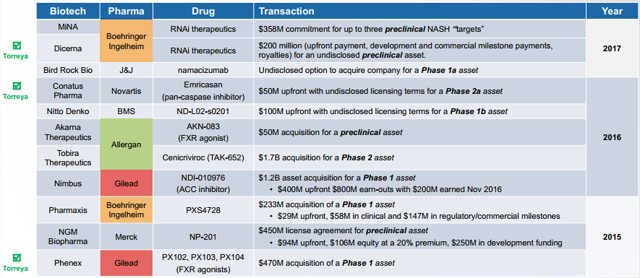 Source: CohBar Q3 Investor Presentation, 11/13/2017
CohBar hopes to secure a partnership to avoid having to raise funds via dilutive means, as they only have enough cash to operate into Q4 2018. In fact, they blatantly highlight "non-dilutive funding to support development of multiple CohBar pipeline asset" as an objective for a partnering program.
Regardless, CohBar hopes to advance CB4211 into human trials early this year.
Risks CohBar may have to resort to dilutive financing at any moment's notice. CohBar is years away from commercialization and will have to seek alternative methods of raising funds for years to come. CohBar may not receive a lucrative partnership offer for their therapeutics in NASH. CohBar's science is yet to be tested in humans and is, therefore, relatively unproven. CohBar's medicines may result in significant side effects that halt their progression through clinical phases. CohBar's shares are very volatile, especially given its early stage. Even for little to no reason, its shares may lose tremendous value and it may be years before investors can reap any significant profits from an investment. Analysis
CohBar shouldn't have a problem finding a partner for their NASH candidate(s). Although their prospect is several years away from hitting the market, it is a novel therapeutic for NASH that addressing a different and potentially key mechanism of action. So, even though it's a preclinical compound, there's substantial value in it.
At writing, CohBar's market cap stands at $256 million. They have little cash (but virtually no debt). So, a lot of value is being given to their pipeline, all of which is in preclinical studies. A partnership in NASH would not only further validate its market cap, but bring significant short-term value. Although I believe CohBar is a promising long-term investment, because it is still very young, it's possible that the market cap could be much lower a year from now for virtually no reason (besides dilution). However, given the prospects of partnership in such a high-profile market like NASH, I see opportunity in an investment in CohBar for 2018 if and when things fall into place.
CohBar is a Grade "B" Investment Opportunity
Scoring is subjective, based on potential returns from published date to over a 12-month period, and is as follows: Value 0-50 (1.5) + Pipeline 0-50 (1) + Momentum 0-50 (0.5) = x/150 (Note: scoring differs with speculative biotech companies vs. commercial biotech companies).
Given its somewhat lofty valuation for its stage (37.5), novel pipeline with a major catalyst looming (40), and share price momentum (47.5), I believe CohBar is a "Grade B" (.80) speculative investment opportunity. While I grade an investment in CohBar, it comes at a significantly higher risk given its speculative nature and lack of phase 1 compounds.
Sufficient funding, partnerships, and clinical progression will undoubtedly make this a "Grade A" Investment Opportunity. However, at this time, I cannot grade CohBar an "A" because of its inherent risk and lofty valuation early on.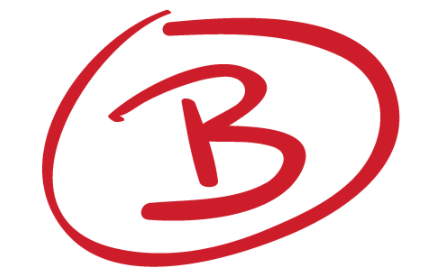 Author's note: For further insight into biotechnology stocks, please follow Biotech RN.
Disclaimer: The intention of this article is to provide insight, not investment advice. One must consider one's own financial standings, risk tolerance, research, etc. before making a decision to buy shares in a company. Many of my articles detail biotechnology companies with little or no revenue. These stocks are, therefore, speculative and volatile. Even when prospects seem promising, there is no predicting the future. Losses incurred may be significant.
Disclosure: I am/we are long CWBR.
I wrote this article myself, and it expresses my own opinions. I am not receiving compensation for it (other than from Seeking Alpha). I have no business relationship with any company whose stock is mentioned in this article.
Editor's Note: This article covers one or more stocks trading at less than $1 per share and/or with less than a $100 million market cap. Please be aware of the risks associated with these stocks.
About this article:ExpandAuthor payment: Seeking Alpha pays for exclusive articles. Payment calculations are based on a combination of coverage area, popularity and quality.Tagged: Investing Ideas, Long Ideas, Healthcare, Drug Manufacturers – OtherWant to share your opinion on this article? Add a comment.Disagree with this article? Submit your own.To report a factual error in this article, click here