Since the beginning of the year, MetLife (MET) has been hit hard by a string of negative charges and a material reserve build-up. For starters, on the 2018 Outlook Call, management announced a review of practices and procedures used to estimate the company's reserves related to certain annuitants who have been unresponsive or missing over time. After completing the review, the company disclosed a material weakness in internal control and added more than $500mn to its annuity reserves.
The announcement has raised significant concerns regarding MetLifes internal control systems and procedures. Unsurprisingly, the review has had a negative impact on the companys risk profile, triggering a sell-off in the stock.
In addition, just a day before the companys 1Q earnings release, MetLife announced that its CFO John Hele had retired. Such announcements are often viewed as red flags and several analysts suggested that MetLife was likely to miss estimates. That has also deteriorated investor sentiment towards the stock.
However, the company delivered a solid earnings beat driven by stronger-than-expected results in the P&C and Retirement segments, even though results in Asia and Latin America were weak. One can argue that METs fundamentals will remain sub-par in the near-term due to pressure on underwriting margins and weaker growth in emerging markets. While those are valid points, we still expect MetLifes RoE to improve, thanks to its cost-savings program and capital deployment plans. MetLife trades at undemanding valuations which, when coupled with a decent dividend yield, should give the stock a strong support.
MetLife remains committed to its cost-savings target
As noted earlier, the companys global review revealed material weaknesses in its internal controls. As a result, many analysts and investors had expected that MetLife would call off its cost guidance, especially given that such events generally lead to an increase in operating expenses. However, management confirmed that it remains fully committed to its unit cost improvement program, or UCI. MetLife targets around $800mn of expense savings by 2020.
Sean Dargan – Wells Fargo Securities LLC
Okay, thanks. And then I guess, John, a question for you, I don't want to beat a dead horse, but you're new in the role and I think investors were concerned that maybe MET would be backing off the net $800 million expense save target from UCI. So just to be clear, that policy is still in place and that's still the goal and you still think that's attainable.
John McCallion – MetLife, Inc.
I would reiterate what Steve said. We are fully committed to our commitment.
Source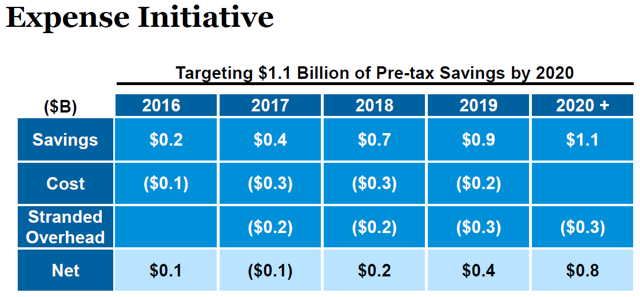 Source: Company data
Most importantly, management noted that these cost savings will go to the bottom line. In other words, METs expense initiative remains a major catalyst for its RoE.
John M. Nadel – UBS
Hey, good morning. So just a question on cost initiative. The $800 million of expenses through 2020, do we know yet, have you told us whether all of that would be expected to drop to the bottom line or would some of that be expected to be reinvested into the business? And how much of that $800 million is in the numbers today?
John McCallion – MetLife, Inc.
How you doing? I would go back to that slide that we put in the supplemental deck, right, where we showed the ratios, and let's start there. So, remember, we think, as I emphasized, we think the annual expense ratio is the best metric. If you look over 2015 to 2017, we're down about 100 basis points and you think that we have roughly $45 billion in revenue, we have about $400 million of savings. And that effectively goes to the bottom line. That's pre-tax, but that's the improvement in our profit margin, as I said. So, yeah, the short answer to your question on the $800 million is, yes, we'd expect that to be an improvement in profit margin post all the actions being taken 2020 on.
Source
Capital deployment plans
MetLife has excess capital and that is another reason why we remain bullish on the stock. During the first quarter, the company bought back $1bn of its common shares, which correspond to around 2% of market cap.
In addition, MET announced a 5% increase in its dividend to $1.68 per share. As such, the stock is currently trades at a 3.5% dividend, which is one of the highest yields in the sector.
Moreover, MetLife still intends to divest its remaining ownership in Brighthouse Financial (BHF) during 2018. Last year, MET announced that it would divest a 19.9% stake in BHF through an exchange offer for MetLifes common stock. On the Q1 call, management noted that it is currently looking at other options, including a direct sale of its BHF stake or an exchange offer for its debt securities.
Final thoughts
MetLife is currently trading at less than 9x forward earnings, which we view as a very undemanding multiple. To be fair, value investing has had a rough time for quite a while now. However, even though METs revenue growth will remain sluggish in the near-term, we expect the companys RoE to improve thanks to its cost-cutting initiative and capital deployment plans.
If you would like to receive our articles as soon as they are published, consider following us by clicking the "Follow" button beside our name at the top of the page. Thank you for reading.
Disclosure: I am/we are long MET, BHF.
I wrote this article myself, and it expresses my own opinions. I am not receiving compensation for it (other than from Seeking Alpha). I have no business relationship with any company whose stock is mentioned in this article.