Shares of Madrigal Pharmaceuticals (MDGL) have increased by a whopping 500% over the past six months as a result of stunning NASH data for lead candidate MGL-3196.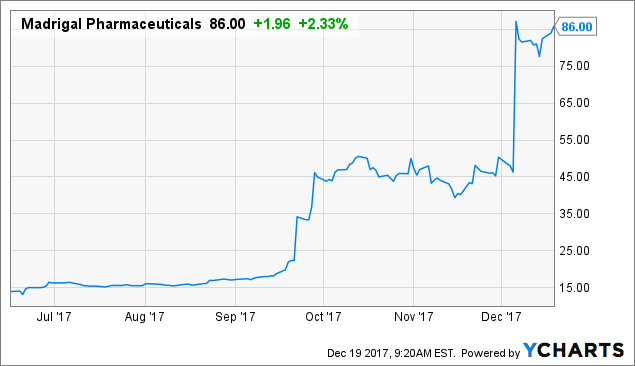 MDGL data by YCharts
I麓m the first to admit that I was a victim of my own prejudices, ignoring the stock when it started to pop up in scans September and from there several times over the next few months.
However, strong demand and pricing for their secondary offering bodes well for future upside. The current situation might appeal more to readers who fall into the conservative risk-profile camp, as prior data significantly de-risks the story at this point. 1,506,025 shares were sold at a price of $83 per share, just under the closing price of the prior day. Total proceeds (not including the underwriter option) are around $125 million, which to me appears to be a quite reasonable amount of dilution. It麓s also encouraging that Goldman was the lead-book running manager, with participation from Evercore ISI, JMP Securities, Roth Capital Partners and H.C. Wainwright. When you see the ideal confluence of these factors in a secondary offering (strong pricing, institutional demand, acceptable dilution, strong sponsorship) it can be inferred that future prospects are quite bright.
I remind readers that results from the mid-stage study in patients with biopsy-proven non-alcoholic steatohepatitis (NASH) were incredibly promising. Administration of the company麓s first-in-class thyroid hormone receptor 尾 -selective agonist MGL-3196 resulted in a statistically significant percent change in hepatic fat versus placebo as measured by MRI-PDFF. A reduction of liver fat in the range of 30% or more utilizing this measure is known to be indicative of improvement in NASH. Importantly, improvements in key secondary endpoints achieved statistical significance as well (reductions in ALT and AST, LDL-C, triglycerides, apolipoprotein B (ApoB), and Lp(A), etc). Another point of differentiation was the fact that the drug candidate was well-tolerated with mild adverse events for the most part.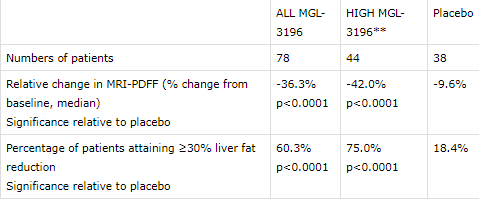 Figure 2: Primary endpoint measures broken down (source: corporate press release)
As for the next catalyst, the study remains blinded and measures will be reassessed at 36 weeks. Keep in mind that it is still a leap that needs to be confirmed to show that MGL-3196 truly can address the main causes of NASH and success is far from a given. Top-line results for a second phase 2 study in heterozygous familial hypercholesterolemia (HeFH) are expected early next year as well. I consider an outright buyout by a large pharmaceutical firm or other type of strategic action to be a medium-to-high probability event.
For the third quarter the company reported cash and equivalents of $62.1 million, a figure which doesn麓t include proceeds from the recent secondary offering. Operating expenses came in at $8.6 million, while research and development expenses totaled $6.7 million.
Madrigal Pharmaceuticals is a Buy.
Readers who are interested in the story and have done their due diligence should purchase a pilot position in the near term.
I will be adding the stock to the Contenders List to keep a closer eye on it.
Risks include disappointing results in either the NASH study or HeFH trial. Although less likely at this point, such an outcome would be devastating to the bullish thesis. Dilution in the near to medium term appears unlikely after the recent secondary offering. Intense competition in the NASH field should closely be monitored and even if the drug makes it to the regulatory filing stage approval is not a given.
Author's note: My goal is to bring to readers' attention undervalued stocks with catalysts that could propel shares higher, as well as provide a fresh perspective on stocks you may already be aware of. I also touch on planning trades and risk management, as those are two areas I feel are often neglected. If you found value in the above article, consider clicking the orange "Follow" button and getting email alerts to receive my latest content. My sincere appreciation for readers who add value and join the discussion in the comments section, as well as those who share my work with others who could benefit from it.
Disclaimer: Commentary presented is not individualized investment advice. Opinions offered here are not personalized recommendations. Readers are expected to do their own due diligence or consult an investment professional if needed prior to making trades. Strategies discussed should not be mistaken for recommendations, and past performance may not be indicative of future results. Although I do my best to present factual research, I do not in any way guarantee the accuracy of the information I post. Investing in common stock can result in partial or total loss of capital. In other words, readers are expected to (and encouraged) form their own trading plan, do their own research and take responsibility for their own actions. If they are not able or willing to do so, better to buy index funds or find a thoroughly vetted fee-only financial advisor to handle your account. I am in a collaborative relationship with The Biotech Forum/Bret Jensen.
Disclosure: I/we have no positions in any stocks mentioned, and no plans to initiate any positions within the next 72 hours.
I wrote this article myself, and it expresses my own opinions. I am not receiving compensation for it (other than from Seeking Alpha). I have no business relationship with any company whose stock is mentioned in this article.
About this article:ExpandAuthor payment: $35 + $0.01/page view. Authors of PRO articles receive a minimum guaranteed payment of $150-500.Tagged: Investing Ideas, Long Ideas, Healthcare, Diagnostic SubstancesWant to share your opinion on this article? Add a comment.Disagree with this article? Submit your own.To report a factual error in this article, click here