I have been on and off long Intelsat (I) for some time now. Back in November of 2016 it was my favorite high leveraged stock play (please consider: Intelsat: A High Leveraged Play With Odds In Our Favor).
Then when the stock reached over $5, I sold on the back of the announcement that Intelsat would merge with OneWeb, and then SoftBank would buy into the company via a capital increase at $5 a share. The reason I sold was that my price target as I imagined it, could never be reached if such a deal were to happen.
However as I thought the deal out, I liked it more and more. In fact I thought it was a brilliant idea, especially how Intelsat would be able to leverage OneWeb's interoperable terminal technology, that will work with both GEO (geostationary orbit) and LEO (low earth orbit) satellites, that allow for development of services that until now are very difficult to bring to market.
In addition, please note OneWeb plans to send to orbit about 700 LEO s starting in 2018, that will have very small latency and cover the globe. The idea is to offer broadband everywhere, at a very small price and at very high speeds.
After the announcement of the deal Intelsat shares started to correct, and I bought back my position at an average price of about $3.80. Afterwords the deal broke apart and the stock fell to as low $3. However I was never worried. Contrary to many who think Intelsat is a bankrupt company, I have the opposite opinion.
So what do we do with Intelsat now?
Intelsat has been in rally mode recently. Over the past several months the stock has risen about 50%, to where it was when the OneWeb/Softbank deal was announced.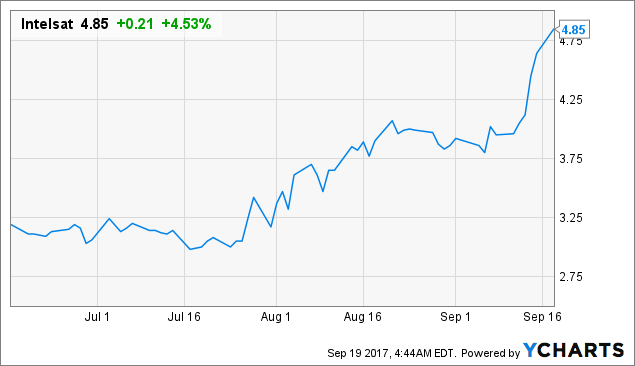 I data by YCharts
The question is, if you have the stock and bought it from lower levels, what do you do?
Please recall that even before the OneWeb/Softbank deal was announced, my opinion was that Intelsat could reach as high as $12 in 18 months. Please read a previous article from January as to why: Intelsat Shares May Reach $12 In 18 Months. So even without the deal, I always thought the stock would do good anyway.
Second, in order for the deal to have gone through, SoftBank was asking bondholders to take about a $1.5B haircut. What's strange, is that many categories of Intelsat bonds were trading at a bigger discount, so initially I thought this was a done deal.
However bondholders rejected the deal, and even rejected a second offer that offered a sweetener. So what does this mean?
Well, I think it means they are comfortable holding Intelsat's bonds. In other words, bondholders don't see the company defaulting like most analysts, and see their coupon secure.< /p>
So if they are right (and I think they are), then we return to my original scenario, that Intelsat shares might reach $12 a share over the next several quarters. And if that's the case, then I don't mind the OneWeb/Softbank deal did not go through, because shareholders stand to make more money over a longer term period.
Final thoughts
While Intelsat remains a very high leveraged company, I still think the risk is worth the reward. And if I am right, holders of Intelsat shares stand to reap above average returns, as evidenced by the stock's rally over the past several months.
Please remember that you could make a lot of money when using high leverage. This I think is the case with Intelsat. Yes there are risks, however I think the chances of winning are on our side, and like I said I think it's worth the risk.
In addition, while the deal with OneWeb and SoftBank fell apart, I still think the deal makes sense, and I think the idea might retu rn at some time in the future.
Finally, it never ceases to amaze how fast many analysts change their mind. Recently Jefferies upgraded Intelsat to a buy with a price target of $5. As I write this article, the stock is trading above that price.
However in a more recent note, Jefferies analyst Giles Thorne believes Intelsat "can regain its $18 per share initial public offering price" with the right execution. He thinks the stock could potentially rise fivefold, keeping his $5 price target for now.
Well folks, for a company that everyone had for dead, analysts are starting to take notice and I expect to see more upgrades in the future.
I am long Intelsat and expect to keep my position for some time. I would add to it, but it's already my second largest holding. The stock from time to time has a lot of violability, so be prepared for bumps if you decide to buy it.
Disclosure: I am/we are long I.
I wrote this article myself, and it expresses my own opinions. I am not receiving compensation for it (other than from Seeking Alpha). I have no business relationship with any company whose stock is mentioned in this article.
About this article:ExpandAuthor payment: $35 + $0.01/page view. Authors of PRO articles receive a minimum guaranteed payment of $150-500.Tagged: Investing Ideas, Long Ideas, Technology, Diversified Communication Services, LuxembourgWant to share your opinion on this article? Add a comment.Disagree with this article? Submit your own.To report a factual error in this article, click here