Hormel (NYSE:HRL), like a small group of other large companies, has a 25-year history of raising its dividend. Whenever one of these stocks trades in the low end of its 52-week range, I take a look at its financials. Hormel's are excellent. At its current levels, Hormel is attractive and should be considered.
Currently, Hormel is forming a bottom: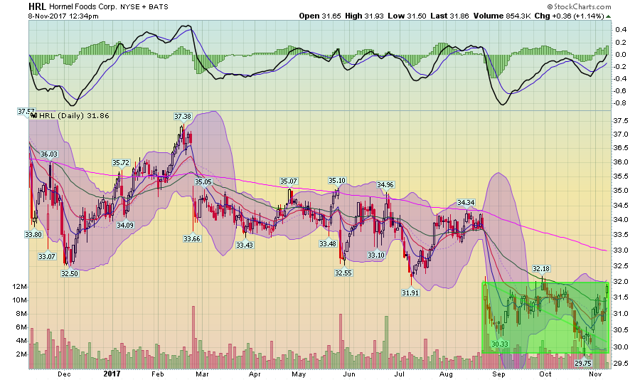 After gapping lower at the end of August, HRL consolidated losses between $30 and $32. It is currently at the upper end of its recent trading range. The MACD indicates momentum is shifting, implying a fair amount of upside potential.
The company is in the consumer staples sector:
Hormel Foods Corporation, a Delaware corporation (the Company), was founded by George A. Hormel in 1891 in Austin, Minnesota, as Geo. A. Hormel & Company. The Company started as a processor of meat and food products and continues in this line of business. The Company's name was changed to Hormel Foods Corporation on Jan. 31, 1995. The Company is primarily engaged in the production of a variety of meat and food products and the marketing of those products throughout the United States and internationally. Although pork and turkey remain the major raw materials for its products, the Company has emphasized for several years the manufacturing and distribution of branded, value-added consumer items rather than the commodity fresh meat business. The Company has continually expanded its product portfolio through organic growth, new product development, and acquisitions.
While this is certainly not the most exciting business, it is a necessity, which provides protection in weaker economic environments. There is also a large amount of competition in this space. Hormel's primary advantage is its size, which means it not only has economies of scale but also the ability to simply out-muscle or purchase the competition.
Hormel's financials are very encouraging. Regarding its balance sheet, unlike other companies I've profiled, HRL has a nearly 2:1 current ratio. While total assets have increased over the last five years, most of the increase comes in goodwill, a highly subjective concept. But intellectual property has also increased, which means the company has been investing or buying new products — an encouraging sign. Total long-term debt is minimal for a company this size. Finally, shareholder equity has increased from 61.78% in 2012 to 69.83% in 2016.
Regarding cash flow, HRL has refunded a lot of its existing debt over the last five years, while also engaging in a stock repurchase plan. Like other large companies, HRL can fund their PPE expenditures from cash flow.
Regarding HRL's income statement, there is good and bad news. On the good side, the company has expenses under control. Over the last five years, the gross margin increased 649 basis points. Operating income was up 461 bps, while net income increased 327 BPs. This is fortunate because top-line revenue growth has been slowing. The three-year average has declined from 6.6% to 2.8% over the last four years.
Finally, according to Finviz.com, the current dividend is 2.16% with a payout ratio of 38.2%. Overall, this is a solid company. The balance sheet is pristine. It has adequate cash flow and expenses are under control. At these levels, Hormel is worth a look.
Disclaimer: This article is not an offer to buy or sell this security. It is also not specific investment advice for a recommendation for any specific person. Please see our full disclaimer for additional information.
Disclosure: I/we have no positions in any stocks mentioned, and no plans to initiate any positions within the next 72 hours.
I wrote this article myself, and it expresses my own opinions. I am not receiving compensation for it. I have no business relationship with any company whose stock is mentioned in this article.
About this article:ExpandTagged: Investing Ideas, Quick Picks & Lists, Consumer Goods, Meat ProductsWant to share your opinion on this article? Add a comment.Disagree with this article? Submit your own.To report a factual error in this article, click here