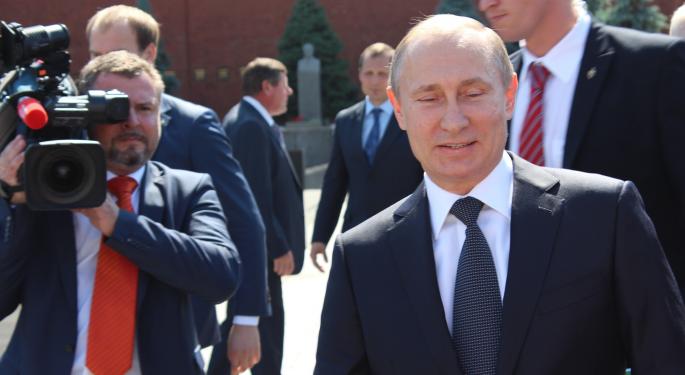 Related RSX Trump Forced To Sign Sanctions Bill Against Russia; Reports Say President And Putin May Have Loopholes The Worst Performing Stock Market Among G20 Countries? Russia Related ERUS Is Russia's Government Corrupt? Russians Certainly Seem To Think So … Russian Economic Policy To Balance Alcoholism, Illegal Vodka Sales And Surrogate Consumption
Municipal elections in Russia, while following the pre-ordained outcome of Vladimir Putin's strong-armed regime, showed some fissures in the ruler's hammerlock on power, the geopolitical risk analysis firm GeoQuant says.
The analytics firm showed institutional support for Putin, a vivid character in American politics thanks to the apparent Kremlin ties to President Donald Trump, remaining strong while support among the masses dipped.
Opposition Gets Grassroots Support
The relatively cosmopolitan voters in Moscow threw some support to the opposition in the Sept. 10 election that was essentially stage-managed by Putin, with some outlying areas also showing signs of disrupting Putin's stranglehold on power.
"A relatively robust opposition showing in Moscow, and larger than expected attendance at a series of far-flung (from Moscow) rallies by opposition leader Alexei Navalny, has increased chatter about cracks in Putin's firm hold on Russian politics ahead of 2018 (national) elections," wrote GeoQuant CEO Mark Y. Rosenberg.
The analysis firm showed institutional support hitting a hard, stable line, while its gauge of public support was dipping.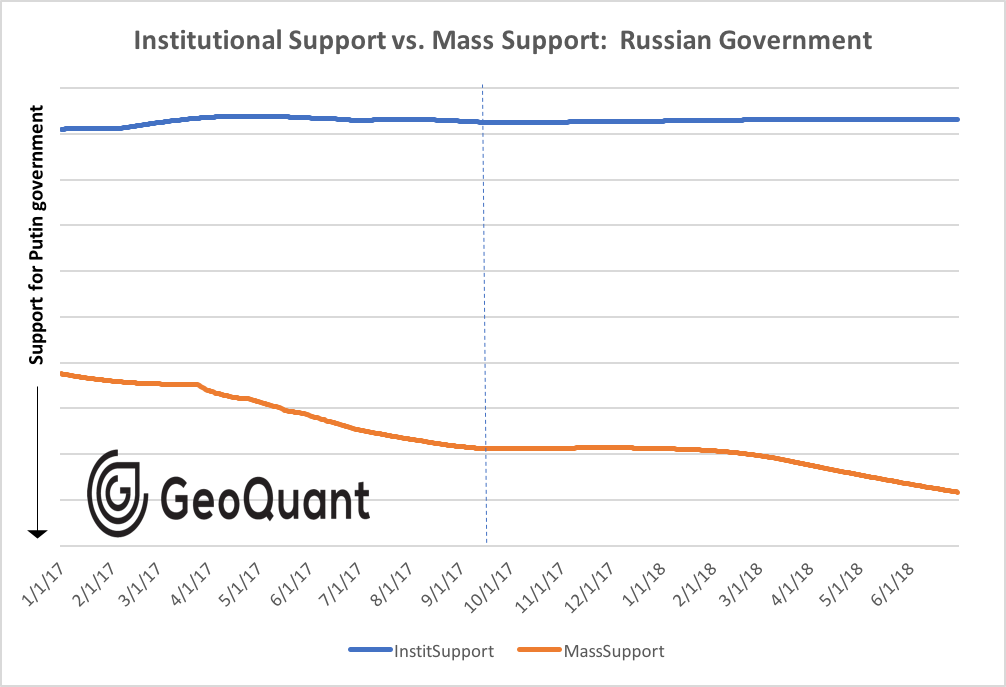 "Putin's popular support remains rock-solid." Rosenberg wrote. "Nevertheless, the main story in Russian elections (and arguably Russian politics more broadly) remains Putin/United Russia's ironclad control of Russia's political and electoral institutions — a reality made clear by our daily, effectively unwavering indicator of the government's Institutional Support."
Good Luck To The Anti-Putin Voters
"Indeed, the contrast between recent trends in Mass and Institutional Support tells us a lot about how the 2018 elections will likely play out: even though Russian voters (especially Muscovites) want to vote against Putin, United Russia's control of electoral institutions—including candidacy requirements, rally permits, state-run media and the vote count itself — will make it hard for them to do so."
Related Link: Market Volatility? Try Political Unrest