So far this year Boeing (BA) is having a strong start looking at its financial results, but also when looking at the order book the jet maker is seeing some appreciable order inflow. One of the programs that could use some order inflow to avoid a further cut in production is the Boeing 777 program. In this report, we explain why Boeing depends on the freighter variant of the Boeing 777 more than on the passenger variant to fill up many of remaining delivery slots in the coming years.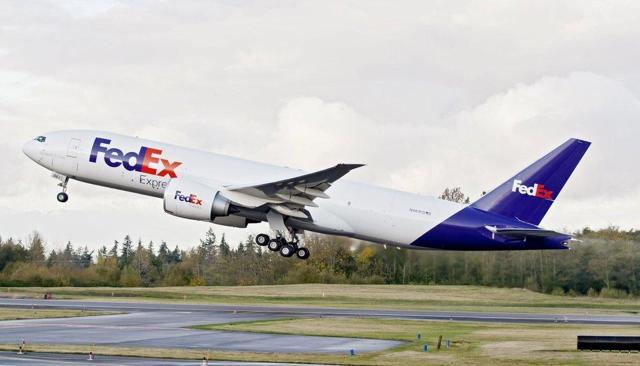 Source: Boeing
Boeing 777-300ER and Boeing 777X
One reason why Boeing will depend on the Boeing 777F for continued order inflow is because with rising oil prices the appeal of the Boeing 777-300ER versus the Boeing 777X starts fading while airlines will await in-service performance data for the Boeing 777X to commit to any purchases. Additionally, there is no replacement cycle for the Boeing 777-300ER kicking in until after 2020. This means that any order inflow has to come from airlines that need some near-term capacity expansion.
In 2018, the only customer for the Boeing 777-300ER has been Lufthansa (OTCQX:DLAKF) which ordered 2 aircraft for Swiss International Air Lines.
Lead times
The easiest way for jet makers to fill delivery slots is by giving hefty discounts. By doing so it becomes a little bit more attractive to order the aircraft that is less efficient compared to its successor. United Airlines (NYSE:UAL) used this to add 18 Boeing 777-300ERs to its fleet at a price that we estimated to be 15% lower than the normal sales price.
Discounting has boundaries, since the jet maker does want to book profits on assembly and it also does not want to cause a pricing pressure on the successor of the aircraft. Additionally, the timeframe is very important as well. For big passenger aircraft orders have to be placed around 18 months in advance in order for the supply chain to be able to deliver on time. Especially for seat makers this lead time is needed. What this means is that a passenger aircraft ordered today will be delivered at the earliest in early 2020. With there being some slots available in 2020 and possibly 2019, the window for passenger aircraft to fill those slots is closing. Freighters have a lead time of roughly a year giving Boeing some extra months to secure the orders. So the fact that Boeing seems to be getting more freighter orders partially has to do with the fact that due to the short time between order and the delivery slot, the Boeing 777F is the only aircraft that can still fill the earlier delivery slots.
Market growth
What drives orders for the Boeing 777F is the upward trajectory of the cargo market. The market for cargo aircraft is materially different from the passenger aircraft market with the same underlying drivers, namely economic growth, but other replacement and growth cycles. What is currently driving the market is e-commerce and pharmaceuticals and that is a trend that is likely continuing in the coming years. So after a few very soft years for the cargo market, growth has been picking up and additional aircraft can be absorbed by cargo airlines.
Up until May, ANA and Lufthansa Cargo each bought 2 Boeing 777F aircraft while an unidentified customer ordered 3 aircraft. Qatar Airways has committed to buying 5 more aircraft.
While preparing this report Boeing announced an order from FedEx (FDX) for 12 Boeing 777Fs.
No next generation freighter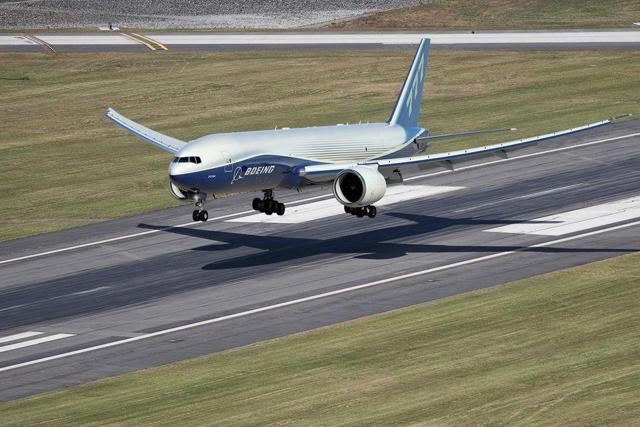 Source: AeroExpo
What also plays a role in the Boeing 777F sales being robust is the fact that there is no next generation freighter available. Cargo aircraft operate at a lower utilization rate, which means that cost efficiency is more driven by lower acquisition costs than by fuel costs. In the future there likely will be a next generation freighter available, but at this very moment the Boeing 777F is a very capable and efficient freighter.
Conclusion
The Boeing 777F is currently playing an important role in filling the Boeing 777 delivery slots and we expect more orders soon. This is caused by robust demand for cargo aircraft, the absence of a strong alternative and the absence of a next generation freighter as well as common lead times that prevent the Boeing 777-300ER from filling the earliest available delivery slots. E-commerce and a growing market for pharmaceuticals transport will likely continue to support growth of the cargo market in the absence of trade war eruption and the longer it takes Boeing to secure orders for the passenger variants of the Boeing 777, the more it will have to rely on order inflow for the freighter variant. Important to understand that the order inflow is a combination of a strong market as well as the partial inability to sell the passenger variant.
This report has been rolled out to premium subscribers earlier. As we were preparing to submit the report for regular subscribers, Boeing announced that FedEx bought 24 freighters including 12 Boeing 777Fs comfirming our thesis. The report has been altered (in italics where appropriate). The orders will be added to Boeing's order overview when finalized.
If you enjoyed reading this article, don't forget to hit the Follow text at the top of this page (below the article title) to receive updates for my upcoming articles.
Disclosure: I am/we are long BA, EADSY.
I wrote this article myself, and it expresses my own opinions. I am not receiving compensation for it (other than from Seeking Alpha). I have no business relationship with any company whose stock is mentioned in this article.
Editor's Note: This article discusses one or more securities that do not trade on a major U.S. exchange. Please be aware of the risks associated with these stocks.