The Mosaic Company (NYSE:MOS) is well positioned to benefit from the growing economic environment the United States is experiencing. It is recommended to purchase MOS 4.250% of 11/15/2023 Senior Unsecured fixed income security at $103.75 or better. As of April 16, 2017, the last traded yield was 3.584% with a yield spread to a matched Treasury of 153 basis points. Mosaic provides crop nutrition products to farmers worldwide and is focused on producing and marketing concentrated phosphate and potash crop nutrients. As the world population grows, the need for food increases. Increasing food production requires more fertilizer, a market which Mosaic dominates. In fact, global demand for phosphate and potash is likely to increase by 24 and 26 percent, respectively, by the year 2021. By 2050, agricultural production will need to increase by 70%. Of this upcoming demand, 90% will need to come from land that is already in production, underscoring the importance of fertilizers.
Mosaic aims to assist in the necessary responsibility of food production. Involved in every aspect of the crop nutrition development from mining to shipping, MOS strives to create innovative and high quality products. The company is focused on producing and marketing concentrated phosphate and potash crop nutrients, two of the three vital nutrients needed in fertilizer. MOS mines phosphate in Mosaic-owned land in central Florida, as well as through a joint venture in Peru. Currently, a joint venture with Saudi Arabia is in the works. Mosaic mines potash in Saskatchewan and New Mexico. The minerals are used to create fertilizers and animal feed. Mosaic's customer base is split fifty-fifty between North America and the rest of the world.
Mosaic is broken up into the following business segments:
Phosphates: Mosaic is the largest integrated phosphate producer in the world, and this segment includes mines and production facilities, as well as processing plants. The company sells phosphate-based animal feed products and crop nutrients internationally, and is one of the largest producers and marketers in the United States. Mosaic alone makes up approximately 14% of global annual production and 79% of North American annual production of phosphate-based crop nutrients.
Potash: Mosaic is also one of the four largest potash producers worldwide, and the potash segment owns and operates mines and production facilities that create potash-based crop nutrients, and animal feed and industrial products. Mosaic sells potash internationally, primarily as a fertilizer. With regard to potash, Mosaic accounts for approximately 13% of global annual production and 43% of North American annual production.
I nternational Distribution: This segment provides the Phosphates and Potash segments with global opportunities, so they can expand beyond North America. International Distribution includes sales offices, crop nutrient blending and bagging facilities, port terminals and warehouses in Brazil, Paraguay, India and China. The segment handles not only distribution for products, but also purchasing and marketing for certain products from other suppliers intended to complement sales of Mosaic products.
Phosphate and potash crop nutrients are global commodities sold through either negotiated contracts or at market price from a variety of competitors. Commodity goods are influenced by the highly competitive market, and delivered price is the main competitive factor. Demand for phosphate and potash relies on two key components: first, the economic, business, and government policies impacting the agricultural industry, and second, consumer sentiment. Mosaic's profit is dependent on the global supply and demand for its goods. As basic economic principles state, the higher the quantity demanded in the market, the higher the price. A higher price then leads to healthier financial conditions for companies in the industry.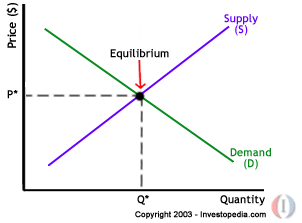 Regarding the potash and phosphate markets, Mosaic management is confident that prices have bottomed and the USDA is forecasting a 1.8% rise in net cash farm income in 2017. While Mosaic has struggled with falling farm income and lower fertilizer demand and prices, the company will benefit from rising farm income this year.
Key raw materials for phosphate include ammonia, sulfur, and phosphate rock. Ammonia's price depends on its supply and demand. MOS entered into a long-term ammonia supply agreement, the CF Ammonia Supply Agreement, with CF Industries, Inc., taking effect in 2017. Mosaic expects to start purchasing under this agreement in the second half of the year. The purpose of the agreement is to decrease price volatility. CF Industries manufactures and distributes agricultural fertilizers. Ammonia is one of its products and, on average, the company produces 8.5 million short tons annually. CF Industries is also invested in sulfur transformation and tran sportation. Most of its phosphate rock needs are satisfied by mines fully or partially owned by Mosaic. These mines are expected to provide MOS with a competitive advantage.
Mosaic's selling price for potash is affected by three factors: shifts in the product mix, geography, and customer mix. Canadian resource taxes and royalties, and fluctuations of the Canadian dollar affect the potash business due to Mosaic's mine in Saskatchewan.
Mosaic continues to suffer from lower average selling prices for phosphates and potash sales volumes, which negatively impacted its operating earnings, as can be seen in the financials below.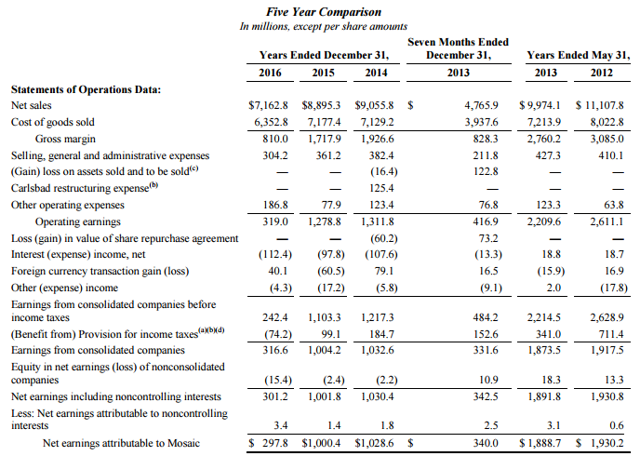 However, lower prices for raw materials and a higher volume of sales for phosphate helped offset the loss. The selling price for phosphates declined in 2016 when compared to 2015 due to cautious purchasing behavior during the first half of 2016, aggressive pricing, and lower raw material costs. Phosphate sales volumes increased in the second half of 2016 because of concerns over low inventory levels. The potash selling price decreased in 2016 due to the a competitive global environment and a strong U.S dollar. High potash inventory levels and a delay in a Chinese potash settlement supplemented the decrease in the selling price. However, towards the end of 2016, the average selling price for both phosphate and potash began to increase. A positive change in consumer sentiment and the resulting higher demand initiated this change. Price increases for phosphate and potash are expected to continue in 2017, but higher prices for raw materials will partially offset the benefit.
| | | | | | |
| --- | --- | --- | --- | --- | --- |
| | Quick Ratio | Current Ratio | LT Debt/Equity | Interest Coverage | Market Cap |
| Monsanto Co. (NYSE:MON) | 0.73 | 1.21 | 1.64 | 5.57 | 50.8 Billion |
| Agrium Inc. (NYSE:AGU) | 0.67 | 1.26 | 0.71 | 4.03 | 12.8 Billion |
| The Mosaic Co. | 1.13 | 2.07 | 0.39 | 2.72 | 9.6 Billion |
In comparison to its competitors, Mosaic boasts the most attractive quick ratio and current ratio, exemplifying the company's strong financial position. The company has the liquid assets on-hand to meet short-term obligations. Mosaic also has the lowest long-term debt/equity ratio, which bod es well for the company's future and ability to pay off its debt. MOS has a smaller market capitalization versus Agrium and Monsanto – but it is a relatively new company, beginning operations in 2004. Since its creation, Mosaic has emerged as an industry leader. Comparing Mosaic's bond to those offered by Agrium and Monsanto, Mosaic offers the most attractive return with a yield spread of 153 basis points and interest rate and credit risk comparable to the other securities.
| | | | |
| --- | --- | --- | --- |
| | Monsanto Co. | Agrium Inc. | The Mosaic Co. |
| CUSIP | 61166WAU5 | 008916AL2 | 61945CAC7 |
| Credit Rating | A3, BBB+, A- | Baa2 | Baa2, BBB, BBB |
| Maturity | 07/15/2024 | 06/01/2023 | 11/15/2023 |
| Price | $102.01 | $101.62 | $103.75 |
| Last Traded Yield | 3.054% | 3.195% | 3.584% |
| Yield Spread | 1.004% | 1.145% | 1.534% |
| Coupon | 3.375% | 3.500% | 4.250% |
| Duration | 6.6 | 5.7 | 6.1 |
Additionally, the yield curve for Treasuries begins to flatten at the seven year, indicating that bonds offered at that maturity contain an optimal risk/reward ratio. Therefore, investing in the Mosaic bond with a seven-year maturity is an attractive choice.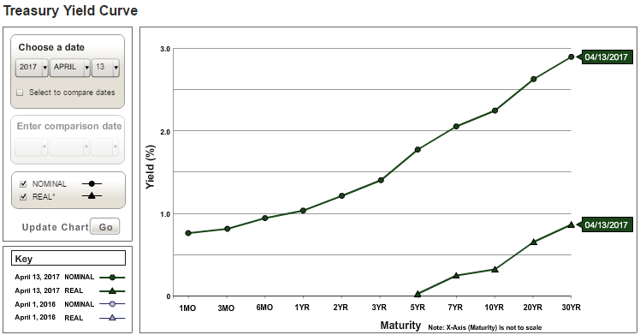 With regard to Mosaic's management, the company has a strong management team with proven industry experience and expertise. To begin, James C. O'Rourke, President and Chief Executive Officer, has held his position since August 2015. He joined Mosaic in 2009 as Executive Vice President of Operations. O'Rourke has over 25 years of experience in the mining and processing operations. Further, Rich Mack, Executive Vice President and Chief Financial Officer, has held his titles since June 2014. He has been with the company since its launch in 2004, and previously served as General Counsel and Corporate Secretary. Mack has experience with mergers, acquisitions, joint ventures, and capital markets transactions. Next, Bruce Bodine, Senior Vice President – Potash, previously worked at Mosaic's predecessor company, and has been with the company since 1999. Bodine has a Bachelor of Science degree in Environmental Engineering and an MBA. Finally, Walter F. Precourt III, Senior Vic e President – Phosphates, joined Mosaic in 2009. Precourt has a B.S. in Civil Engineering, M.S. in Environmental and Water Resources Engineering and a MBA.
As with any security, investing in Mosaic comes with some risk. Several specific risks have been identified and will be addressed. Specifically, Mosaic's Esterhazy mine has had inflows of salt-saturated brine for 30 years, beginning in December 1985. These inflows may eventually result in a flood, and controlling the inflows currently costs Mosaic financially. Of the necessary costs, some expenditures have been capitalized, and others were charged to expense. Additionally, Mosaic's success is dependent on business and economic conditions, as well as government policies related to the agricultural industry, all factors out of Mosaic's control. In the international business market, Mosaic also faces global competition from other crop nutrient producers, as well as the volatility of the global market for these products. The crop nutrient business is seasonal, which can result in carrying significant inventory or having product shortages due to incorrect predictions of future seasonal demand. Finally, Mosaic's operations are primarily with several key production and distribution facilities. Therefore, any problems at these facilities could affect Mosaic's bottom line, and the risk of disruption increases in times of higher demand, when there would be a greater negative impact.
It is recommended to purchase the Mosaic Company 4.250% of 11/15/2023 Senior Unsecured fixed income security at $103.75 or better. Currently, the last traded yield was 3.584% with a yield spread to a matched Treasury of 153 basis points. Under President-Elect Donald Trump's administration, there is a promise to increase infrastructure investment, therefore companies related to construction and manufacturing have potential advantages in the current business environment.
Disclosure: I am/we are long MOS 4.250% OF 11/15/2023.
I wrote this article myself, and it expresses my own opinions. I am not receiving compensation for it (other than from Seeking Alpha). I have no business relationship with any company whose stock is mentioned in this article.
About this article:ExpandAuthor payment: $35 + $0.01/page view. Authors of PRO articles receive a minimum guaranteed payment of $150-500. Become a contributor »Tagged: Investing Ideas, Long Ideas, Basic Materials, Agricultural Chemicals, Spring 2017 CSUF CompetitionProblem with this article? Please tell us. Disagree with this article? Submit your own.Follow Laura Romine and get email alerts