Fannie Mae (OTCQB:FNMA) and Freddie Mac (OTCQB:FMCC) are two companies in conservatorship that have recently been allowed to keep $3B each as part of a capital buffer. It's amazing that $3B is good enough during normal business to protect these two companies from quarterly draws considering they have trillions of dollars in assets. An article from Benzinga came out recently that has caused me to switch back to preferred shares. I'm betting that the analyst has access to someone supplying him with information regarding the housing finance reform bill. I've been able to reverse engineer what I think the analyst is doing and it's broadly Moelis with a twist. Instead of converting the preferred to common optionally after the warrants are exercised, it appears that the preferred would get converted to common before.
Investment Thesis: After failing to wipe Fannie and Freddie off the face of the planet via early conservatorship, malicious accounting and the subsequent net worth sweep, Senator Bob Corker appears to be working on a plan that keeps them a going concern and recapitalizes them. The real unknown at this point in time is if preferred shareholders Bruce Berkowitz and Richard Perry are on board with this plan where they would end up settling for a fraction of par value. That fraction of par value is still significantly more than the current market price, in some cases over 100% more. Common shareholders, however, would end up having shares worth around $1.85, which is a loss from here. In the Moelis plan, common shareholders are worth around $10. In both of these plans the warrants get exercised. There is no plan that I've seen where the warrants don't get exercised.
Reverse Engineering Benzinga Plan
If you do the quick math, there is 34B of preferred par value and 5B of market capitalization for Fannie and Freddie commons. Combined that is $39B, so preferred would own 88% and common would own 12% before the warrants get exercised and before new capital is raised via an IPO similar to the Moelis plan. I've put together a table explaining what's happening: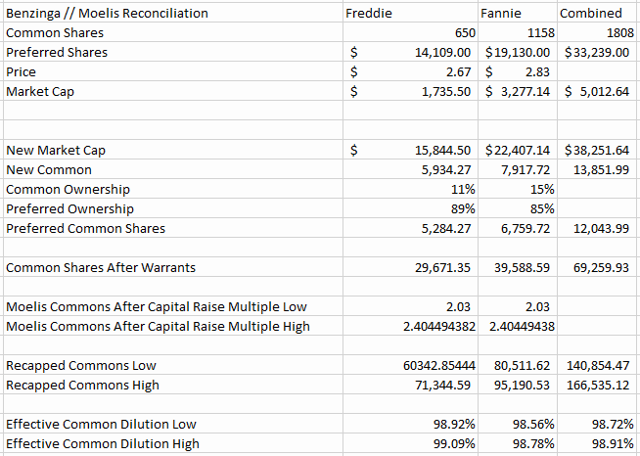 These numbers are ballpark and are subject to market price fluctuations; I'm just giving you a rundown. If you assume that the warrants take 80% and then the common are diluted a further 50%+ to raise new capital, I arrive on existing commons getting diluted over 98% from where they are today. This would explain how the Benzinga journalist got to $1.85 per share for the future common share price. One would assume that there would be a reverse split at that point so the adjusted share price would be a lot higher. Is this sort of outcome something Bill Ackman can refuse to agree to via refusing to settle his lawsuit? I don't know on what grounds he could, but the analyst estimates that if this scenario is indeed the one that takes place then Bill Ackman's commons would be worth about what he paid for them after sitting on them for a few years.
The Moelis plan can be found here. The Moelis plan is much better for common shareholders than the Benzinga plan. The government makes more in the Benzinga plan.
John Paulson's Merger Arbitrage GSE Notes
Every month, John Paulson's fund manager comments publicly. Occasionally, like this past month, the GSEs were mentioned. Paulson is one of the big three preferred shareholders. He doesn't have a lawsuit, but Richard Perry and Bruce Berkowitz do. Here are his comments:

The fact that Jumpstart 2.0 wasn't passed recently indicates that the government wants the warrant money. If not, they'd have extended Jumpstart. Jumpstart expires first thing 2018.
Legal Updates
Judge Schiltz heard oral argument in the Minneapolis Bhatti case. That's the case that brings only constitutional challenges and now we await a ruling. All the rulings so far have not included constitutional challenges and it has been for this reason that the judges have ruled in favor of the government's narrative.
There haven't been any recent updates on how quick peek is going in the Fairholme court of claim's case.
For the supreme court cases, the government said they were really busy and needed another month. This is standard.
Summary and Conclusion
I own 4050 FMCCH, 21688 FMCCP, 7095 FMCCT, 12885 FMCKP, 13135 FNMFN, 5 FNMFO and 300 FMCCI. I think that both the Moelis and the Benzinga outcome are positive for preferred shareholders but the Benzinga outcome is bad for common shareholders. I am not a key decision maker. What I do know is that the conversational dialogue has changed significantly to one of keeping Fannie and Freddie and recapitalizing them and that's great for America.
I would imagine that because the government has not passed Jumpstart 2.0 and instead has decided to implement a capital buffer that their intention is to monetize the warrants in 2018. To this end, the Benzinga plan is better for the government than the Moelis plan. The real question here is if the preferred plaintiffs or common plaintiffs will refuse to settle their cases for the Benzinga plan since they appear to take a haircut. Considering the context of an alleged false conservatorship and a history of accounting fraud to inflate the senior preferred position by the government for the government it would seem that holistically the plaintiffs would have the upper hand if they wanted to take the time to let this play out. Realistically, however, Perry Capital closed down its fund last year and this is the last remaining piece of business and this whole saga has taken its toll on many of us.
Exactly what happens remains to be seen. It's my understanding that the only hypothetical government plans that don't exercise the warrants run the GSEs through receivership. Considering the recent capital buffer move and the incoming expiration of jumpstart, that is off the table and we are pulling into recapitalization station. I think at least some of the preferred get converted to common in this recapitalization and the question is when. I don't have to know the answer to know that I'll make money in the preferred.
Disclosure: I am/we are long FMCCH,FMCCP,FMCCT,FMCKP,FNFMN,FNMFO,FMCCI.
I wrote this article myself, and it expresses my own opinions. I am not receiving compensation for it (other than from Seeking Alpha). I have no business relationship with any company whose stock is mentioned in this article.
Editor's Note: This article discusses one or more securities that do not trade on a major U.S. exchange. Please be aware of the risks associated with these stocks.
About this article:ExpandAuthor payment: $35 + $0.01/page view. Authors of PRO articles receive a minimum guaranteed payment of $150-500.Tagged: Investing Ideas, Long Ideas, Financial, Savings & LoansWant to share your opinion on this article? Add a comment.Disagree with this article? Submit your own.To report a factual error in this article, click here