Financial Engines (FNGN) was co-founded in 1996 by William F. Sharpe, a winner of the 1990 Nobel Prize in Economic Sciences for his work on the theory of financial economics. Sharpe studied how prices of financial assets are determined, and the link between risk and return. Financial Engines went public in 2010 with great fanfare, but despite investor enthusiasm the stock has not fared well for the last three years. FNGN describes itself as a provider of independent, technology-enabled, comprehensive financial advisory services, discretionary portfolio management, personalized investment advice, financial and retirement income planning, financial education and guidance. It is basically a robo-advisor. In 2016, it acquired The Mutual Fund Store for over half a billion (why a robo-advisor would sell mutual funds is beyond me!).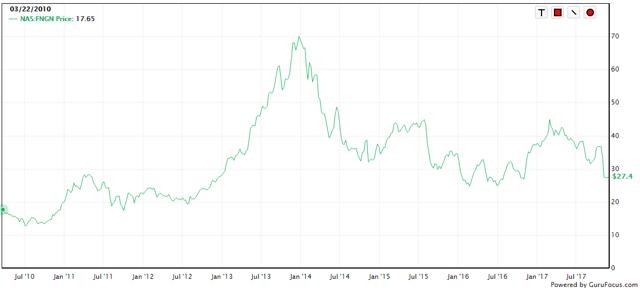 Source: Gurufocus.com
The reason for this article is that, in my opinion, Financial Engines has an "agency problem." Agency problems occur when there is a conflict of interest between the principal (in this case the shareholders) and agent (i.e., the management) who is running the business. My problem with FNGN, in short, is excessive stock-based compensation, or SBC. Here is an excerpt from Warren Buffett's 2015 Berkshire Hathaway (NYSE:BRK.A) (NYSE:BRK.B) shareholder letter on SBCs:
…it has become common for managers to tell their owners to ignore certain expense items that are all too real. 'Stock-based compensation' is the most egregious example. The very name says it all: 'compensation.' If compensation isn't an expense, what is it? And, if real and recurring expenses don't belong in the calculation of earnings, where in the world do they belong?
Wall Street analysts often play their part in this charade, too, parroting the phony, compensation-ignoring 'earnings' figures fed them by managements. Maybe the offending analysts don't know any better. Or maybe they fear losing 'access' to management. Or maybe they are cynical, telling themselves that since everyone else is playing the game, why shouldn't they go along with it. Whatever their reasoning, these analysts are guilty of propagating misleading numbers that can deceive investors.
Financial Engines pays its executives excessively in stock options and stock units. This is evident from the chart below. The light blue part of the bars is the stock-based compensation. You will notice that it's not much smaller as net earnings attributable to shareholders.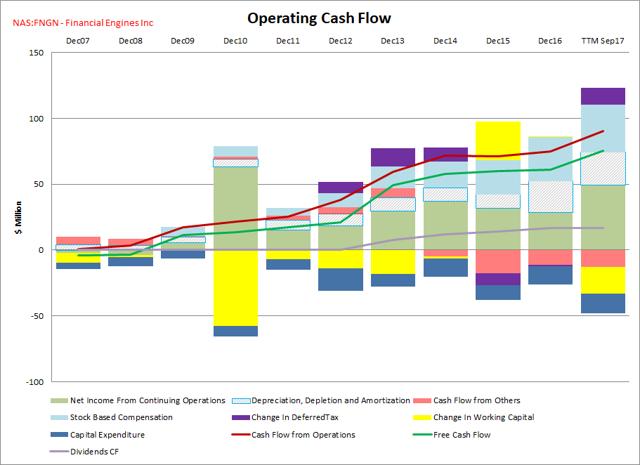 Source: Excel Chart with data from Gurufocus.com
A huge chunk of future earnings and/or ownership is being transferred from current stockholders to company management. For example, in 2016 management SBC was more than net income. Go figure!
| | | | | | | | | |
| --- | --- | --- | --- | --- | --- | --- | --- | --- |
| Fiscal Period | Dec10 | Dec11 | Dec12 | Dec13 | Dec14 | Dec15 | Dec16 | TTM Sep17 |
| Net Income From Continuing Operations ($M) | 63.575 | 15.145 | 18.574 | 29.955 | 36.952 | 31.617 | 28.56 | 49.437 |
| Stock-Based Compensation (SBC) | 7.66 | 5.82 | 10.37 | 16.52 | 19.77 | 26.03 | 33.69 | 36 |
| SBC as % of net income | 12% | 38% | 56% | 55% | 54% | 82% | 118% | 73% |
It should be noted that the stock-based comp is over and above salary and cash bonuses. Top management is very well-compensated. SOC is gravy on top of gravy.

Source: Morningstar.com
As a result, FNGN has been issuing a lot of stock and busily diluting shareholders. Some of the equity dilution has gone to acquisitions (such as The Mutual Fund Store), but a big chunk has ended up in management's pocket, which seems to promptly sell the units when they vest. No wonder the stock price has not done well despite increasing free cash flow.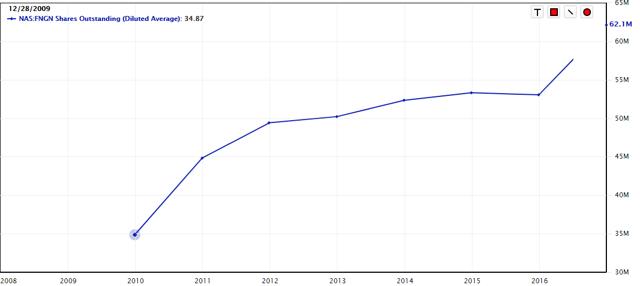 Source: Gurufocus.com
While revenues have grown nicely, bottom-line figures are insipid at best.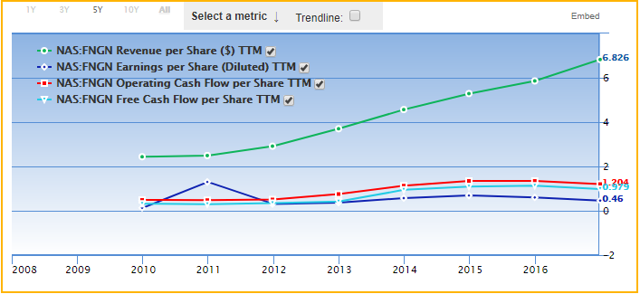 Source: Gurufocus.com
Insiders have mostly sold stock. It does not appear that they believe in the company very much. As you can see, there is not much insider buying going on.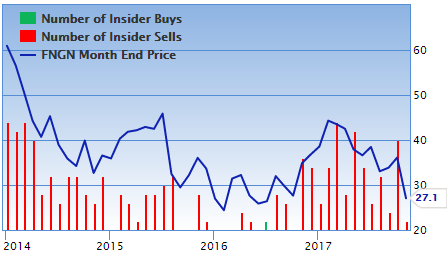 Source: Gurufocus.com
While the company might have a bright future, it does not appear to me that the company is being run to benefit current shareholders. I have to wonder if the board of directors is asleep at the wheel or in bed with management or both. Short interest in FNGN in mid-November 2017 was over 18% despite the steep decline in the stock price. By the way, this is only my second short – so far so good.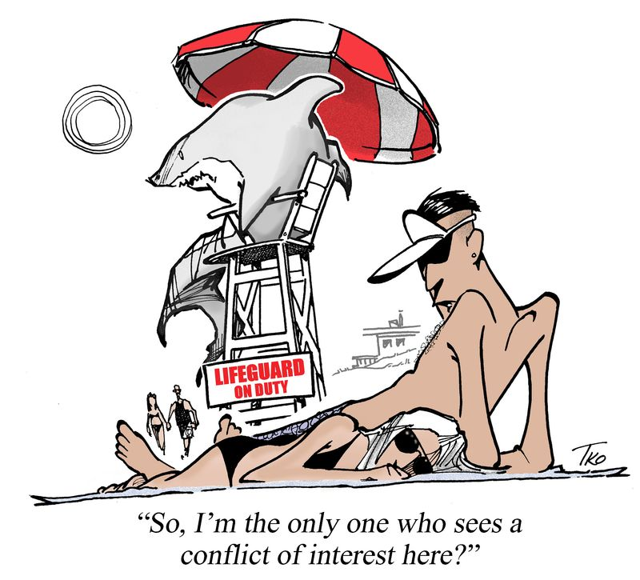 Disclosure: I am/we are short FNGN.
I wrote this article myself, and it expresses my own opinions. I am not receiving compensation for it (other than from Seeking Alpha). I have no business relationship with any company whose stock is mentioned in this article.
About this article:ExpandAuthor payment: $35 + $0.01/page view. Authors of PRO articles receive a minimum guaranteed payment of $150-500.Tagged: Investing Ideas, Short Ideas, Financial, Diversified InvestmentsWant to share your opinion on this article? Add a comment.Disagree with this article? Submit your own.To report a factual error in this article, click here