For 2017 Eurobank (OTCPK:EGFEY) reported 104 million profit for the year, significantly down (-56%) from the 235 million profit in 2016. This mainly came from lower revenue (from 'other income') and higher costs (restructuring & taxes). The encouraging data points for me were that fee income grew by 14% and that operating expenses went down 1%.
Since Eurobank is in the midst of repairing the bank, I expect the P&L of Eurobank to remain quite 'volatile' in the coming years with unusual items as restructuring costs, impairment charges, book gains from collateral sales, etc. Therefore, analyzing the P&L in detail is not very useful. Instead, I prefer to focus on the fundamental improvements of the bank in this article. The two major challenges are the (1) liquidity issues and (2) the mountain of non-performing loans.
Let's also do a valuation exercise to make a rough estimate of what Eurobank could be worth in a normalized environment. But first the progress on the two main challenges:
Liquidity
All Greek major banks are currently dependent on Eurosystem funding. It is very likely that National Bank of Greece (OTCPK:NBGIF) will be the first Greek bank to exit this life support program. But Eurobank has made some great progress as well: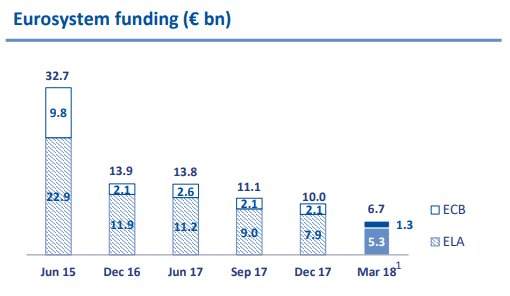 Source: Eurobank FY2017 presentation
The 6.7 billion in March 2018 represents ~11% of the balance sheet and is improving every quarter. The main reason for this liquidity improvement is that deposits are flowing back into the bank. The additional benefit is that the Loans/Deposit ratio finally normalized within the 90%-110% range (which I consider healthy) at 109.6%. This is even better than the Eurozone average of 117.54% (Source).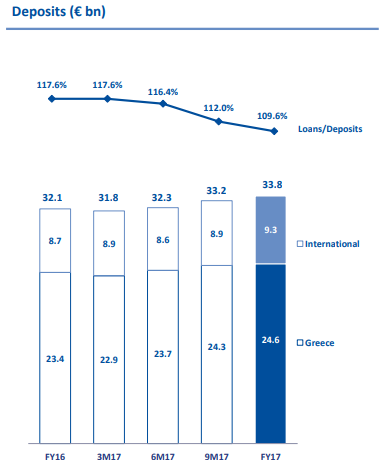 Source: Eurobank FY2017 presentation
Going forward, management mentioned in the earnings call that they expect to eliminate the Eurosystem funding by the end of 2018 or early 2019 by using a number of sources and initiatives (deposits gathering, covered bonds, securitization etc.). It remains to be seen if those timelines will be reached (I have been too optimistic before), as you never know how the macro- & political landscape develops. But just to be conservative, I personally will assume that the liquidity issues are resolved by year-end 2019.
Non-performing loans
Just like the other major banks in Greece, Eurobank is struggling with a big mountain of non-performing loans (NPLs). This situation hasn't changed much in the last couple of years, mostly due to absence of effective bankruptcy/foreclosure laws. But things are changing, as new (hopefully) effective laws are getting in place. To be fair, I expected this to happen in 2016 already and wrote about it. But as always, I accumulate way too early.
The liquidity situation of the bank has been improving for a while now, but this is the first time I have seen encouraging data-points on the non-performing loans (90 days-past-due loans):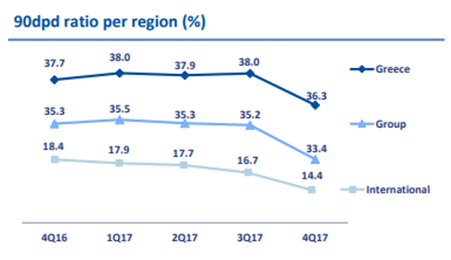 Source: Eurobank FY2017 presentation
The international stock of NPLs has been going down q-on-q already, but finally the Greek operations seem to follow. The new formations of NPLs have become negative as well (mostly coming from the corporate loans):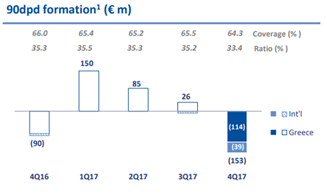 Source: Eurobank FY2017 presentation
The absolute amount of NPLs (18.1bn) is still very high and will take years to fix. But thanks to the new foreclosure framework, laws and online auctions, the bank has become more effective in dealing with NPLs and strategic defaulters (people able to pay, but abusing the foreclosure protection laws). It even revised it targets: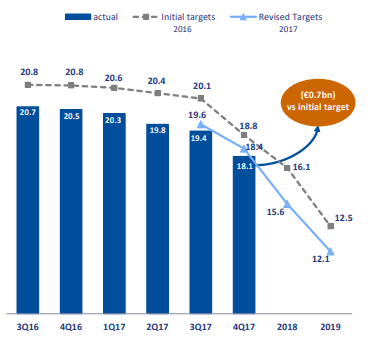 Source: Eurobank FY2017 presentation
Although the expected reduction towards 12.1 billion in 2019 seems impressive, reaching the target will still result in a high NPL ratio. Assuming gross loans stay roughly flat, the NPL ratio could drop to ~25% in 2019. This is still way above the Eurozone average of 5.15%. It could be somewhat better if Eurobank is able grow their gross loans in the meantime, but this will be difficult with the persisting liquidity limitations (I told you it will take years!). Nevertheless, at last things seem to go the right direction.
Valuation
Currently, the tangible book value (TBV) per share is 2.75, while the EPS is 0.05. The stock is trading at 0.75, meaning it's trading at 0.27x TBV and a P/E of 15.
In a normalized environment, I believe this bank should be worth at least it's TBV. That's a 4x from current valuations. From an earnings perspective, the current P/E of 15 seems like a fair valuation at first glance. But that doesn't justify the earnings potential which is very likely to materialize. The current ROE of the bank is 1.45%, while the Eurozone average is 7%. Greece is one of the most concentrated banking markets in the world, so in the process of normalizing the balance sheet, it is not weird to expect Eurobank to earn 7% on its equity in the future. That would translate to an EPS of ~0.20 without taking into account any retained earnings. Again, that's a 4x from current valuations (EPS: 0.05) while maintaining conservative assumptions.
Concluding
Eurobank still has a long way of recovery ahead of itself (>2019). It made great progress on its liquidity issues and management expects it to be solved in Q4-2017 or Q1-2019.
The first data-points are coming in that NPLs are finally getting addressed. Despite the fact that ambitious targets are set for resolving the bad loans, don't expect this to be solved overnight. It will probably take years to repair the whole loan book.
I think this bank is very undervalued both from an asset as an earnings perspective. It is trading way below liquidation value (limiting the downside) and I will not be surprised if the stock will quadruple in the future.
Disclosure: I am/we are long EGFEY.
I wrote this article myself, and it expresses my own opinions. I am not receiving compensation for it (other than from Seeking Alpha). I have no business relationship with any company whose stock is mentioned in this article.
Editor's Note: This article covers one or more stocks trading at less than $1 per share and/or with less than a $100 million market cap. Please be aware of the risks associated with these stocks.