Investor confusion about Apple (NYSE: AAPL) choosing Finisar (NYSE: FNSR) to provide VCSEL sensors in Apple iPhones has caused FNSR to fall recently and this is providing an excellent entry point into the stock.
Based on DCF analysis, we anticipate a Finisar share price of $29 in the second half of 2018.
Some factors we based in our model
Management believes 3D sensing is capable of $100 million in sales a quarter, as such it is investing heavily to tool up the Allen, Texas, 3D sensing manufacturing facility. There will be increasing datacom strength with a ramp of 100G transceivers to provide a better product mix. This should allow gross margins to stabilize above 30% and we estimate margins in 2018 at (34 ~ 36%). This should allow Finisar to return to profitability levels seen in early 2017. A forecast in the slowing China Telecom segment. This remains the weakest segment in Finisar's business, declining over 10% last quarter driven by weakness in 10g transceivers. 3Q guidance remains subdued with $325 to $345 million revenue projections; this investment thesis remains a second half 2018 investment, as the headwinds from China will lower net income in the coming months.
The trend in optics is for technological innovation followed by periods of intense profitability, only to be crippled as pricing competition enters the market with product obsolescence. You can never have too much bandwidth and speed!
3D Sensing is Beginning to Ramp
Once the Allen, Texas, manufacturing facility ramps and starts filling Apple orders by moving the VCSEL sensor into full production, manufacturing costs should have higher absorption. Finisar stated that VCSEL production shipped towards the end of the second quarter and wasnt representative of a full quarters production. The company expects a significant ramp as Apple attempts to corner the 3D sensing market.
Management states that Finisar is "producing as fast as [they] can and shipping everything [they] can make," implying Finisar is filled with Apple backlog for the 3D sensors. Finisar management thinks 3D sensing could produce $100 million a quarter and it is tooling manufacturing capacity appropriately. Once the 3D sensing sales pick up, margins should improve above the 30% level and EPS should increase proportionally. 3D sensing is the future and with Apple committed to support its suppliers, Finisar should reap a windfall of cash.
Apple Commitment to future business
A $390-million commitment to using Finisar lasers is a game changer because there is limited supply of these optical components and it blocks Apples competitors Samsung (OTC:SSNLF) and Huawei from making a full effort push into artificial reality.
The fund commitment will help Finisar rapidly equip the machining and manufacturing capabilities at its Texas facility and help the factory to reach the $100 million sales a quarter goal management believes is possible. It also is a vote of confidence over its top competitor Lumentum (NYSE: LITE) because this commitment diversifies Apples supply chain. There are now two large suppliers, thus making a duopoly in the 3D sensing market. It allows Apple to create pricing competition between Lumentum and Finisar by ensuring it has an alternate supplier available to alleviate supplier concentration issues.
The 3D sensing news is positive for the long term, as Finisars transceivers business is faltering with a bad product mix in 10g and 40g products. Datacom sales declines are detracting from the strength in 100g QSFP28 transceivers, while Telecom has declined significantly (-10%) as China delays infrastructure spending on slower and older products. The telecom decline is partially driven by annual pricing negotiations, which will further decrease margins. A customer would rather buy the newest and greatest (100 gbps) transceiver, rather than slower and older (40 gbps). Major Chinese telecoms are waiting for the big push to 5G wireless, which wont materialize until late 2018 and early 2019. Finisars next two quarters look clouded as different product lines will be accelerating at varying speeds, while older ones decrease margins.
Why Finisar is falling after news of an Apple Investment
There appears to be much confusion with the recent announcement by Tim Cook and Apple choosing Finisar to provide VCSEL sensors in Apple iPhones. Let's take a look at the timeline:
Timeline of Apple announcement on 12/13/2017
6:01 AM: CNBCs Josh Lipton reports Apple invests $390 million into Finisar, which makes laser chips for iPhone X (Finisar rises 25% premarket) 9:09 AM: CNBCs Jim Cramer is on squawk on the street stating Apple's $390 million investment in Finisar is a fantastic deal. 9:30 AM: Finisar opens at $24.53, up 27% from the prior close. 10:53 AM: Tim Cook announces in a tweet "Innovation in the heart of Texas! Proud to team up with Finisar, the latest recipient from our Advanced Manufacturing Fund. Their new site will create hundreds of jobs building iPhone components in Sherman, Tex." And shares a link to a news report: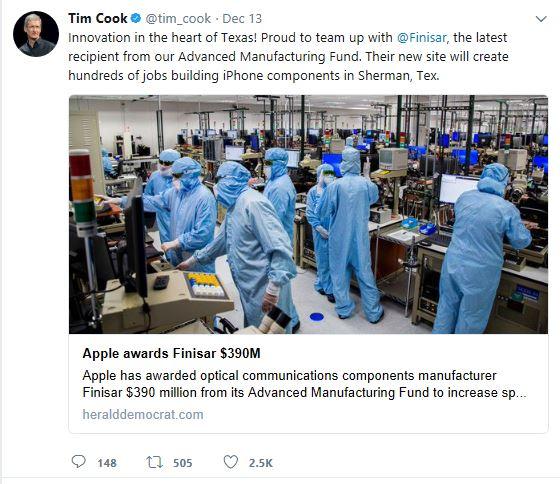 1:46 PM: Finisar issues an 8K with the SEC stating Apple has not made a debt or equity investment in Finisar. The amount referred to by Apple represents anticipated future business between the companies over a period of time. (In the following minutes, Finisar stock precedes to drop to $23.38, a decline of 7.3% from the intraday high) 4:00 PM: Finisar stock recovers some, to close at $24.24, a decline of 4.6% from the intraday high of $25.24.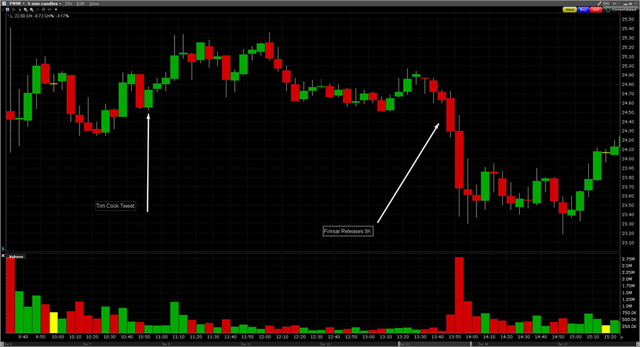 So What Happened?
Optimism about an Apple investment shot Finisar up based on the misinterpretation of an equity investment into Finisar stock. The news headlines added confusion by misleading investors, and once Finisar released an 8K in the afternoon, the news headlines about an Apple investment began to fade and doubts were raised about the validity of the earlier media headlines.
The market confusion can be explained by investors reading the news headlines and not drilling down the agreement between Finisar and Apple to determine it was anticipating future business between the companies over a period of time.
The Apple commitment is overwhelmingly positive, but the words investment rather than commitment to future business have different implications for a company. The medias portrayal of an investment by Apple is disappointing, to say the least. The decline from the intraday high $25.41 on 12/13 to a close of $22.05 on 12/15 was over 13.22% or $383 million in lost value.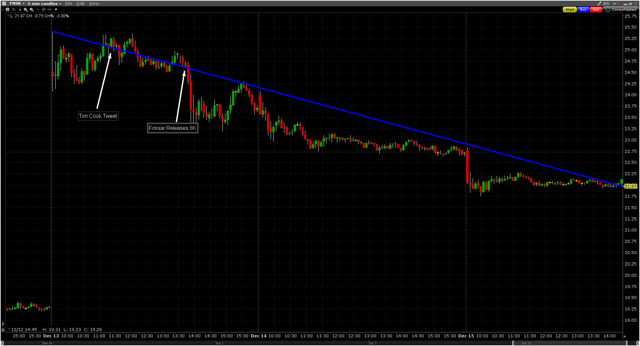 A Few Other Contributing Factors
Looking at the pricing action it appears the stock whipsawed based on a few variables:
The large price move up was supported by high short interest causing a huge short cover. The rapid move down was fueled by afternoon tax loss selling, coupled with investor confusion about the nature of Apples deal with Finisar.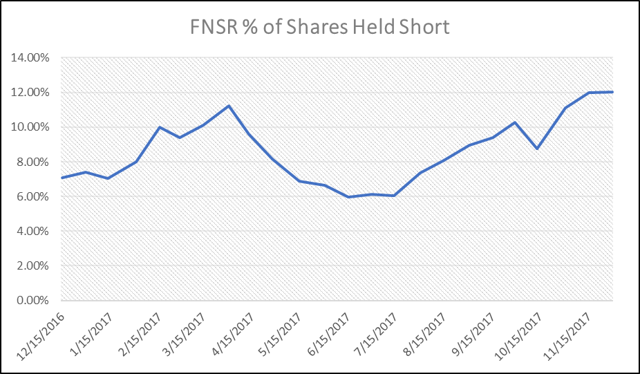 Near-Term Trading Outlook
The stock should trade down in the coming weeks as money managers look to definitize the NAV of their funds and harvest losses to offset record gains. The stock will start slow into 2018, as investors grapple with decreasing margins from older obsolete products, while anticipating a stronger second half powered by a strong pipeline of 3D VCSEL sensors to be supplied to Apple. The 100g transceiver market should strengthen in the datacom segment and possibly telecom markets, with the potential 5G infrastructure buildout and penetration.
Also, expect the stock to be held back until sentiment in optics reverses and weak markets (China) resume spending. Investors will err on the side of caution, as Oclaro, Inc. (Nasdaq: OCLR), LITE and Applied Optoelectronics, Inc. (NASDAQ: AAOI) rallied to historic price levels in the beginning of 2017, only to crash in spectacular fashion.
Sentiment is very damaged, but the markets in 100g and 3D sensing have potential to make optical stocks the hottest sector in the second half of 2018. Play the long game and dont be shaken out by pricing volatility. When optical valuations reach parabolic levels, take your profits and look for other opportunities.
Disclaimer
Copper Canyon LLC is a Registered Investment Advisor in Central Florida. We have outlined our market commentary and all information detailed in this article is not investment advice, it merely indicates the opinions and views of Copper Canyon LLC and its Investment Advisors.
This commentary was created by Dylan Quintilone, Investment Advisor Representative of Copper Canyon LLC. Copper Canyon LLC is a State of Florida Registered Investment Advisor.
Dylan Quintilone CRD# 6732024
More information can be found about Copper Canyon LLC CRD#286061 here, by typing Copper Canyon LLC into the search box.
Disclosure: I am/we are long FNSR.
I wrote this article myself, and it expresses my own opinions. I am not receiving compensation for it (other than from Seeking Alpha). I have no business relationship with any company whose stock is mentioned in this article.
Additional disclosure: We are long and short Finisar call options in client accounts. We provided the information and commentary to our clients for 24 hours before the publication of the Seeking Alpha article. We may initiate a stock positon in Finisar within the next two trading sessions.
About this article:ExpandAuthor payment: $35 + $0.01/page view. Authors of PRO articles receive a minimum guaranteed payment of $150-500.Tagged: Investing Ideas, Long Ideas, Technology, Networking & Communication DevicesWant to share your opinion on this article? Add a comment.Disagree with this article? Submit your own.To report a factual error in this article, click here