Cliffs Natural Resources (CLF) shares have been under pressure since March. The downside was very significant — a stock that traded around $12 at its highs traded below $6 a few days ago. However, it appears as if the downside momentum has finally ended and Cliffs is able to return to the previous upside trend. I see several reasons for this.
Technical Analysis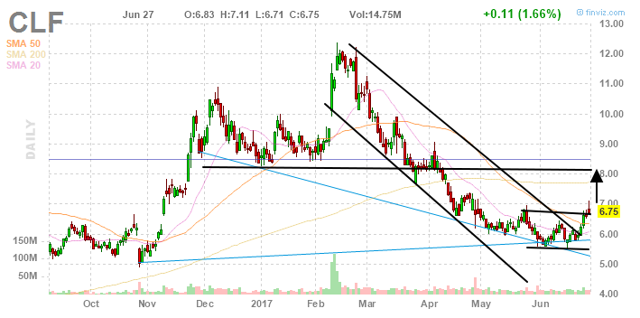 The stock is finally out of the major downside channel and has broken through the local resistance level after establishing double-bottom support around $5.60. In my view, technical factors play a very important role in short time frames, although they are close to useless in longer ones. It also helps that the sell-off in steel stocks has finally ended and they experienced some upside. Stocks are often traded in baskets, so, for example, a sell order for AK Steel (AKS) will also be a sell order for U.S. Steel (X) and Cliffs.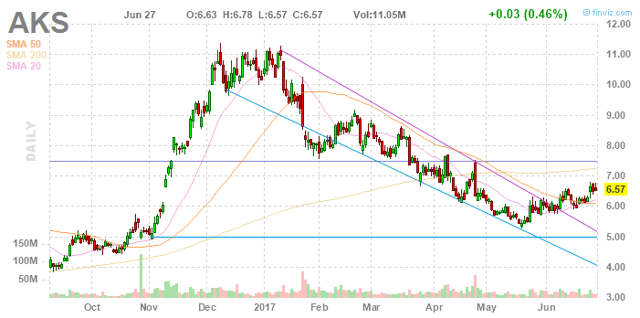 Iron Ore Prices
Iron ore prices have finally found support above $50 per ton. Many analysts remain bearish, pointing to the supply glut, but I'd like to see further evidence. On this front, we'll have to wait for production reports from major miners, including Vale (VALE), BHP Billiton (BHP) and Rio Tinto (RIO). Vale is ramping up S11D, so the input from this company will probably be the most valuable in assessing the potential for further price decreases.
As of now, I maintain my base case, which implies that iron ore prices should stabilize between $55 and $65 per ton. Futures point to increased support for iron ore at current levels, as there is not much difference between front-month contracts and future-months contracts. Previously, the market generally expected significant downside going forward.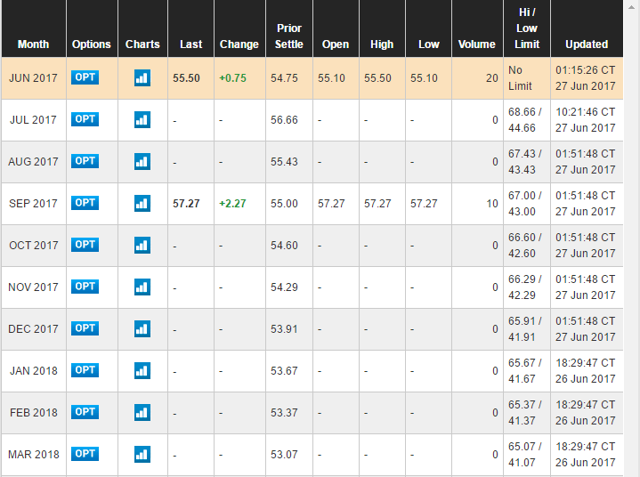 Source: cmegroup.com
Steel Market Is Healthy
The steel market continues its rebound. The rebound looks slow but steady, which is more important. For example, AK Steel recently announced a price increase of a minimum of $30 per ton of its carbon flat-rolled steel products. Better steel prices are the key ingredient for the pricing success of Cliffs's U.S. segment, so any upside on this front will translate into real cash for Cliffs. It's also important to mention that the industry clearly receives regulatory support. I would not expect miracles on this front, but steady, step-by-step progress will be enough to support prices.
Valuation Remains Attractive
Despite recent upside, the stock continues to trade below a forward P/E of 9. I'd also like to mention that analysts are rather skeptical regarding the company's performance in 2018, potentially incorporating the impact from lower iron ore prices and Cliffs's investment in its HBI (hot briqu etted iron) plant.

Source: Yahoo Finance
I believe that the market is too skeptical regarding Cliffs's pricing in the U.S. segment. But we'll have to wait until the company reports its second-quarter results to know the exact answer.
Bottom Line
The bottom is in. I see no fundamental reason (except some major catastrophe in both the steel and iron ore markets) for Cliffs to trade below $5.60. The second-quarter report should provide upside catalysts as the U.S. pricing will finally be based more on domestic steel market conditions, rather than on IODEX (Platts Iron Ore Index).
Disclosure: I am/we are long CLF, AKS.
I wrote this article myself, and it expresses my own opinions. I am not receiving compensation for it (other than from Seeking Alpha). I have no business relationship with any company whose stock is mentioned in this article.
About this article:ExpandAuthor payment: $35 + $0.01/page view. Authors of PRO articles receive a minimum guaranteed payment of $150-500.Tagged: Investing Ideas, Long Ideas, Basic Materials, Industrial Metals & MineralsWant to share your opinion on this article? Add a comment.Disagree with this article? Submit your own.To report a factual error in this article, click hereFollow Vladimir Zernov and get email alerts