The less than optimal customer reaction to the launch of Chipotle's (CMG) new Queso cheese was a reminder to investors that growth at the company is not going to easily be fixed by cheese spread/dip. After the E-coli outbreaks at restuarant in 2015, Chipotle's shares remain down 60% from their peak around $750, as health scares from norovirus and rodents look to be becoming the norm at the restaurant chain. With the shares trading at a 63.5x TTM P/E because of lower sales per store, the valuation looks expensive if comparable store sales cannot recover.
Customers Have Yet to Come Back
Customer perception of Chipotle has not fully recovered yet as Q2 same-store sales were still only at 82.6% of their 2015 level.

Source: Data taken from annual and quarterly reports.
The health scares hit customer perception hard with 2016 comparable restaurant sales down 20.4%. Chipotle had been perceived as a healthier fast food option offering more wholesome natural ingredients than other fast-food chains. This image allow Chipotle to charge prices well above competitors like Yum's (YUM) Taco Bell but customers may not be willing to pay up for $10+ burritos anymore (and that's before a drink).
Profitability Has Taken a Hit
The decline in customers has really hurt profitability at the company with net income margins and return on invested capital (ROIC) falling from 10.6% and 23% respectively in 2015 to 0.6% and 1.3% respectively in 2016. While they have recovered slightly to 3.2% and 9.3% respectively for the trailing-twelve-month period, profitability still remains impaired. Chipotle's net income use to be on par with Yum Brands (YUM), while its ROIC use to be above that of Yu m but less than McDonald's (MCD). It will probably take a recovery of comparable restaurant sales back to level 2015 levels before profitability can fully recover.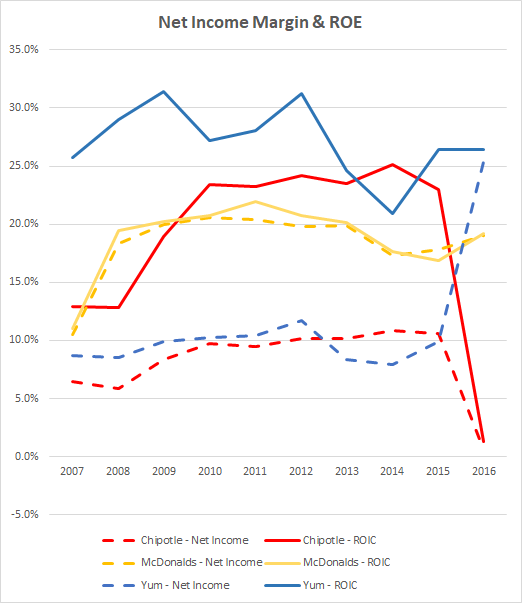 Getting an Idea of Valuation
With Chipotle's shares currently trading around $300, the TTM P/E is a high 63.5x. However, if one looks at this $300 price today with the $15.10 earnings in 2015, the P/E ratio becomes a much more reasonable 19.8x. While growth in store count has declined from the high teens, the company is still working hard to grow store count with growth around 12% for 2016.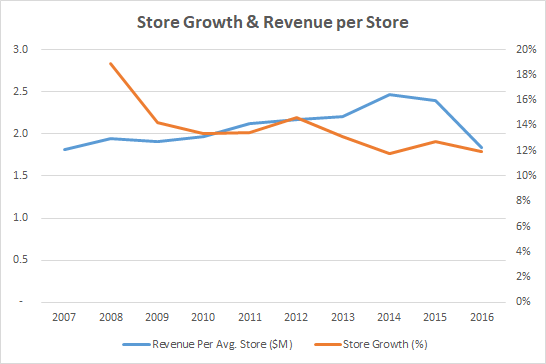 Source: Data taken from annual reports, Morningstar, and Statista.
When looking at high growth companies such as Chipotle, a good tool to use is legendary investor Peter Lynch's PEG ratio. Using the TTM 63.5x P/E ratio and 2016 store growth of 12%, Chipotle's PEG ratio would be a high 5.3x. However, if you use the 2015 EPS and P/E of 19.8x, the PEG ratio based off this growth rate would be 1.7x which is within Peter Lynch's rule of thumb of being under 2x (a PEG ratio over 2 suggests that earnings growth is already built into the price).
Conclusion
Comparable store sales need to move higher for profitability to recover at Chipotle and melted cheese probably won't be the catalyst to make that happen. The company's TTM P/E of 63.5x is high but if profitability can recover to 2015 levels it would be a much more reasonable 19.8x. However, investors should not be expecting this to happen as a lot of work needs to done to make customers return. The Chipotle fa d might have had its day in the sun and that $750 share price might not be revisited anytime soon.
If you enjoyed this article and would like to read more of my work, click the "follow" button at the top of the page to receive notifications when I post a new article!
Disclaimer: While the information and data presented in my articles are obtained from company documents and/or sources believed to be reliable, they have not been independently verified. The material is intended only as general information for your convenience, and should not in any way be construed as investment advice. I advise readers to conduct their own independent research to build their own independent opinions and/or consult a qualified investment advisor before making any investment decisions. I explicitly disclaim any liability that may arise from investment decisions you make based on my articles.
Disclosure: I/we have no positions in any stocks mentioned, and no plans to initiate any positions within the next 72 hours.
I wrote this article myself, and it expresses my own opinions. I am not receiving compensation for it (other than from Seeking Alpha). I have no business relationship with any company whose stock is mentioned in this article.
About this article:ExpandAuthor payment: $35 + $0.01/page view. Authors of PRO articles receive a minimum guaranteed payment of $150-500.Tagged: Investing Ideas, Quick Picks & Lists, Services, RestaurantsWant to share your opinion on this article? Add a comment.Disagree with this article? Submit your own.To report a factual error in this article, click here